Creating an effective PPC campaign is not an easy task, no matter how many times you have done so. From keyword research to product ads and landing page creation, creating a successful PPC campaign is time-consuming and entails a lot of hard work.
Thankfully, Google has come up with several impressive PPC tools that have reduced the amount of time and work that you initially had to put into creating such campaigns. So, if you are an advertiser who has to deal with PPC campaigns of your company or your clients, then this article is for you!
In this article, we will talk about some of the most efficient and best Google Ads tools that will save you a lot of time and effort for creating campaigns. With the help of these tools, you will no longer have to do anything manually; you can simply skip these tedious tasks with the help of these in-built Google Ads tools and automate your PPC campaigns.
What Are Some Of The Best In-Built Google Ads Tools For Automating Your PPC Campaigns?
Some of the best tools for automating your PPC campaigns include:
1. Dynamic Search Ads
Dynamic Search Ads are search ads that will show up based on the content of your website. The headline of the ad will be generated dynamically to match the search term, which will lead to more unity between the landing page, ad copy, and search term.
With the help of dynamic search ads, you will get one of the best ways to capture the 'who would have thought' traffic. Simply by catching unique searches, you will be provided with many expansion opportunities. In addition, dynamic search ads will help you fill in the gaps that may get slacked by other search campaigns.
Whether you are looking for gaps in your current structure, looking for quick expansion opportunities, or want to drive additional traffic to your website, dynamic search ads are considered the best choice.
2. Dynamic Keyword Insertion
Dynamic keyword insertion is a feature where you can customize an ad on a user's search query. This means that you can dynamically insert a keyword into your AdWords ad copy, depending on the user's specific query. In addition, it will allow the user to look for more relevant ads since the ad will be updated dynamically so that the real search query of the user is included.
Dynamic keyword insertion is considered a valuable asset; however, it can also lead you to trouble if you are not careful. If used properly, this can increase the capacity of the click-through rate. However, if used irresponsibly, it can get you sued.
This option helps in more specific targeting. For example, it enables you to create an ad containing more particular texts than most users type in. This is because the customers are more likely to tap on the headline that reflects more what the people are looking for. Dynamic keyword insertion is a part of a larger keyword optimization strategy that includes negative keyword discovery, long-tail keyword optimization, etc.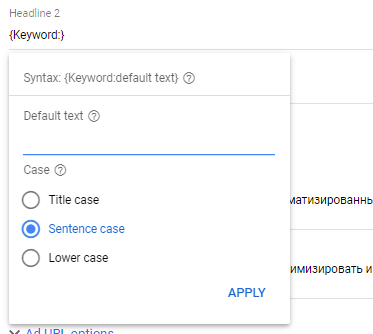 3. Ad Customizers
The ad customizers have been around since late 2014 and have mostly been used on seasonal events like Christmas, Halloween, Valentine's Day, and Mother's Day. However, this option does so much more than simply instilling urgency during the sales time by adding a countdown. This feature has been released by Google so that advertisers can leverage business data to create more personalized and relevant experiences.
In most cases, we tend to see ad customizers as nothing like add-ons that makes things even more complicated. But, interestingly, ad customizers will allow you to make simple changes to your ads, like adding simple information about your products or adding a countdown.
With this, you can further tailor your ads to a particular group of customers. Overall, we all know that the customers are becoming savvier than before; therefore, we need to do everything to make the ads stand out.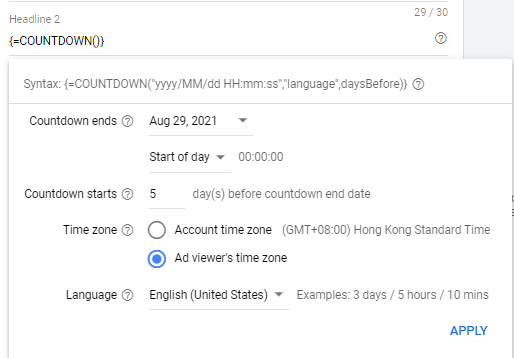 4. Google Keyword Planner
As the name suggests, Keyword Planner is a tool that allows you to find and filter out relevant keywords for your campaigns.
With the help of such a planner, you can handle the time-consuming task of finding new keywords for your Google Ads campaign. Apart from helping find new keywords, it also provides fast filtering actions, keyword grouping, and key metric data.
Once you enter your targeted region, language, and basic keywords, you simply need to tap on Get results. Once you do, you will see suggested keywords with various parameters like estimated CPC, competition, and monthly searches. Once done, you can add selected keywords to your plan or existing campaigns.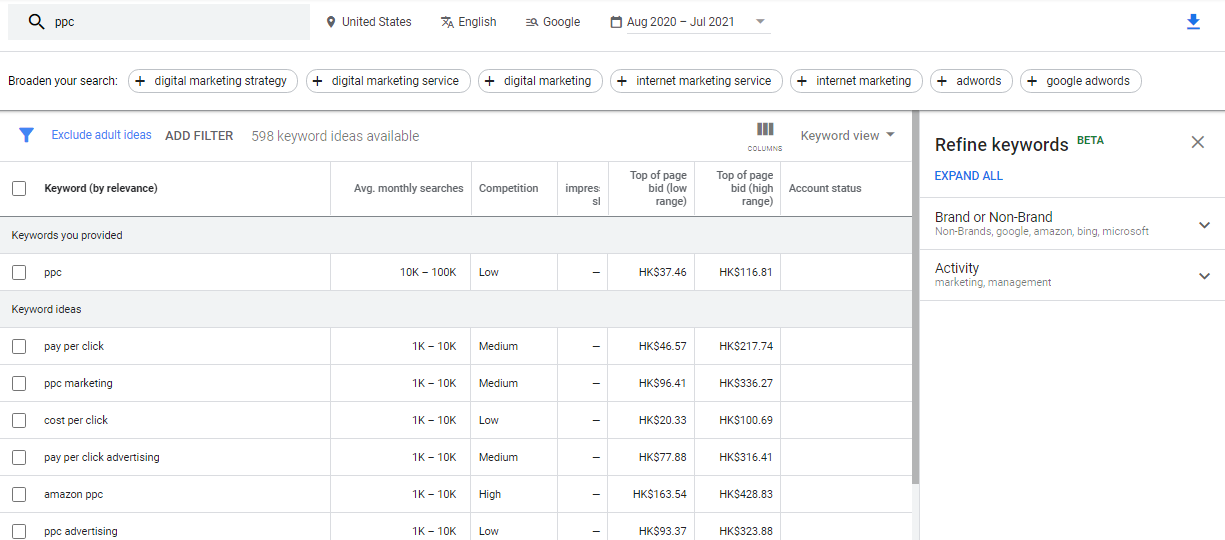 5. Responsive Search And Display Ads
With the help of responsive search and display ads, online businesses today can easily create and launch visual ads quicker than ever before. These are visual advertisements that will automatically adjust various aspects of its appearance like the format and size to fit an ad space, similar to what you would find on a website. In addition, these responsive ads feature multimedia like a video, logo, image, headline, and description.
These responsive ads are different from the conventional ones because they automatically test creative patterns and change them accordingly. These are ad formats that are definitely worth your time. One of the main reasons why advertisers get so excited with responsive ads is because of machine learning. This helps them create stronger ads and drive better results.
Responsive search and display ads also increase the reach of your assets and ad. Before, advertisers used to create separate creatives for every potential placement; this means that there were dozens of ad possibilities and creatives, which are now replaced by simple machine learning.
6. Automated Rules
Automated rules are considered the best ways to semi-automated Google Ads. These are a set of rules that automatically run and make changes to your Ads accounts, with certain conditions as well. These rules can be customized and allow you to make scheduled changes to your account.
There are three types of changes that you can automate. The status changes (for pausing or enabling ads, ad groups, and keywords based on the set conditions), bid changes (adjust the bids for all or selected keywords in an ad campaign or group), and budget changes (increase or decrease the budget of your campaigns at any time of the week).
Automated rules will help you save substantially on the advertising budget and also aid in managing your ads effectively, even if you do not have a lot of time on your hands. You simply need to set the conditions, and the system will work accordingly.
7. Google Ads Scripts
Google ads scripts are snippets of codes that help you control various variables of your ad campaigns. These codes are written in Google Ads Script and will provide you with several ways to automate common tasks like adjusting the bidding schedule or creating a performance report.
Additionally, if you are using external resources to manage your ads, the scripts can also help you make connections with several outside services via the URL or the IP address. In doing so, you will be able to pull in data from your eCommerce store or your inventory system.
The best aspect of the Google ads script is that there are hundreds of variables a developer can use to control almost every aspect of your Google Ads account. As a result, the ad scripts are considered powerful tools that advertisers can use if they know how to utilize them to their full potential.
8. Smart Bidding Strategies
In today's time, advertisers are making use of the many advanced machine learning and Smart Bidding strategies provided by Google. These are great tools for advertisers who are new to this field and manage larger catalogs that are filled with various campaigns simultaneously.
In the past few years, Smart Bidding strategies have become more advanced. As a result, performances have improved, and these strategies will only become more important.
The benefits of Smart Bidding strategies have become very obvious. If you use machine learning to optimize the process of bidding, you will spend less money and time worrying about your Google Ads. You will be able to analyze various signals to bid the unique account of each user.
Additionally, you will also be provided with control over performance based on the chosen attribution model. Google will also provide you with updates and reports that will allow you to better understand your bidding strategies.
9. Optimization Recommendations
Optimization recommendations are an estimate of how well your Ads account will perform. The recommendation will be shown for every Display, Shopping, and Search campaign. One of the important tools is the auto-apply recommendations.
All the recommendations can be divided into four categories. The extensions and ads recommendation will help you create new ads, organize them into better ad groups, and refine the existing ones. You can also add callouts to your ads, add descriptions, and more.
As the name suggests, bid recommendations will help you find the right bid strategy, like adjusting CPA targets, adjusting target ROAS, etc. Targeting and keyword recommendations are recommendations that will help you reach more people. Finally, repair recommendations will help you repair and optimize your ad text.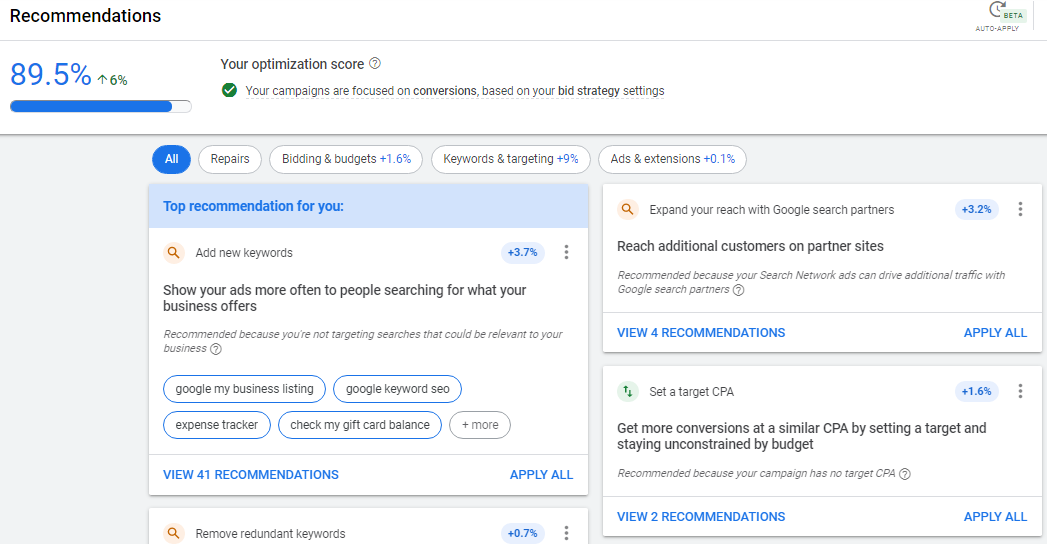 10. Shopping Ads
Shopping ads, also known as Google Product Listing Ads, are among the best tools advertisers can use to drive revenue and sales for any type of product. Google has made major improvements to improve the shopping experience of its consumers while releasing new ad formats and tools so that you can reach more customers.
Shopping ads are product-based ads that show up for product searches across Google Shopping and Google. Typically, the shopping ads contain the image of the product, the price, and the company brand name. You will also find additional information like promotions, shipping information, and reviews.
The performance of your shopping ads will depend on your ability to handle three aspects – the campaign structure, the bidding and targeting strategy, and the product feed optimization.
Final Thoughts
Of course, using such tools may seem confusing at times. However, it is all about practice. These in-built tools are best suited to automate and optimize your PPC campaigns. These tools are readily available and will provide you with the best results.
However, if you feel that Google's in-built features don't provide you with enough level of automation, or they seem too challenging, you can opt-in for third-party PPC automation platforms. For instance, PromoNavi allows you to automate your PPC throughout the entire advertising process—from keyword research and competitor analysis to analytics and reporting. Apart from PromoNavi, there are a lot of other PPC automation solutions: Wordstream, Adzooma, Opteo, etc. Just choose what platform matches best to your needs.
By optimizing your PPC campaigns and utilizing every option available, you're sure to increase engagement, gain conversions, and successfully grow your business.
The following two tabs change content below.
Latest posts by Sameer Panjwani (see all)