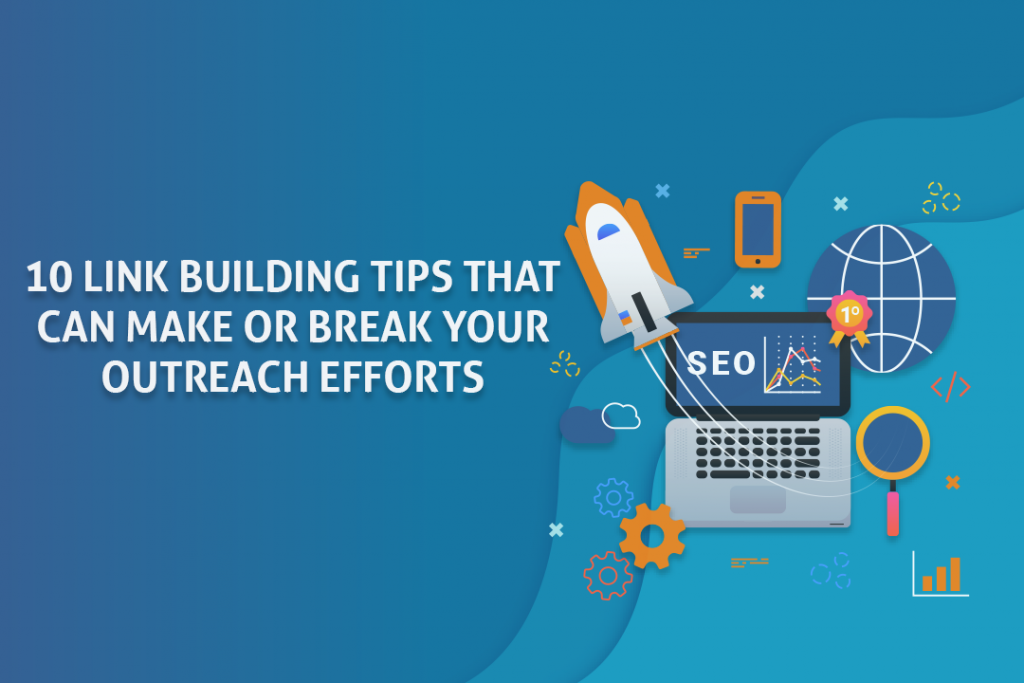 Learning new ways to improve your search engine ranking can be ecstatic, exciting and promising at first glance, but taking a crack at it will tell you it is not as easy as it seems. And such is the case with link building through blogger outreach as an SEO tool.
Search engine optimization (SEO) has become a very important aspect of online marketing ever since the internet became a "thing" and search engines – especially Google – launched to make the Internet easier and more efficient to use. Utilizing several SEO tools has become an integral part of online marketing as your search engine ranking is directly proportional to the traffic your site gets.  
What is Link Building?
When it comes to search engine optimization, link building refers to having links to your website or webpage featured on other webpage or in this case – on blogs, which in turn increases your rankings on search engines. The idea of using inbound links from another webpage as criteria used for ranking by search engines is not farfetched, as they assume that your posts must be of high quality to be worthy of being linked on certain websites and blogs.
A good method of link building is reaching out to bloggers to link back to your website. This can be done in a variety of ways using blogger outreach tools but there are several upsides to it and even little mistakes can ruin your entire effort. But, if done right, link building will definitely give you the boost your site needs to generate more traffic and ranking your page much higher on search engine searches.
How Link Building Can Make or Break Your Outreach Efforts?
Using blogger outreach as a way of link building is a very promising tactic but it is not all sunshine and roses! Search engines are constantly changing their search algorithms, literally changing the rules of the game in a single day.
This article is sharing our experience with link building through blogger outreach, its ups and downs and some tips we have learned along the way.
#1. Use Relevant Articles
Always use topics that are in high demand and of high quality for your link buildings articles. This is an important point to note especially when your primary aim is to improve your website's ranking as opposed to a routine blog post. More bloggers would be willing to add links to your webpage if what you have written is relevant to what they have posted.
Also, you want to have reliable and value-adding articles instead of just a random write-up, so pay attention to what your targeted audience like to read and use this as a benchmark to pick out what to write.
#2. Write High-Quality Articles
This cannot be overemphasized.  Not only must you write value-adding content, but you must also write it well, with the correct use of grammar and avoiding any spelling or punctuation errors. You want to have a properly edited and grammatically coherent article, filled with useful information and actionable advice where possible. Your audience has to come back from your articles feeling like they have learned something new.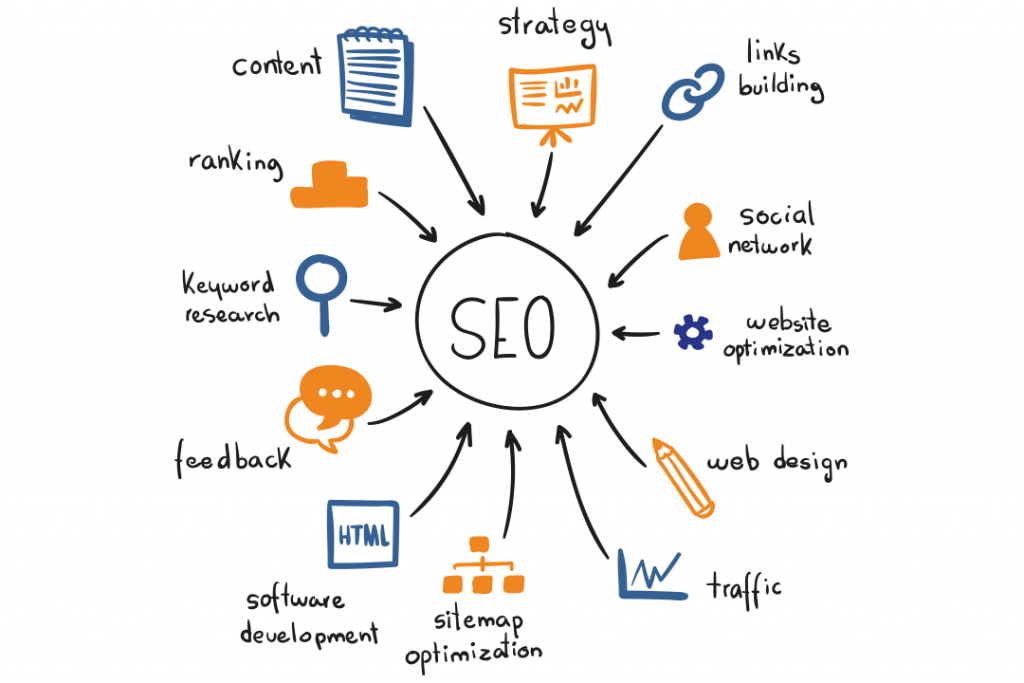 #3. Aim at Relevant Bloggers in your Niche
Make sure to start by making a list of relevant bloggers – otherwise known as link targets – before you start your outreach. Not all blogs carry equal weight when it comes to using link building as an SEO tool. This is because of black hat link building tactics that many website owners used. Search engine algorithms have been updated and no longer just rank pages on the number of blogs or sites that provide backlinks to some other site. Now it's more about the quality of the site where the backlink is placed – a typical quality over quantity approach.
So, do your research well and make sure you are approaching the top quality and trusted sites and not just random blogs. While reaching out to quality and already established sites may be more demanding and difficult because they are often contacted by lots of people for the same purpose when you do get them to publish your article and add backlinks to your website, it is usually well worth your time.
#4. Keep up with the Competition 
You can find out which bloggers or which sites are linking to your competitors using several online tools where you only need to enter the website's URL to find out which sites have backlinks to it. An example of such site is Majestic SEO with their Clique Hunter Tool. Other tools you can use are Monitor Backlinks free backlink checker, Ahrefs, SmallSEOTools, and more.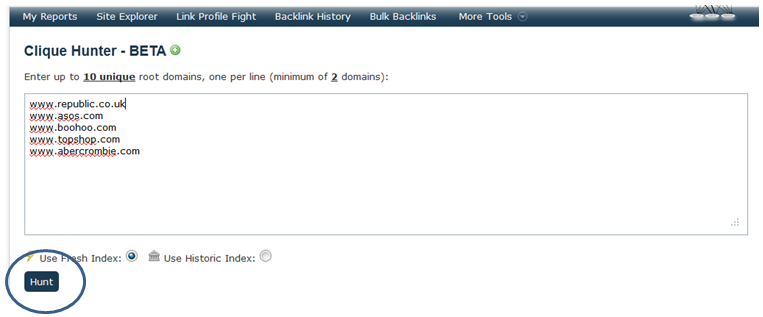 Use these tools to find out which bloggers are featuring back to your competitors, create a list and reach out to them to include links to your articles as well.
You might want to take this a notch further by creating a more comprehensive version of your competitor's top posts using skyscraper technique. Of course, you still have to keep your content unique, work on similar topics and make yours more detailed and comprehensive, including statistics, pictures, use sub-headings, write a longer and fuller article and reach out to those blogs about linking back to your website. 
#5. Avoid Black Hat Link Building
Black hat link building refers to unscrupulous and manipulative means of building links such as paying bloggers to provide backlinks to your webpage without adding any value to their readers or building pseudo sites which you use to send a link to your main site. There are several such manipulative link building methods which aim to take advantage of search engine algorithms.
While they may be attractive and provide short-term results when work, they are very dangerous and in the long run will ruin all your SEO work because when search engines – especially Google – finds out you used the particular techniques, it may cause you lots of trouble.
Drawbacks of using black hat link building techniques include:
Penalization by search engines which may include significantly lowering your page ranking or just plainly cutting out your page from search results
Such methods never last and are usually phased out quickly by search engine algorithm updates
There is no guarantee that it will work at all in the first place, leading to a waste of effort and opening your website to an unnecessary risk of being penalized.
If you need help with link building you can always get it from the internet or just get overall professional help from organizations that have the first-hand experience with delivering better SEO results using safe methods.
#6. Take Advantage of Social Media
Most of the bloggers are using social media on a regular basis – to communicate with their readers and share their content. You can take advantage of several social media platforms to reach your target blogs as well as to influence them to trust your posts more. Just tweeting them a post from your site that you are proud of might get them interested and help you build a relationship with them.
#7. Be Phenomenal and Consistent
Useful and high-quality content shouldn't be limited to guest posts only. You should update your website with outstanding and unique articles frequently to show potential link building prospects that you know what you are doing and can write fantastic articles which will be interesting to their audience and not just written for the link.
#8. Follow up
You should always follow up on your links and posts. Check back on blogs that have your links featured in their posts and see how well they do. If there are some comments, reply to them. Keeping the relationship with the blogger alive after the link is placed opens up more opportunities for the future, like sharing more content and links or even working on projects together.
#9. Fix Broken Links
Sometimes it happens that the links in your posts on blogs are broken – linking to a page that doesn't exist or a different page than you'd like to. It happens, sometimes due to spelling errors or just wrong copy-pasting. This is bad news for you as it means your efforts won't get the desired results. This is another reason why you need to follow up so you can find out what exactly is wrong and ask the blogger to fix it.
#10. Keep up with the Technology
While search engine optimization is always going to be around for as long as search engines operate, the specific technology and algorithms they use do change and you should follow these updates and take appropriate measures to make sure you are not left behind.
To be successful in link building, you always want to stay ahead of the game.
There are several tools online that can help you accomplish each of those tips with ease, you just need to know what you are looking for. You can also check out some of the best blogger outreach tools to help you with your link building endeavor.
The following two tabs change content below.
Antonija Bozickovic
Antonija is an internet marketing specialist at Point Visible, a marketing agency providing link building and digital marketing services. She has a great interest in digital marketing and a soft spot for graphic design. She's never tired of searching for new inspirations, listening to her favorite music and creating digital illustrations.
Latest posts by Antonija Bozickovic (see all)