If you're into SEO, you probably already know the value of a good ol' backlink. After all, backlinks are an important ranking signal used by search engines to determine the authority of your website—and building more backlinks will most likely result in higher rankings.
So, it's time to scale your outreach and build XXX backlinks, right?!
Well, not really. Links are no longer equal, especially because Google constantly innovating the PageRank algorithm with multiple ranking factors being added every single day.
You can longer 'game' the system ( Psst… PBN links) as Google can tell a fake backlink profile from a mile away —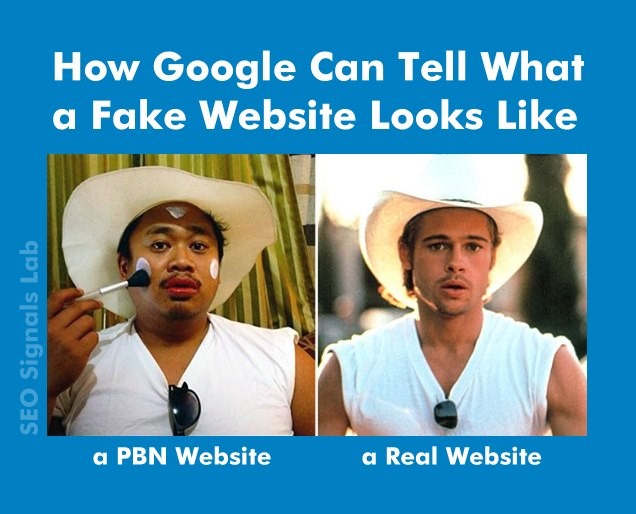 What's more, unethical backlinks can potentially harm your website—and most likely result in penalties that take months to overcome.
But what about 'good' links, aren't all of them valuable?
Again, no. As mentioned, Google has multiple ranking factors, so they allocate different values to different types of 'good' links. In this post, I'll walk you through techniques to maximize the value from your backlinks as reported by industry experts:
#1. Build Links From Popular Pages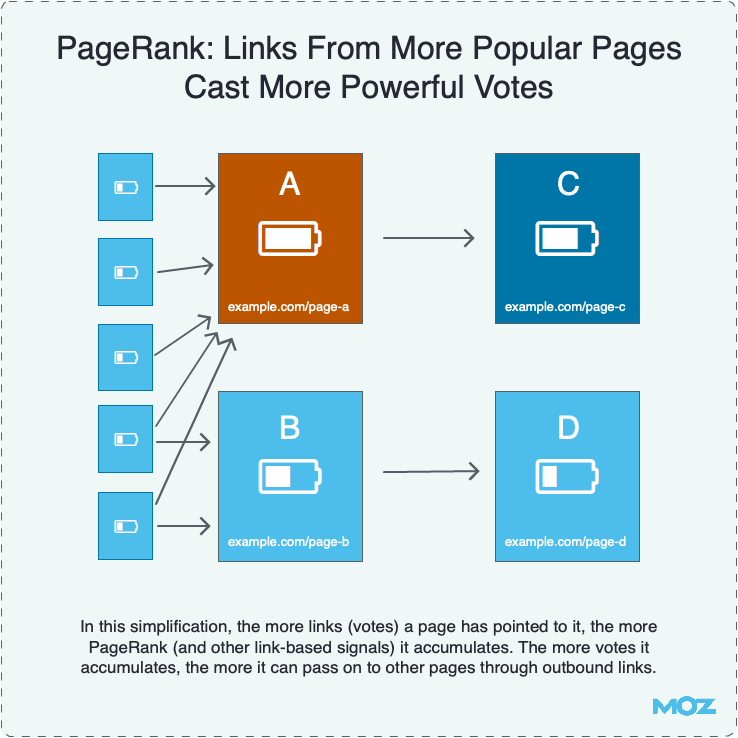 According to Google, the more votes (read: links) that point to a page, the more PageRank it accumulates—and the more votes it collects, the more links it can pass on to other pages. Basically, you want to score a backlink from a popular high DR page as it offers the most powerful backlink.
Pro tip: Naser Alubaidi uses content partnerships to build links from high DR pages.
#2. Place Links Inside Your Article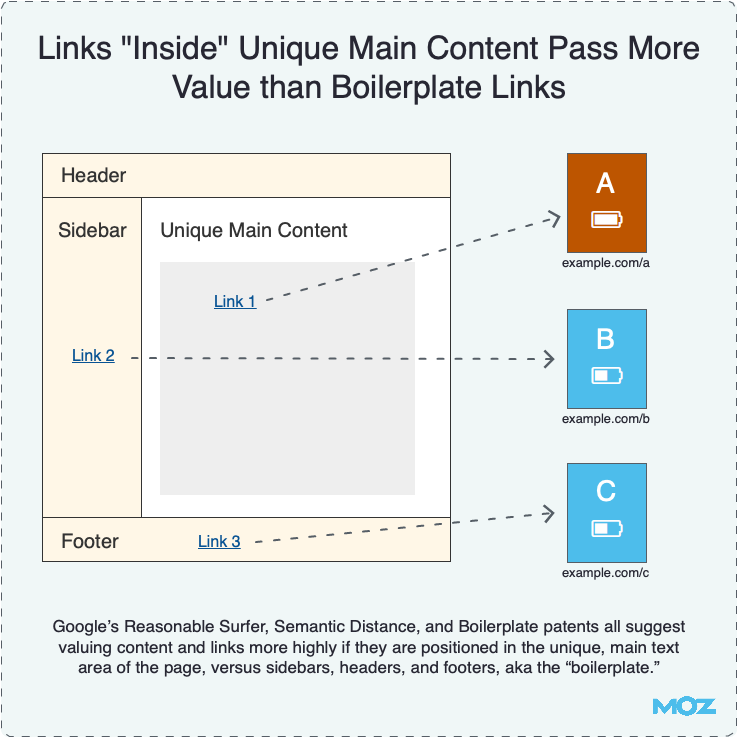 Google has time and time again, valued contextual links. This makes sense, as boilerplate links (think: sidebars, footers, etc.) are not truly editorial (even if a human did put them there).
Google's quality guidelines encourage evaluators to focus on the "main content" of a page i.e., the content body. On another note, links are hidden within CSS or JavaScript (think: expandable tabs, accordions) tend to carry less weight than fully visible links.
#3. Place Links Higher Up in Main Content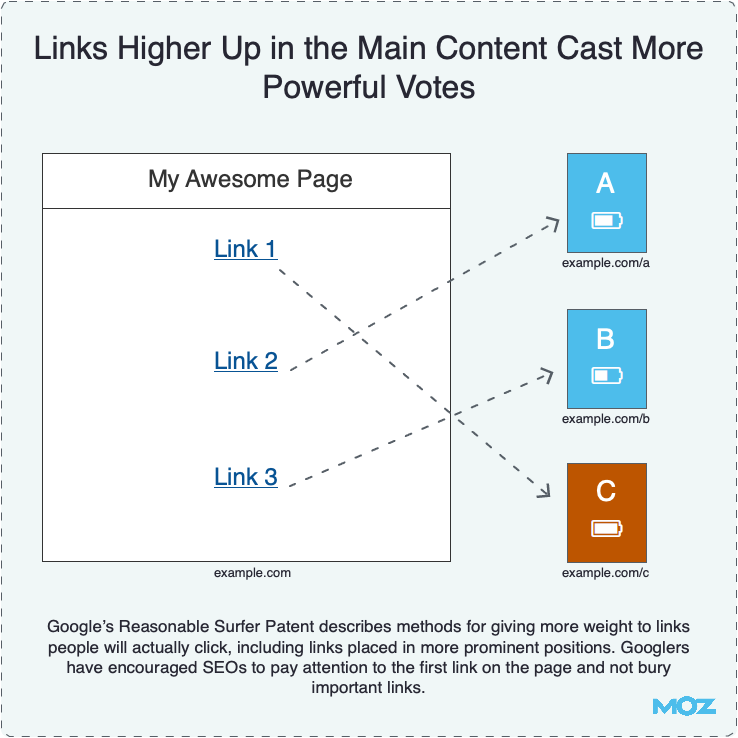 Let me ask you a question—If you had to click two same links, which would you click?
A link placed prominently in the first para, or
A link paced towards the end buried in between several paragraphs
Of course, the former, so Google values links higher up in content more than those placed at the bottom. In fact, the Reasonable Surfer Patent by Google suggests multiple methods for giving more weight to links based on user experience.
#4. Use a Relevant Anchor Text
Another factor included in Google's Reasonable Surfer patent is allocating more weight to links with relevant anchor text. Again, this is a play at user behavior as you want a user to land on a destination highly relevant to the link.
In fact. Rand Fishkin (founder of Moz) has run many experiments on anchor text selection and concluded that anchor text selection influences the value of a backlink.
On another note, Google strongly recommends steering away from spamming your pages with an abundance of exact match anchor text or using irrelevant anchors to the pages.
#5. Get Links From Unique Domains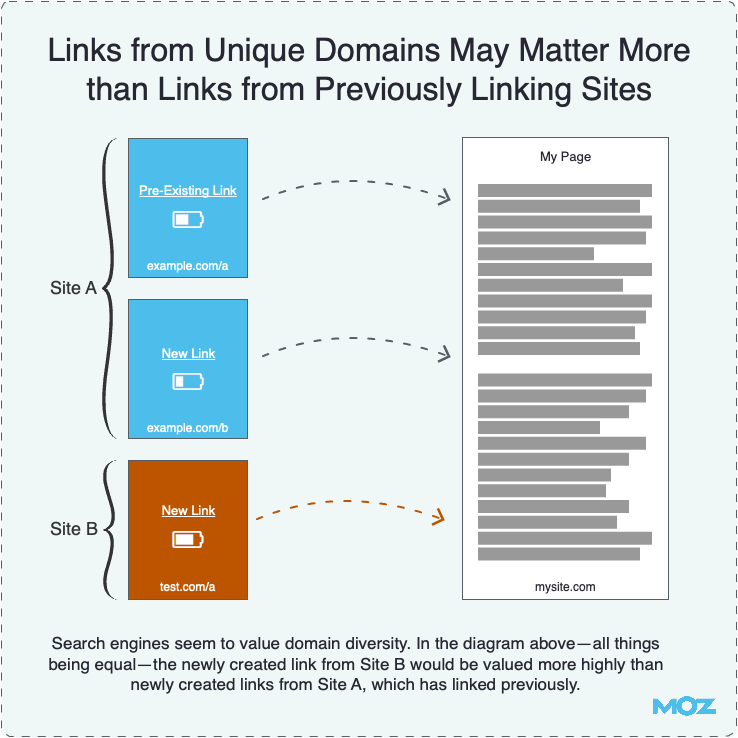 Google's algorithm is designed to measure popularity. So, it will obviously rank a site that has backlinks from different domains over one that has multiple links from a single domain.
In fact, this concept is strongly suggested in almost every SEO ranking factor correlation study. The number of unique linking root domains is almost. However, links from the same high DR websites are always better than links from a random low DR site.
#6. Prioritize Relevancy When Building Links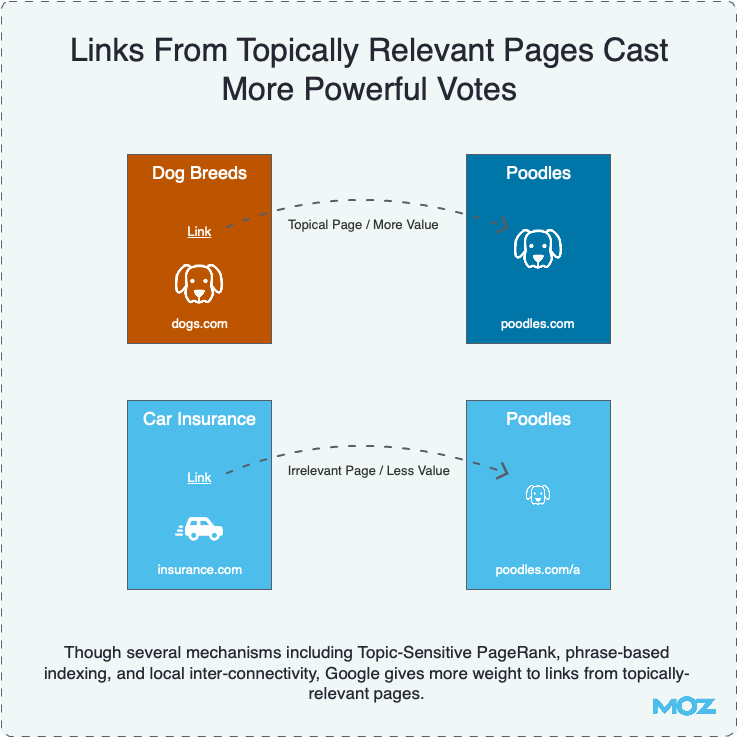 Let's say you run a medical blog. All things being equal, would you rather get a backlink from:
The National health association, or
The association of Automobile technology
Of course, you'd choose the former as it's more relevant to your blog—and Google would do the same. So, always build links from sites that are relevant to your website.
#7. Get Links From Fresh Pages
Google rolled out the Freshness update on June 2019. Basically, Google values sites that regularly update their content over those that don't—and the same applies to backlinks.
Pages with links from fresher pages hold more weight than pages with links from old stale pages, or those pages that haven't been updated in a long time. I recommend checking out Justin Briggs' article on FreshRank for more information on this subject.
On another note, offer to update old guest posts to replenish the backlink from that post. The same goes for your existing pages.
#8. Maintain a Good Link Frequency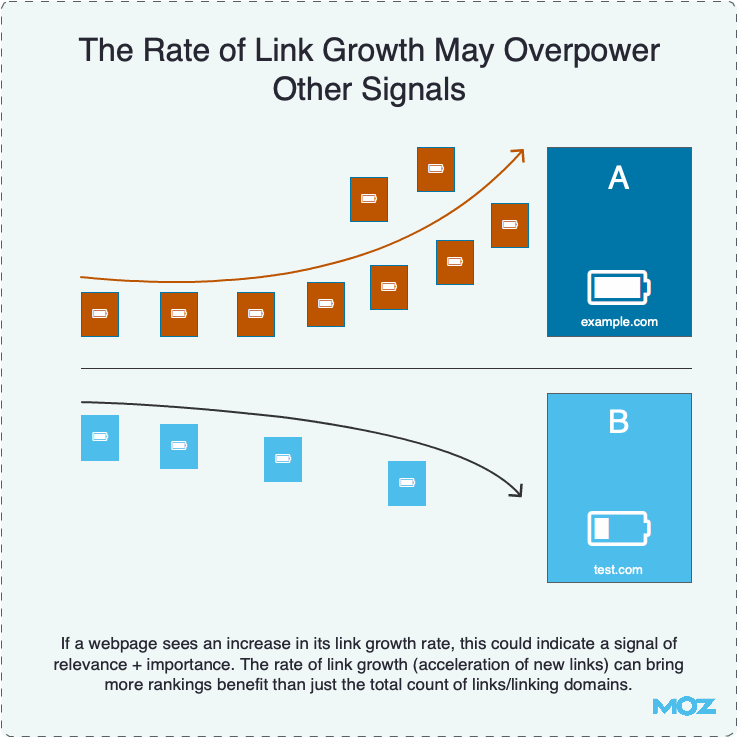 Google values pages that continuously receive links as this can indicate a signal of relevance.
On another note, a decrease in link frequency is a signal that a page has become stale, and is most likely going to be devalued in SERP. I recommend reading Google's Information Retrieval Based on Historical Data patent.
So make sure to build links to old pages after every few months.
#9. First Links From a Page are Prioritized
If a page has multiple links to the same URL, only the first link has priority. Yes, Pagerank usually flows through both the backlinks but they will only use the first anchor text for ranking your website.
If we apply technique (4), then you'll need to pay attention to anchor text selection to the first link as Google will use this to pass authority.
10. Build Links From Sites in the Authoritative Space
Google trusts sites that link out to authoritative content over those that don't. Yes, linking to authoritative sites isn't explicitly a ranking factor, but Google has made stated that this can impact your search performance: 
"In the same way Google trusts sites less when they link to spam, parts of our system encourage links to good sites." – Matt Cutts 
What's more, there have been multiple SEO experiments that suggest that links to relevant and authoritative sites can result in a net positive effect on SEO.
11. Don't Build Links From Sites Associated with Spam Sites
If we focus on the first past of the above quote, we'll understand that Google trusts sites less when they link out to other spam sites.
There's ample evidence of Google devalues spam links —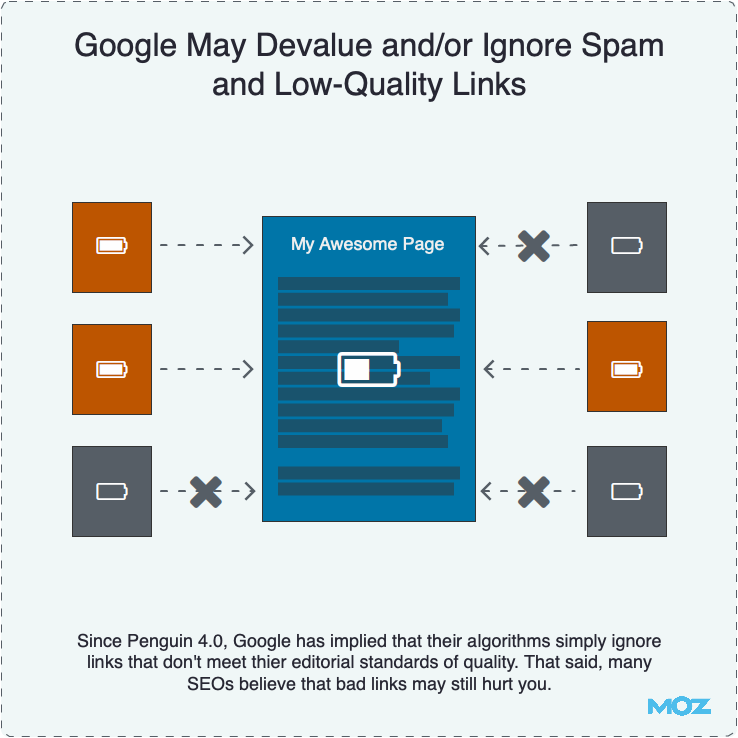 In fact, time and time again, Google has penalized sites that participate in unethical link building strategies like hosting paid links or being part of a private blog network (PBN). As a rule of thumb, don't build backlinks from websites that 'sell' links or offer links to anyone and everyone.
#12. Nofollow From High DA Sites Tend to Have Some Value
In most cases, extremely high DA websites don't offer backlinks. Instead, they offer nofollow backlinks, which, in theory, are links that Google doesn't follow.
 It's a common belief that nofollow links don't count at all, but there are numerous SEO correlation experiments done that all suggest nofollow links.
What's more nofollow links from high DA/traffic websites like Wikipedia will have a net positive effect on SEO as they'll most likely send traffic to your site (which itself is a good enough reason to these links).
I recommend reading Moz's guide on maximizing value from nofollow links for more information on this subject.
Bonus 1: Build Links to Your Source
So, you got a high-quality backlink from a page or a guest post, a job is done, right?
Wrong! Work on promoting that post and building links to it from your network. As mentioned in (1) Links from popular pages have more value than links. So your job is now to market your guest post and on the whole increase the authority of that page.
This will, in turn, help increase the value of your backlink and ultimately increase your rankings without building new links.
Bonus 2: Build Internal Links
Maintaining a good site architecture is as important as building external backlinks as internal links is a great way to pass link juice between pages on a site.
For instance, you can improve the ranking of pages bypassing them links from the high DR pages on your site. Now, site architecture is beyond the scope of this article, but I recommend reading Zyppys guide for more information.
Bonus 3: You Don't Necessarily Need Backlinks
Google doesn't always need links to connect two sites. Google can connect data about entities without the presence of backlinks, the same way as it does with local business citations or brand mentions (think: movies, celebrity, etc.).
In this scenario, the unlinked mentions will still associate authority with a website—even if there is no link present. I recommend reading Bill Slawski studies on related entity scores to learn more about this subject.
Keep It Smart, Clean and Real
Yes, building links is a powerful SEO strategy that will boost the SEO of your site, but not all links are created the same. At the end of the day, a site that builds high-quality real links will be valued higher than sites that build links through shady black hat SEO. For instance, I never buy links or participate in PBS. Instead, I build links to my blog through guest posts or by building real relationships with people.
Remember, there are no shortcuts, and the same is the case with link building, so keep it real, and choose your links wisely.
Good luck!
Image Credits – Moz
The following two tabs change content below.
Mark Quadros
Mark Quadros is a
SaaS writer
that produces rad content that not only drives traffic but also boosts user engagement. In his free time, he loves traveling the world and living a minimalist life from his backpack.
Latest posts by Mark Quadros (see all)