Your website is the face of your business. It reflects how you want the world to view your brand. Strong website security communicates professionalism. It establishes trust between a website and its visitors. More than that, though, search engines like Google favor secure websites.
So, implementing website security strategies could give you a nice search engine boost. According to a SiteLock report, cyberattacks cost SMBs around the world roughly $25K every year.
Therefore, implementing simple security strategies is easier – and cheaper – than removing malware or trying to recover a hacked account.
The screenshot below shows statistics from SiteLock's cybersecurity report. You will notice the recent explosion of security incidents. I.e., the volume of threats doubled in 2022 compared to 2021.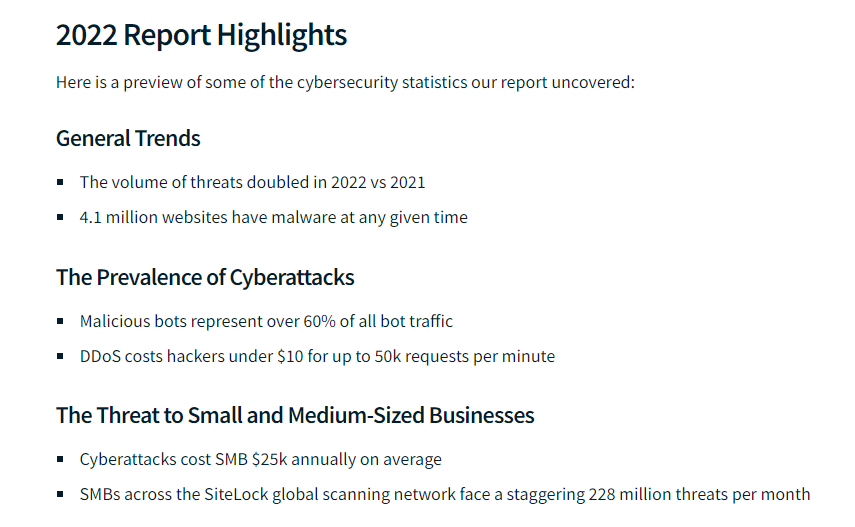 With that in mind, here are five strategies that brands can follow to improve website security.
1. Choose the Best Web Hosting Service
Web hosting services can be a minefield, especially if you're new to managing a website. When browsing a web hosting website, you will see services like WordPress hosting, VPS hosting, dedicated servers, and plain old web hosting. These all vary in cost, bandwidth, and storage. When you choose your hosting plan, security features are some of the most essential aspects to consider. You will likely find that many hosts offer decent security measures as standard, protecting their customers against common attacks. Paying a little more gets you extra security.
Look out for things like:
A backup solution
DDoS (distributed denial of service) attacks protection
IP blockers, which block requests from hosts with specific IP addresses
Complement these with a tech team that carries out a strong cybersecurity strategy and your website should be fine.
Additionally, some hosting types are naturally more secure than others. VPS (Virtual Private Server) and dedicated hosting, for example, tend to provide more effective website security than shared hosting.
VPS and dedicated hosting gives users their own hosting environment. Shared hosting, on the other hand, involves sharing server space with other websites. This can cause servers to overload and crash, which can lead to cyberattacks.
The screenshot below is taken from GoDaddy. You will notice it has three hosting categories. There are also two types of hosting plans under each of these categories, each with their own features and perks.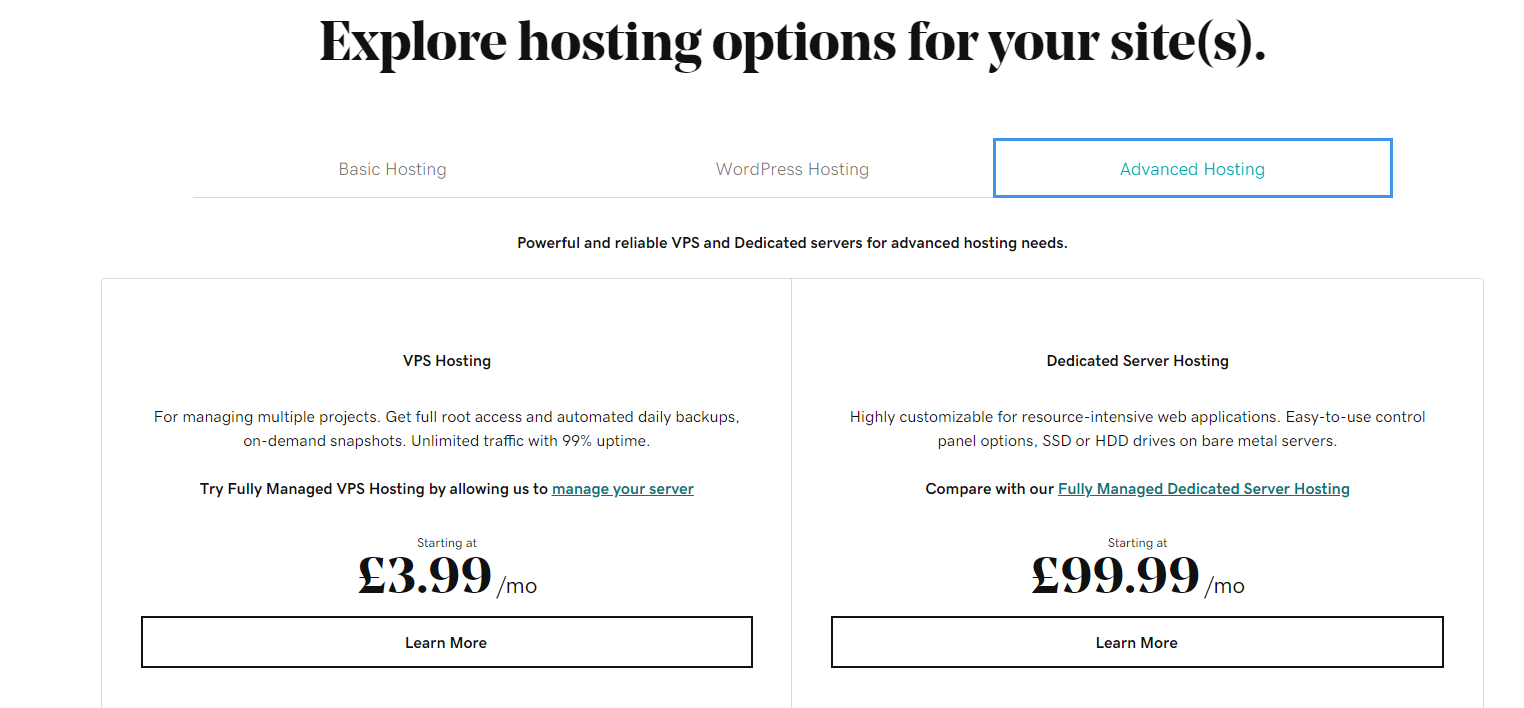 Unless you have a tech team behind you, managed hosting services are normally the better option. With managed hosting, your host will take care of many aspects of managing and maintaining your website. This includes updating, configuring, and optimizing.
Managed hosting tends to enhance website security too. You will normally receive much better support from your host, should you fall victim to malicious activity.