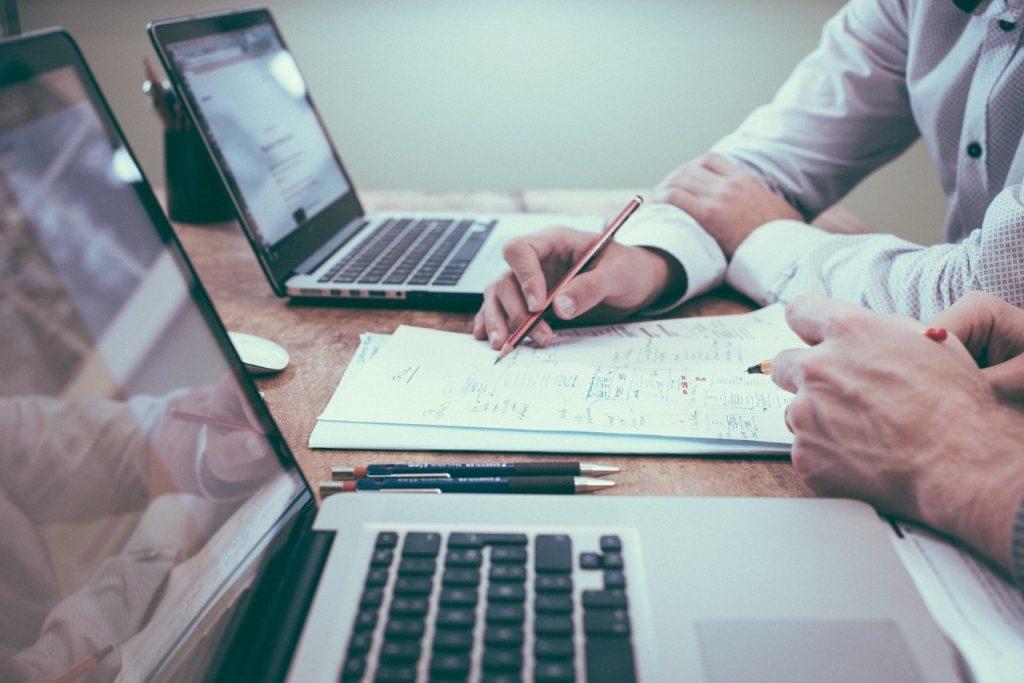 Find out how to strike the best balance between paid search engine marketing and organic search engine optimization.
What's the difference between SEO and SEM? 
This question, commonly asked by businesses big and small, can help you organize your online marketing strategy for maximum success.
Both paid search advertising and organic SEO services can provide value for your company.
Using both together, though, is a cost-efficient and effective method to earn targeted, valuable traffic to your site.
In this article, we'll explain how to balance SEO and SEM strategies to get the most from your digital marketing campaigns.
Specifically, we'll cover 3 main factors of consideration: 
Determining whether to invest in paid search advertising

How to plan for the costs of SEO and SEM

How to boost overall results by combining SEO with SEM
Definitions and Differences: SEM vs. SEO
Search engine optimization, or SEO, refers to the practice of optimizing your content for organic search engine results pages (SERPs). SEO almost always refers to your business' organic rankings on Google SERPs.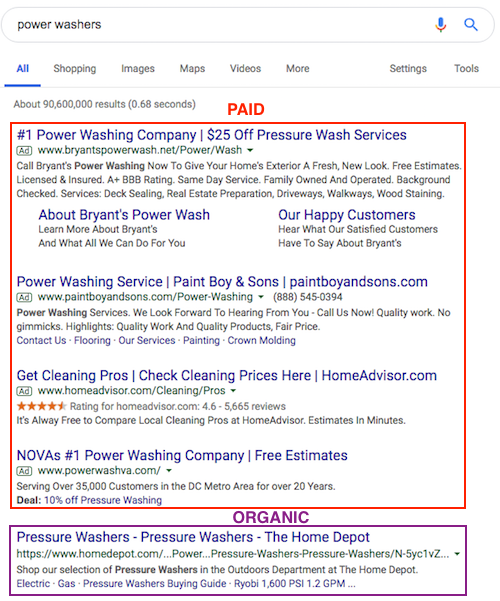 Search engine marketing, or SEM, refers to paid advertising on search engines, namely pay-per-click (PPC) advertising on Google Ads.
#1. Should You Invest in Both SEM and SEO?
Investing in both organic SEO services and paid search engine marketing provides short and long-term search marketing success.
PPC Advertising Boosts Brand Awareness
To start, PPC advertising allows you to earn tops search engine results immediately, which directs traffic to your website, landing pages, and content. 
PPC ads are excellent for new businesses because they allow you to begin building your brand before your organic efforts begin to take effect.
Established businesses also benefit from paid search ads by maintaining brand awareness at the top of SERPs, particularly for highly competitive keywords and terms.
People's opinions about PPC advertising demonstrate that there is a great deal of value for businesses that invest in PPC advertising.
According to a recent search engine marketing survey, 
Most people (77%) can recognize paid search ads.

75% of people say that paid search ads make finding information easier.
In particular, paid search ads that respond directly to people's search queries are the most likely to earn clicks.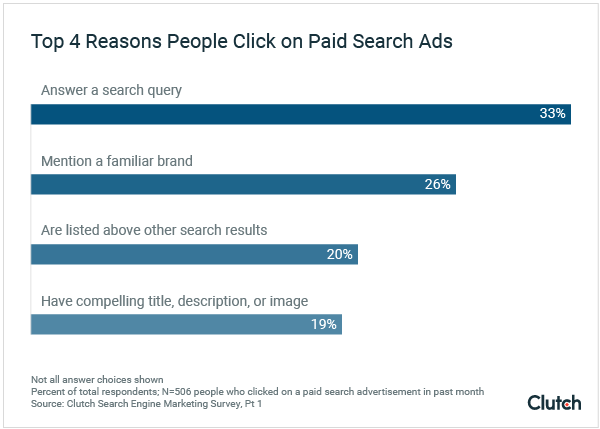 SEO Services Drive Traffic in the Long-Term
Organic SEO, on the other hand, is a long-term investment.
 It takes time for your content to show up in the SERPs, and results vary depending on factors: 
Your website's domain authority (DA)

: Domain authority is a scale designed by Moz that signals whether your site is a trusted source of information online. Sites with high DAs get the benefit of the doubt from search engines, thus are more likely to rank well. Sites with low DAs need to earn inbound links and traffic to a page to prove its content is relevant to a search query.

Link building efforts

: Inbound links boost search rankings. The more links you earn to your content, especially from sites with high DAs, the better your content will rank.

Keyword competition

: The higher the keyword competition, the more sites that are vying for placement for that term, meaning the harder it is to rank for.

Competitor's content

: Your competitor's search rankings should serve as your barometer. For example, if they rank well for most of your target short-term keywords, aim to dominate medium and long-tail keywords while chipping away at the terms they own.
Count on at least 4-6 months before you begin to see the results of your SEO efforts, though this depends on the same factors as listed above. Overall, it's reasonable to expect at least 12 months before you feel you've reached "peak" performance.
#2. What are the Costs of SEM and SEO?
If you had unlimited funds to invest in PPC and SEO services, chances are you would find yourself near or at the top of all of your target SERPs.
Like everything else, though, search marketing is subject to your company's budget constraints.
So before you invest in either, you need to consider the costs associated with search engine marketing and SEO services.
To start, pay-per-click advertising (PPC) costs are subject to the choices you make about a number of variables.
The factor that impacts cost the most is keywords. Different keywords have different value: The average cost-per-click (CPC) in the U.S. on Google Ads is about $1-2 per click, but that's a broad generalization. If you are targeting a keyword or phrase with that bids at $37 cost-per-click (CPC), you may exhaust your budget quickly.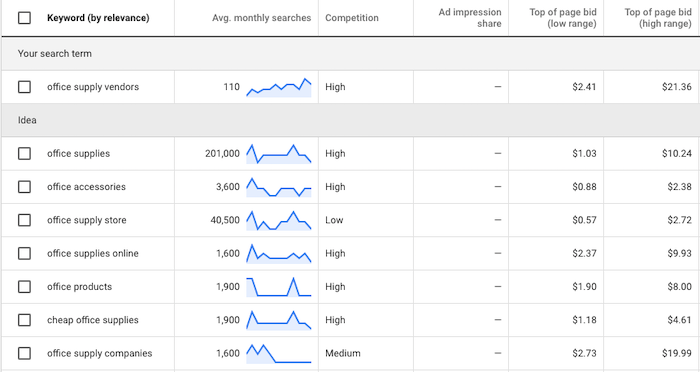 Other factors that affect the cost of your PPC management include: 
Targeting

: Using PPC platforms such as Google Ads, you can target keywords based on their location and the device people use to search on. Through these options, you can limit or expand the scope of your PPC campaign.

Frequency

: Running continuous ads for target terms creates a substantial bill over time. You need to decide which keywords are worth long-term investment and which are worth simply testing or sporadically bidding on (i.e., during promotions or the holiday season).
Cost of SEO Services
SEO is often considered "free" marketing because you don't pay Google for organic results in the SERPs.
The idea of "free SEO," however, is misleading. 
Even if you handle SEO in-house, there's a significant amount of time, energy, and expense attached to optimizing your content.
For example, training team members and keeping up with Google's constant updates is primary to keep in mind when budgeting SEO costs. 
In addition, producing and optimizing content for SEO is a significant time cost, especially when it's done at a high-level.
Some businesses hire an SEO company or consultant to help them optimize and market their content. These specialists can help brands navigate the ever-changing and often-complicated world of search engine optimization. 
The price of SEO services varies according to multiple factors, but expect a full-time services partner to cost at least $1,000 a month for retainer costs.
When budgeting for SEO and SEM, keep in mind that both strategies involve expense, and be sure to keep the "hidden costs" of SEO in mind when planning your budget.
#3. How To Coordinate SEO And SEM Efforts for Maximum Results
Complementing SEO services with paid search engine marketing can help your company achieve optimal search results. 
For example, you can use PPC campaigns can direct people to specific landing pages. SEO, however, is best used to direct traffic to a page designed "for the masses." 
Through these various paths, you have the opportunity to present search audiences with targeted content about a product and service you are promoting through a paid campaign and general information about your company they can find through organic search.
You can also use PPC advertising to A/B test your content and learn the sort of language and copy people respond to the most.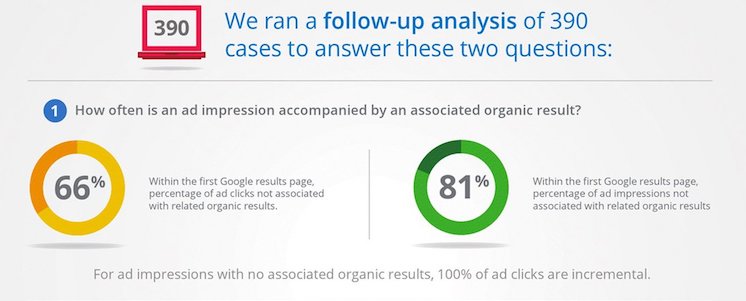 Using data from PPC campaigns, you can optimize your organic efforts to reach the same audience without the explicit cost associated with PPC.
When doing this, it's imperative to test, measure, and analyze the results of your PPC campaign early on so you can adjust your organic strategy accordingly. Analytics can immensely improve the results of your SEO efforts.
A Balanced Search Marketing Strategy Paves the Path to Success on SERPs
A healthy balance of paid and organic search engine efforts is a quick and efficient path to earn high-quality and targeted traffic to your site. 
Use paid search ads to boost your traffic, engagement, and awareness while dedicating resources to building strong SEO services for long-term success.
Since many people choose to click on paid ads over organic search results, be sure to continue your PPC campaigns long after you achieve results in the SERPs. 
The following two tabs change content below.
Grayson Kemper
Grayson Kemper is a Senior Content Writer for
Clutch
, the leading platform for B2B research, ratings, and reviews. He researches SEO companies, trends, and cost to help businesses find the best resources for their SEO needs.
Latest posts by Grayson Kemper (see all)