Years ago, infographics for SEO were all the rage as they were considered a smart choice for blog posts and online articles. These days the hype seems to have reduced. But don't confuse that for a reduction in the infographic's relevance, especially as it relates to SEO.
This report says infographic content is 30 times more likely to be read than other types of content. That means that if you have an infographic on your site, the chances of people staying will increase. A study found that there's a correlation between dwell time or the time a visitor spends on a page before returning to SERPs, and Google rankings.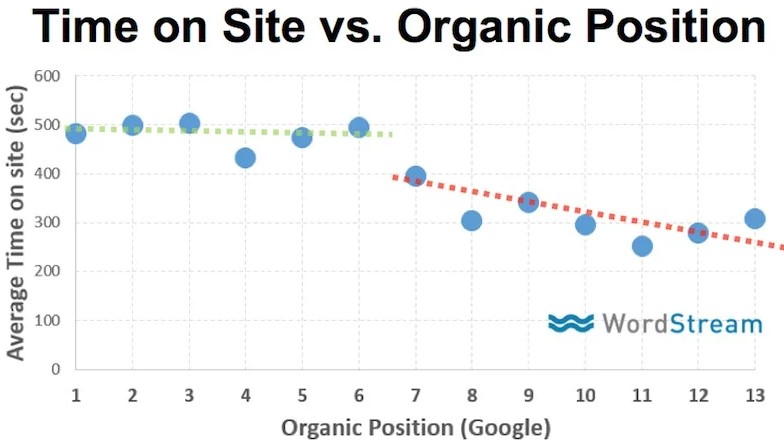 We also can't ignore the fact that infographics are a magnet for high-value backlinks. Backlinks are one of Google's important ranking factors. If you have many authority websites linking to your infographic on your site, you can boost your SEO ranking. This is why most eCommerce and SaaS link-building strategies include the creation of these linkable assets.
All this to say, your brand still needs infographics. But they should be created the right way for you to reap these SEO benefits, of course. So, here are three tips to follow when writing copy for your infographic for SEO:
Tap into the Audience Need
It doesn't matter if the site for your infographic has a quirky feel for millennials or a serious web design for manufacturers. Before creating infographics copy, you need to figure out what your audience needs. If you don't know your audience, you'll end up creating copy that doesn't serve its purpose. By that, I mean your copy just ends up confusing readers, rendering the infographic useless when it comes to boosting your SEO.
So, how do you tap into the audience's needs in the first place?
Create an audience persona before crafting that copy. An audience persona is a fictional character that represents the people you'd like to attract. It points out your audience's needs, wants, and pain points. With your audience persona, you can understand the topics to address in your infographics copy.
Here's an example of an audience persona.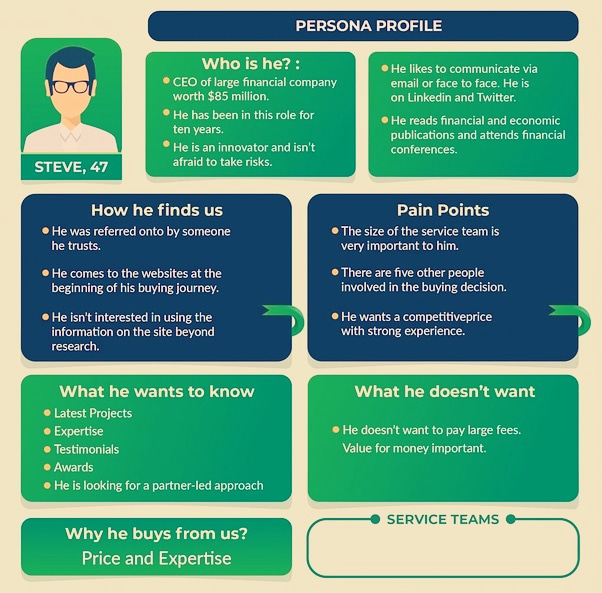 To generate the data for your audience persona, you can ask your target audience themselves via surveys or check out their behavior using analytics tools. What pages on your site do they go to? Which types of content do they like?
The more detailed your audience persona is, the better.
Once you've figured out your audience pain points, you can start writing infographic copy around those pain points.
Let's assume, based on your audience persona, that your website visitors frequent your email marketing blog posts. That means they probably make email marketing queries. Therefore, it would make sense to create infographic copy on that umbrella topic (e.g., 5 email marketing tips, 5 best email marketing tools…).
So, when your target audience makes a specific email marketing query again, your infographic, if optimized, is likely to show up in search engine results pages. It can also help keep your website visitors on your page if the copy is engaging enough. Some authoritative blogs and websites might even link to the infographic if they see it's quite popular among users.
Use Relevant Keywords
I mentioned that your infographic can show up in SERPs if you based its creation on your audience's needs and if it's optimized. We've talked about how you can base your infographic copy on your audience's pain points. Now let's talk about how you can optimize it.
When creating your infographic copy, you just need to choose the right keywords that reflect your target audience's pain points. What are those right keywords? They're long-tail keywords. Although head keywords have the highest monthly search volume, they also have the highest competition. Long-tail keywords may have the lowest monthly search volume but they produce the most on-point results for customers. See the graph below.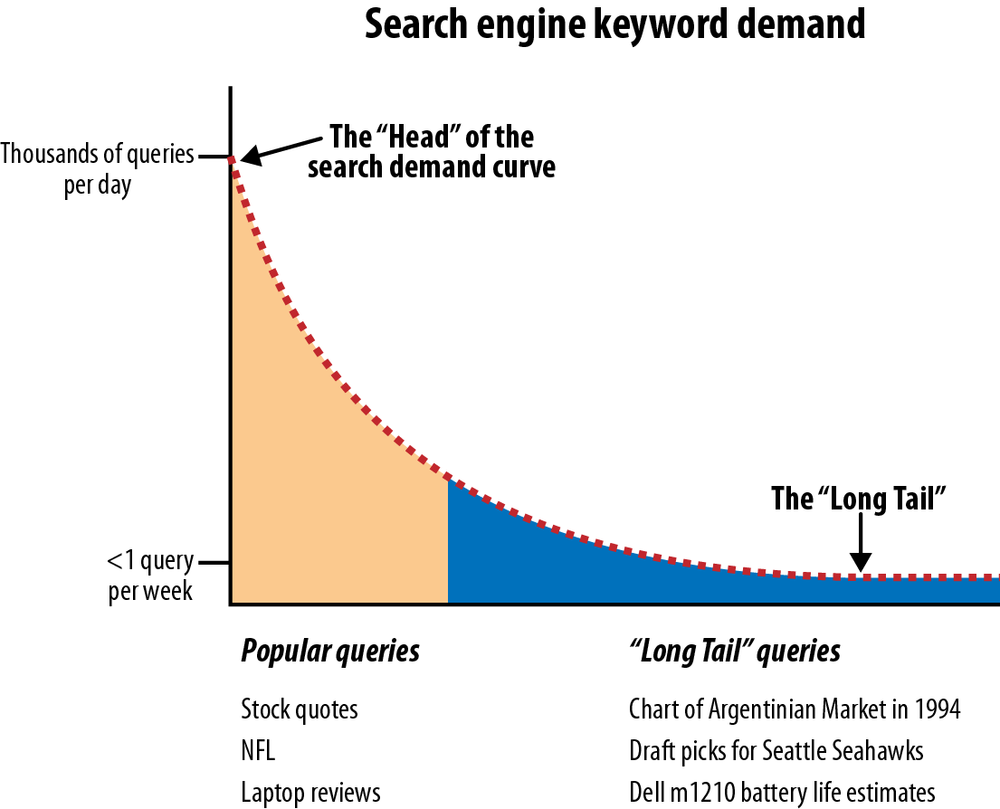 Tools like Google Keyword Planner or Mondovo can help you in your keyword research.
Once you have your list, you can just incorporate your keywords into the copy of your infographic for SEO purposes. Aim for a 1% to 3% keyword density. Keyword stuffing is frowned upon, and you can get penalized by Google for it.
Utilize an Outline
Remember when I said your infographic can help you increase dwell time and, therefore, boost your SEO efforts? Of course the assumption there is that your infographic copy is well-written and easily understandable. If your infographic copy doesn't make sense, even if it taps into your audience's need, it won't keep website visitors on your page.
That's why you need an outline to create copy for your infographic for SEO purposes.
Creating an outline doesn't have to be a complex process. Just determine your main topic and subtopics. Then decide the order you'll discuss them. For instance, if your main topic is 3 email marketing tips, your subtopics could be:
Segment your subscriber base
Personalize
Optimize for mobile
Notice how there's a logical order to those subtopics? Once you have your order, just break down your copy using infographic headlines.
You can even incorporate a subheading that complements those already-effective headlines. Check out this example: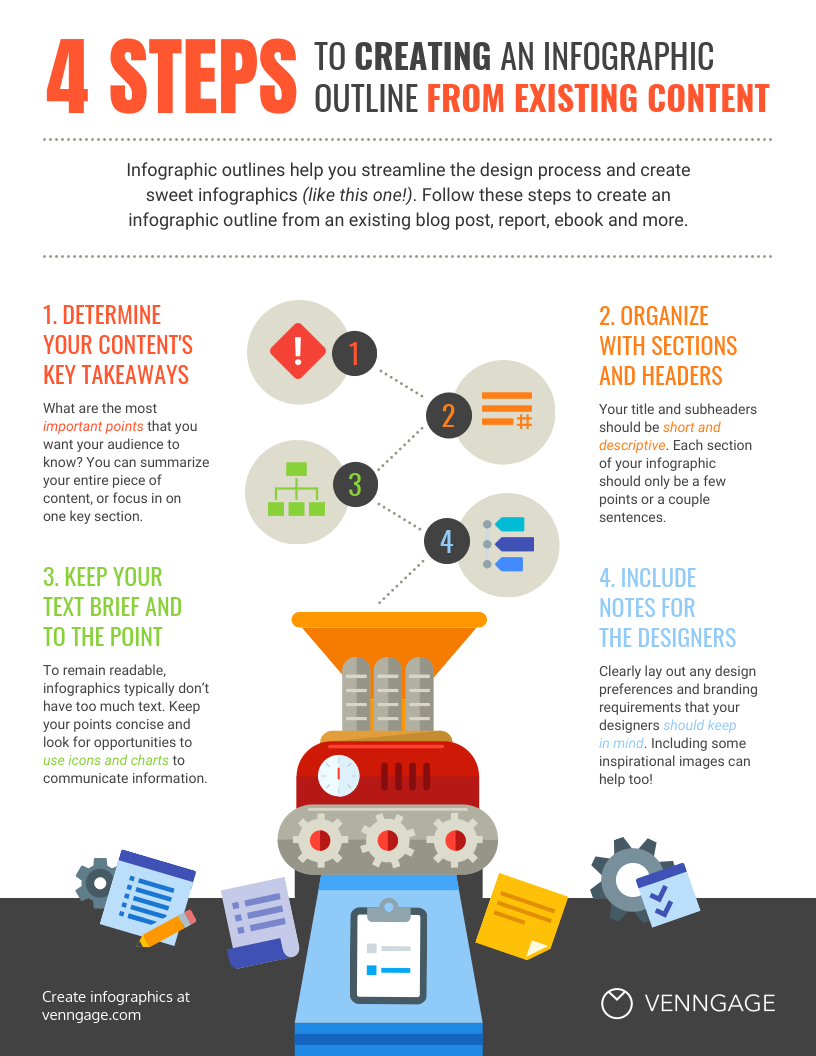 But your headlines and subheadings won't serve their purpose of giving structure to your infographic copy if you don't ensure typographic hierarchy.
Typographic hierarchy tells your reader what to focus on. It tells them which part of your text is the most important and which one serves as support information.
There are several ways you can ensure typographic hierarchy. You'll need to focus on one or more of these elements when writing your copy:
Size: the more important the text, the bigger the font size. So, your infographic title should have the biggest font size. This is the first thing your readers should see, after all. The title tells them what your infographic is about and tells them it offers value to them.
Weight: If a typeface is bold, readers are more likely to focus on it first. The thinner the typeface, the less the focus.
Color: Font in darker shades of color that contrasts with the background will stand out more.
Position and alignment: Text that's placed in the middle will typically stand out more than text that's aligned to the left or right.
Consider your reader when you do your layout of your textual elements on the infographic. So, if your target audience reads from left to right, then the visual order of your text should be from left to right as well.
You'll need to include visual content and graphic elements in your infographic design, too. Make sure all these visual design elements don't just complement your text. They should also guide your readers' eyes. This way, you can be sure they'll read your infographic copy in the correct order.
BONUS TIPS: Write Meta-Descriptions and Image Alt Text (and More)
For your compelling infographic to do well in SERPs, you shouldn't just focus on creating SEO-friendly infographic copy.
You'll need to write additional text to make it easy for Google to understand what your content is about. This way, Google can show your awesome infographics page when someone makes a relevant search query. Writing these meta descriptions and alt tags, like content optimization using keywords, is a critical component of on-page SEO.
Besides, doing this isn't that much work either. You can use generative AI tools if you don't have that much time to write. Just insert the right prompts.
Whether you're writing your meta description on your own or using tools, the thing you should remember is this: your meta description should summarize what your content is about. Make it engaging so you can get people to choose your page over the others. But don't go overboard. Be concise and don't exceed 160 characters. You'll want to include your main keyword as well.
As for your image alt text (this is the text that can help web crawlers understand what your beautiful infographic is about) don't make it too long. If your infographic is about the top SEO trends, for instance, your image alt text could be as straightforward as "Infographic about the top SEO trends." As with your meta description, include your main keyword here, too.
Make sure your captivating infographic has the right size as well. Remember, the bigger the size of your infographic, the slower the page loading speed. Page load is also a Google ranking factor since it directly affects the user experience.
But what's the right size? According to Edrawsoft, the perfect infographic width is not more than 600 pixels. The length, meanwhile, should not be below 1800 pixels.
As a final tip, add social sharing buttons to your design asset. This will make it easy for visitors to share your infographics with their friends and a broad audience. As more people share the infographic, search engines will know that people find your page and infographic useful. This can improve its organic rankings.
In Closing
Effective infographics aren't just visual representations that engage and educate users about complex ideas. They also boost your SEO efforts. After all, they can help increase dwell time and are a magnet for backlinks, among other things.
But for you to reap these SEO benefits, you need to craft SEO-friendly infographic copy in the first place. To do this, base your copy on your audience's needs. Incorporate relevant keywords into your infographic copy, too. Also, use an outline. This will help ensure your final text is easily understandable and engaging.
If you follow these tips (and the other bonus tips I shared), you or your graphic design team won't just craft excellent copy. You can experience a boost in your rankings thanks to your infographic for SEO – and enjoy the website traffic – and potential conversions – that come with it.
The following two tabs change content below.

Ian Loew
With decades of experience in
B2B web design
, Ian Loew is Lform's Owner, Creative Director, and Head of Business Development, which he founded in 2006. Ian has worked with a diverse range of clients, including small startups and large corporations. He takes great pride in truly understanding and translating what clients want into actionable results. Lform's philosophy is rooted in the belief that working with clients is about creating partnerships, and their success leads to Lform's gain. Ian's lifelong passions include mountain biking and skiing, and he especially enjoys spending time with his family.