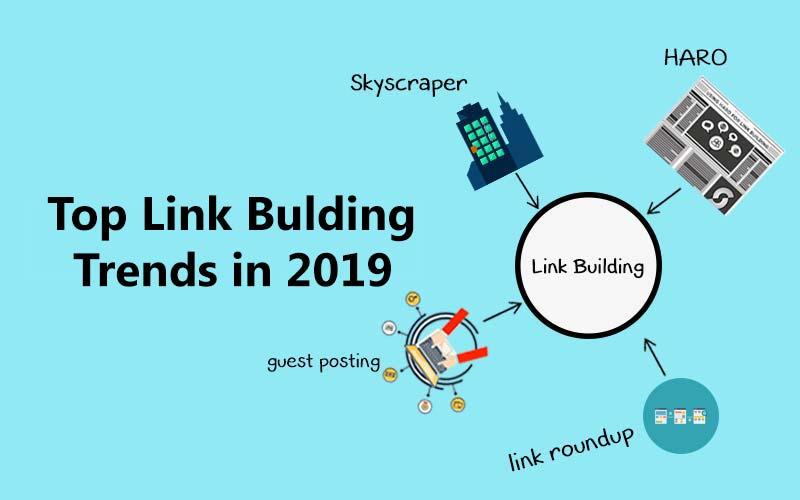 Back in 2013, getting featured in the Top 10 search results on Google was a pretty straightforward task – do some killer keyword research, use the right meta tags and have a ton of backlinks to high-authority websites.

Just like the world around us has been changing and evolving, so has Google! Their engine has become more efficient; the crawler has become more intelligent, and the involvement of Google's machine-learning AI system means that the criteria for ranking are constantly being re-evaluated for improvements. 
Now, in 2019, it's just not enough to have a well-structured site with all the right keywords and necessary backlinks! Thanks to Google's ever-evolving algorithm, we have to stay up-to-date with all the latest improvements and apply those changes to our website frequently. 
However, if there's one thing that has remained constant all this while and has been proven to improve your ranking, it's the process of building relationships with other relevant, high-ranking websites. 
Yes, that's right – I'm talking about link-building! 
Though it is one of the oldest SEO techniques and has been proven to increase your website rankings substantially, many website owners underestimate link-building or think that it is dead – that's why, today I will tell you why it is not, and how you can start doing it too.
Note: Link-building is a time-consuming process and takes time to show results. You can post a lot of unrelated links on your website to see a spike in traffic, but keep in mind, Google is intelligent and WILL penalize if you for promoting irrelevant backlinks on your website. 
Also, nothing tells Google you are 'relevant' better than other authorized websites linking to your page through related articles! 
Are you curious to know how this can be done? Then let's take a look at some of the top link-building trends to look out for in 2019.
#1. Skyscraper Technique/ Backlinko's Brian Dean Technique
As the name says, this technique was created by Backlinko's Brian Dean. Basically, this technique is a system for turning your content into a high-quality backlink. 
If you perform a search for Skyscraper Technique on Google, you would find many link building results, but you'll see that Backlinko's results appear first!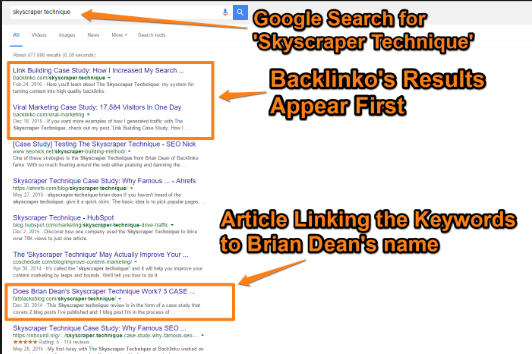 So How Does This Work? 
Analyzing is the first step of the skyscraper technique – you need to get popular trends, topics, and engaging content that is already published by your competitors. Then, you analyze that content in a unique way and create a new article with the latest content and better design.
Now, you can contact those folks with your improved content and explain to them what your content has that theirs doesn't. By doing this, the possibility of getting a link to your site published on their own are very high.
Your chances here are really good because you've curated something which already has high demand where the audience is related to your website. This means you get to the prime audience, and the page is already ranking on the top SERP. These are the top advantages once you get the link. 
If you're not using Backlinko's Skyscraper technique, give it a shot and see how easily you can get a high-quality backlink to your own website. 
#2. Using HARO aka 'Help a Reporter Out'
I have been using HARO for a few months now for search engine optimization on my websites, and it has definitely helped me get closer to my goals. Basically, it involves sending an article of different topics related to trending technologies and reviews about different products to many reporters or journalists. Odds are, at least one of them will choose to publish the article and I get a link back to my website. 
Here is a detailed infographic guide to using HARO:

Note: You need to register on HARO to make use of this technique.
Once the basic set-up is done, you will start receiving a lot of emails, out of which you should figure out who is related to your niche or website. Now, select who you want for clients, contact them at regular intervals and keep an eye on their updates. If the topics you select impresses them, getting a backlink is easy as pie. 
Although this technique is not something many are aware of, it certainly does work. If you haven't tried HARO already, then give it a shot now!

#3. Guest Posting
Guest posting is one of the most-used link-building strategies. When I first heard about this and started an outreach program to get backlinks to my website, I was surprised by the results. From my experience, I suggest that you approach clients or website owners for the highest chances of getting backlinks.
Basically, you get a backlink to your site when another website accepts and publishes your content.
To start guest-posting, first analyze the site you are going to pitch to, write an article based on their audience, and send them your article. Depending on their incoming email queue, you can typically expect a response within 1-3 days.
How to choose a website for guest-posting: 
> Check your competitors' backlinks by using ahrefs, semrush, and some other tools which you know. Pick the site where you don't have backlinks and write to those websites for best results. 
> There are few queries to find websites for guest posting follow those:
                Keyword "write for us"
                Keyword + "guest posts"
                Keyword + "guest authors"
                Keyword + "guest blogger"
                Keyword + "writers needed"
                Keyword + "guest blogs"
                Keyword + "blog for us"
                Keyword + "submit a guest post"
                Keyword + "guest post by"
                Keyword + "contribute an article"
                Keyword + "want to write"
                Keyword + "submit your post"
                Keyword + "become a contributor"
                Keyword + "accepting guest posts" 
> Here are a few guest posts I have submitted to websites like Dzone, YourStory, Simplilearn, and ShoutMeLoud.

#4. Link Roundup
This is one of the most important strategies for link building.
It's every link builder's dream to get their backlinks featured in a weekly link roundup. Link roundups are basically weekly or even daily arrangements of the best content from your industry. 
The best part of getting links in link roundups is that you get driven with a huge amount of referral traffic. Nice, right!? Who would say no to this?
How to find link roundups? 
Just like you search for a website to guest-post on, there are a few search terms you can use to find link-roundups. Although different people call it different things, you can perform a search with the following words to find the latest roundups in your niche. 
Search Term: "Keyword + weekly link roundup," 
Examples:
SEO related link roundups use – "SEO + link roundup"
Marketing related link roundups use – "Marketing + link roundup" 
Note: Make sure to use search tools in the Google search box to check that the round-ups are still running.

Here are few links roundups where you can find:
> link from
> Twitter search – enter your key as "keyword roundups."
Once you have found a link roundup related to your industry, connect with the publisher about your page and it's advantages and show them why your content deserves to be featured in their list. 
This can result in a lot of visits to your link, so make sure your website is prepared to deal with high traffic. 
Final Thoughts
We now know that Google gives a lot of importance to link-building in a natural way. So make sure your links are relevant and link to authorized websites; produce high-quality content that is fresh and offers something new to your readers; and finally, constantly keep evaluating your content to see how things can be improved.
Check out the latest trends to follow in 2019 for link building and make your way to the top of the SERP. There are premium tools like Ahrefs, SEMRush, Mondovo and Moz Pro, that will help you reduce your effort and increase productivity. These tools are expensive but you can always find out deals and discounts for those tools and buy them at a lower price.
I really hope you found this article useful and am sure that you'll see an increase in traffic if these trends are applied to your websites. 
If you feel like I've missed something, have any suggestions or would simply like me to explain any other topic, please enter your comments in the section below.
Thank you and good luck!
The following two tabs change content below.
Gnana Sekar
Gnanasekar is a Content Researcher on
curateddeals.com
. He loves to make time for writing technical and non-technical related articles. Apart from work, He loves to play outdoor games.
Latest posts by Gnana Sekar (see all)