According to the famous marketer Russell Brunson, there are 3 types of digital marketing traffic.
Traffic that you control. This is paid traffic such a Google Ads and Facebook marketing where you can control where your ads are placed.
Traffic that you don't control. This is traffic like SEO, where you write a post in the hopes of Google's algorithm placing it in front of an interested reader.
And then there's traffic that you own. This is traffic that you don't have to pay for and that you can communicate with whenever you want.
When it comes to marketing your business online, an email list is known to be one of the holy grails of traffic.
This is because it is the traffic that you own.
The Purpose of Collecting Emails
The purpose of collecting emails is so that you build a list of relevant users that you can ultimately sell to and make money from at the end of the day (by helping them of course!). With an email list, you can email your list with messages whenever you want, with whatever you want.
This is extremely powerful in terms of online marketing because whenever you need to make a sale, nurture a lead, or establish rapport with a potential customer – all you have to do is email them (for free).
This is precisely why businesses need to learn how to boost their email opt-in rates. It is a valuable asset that should not be overlooked.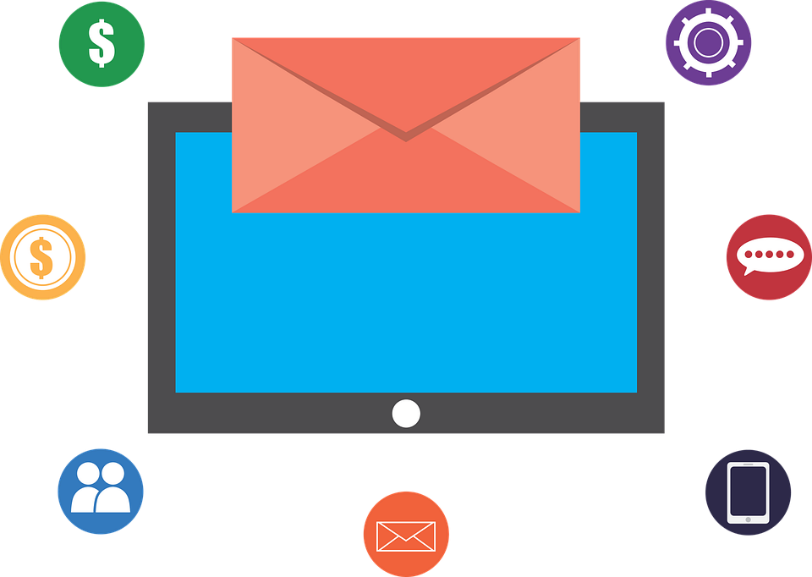 Let's discuss 5 ways in which you can increase your email opt-in rates on your own website.
#1. Incentives, Lead Magnets, and Useful Resources
First off, you need to give website visitors a reason to opt-in. Too many times do we see websites simply have a form with the call-to-action (CTA) being that of "subscribe to our email list".
But why would anyone do this?
Why would a visitor go out of their way to subscribe to your email list if they don't even have a reason to do so?
If you were on a website and saw that CTA, would you submit your email yourself?
Probably not. This is why you must understand the persona of your website visitors and what would motivate them to take action.
For example, if you owned a digital marketing blog that teaches people how to grow their website traffic, you need to understand what would interest your visitors enough to give you their email address.
Maybe your call to action could be "Subscribe to receive the ultimate guide to website traffic growth in 2019", where you immediately email your subscribers an in-depth guide of exactly this.
Or maybe your call to action could be something along the lines of "Do you want more traffic? Do you want more traffic, leads, and sales? Enter your URL below if you want to grow your traffic and revenue."

You get the idea.
This is step 1: figure out what would motivate your audience to subscribe to your email list.
#2. Content Upgrade
The content upgrade is another clever way of adding email subscribers to your email list. As discussed above, you want to entice your readers to subscribe by providing them with something of value.
Well, the content upgrade is exactly that: it is a way of gating your most valuable content off to your visitors, and only unlocking the content to them if they subscribe to your email list.
Here is an example of what this can look like:

In the above example, the article gives a portion of the 500+ keywords to the user on the actual page itself. This is to provide the reader with value so that they enter into the next step, which is to provide their email to see the full list.
#3. Sidebar Widgets Throughout Site
To maximize your chance of collecting emails, you need to increase the visibility of your call-to-action.
By implementing a sidebar widget on your site, desktop users will be able to see your email opt-in form on every page of your website.
By doing this, you will ensure that no one accidentally misses your awesome offer.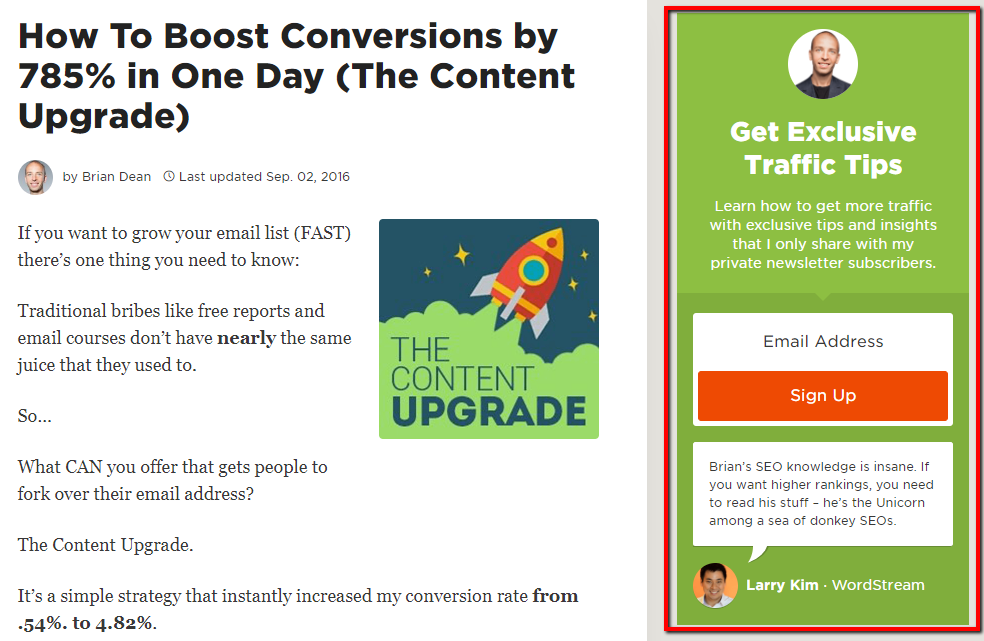 What's more, if you make this widget "sticky" the opt-in form and call-to-action will follow the user as they scroll down the page.
This strategy is very easy to implement and can be an extremely effective way of growing your email list.
Too many times does a userland on a website and leave before an email opt-in form is even shown to them.
To ensure the visibility of your offer is shown to each and every user on your website, it is imperative that you consider adding a sticky sidebar widget to entice users to subscribe to your email list.
#4. Exit-Intent Pop-Up Form
Speaking of users coming to a website and leaving without even seeing your email opt-in form, having an exit-intent pop-up form implement on your site will help mitigate this problem.
An exit-intent pop-up is simply a form that pops up on a user's screen when their actions signal that they are intending to leave your site.
This can happen when a user moves their mouse towards the top of their screen near the "x" button to close a tab, or when they move their mouse towards the bottom of a screen signalling that they're going to open a different application.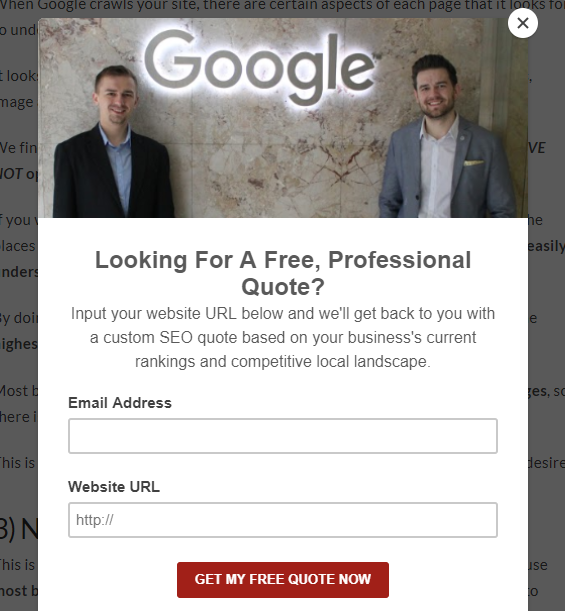 An exit-intent pop-up form works great because it is eye-catching.
By "popping up" as a user is about to leave, it grabs the user's attention at the very last second.
Combined with a compelling offer, this type of pop-up form can effectively grab a user's email at the very last second with this final, Hail-Mary attempt.
#5.  50% Scroll Pop-Up Form
Compared to the exit-intent pop-up form, the 50% scroll pop-up works much different. With the exit-intent pop-up, we are trying to convert visitors into email subscribers that are signal the fact that they want to leave the site.
Naturally, the conversion rates on the exit-intent pop-up won't be as high as the 50% scroll pop-up. This is because the 50% scroll pop-up targets users that are deep within your content, which signals extremely high user engagement.
Knowing that a visitor has scrolled 50% through your blog post, we can assume that they find your content valuable – or, at the very least, interesting.
The idea with the 50% scroll pop-up form is that if you hit a user with a compelling call-to-action in the middle of being actively engaged and impressed with your content, the conversion rate of this will intuitively be relatively higher than that of an exit-intent pop-up.

Exit-intent pop-ups still have their place in collecting email opt-in forms, but we recommend also giving the 50% scroll pop-up a try, too.
Conclusion
A large email marketing list can be one of your business's most valuable assets. With the ability to own your list and message them whenever you want, it is an asset that is worth building.
This means that you want to boost your email opt-in rates as high as possible in order to convert as many website visitors as you can into your email list.
By doing so, you will be able to start building an asset that you can nurture, cultivate, and sell to for years to come.
Give these 5 tactics a try and let us know how they work in the comment section down below!
The following two tabs change content below.
Jeremy Lawlor
Jeremy Lawlor is a digital marketing specialist with a background in search engine optimization, website design, and pay-per-click campaigns. He is the co-founder of
Active Business Growth
, a boutique marketing agency that provides SEO for local businesses in Canada and the United States.
Latest posts by Jeremy Lawlor (see all)