As a Google Ads consultant by trade, much of my time is spent auditing and optimizing poor-performing accounts. In short, I tend to encounter many of the same Google Ads mistakes time and time again. And 90% of the time, they're common mistakes can be fixed in just one or two clicks.
Call it a "mistake" or just simply not knowing, there are many features to Google Ads that can hide beneath the surface. Simply being aware of certain settings and options can help you actualize a more efficient and successful PPC campaign, which is the name of the game with Google Ads. 
To help you get the most out of your Google Ads account, below I share five of the most common Google Ads mistakes I find on a regular basis.
#1: Combining Google Search Network with Display Network
It disappoints me that Google Ads, by default, automatically has the box checked to combine the Display Network when creating a new Search campaign. Experienced search marketers will agree wholeheartedly that this is the biggest wastes of money when using Google Ads.


The fact of the matter is, the Display Network and Search Network are two very unique beasts that should be approached with dedicated campaigns, and never combined. The primary intention behind the Search Network is to show text ads to users searching Google (by opting to include "Google search partners" you also use other search engines outside of Google, which I typically recommend un-checking.) 
Running your text-based Search ads on the Display Network is never advised. Because Display advertising with Google Ads is an uphill battle in itself, you need high-quality visual ads to be successful. Otherwise, you'll more than likely be burning through your budget rather quickly. 
The key takeaway: never combine Google Search and Display Networks (always uncheck the box to "Include Google Display Network" even though Google will suggest otherwise, as in the figure below.) You can find this option under "Settings" when in Campaign view.

#2: Showing Ads Outside Your Target Location
I know what you're thinking: "I've already got my target location set, so I am good to go." Well, you just hold on there, champ. 
But before you scroll onward, know that even if you have your target location set, your ads can still be served to users outside your target location. This is another frustrating default setting with Google Ads, and for some budget-conscious advertisers, it can be a costly mistake. 
Also found under "Settings" when in Campaign view, see the expand-out link for "Location options" as shown in the figure below.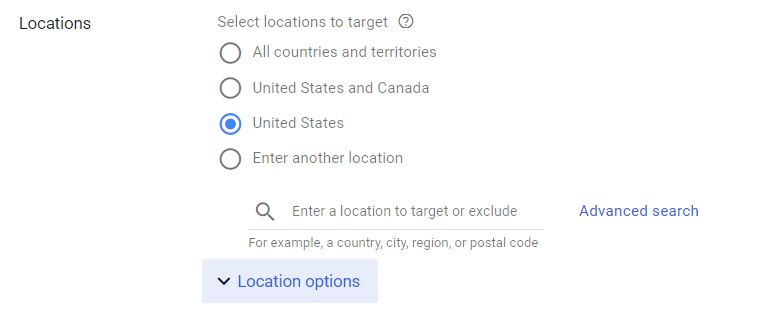 Under Location options, you'll likely see that by default, your set to target "People in, or who show interest in, your targeted locations (recommended)". What this means is that if you're targeting keywords with a geo-modifier, like "marketing consultants in New York," and your location targeting is set for NYC, your ads can still show to users outside your target location as long as they include "New York" or related geo-modifiers in their search query.
In essence, Google assumes you'd still want those impressions because users "show interest in your target location." However, in most cases, that's not the case.

As a personal example, my colleague launched a Google Ads campaign to advertise his SEO services in the Atlanta area. However, he kept on getting clicks from users based in India. As it turns out, these users were spammers who were searching keywords like "Atlanta SEO company" even though they were based in Bangalore. 
The fix: Click the option to target "People in your targeted locations." Assuming you're leveraging location targeting for specific city or region, I would be willing to bet you'll see a great performance from your Google Ads as a result.

#3: Not Setting Up Conversion Tracking
One of the most classic Google Ads mistakes is not properly set up conversion tracking. It can be easy to assume that you'll know when new leads are coming through. And perhaps you're willing to bet Google Analytics has you covered. But without setting up conversion tracking with Google Ads, you're essentially going in blind. 
The value in conversion tracking is that you'll know exactly which keywords are performing best and generating the highest volume of conversions. With this information, you know what's working and what's not. And you can make intelligent adjustments to continue optimizing your Google Ads campaigns over time, enabling you to get the most from your investment. 
As long as you have basic access to your site and the ability to add a couple snippets of code, setting up conversion tracking is pretty simple. You can find "Conversions" in the top menu under Tools, and in the Measurement column, as in the figure below.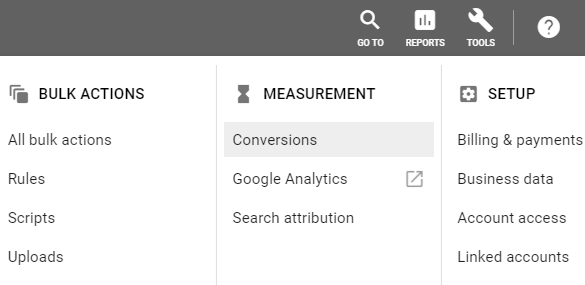 From here you'll be taken through a few simple steps. You'll want to get your website setup on Google Tag Manager first, which is also very simple in itself. Essentially, you'll define your conversion parameters with Google Tag Manager, which will integrate with your Google Ads account. For more detailed information, I discuss this process in my Google Ads training course found here. 
#4: Using Purely Broad Match Keyword Bidding
One of the most common Google Ads mistakes with new advertisers is using only "broad match" keyword bidding. This is typically out of oblivion that there are other more precise keyword match types available. Let it be known that the nature of broad match is unfortunately very, very… broad. 
The perfect example that I learned from Google Ads guru Perry Marshall focuses on the keyword "red wagon." If a boutique toy store selling Radio Flyer wagons is bidding exclusively on "red wagon" using broad match, then it's setting itself up for disaster.
Broad match bidding is so incredibly broad that the store's ads will likely show for unrelated search queries like "burgundy Subaru Outback wagon," "Red Wagon Pizza Company," and even "Red Wagon liquor." In essence, if a user's query is even remotely close to "red wagon," Google is going to show that store's ad without hesitation. 
As a Google Ads best practice, it's advised to leverage a combination of match types that best suit your advertising objectives. I personally lean on the side of using very precise match types like an exact match, phrase match, and broad match modifier. This way, only relevant search queries will trigger your ads, and you can benefit from higher quality scores and lower cost per click.
Take a look at the match types I am using below for a real estate professional who flips homes. By using these precise match types, I can ensure her ads will only show to relevant users who search these popular long-tail keywords.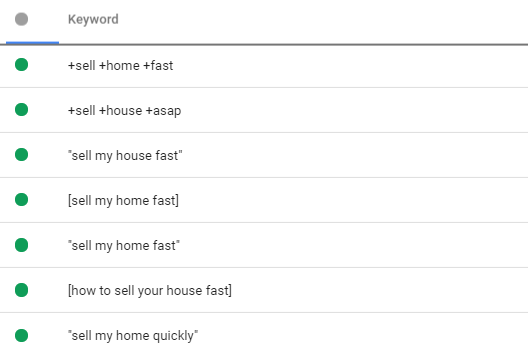 Conversely, it's okay to use a broad match if you're dealing with very competitive and expensive keywords. The few times I will use broad match is when keywords are over $10 per click, such as in a legal, medical, or consulting context. In which case, it's important to use negative keywords and run a Search Terms report from time to time and minimize wasted impressions from unwanted queries.
#5: Not Bidding High Enough
If you're wondering why your CTR is weak and/or your keyword quality score is low, it's more than likely because your not bidding high enough to appear at the top of the search results.
In some cases, your ads can appear at the bottom of the search results. So while you might be seeing a strong volume of impressions, you're CTR can be low. Low CTR (combined with other potential weaknesses like poor ad copy) can cause inefficiencies and require you to pay a premium for clicks.
To ensure you're bidding high enough, adjust your columns to show the estimated top of page bid in keyword view.

This option is found under "Attributes" when modifying your columns. You can also include the estimated first position bid if you're adamant about owning the top-most ad placement.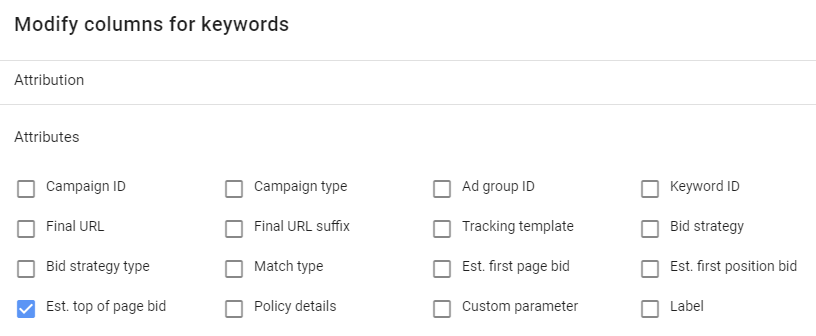 In the figure below, you'll see that I've activated this column to appear alongside our Max. CPC bid. For budget-conscious advertisers like this small media conversion business, I will keep the Max. CPC is just slightly higher than the estimated top of page bid to ensure our ads appear above the organic results.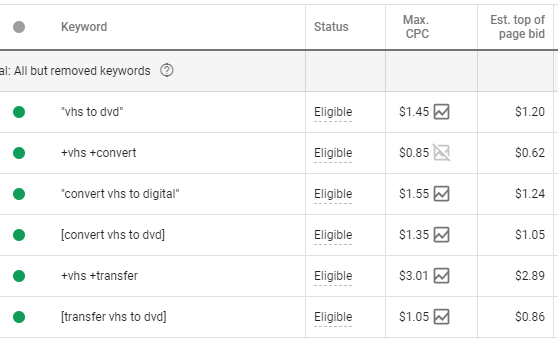 Keep in mind that Google Ads is a dynamic platform. New advertisers, higher bidders, and other factors can change the estimated top of page bid. So if you're using manual bidding strategy like the figure above, you'll want to check-in on this regularly. But in doing so, you'll save your clients a lot of money and help them see a greater return on ad spend.
Ignorance Is Not Bliss with Google Ads
While every Google Ads account is a unique endeavour, I've come across a number of redundant issues that tend to arise in most underperforming accounts. In the vast majority of cases, these "mistakes" crop up simply because account managers lack the time to required to employ the necessary due diligence. However, if you know where and what to look for, it's easy to identify these common Google Ads issues and take the opportunity to fix them. 
Call it unawareness, ignorance, or a mistake, it's often the things you don't know that can hinder performance with Google Ads. Despite uncovering the same issues time and time again, I enjoy the process because it allows me to help individuals who are passionate about their businesses see better performance and ROI from their search marketing efforts.
The following two tabs change content below.
Tyler Tafelsky
Tyler Tafelsky is a Google Ads consultant and instructor for
Yisoo
, an online learning platform for all things Google marketing. Tyler is certified in Google Search Ads, Display Ads, and Mobile Ads, and offers over a decade of experience in search engine marketing.
Latest posts by Tyler Tafelsky (see all)