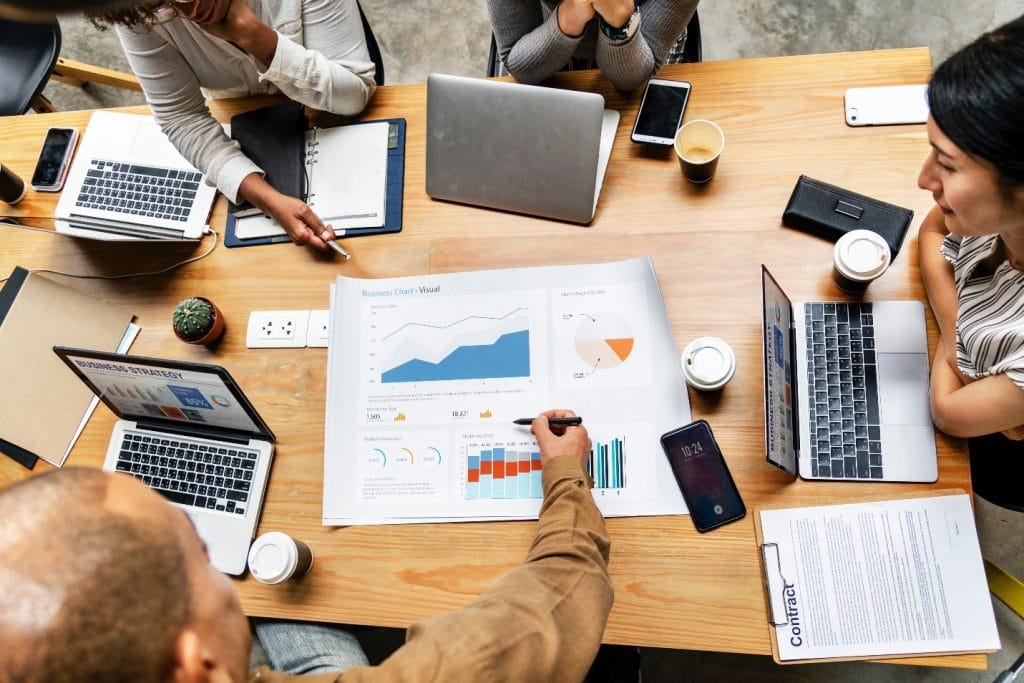 Have you ever played or heard of a battle royal game called Player Unknown Battlegrounds (PUBG)? Bunch of players dropped on a large map with a constantly changing environment, fighting to be the last one surviving. Either you adapt to the environment and fight for your survival, or you die.
This could be an exaggerated comparison. However, considering the competition and desperate need for survival, the game is not different from the eCommerce market today. In the eCommerce arena, you are not just competing with the players of your corresponding level but also the pro players who have already captured a huge section of the map. If you are not watchful, the opponents will take no time to load their AWM (eCommerce marketing ideas) and outrank your business after looting your body (customer base).
Just think about where are you in the map of current eCommerce adventure. Maybe you have just set up an eCommerce store recently, or maybe you have been in the market for a while now. Regardless of your business age, nothing works better without building an impressive plan. A plan that will help you leverage every marketing opportunity of what that is left of 2018. More importantly, a plan that will help you to stay prepared for what 2019 have in its store for you. Aside from marketing, you can also start using other platforms like ShippingTree to meet the needs and expectations of your customers.
Hence, here are the five biggest eCommerce marketing trends of 2018 that will also help you to survive the market in 2018 and generate innovative eCommerce marketing ideas for the next year as well.
Before We Start
—

Have You Not Gone Mobile Yet?

Experts once predicted that mobile traffic would become as dominant as desktop traffic by the end of 2015 and it happened indeed. In 2017, the total mobile searches surpassed desktop searches on the Google search engine globally. Then came 2018, when 62% of online shoppers made online purchases using their mobile devices alone.

That is why even Google has been emphasizing on going mobile first and has been suggesting websites to adopt responsive mobile architecture for their desktop sites. When more than half of the online sales are generating from mobile devices, you cannot hope to win the battle with a poorly optimized site for mobile devices. Neither can you do any good with the following suggested eCommerce marketing trends, because most of them deeply depend on mobile and mobile apps for better results:
#1. Virtual Reality and Augmented Reality
One of the major drawbacks of shopping online was shoppers were not able to try out the products until they are delivered. Due to this reason, alone many shoppers prefer offline shopping to the online mode. AR and VR are working phenomenally to eliminate this drawback by offering a visual shopping experience similar to a physical marketplace. With AR, the shopper can try out the products as they do in the physical marketplace.
Alibaba is using Augmented Reality in their 'Taobao Buy' to merge the physical and online shopping spaces as one. It is an AR-based shopping experience that offers a similar online shopping experience looking and feeling exactly like offline mode, but more easy to use. It will let you see and use three-dimensional holograms of the products into your actual environment and see they look on you or in your room. For example, they can experience how a Jacket would look on them or if a particular dining table would fit in their dining room.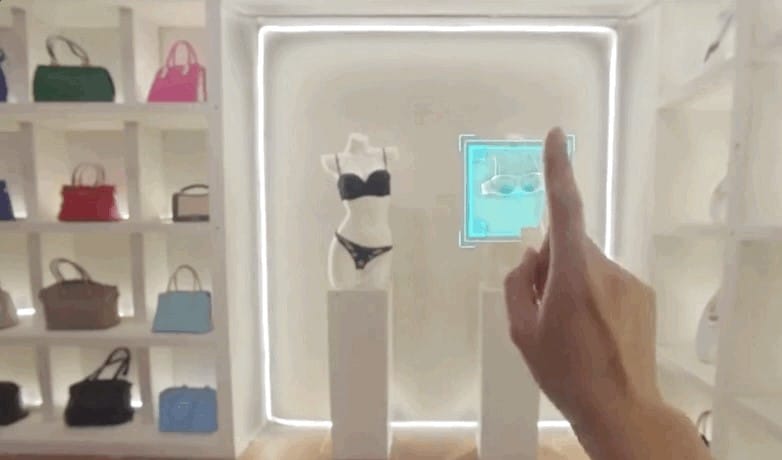 #2. Artificial Intelligence
AI is a trending topic in the eCommerce. Talking about the most common implementation of AI in eCommerce- chatbots. Many eCommerce stores have already implemented the eCommerce chatbot to achieve what humans cannot. They help businesses to enhance the customer service experience in a 25×7 environment. They are swifter than humans are while responding the data-intensive queries from the customers. They are even better in taking requests and processing them quickly.
Businesses have integrated these eCommerce chatbots with their websites, mobile applications, an even to their Twitter, Instagram and Facebook handles. In fact, there are also personalized Facebook messenger chatbots that can handle requests through Facebook messenger alone.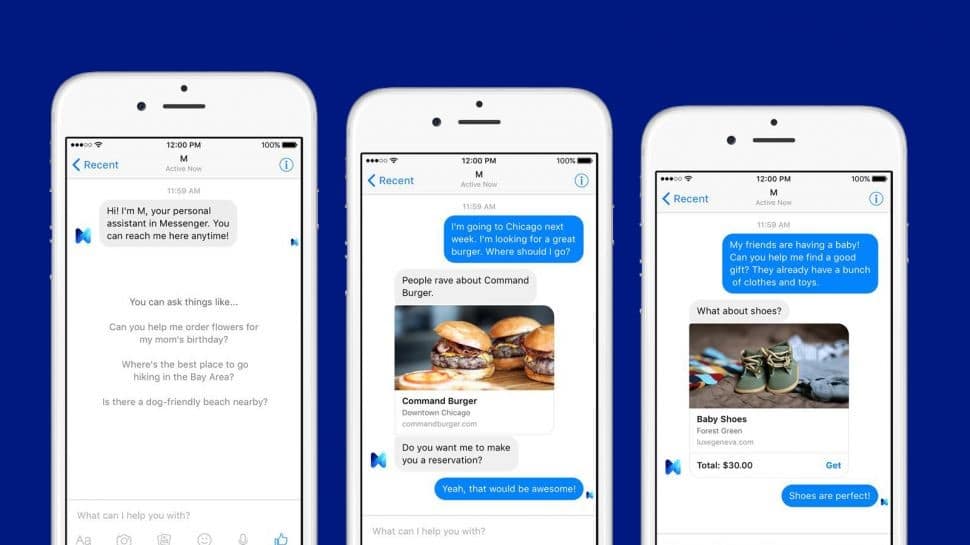 In fact, a much broader application of AI-based chatbots can be seen in the eCommerce websites, where marketers are using them for applications like:
Sending automated Order Confirmation and other updates.
Upselling and Cross-Selling by suggesting related products to the shoppers.
Facilitating quick shopping by accepting online orders through Facebook and WhatsApp messenger.
Using NLP technology to give intelligent responses to the complex queries by customers.
Pushing intelligent notifications based on in-app user behaviors of the customers.
Pushing location-based engagement and marketing notifications to mobile app users.
I hope that 2019 will witness a further wider implementation of AI-based tech. It is indeed a right time to invest in something futuristic like artificial intelligence and secure an upper hand.
#3. User-Generated Content
User-generated content or UGC remains a great way to generate authenticity and social proof of how people perceive your business. When shoppers know that many people are purchasing the same product like them, they feel more confident about the product. It a human tendency and people feel less scared while doing the things already experimented by others.
Until now, eCommerce websites and business have utilized multiple methods to get users to talk about the brand and products. Asking shoppers to write a product review is one of them. About 54% of online shoppers trust the product information from online reviews and recommendations from the acquaintances. Moreover, a website with customer reviews is 60% more likely to persuade a shopper for buying.
This is how Amazon utilizes Q&As to encourage its users to ask questions, and those are the users only who answer to these questions. Doing so makes the platform trustworthy, as customers will always trust peer consumers more than they trust a brand.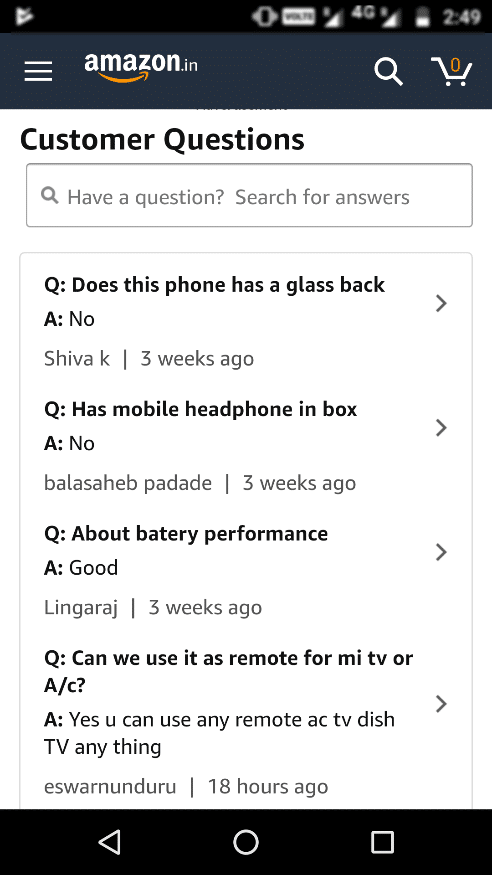 UGC has many forms. In addition to on-site product reviews, shoppers also rely on reviews from well-known social media platforms. Getting reviews have become one of the prominent parts of the social media tactics adopted by eCommerce brands in 2018. Sales driven by Social media are growing at an unprecedented rate and 2019 would indeed see some more creative ways to encourage more user-generated content from multiple sources.
#4. Influencer Marketing
According to a recent research, businesses are able to produce $6.50 for every $1 they spend on the influencer marketing. Influencer marketing is not new to the marketers. Brands and companies have been approaching celebrities for a long time to endorse their products. However, in the past few years, the whereabouts of influencers has changed drastically and the term now is being rephrased as 'social media influencer' instead of just an 'influencer'.
The new definition has revolutionized the way marketing is being done to the consumers. Today, one does not need to be a TV, Cinema, or Sports personality to be an influencer. The social media influencers are everywhere and from every social media platform. It is hardly possible that businesses in 2018 would not know about the benefits of social media marketing. However, still, if you are unaware of the trend, it is a good time to invest in these social media figures.
You can start with YouTube, Twitter, Instagram celebrities. They have followers ranging from thousands to millions. Just do some research to find out the relevant influencers appropriate to your niche, 2019 will be yours.
ASOS, an eCommerce brand utilized social media influence for communicating with their consumers in a more realistic and accessible way. Through "ASOS insiders," they ran the campaigns and posted pictures of themselves on different social media platforms wearing ASOS fashion wears. They also included corresponding product links in their posts with "buy the look" CTA.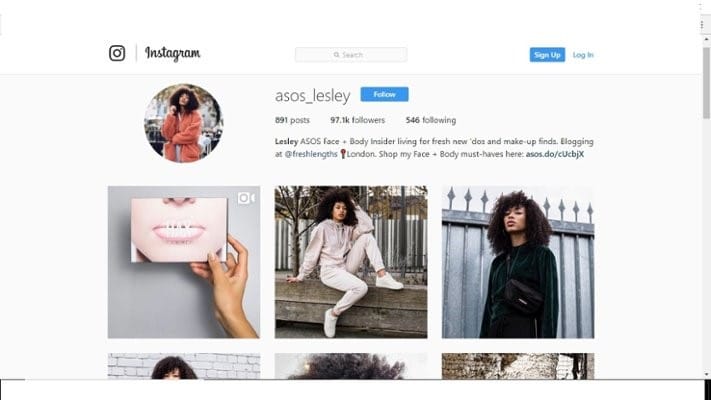 The influencers were mostly the figures with a good social media presence and a decent base of followers. Therefore, it acted more as authentic words coming out from the fellow online shoppers instead of portraying as an endorsement. The campaign brought wonders to the brand and they received massive sell during the season.
#5. Push Marketing
Push notifications have come up as eminent tools for grabbing customer attention. E-commerce business is full of opportunities to drive conversions using creative push notifications. From a simple reminder to re-engaging inactive shoppers, you can design effective and micro-personalized marketing campaigns with these sophisticated tools.
Marketing professionals depended on SMS and Email marketing for a long time. However, by the end of 2018, we can say that we have found push notifications as a perfect supplement to the traditional modes. The trend is gradually finding its way to push marketing, as Push notifications have proven to get more open rates than traditional Email campaigns.
What can you do with push notifications?
You can – attract new users, promote a new product, send price drop alerts, send a back-in-stock alert, announce the flash sale or lightning deals, Re-engage inactive users, Call abandoned customers back and ask for customer feedback etc.
Here is an example of how Amazon utilizes push notifications to encourage users to buy the products in their wish lists:

Another example is from a healthcare business which uses a diversity of push notifications to engage its customers in countless spheres. They have designed personalized push notifications for almost any event:






Take Ways
From this article, it is clear that the eCommerce market is gradually evolving into a bigger arena of trending techs and opportunities. Being an early adopter would definitely give you an upper hand against your competition. In the eCommerce industry, half the job is considered as done when you can engage your customers with your touch points. We are certain that a proper utilization of these trending eCommerce marketing ideas will entice your users and help you to get a great touchpoint to engage your prospects like never before.
The following two tabs change content below.
Jessica Bruce
I am a professional blogger, guest writer, Influencer & an eCommerce expert. Currently associated with
ShopyGen
as a content marketing strategist. I also report on the latest happenings and trends associated with the eCommerce industry.
Latest posts by Jessica Bruce (see all)