If you are serious about running any kind of business these days, social media is where you and your company need to be. It is the place where most of your target audience hang around, and the perfect setting for you to interact with them and engage them, and take your relationship with them to the next level.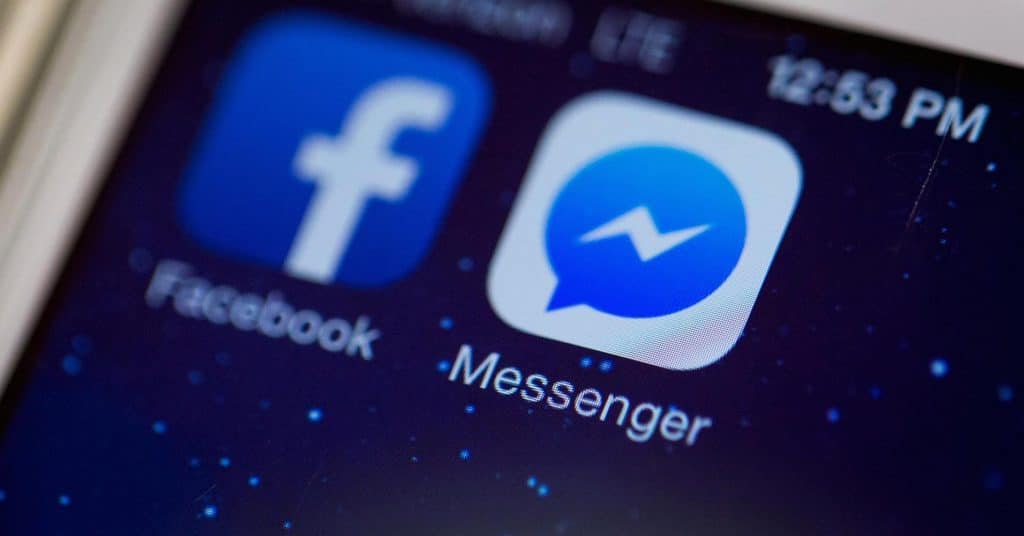 If you don't believe in this, take a look at the numbers. Around 70% of all businesses in the US include social media in their marketing strategy because they realize how valuable it can be. Facebook is by far the biggest social media platform out there since it gathers over 1 billion users. Other popular options include Twitter and Instagram, which allow you to reach your target audience even more easily by using hashtags.
According to Timothy Lewis, who is the head of digital marketing at Bestessays, social media enables you to establish credibility and make your company look more personable and human, as opposed to being a generic corporate entity:
"People appreciate personal interaction with their favorite brands, and social media provides you with all the tools to facilitate that interaction."
The most important tool of the bunch is Facebook Messenger which, according to Lewis, is the key to developing a more personal relationship with your customers. He has also decided to share 5 effective Facebook Messenger tips that will help you transform your marketing strategy. Keep on reading to find out more.
1. Facebook Messenger Tips – Making Use of the Messenger Auto Reply Feature
The internet never sleeps, and nowhere is that more apparent than on social media. Because of Facebook's global reach, your company cannot limit itself to only one-time zone or just the American market and then check out at the end of every workday. You need to be available at all times.
Some things, such as emails or voicemails can wait until tomorrow morning, but if a customer reaches out to you via Facebook Messenger, they are expecting an immediate response from you.
In case you are not able to hire staff to handle this, you might want to check Facebook's Response Assistant. Using this feature, you will be able to address your users even when you are not online using auto-response. At the moment, you can put together custom messages that are up to 250 characters long.
Now, auto-response is far from an ideal solution, but it can help you direct your visitors to your customer support, or ask them to email you, give you a call or visit your website for more information. You can even personalize your responses to include the customer's name.
To activate this feature, do the following: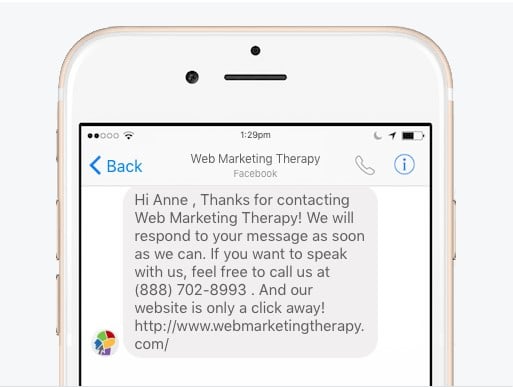 Once you have logged into Facebook, go to Settings and then click on Messaging. Once there, select Response Assistant in order to access all of the options.
Click on Yes in order to start putting together your auto-response message for the user.
Once you have created a message you satisfied with, your job is done.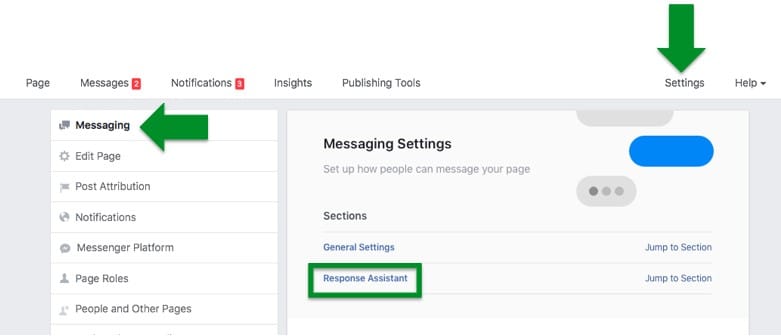 2. Facebook Messenger Tips – Show Ads on Facebook Messenger
A significant percentage of users were surprised by Facebook's decision to include ads in their Messenger application back in 2016. However, this move made perfect sense, due to the massive emergence of messenger apps, as can be seen in the chart below: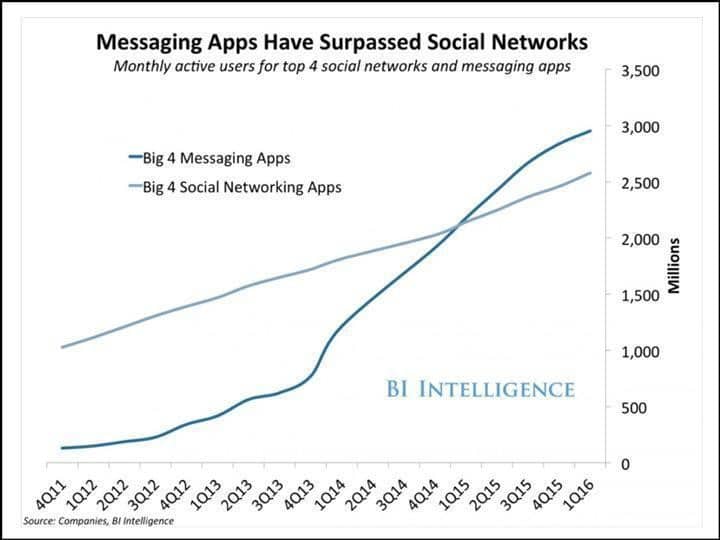 As you can see, the chart shows the rise in popularity of 4 most popular social networking apps and 4 most popular messenger apps. Although the rise of social apps has been pretty steady, it's almost been exponential in the case of messenger apps. This means messaging apps were an opportunity for Facebook to generate even more money. The good news is; you can do the same for yourself.
In fact, it would be irresponsible to do otherwise. Now, before posting ads in Messenger, keep in mind that there are two types of ads you can use: 
Destination Ads
Destination ads are usually shown inside the user's news feed. If you are using Power Editor or Ads Manager for your marketing campaign, you will be able to find the options for creating a destination ad inside the Ad section. Since destination ads look similar to your regular ads, you will be able to add media to it, such as animations, images, slideshows, and even video.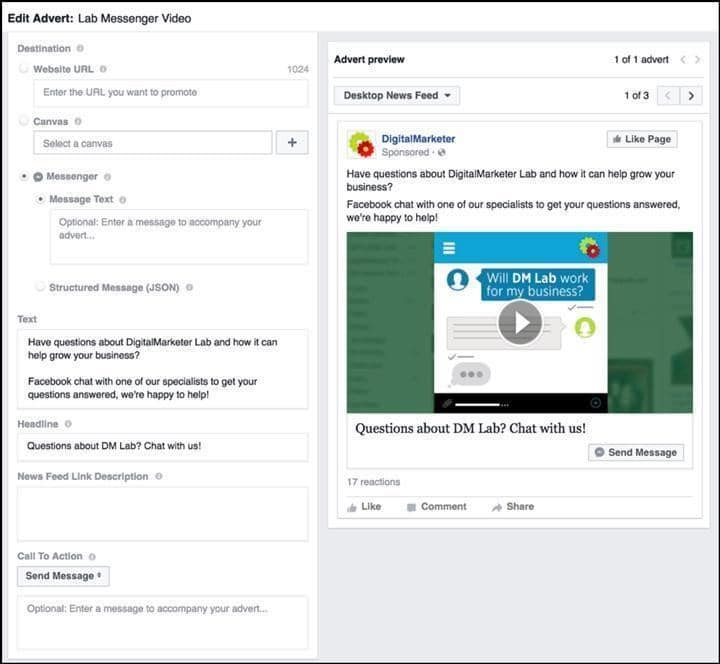 Sponsored Messages
Sponsored messages won't be displayed inside your news feed, but they will be shown in your Messenger's inbox. You have probably already seen them. In order to put together a sponsored message, you will need to find the Ad Set option inside Power Editor. Sponsored messages also allow you to include images, as well as links.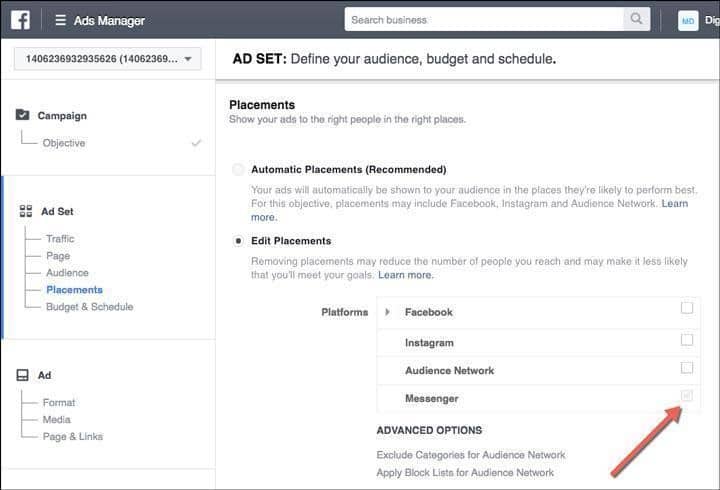 3. Facebook Messenger Tips – Messenger Bots
Chatbots are hugely popular these days, and it's all thanks to Facebook, which has provided developers with detailed documentation, as well as a Messenger platform, in order to help them build their own bots. Chatbots are so popular that they may even overshadow apps in the near future. Before you can begin to create your own chatbots, you need to familiarize yourself with three basic ways of interacting with chatbots: 
URL:

You can build a Messenger bot which comprises its URL.
Quick Response Code:

QR codes can be found all over the place due to their ease of use, which means they are perfect for marketing campaigns on social media. In order to scan a code, select the People tab inside Messenger, and then click on Scan Code.
Facebook Page:

Messenger bots can be used on every single Facebook page, which makes sense since they are embedded in the system. If you visit a page on Facebook and you want to access its bot, just click on Messages.
You will also find that URL and Facebook Page are probably the easiest way of communicating with bots. However, creating a more complex chatbot requires extensive knowledge of coding, and you may benefit from hiring a developer to do that for you. It's an investment that will pay off in the long run.
4. Facebook Messenger Tips – Find Potential Customers Using Messenger
We've already mentioned that Facebook has over 1 billion users., but in reality, it has over 1.5 billion. Included in the 1 billion are those users which are always active. Other impressive stats include 40 million small businesses which use Facebook to interact with their followers and customers every day, as well as to run their marketing campaigns. And just about each and every one of these users uses Facebook Messenger, which allows you to identify them and reach out to them, as they may be your target audience. And the numbers also confirm this, because over 2 billion messages are sent by businesses for the purpose of reaching out to potential or existing clients.
Regardless of who your target audience is, there are some things you need to keep in mind when it comes to identifying your customers via Messenger: 
Respond promptly

– Make sure to provide your followers and clients with the right information at the right time by using Instant Replies. This can help in building your audiences' trust faster.
Share valuable information

– Make sure that the information about your services and product is as complete as possible. That includes detailed specifications and the list of features, as well as price and discounts. Also, provide useful and applicable content that will keep them coming back for more and which will help them solve some of their problems and pain points.
Send Reminders

– Update your followers and customers about new releases of your product, improvements, as well as discounts, contests, special offers, company events, and every other announcement you think they might benefit from.
5. Facebook Messenger Tips – Improved Customer Service and Experience
In addition to allowing you to communicate with your customers in a user-friendly way, Facebook Messenger can also help you build your brand's image and improve the quality of your relationship with the customers. But, keep in mind that Facebook Messenger is only a tool and that you have to do your homework beforehand.
This means making sure that you have someone eloquent and skilled to handle all the user interaction that takes place on Facebook Messenger.  Being available 24/7, no matter where your users are in the world is crucial, and you should at least try and strive toward that goal.
Also, rely on the data provided by your CRM and analytics software, as they can help you narrow down your search for your target audience. Once you know who they are, where they are from, and what their preferences are, you can tweak your campaigns to meet their needs.
Conclusion
With these helpful Facebook messenger tips, you will be able to not just to reach out to more people who should know about your company or brand, but also provide a complete customer experience for them. On the other hand, your marketing dollars will be worth a lot more, since you have an additional channel through which you can reach out to your followers and potential customers.
The following two tabs change content below.
Brenda Savoie
Brenda Savoie is a content marketer, private English tutor, and desperate dreamer. Writing her first romance novel. Seeking contentment through mindfulness.
Latest posts by Brenda Savoie (see all)