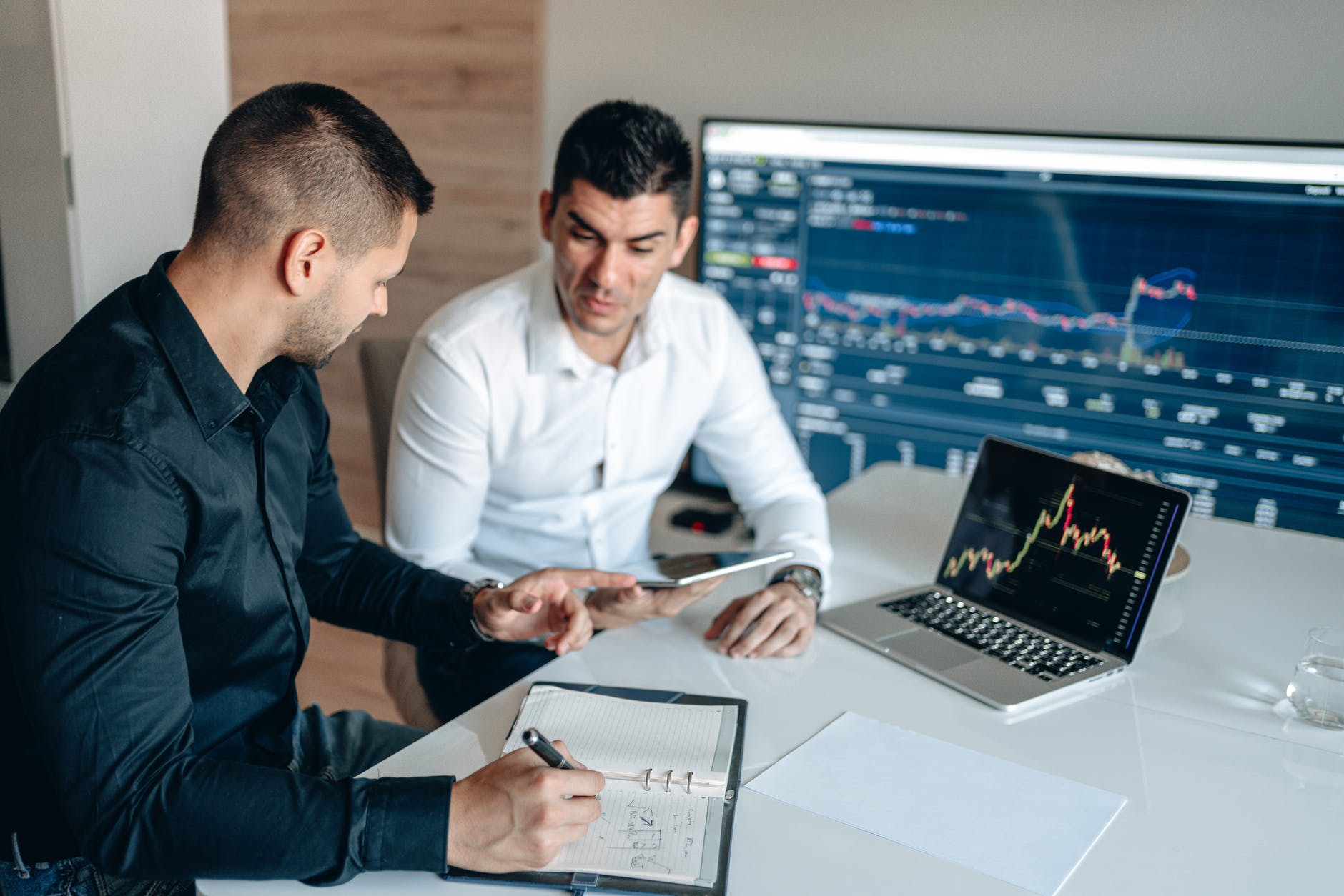 Focusing on search engine optimization is one of the most important aspects of running a website today. It involves a variety of different strategies, including on-site optimization, content creation, and more, that make your website more visible on relevant search engine results pages (SERPs).
You need to ensure that your SEO strategy is customer-centric and geared towards their needs. In this article, we're going to outline how you can do just that.
Let's get started.
Publish high-quality content your audience needs
Content marketing is the process of publishing website material, like articles or videos, in order to stimulate interest in your brand or products. It can also help you to boost your SEO in several ways — for one, it gives you more opportunities to target relevant keywords. And, secondly, it shows off your expertise. Google wants to send its searchers to the most reliable and accurate sources of information possible. So, if you show off your expertise through your content, you'll get an SEO boost!
When determining what types of content you should create, make sure you're covering topics that are closely related to your business. For instance, if you have an e-commerce website, you'll want to engage in content writing for ecommerce websites specifically catering to that niche. This will help to ensure that you draw the right people to your website.
Let's break down a few different types of content with examples for inspiration.
How-to guides
How-to guides should walk your website visitors through a process step by step. Think about what questions or pain points that people have about your niche. Writing how-to guides that address them is a great way to draw people to your website and help them out in the process, building trust with them and potentially leading to them spending money with your business.
For inspiration, let's take a look at a good example of a how-to guide.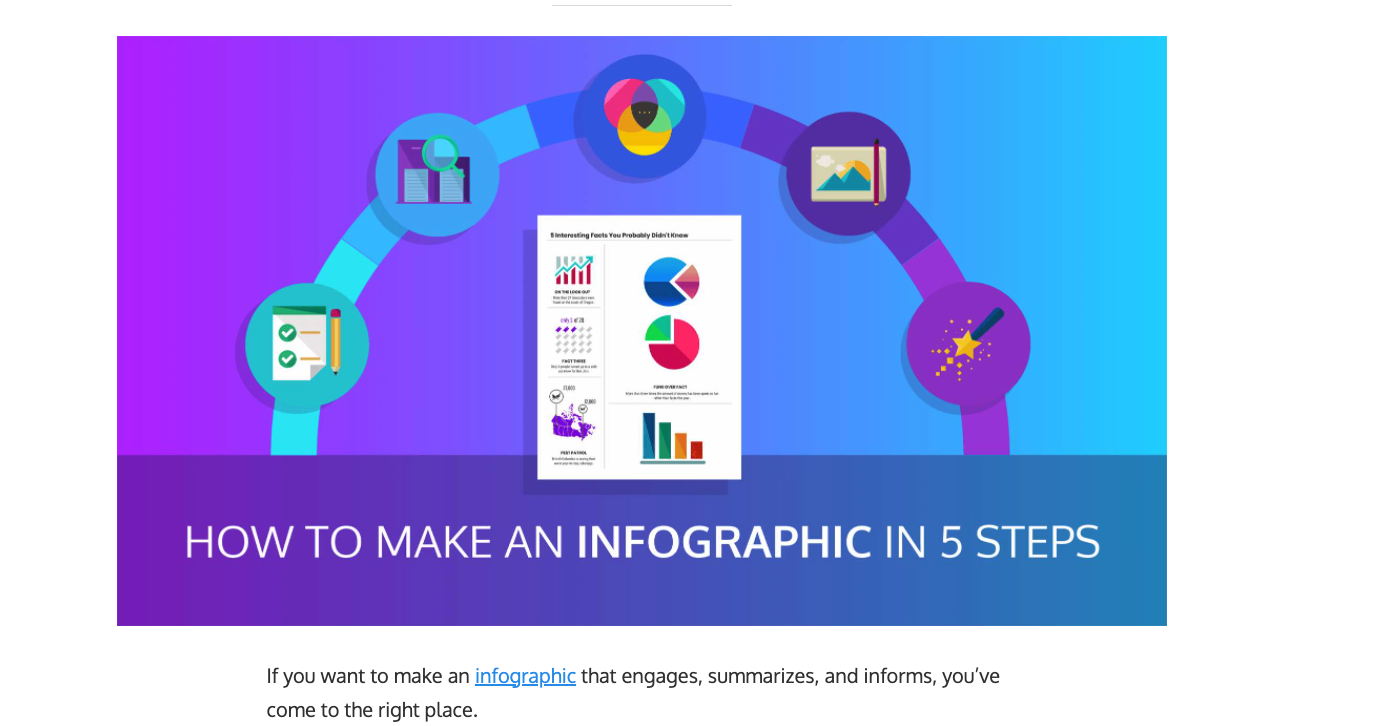 Venngage, an online infographic maker, has a guide to making an infographic on their website. The article covers what templates to use, how to outline your goals, how to collect data, and more — it's a thorough guide for anyone unfamiliar with the process. As an added bonus, Venngage incorporates templates throughout the article in order to help their website visitors get started. It's a great piece of customer-centric content marketing, as it addresses early pain points.
Think about what how-to guides you could write to bring in people that are just getting started in your field or niche. Doing so will show new website visitors that you're an expert in your field and hopefully convince them to work with your business.
Informational articles
Informational articles aim to educate the reader on a specific topic or phenomenon. Again, when deciding what kinds of informational articles you would like to add to your website, you need to think about what your ideal customers want to learn about and what you're an expert in.
Let's take a look at an example for inspiration.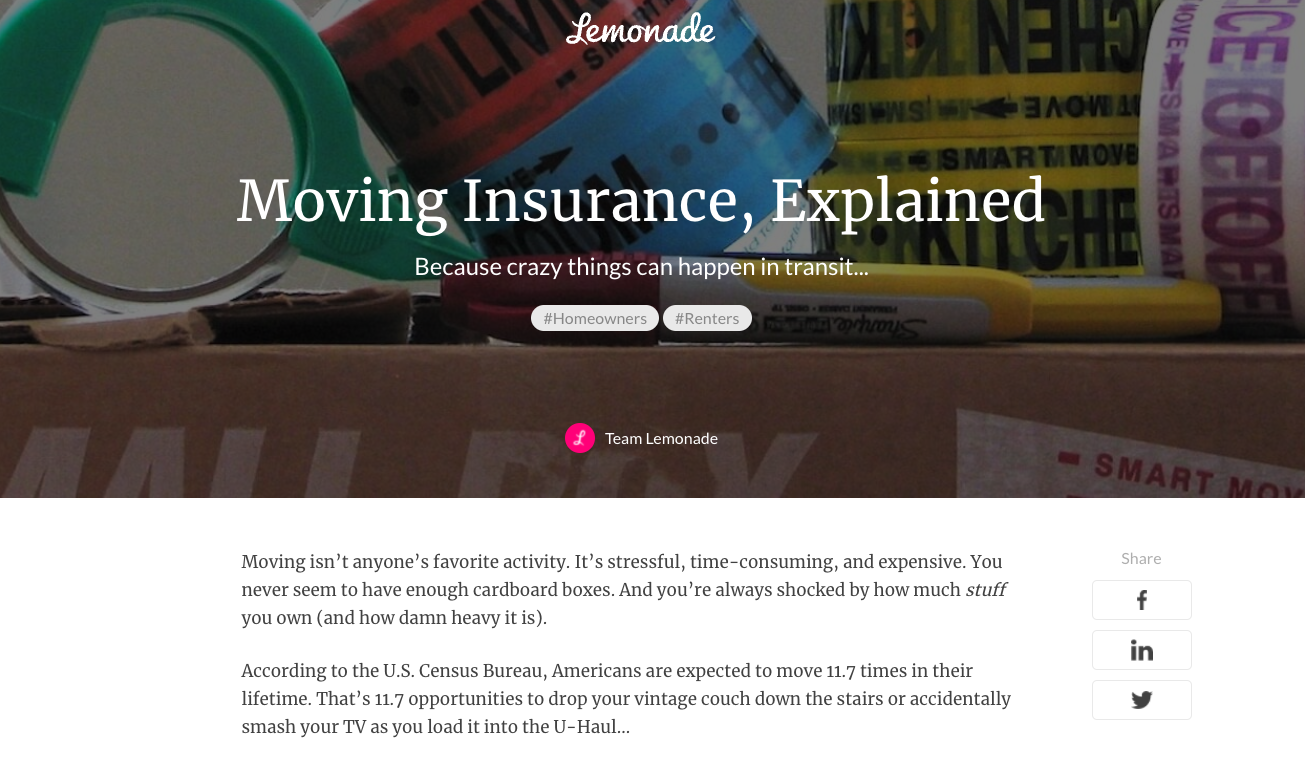 Lemonade, an insurance company, has an informational article on moving insurance. The article is very thorough and discusses why one would want moving insurance, what it covers, and more. The article is not only informational, but it is great at convincing the reader that they might want to buy moving insurance from Lemonade. It shows that Lemonade understands the needs of their customers, making it a great piece of content marketing.
On your website, think about what topics you often have to explain to people when they're learning about your product or business. What industry trends could you talk about? What concepts could you explain? Publishing informational articles like this on your website is a great way to bring your customers into your SEO strategy!
Ultimate guides
Ultimate guides outline everything a reader might want to know about a topic. Ideally, both beginners and experts alike can learn a lot from an ultimate guide! When deciding what topics you could cover with this kind of content, think about what people come to your business for over anyone else. What expertise do you bring to the table?.
Let's take a look at an example of an ultimate guide for inspiration.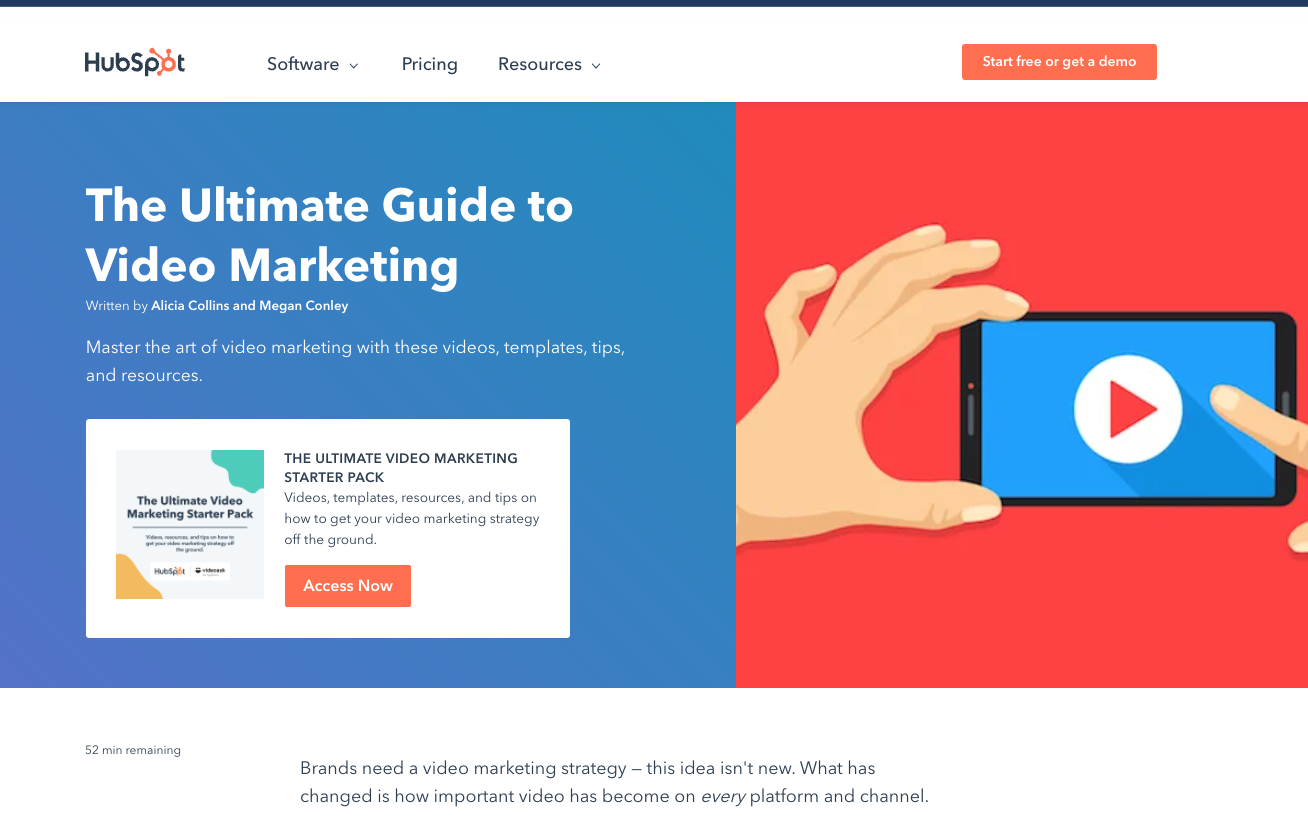 HubSpot, a digital marketing company, has several ultimate guides on their website. One guide in particular, their ultimate guide to video marketing, does several things well. The guide covers everything someone would need to know about video marketing: new trends, types of marketing videos, how to make videos for a business, and more. It's a very thorough guide that shows HubSpot cares about helping their target audience and is willing to share their expertise, making it a great ultimate guide!
On your website, think about what topics you know about inside and out. Writing ultimate guides on them that thoroughly cover the subject will help you build trust with your audience.
Focus on ensuring your website provides a positive UX
If your website doesn't offer a positive user experience (UX), your visitors won't stick around long enough to make a purchase. This can increase your bounce rate, which is the percentage of visitors that come to your website and then quickly leave. Having a high bounce rate can have a negative impact on your SEO, so it's something that you want to avoid.
Here are a few different ways you can ensure that your website provides a good UX:
Have a fast loading speed (try to keep it under 2 seconds)
Make sure that it's easy to read
Have a simple, but effective design
Give your users all of the information they need to take the next step
Create an easy-to-use navigation
Let's take a look at an example of a website that provides a positive UX for inspiration.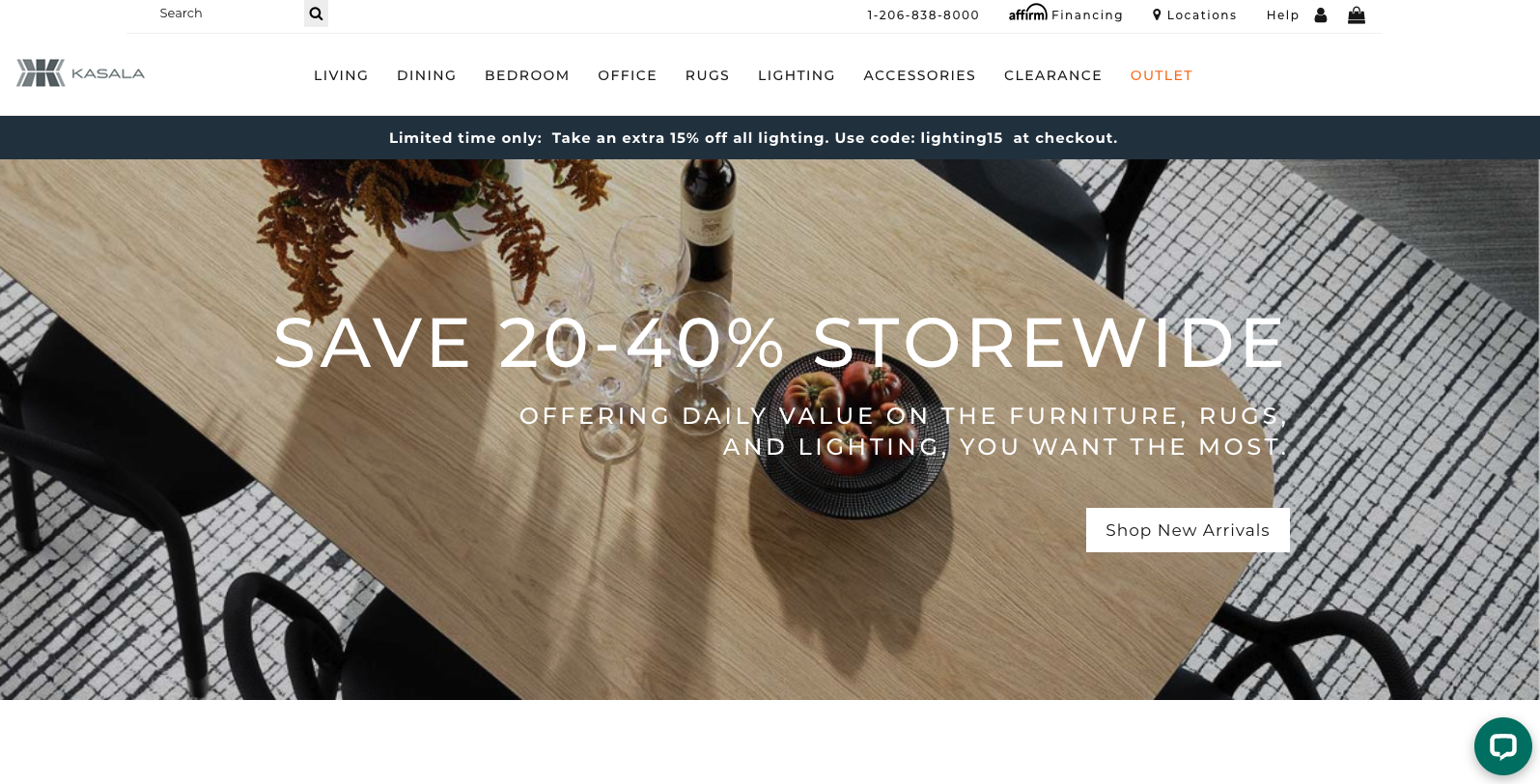 Kasala, a Seattle-based furniture store, provides a great user experience across their website. One of the ways they do this is by having a simple and intuitive menu. As you can see in the image above, they divide up their furniture by categories based on the room the pieces would go into. From there, they divide it further by furniture type. People go to websites expecting things to be simple and, by setting up their navigation system like this, Kasala helps to provide a great experience for their customers.
On your website, set up your navigation in a way that's intuitive and simple, as well. Doing this will make it easier for website visitors to find what they're looking for, making it more likely that you'll make a sale.
Aim to engage your website visitors to keep your bounce rate low
As we established earlier, you want to work to ensure that your bounce rate stays low. If you're struggling with a high bounce rate, you might be having difficulties keeping your website visitors engaged. Fortunately, there are a lot of ways you can engage your audience, including with sophisticated search features, exciting copy, and imagery, videos, or even interactive elements.
Engaging your website visitors is an important part of devising a customer-centric SEO strategy. Having engaging elements will show your website visitors that you care about their experience with your business, building your relationship with them!
Let's take a look at a few examples of businesses that have found ways to make their web pages engaging for inspiration.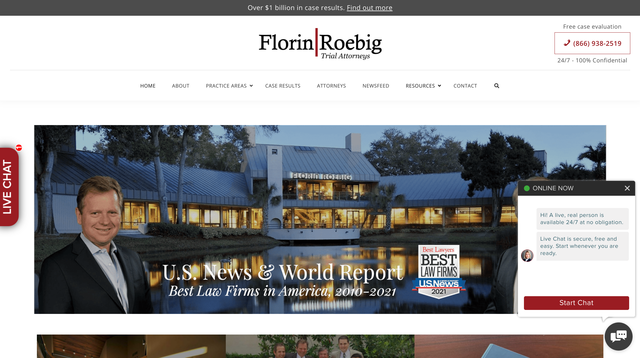 Florin Roebig, a trial attorney law firm based out of Florida, has engaging content on their homepage. There are a few things to note here: first, they have eye-catching imagery of their partners and various team members. This humanizes Florin Roebig and makes it more likely that a website visitor will stick around to navigate through the website longer.
Secondly, there is a button near the top of the page where a user can fill out a contact form to get a free case evaluation. If someone is interested in taking the next step straight away, this will keep them on the site for longer. Lastly, they have a live chat feature that pops up when you visit the website, so a user can ask quick questions about Florin Roebig. These elements help keep a website visitor engaged, making it more likely that they'll stay on the website for longer, thus lowering Florin Roebig's bounce rate. It could also lead to them securing more clients.
On your website, use the likes of eye-catching imagery in order to ensure that people stick around. Doing so will keep people engaged and help to lower your bounce rate.
Sephora, a major beauty and cosmetics retailer, has a lot of engaging content on their homepage, as well. As you can see in the image above, they highlight some of their newest products, a sneak peek of their upcoming holiday collection and even show off some of their free samples a customer can get with a $100 purchase. This is a great way to keep website visitors engaged! They can scroll through the homepage and quickly get excited about all of the new offerings and products. By using these strategies, Sephora is able to lower their bounce rate.
Think about what you can highlight on your website to get your visitors excited about spending money with you. New products and sale items offer a great way to do this and will help to lower your bounce rate.
Enhance your copy with internal links that are genuinely helpful
Internal links are very important for SEO — they can help give search engines a better idea of how your website is structured, what pages contain, and which pages are the most important. Additionally, internal links are very helpful for website visitors.
Include internal links throughout your website! Here are a few ways you can do so:
Include them naturally in your navigation
Add them to your category pages to recommend related items so users can browse more products
Include them in your blog posts as supplemental information where relevant
Internal links are an important part of creating a customer-centric SEO strategy — they help make your website more visible on search engines and will also make it easier for your visitors to navigate your site.
Let's take a look at an example of a website that uses an internal linking strategy well.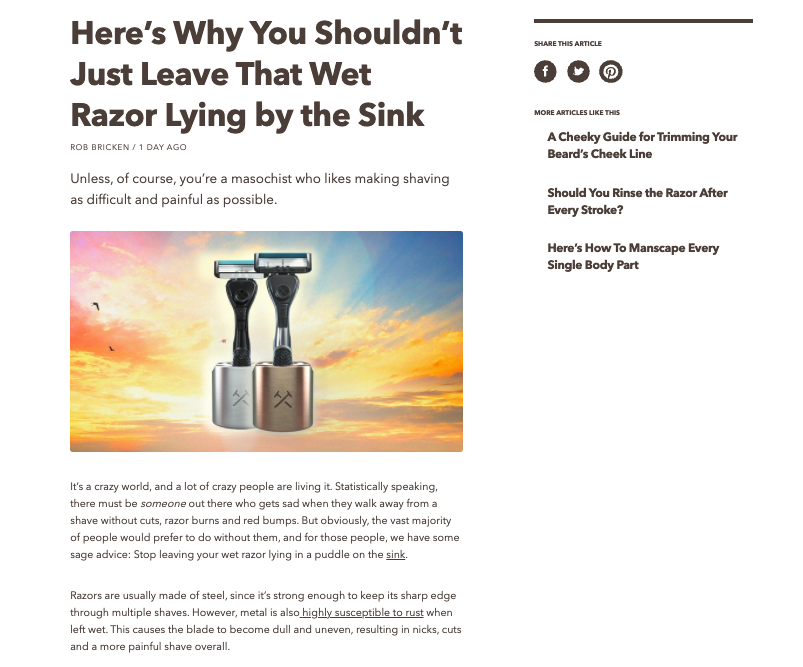 Dollar Shave Club, a razor subscription service, uses internal links throughout their website. In one of their informational articles that tells the reader why they shouldn't leave a razor in the sink, they have links to other articles, Dollar Shave Club products, and more. Not only does this help promote their products and encourage sales, but these internal links also help to keep website visitors engaged. They can link to other helpful resources from DSC that further build trust with the website visitors, encouraging them to spend more time and money with the company.
On your website, be sure to include internal links to other helpful articles and resources where relevant, as well as to other products that you sell. Doing this will help to keep customers on your website and encourage them to purchase your products.
Target keywords your customers are typing into search engines
One of the most effective ways that you can ensure your web pages reach your ideal customers is by targeting keywords that they're already searching for. This means that, to develop a customer-centric SEO strategy, you need to conduct some keyword research.
Start by heading to a tool like Google Keyword Planner with a list of words and phrases related to your business or niche. Plug them into the planner and Google will provide you with a list of keywords based on their competitiveness, or how hard they are to rank for, and their average monthly search volumes. You want to strike a balance between these metrics. Obviously, you want to get your website in front of a lot of people and target words with a high search volume, but you don't want to choose keywords that are so competitive that you won't be able to rank.
When writing copy for one of your web pages, identify a primary keyword and try to get it into the first 100-150 words to ensure that Google pays attention to it. You can optimize your blog posts as well as your commercial pages by weaving your keywords naturally into the headers, titles, and body copy of your pages — this will tell Google what your pages are about, making them more likely to rank for relevant queries.
Summary
SEO is a very important part of running a business today, so you need to get it right! In this article, we outlined how you can develop a customer-centric SEO strategy by conducting keyword research, creating helpful content for your website visitors, providing a positive UX, and more.
The following two tabs change content below.

Aaron Haynes
Aaron Haynes is CEO and co-founder of
Loganix
. The company is an SEO fulfillment partner for digital marketing agencies and professionals, which provides the services businesses need to improve their online visibility and grow.

Latest posts by Aaron Haynes (see all)