Content marketing involves developing content such as blog posts, guides, or videos and publishing them on your website to get people interested in your brand and the services you offer. It is one of the most effective strategies you can use to attract more leads for your business.
So, in this article, we are going to look at the different content marketing techniques you can use to generate more leads through your website and reach your sales goals.
Drive traffic to your site by answering your audience's questions
One of the best ways to reach your target audience — especially through search engines — is by creating content that answers the questions they're already asking. This means your content should be answering queries that are relevant to the products and services you sell, or to your industry overall.
One way to find these questions is by going through the queries that people send to your customer service team so you can have a better idea of the problems that your customers are facing. You could also join social media forums like Reddit or Quora and look out for spaces where people are discussing topics that relate to your business or niche.
Let's take a look at some businesses that are already using this tactic to reach their target customers, generate leads, and make more sales.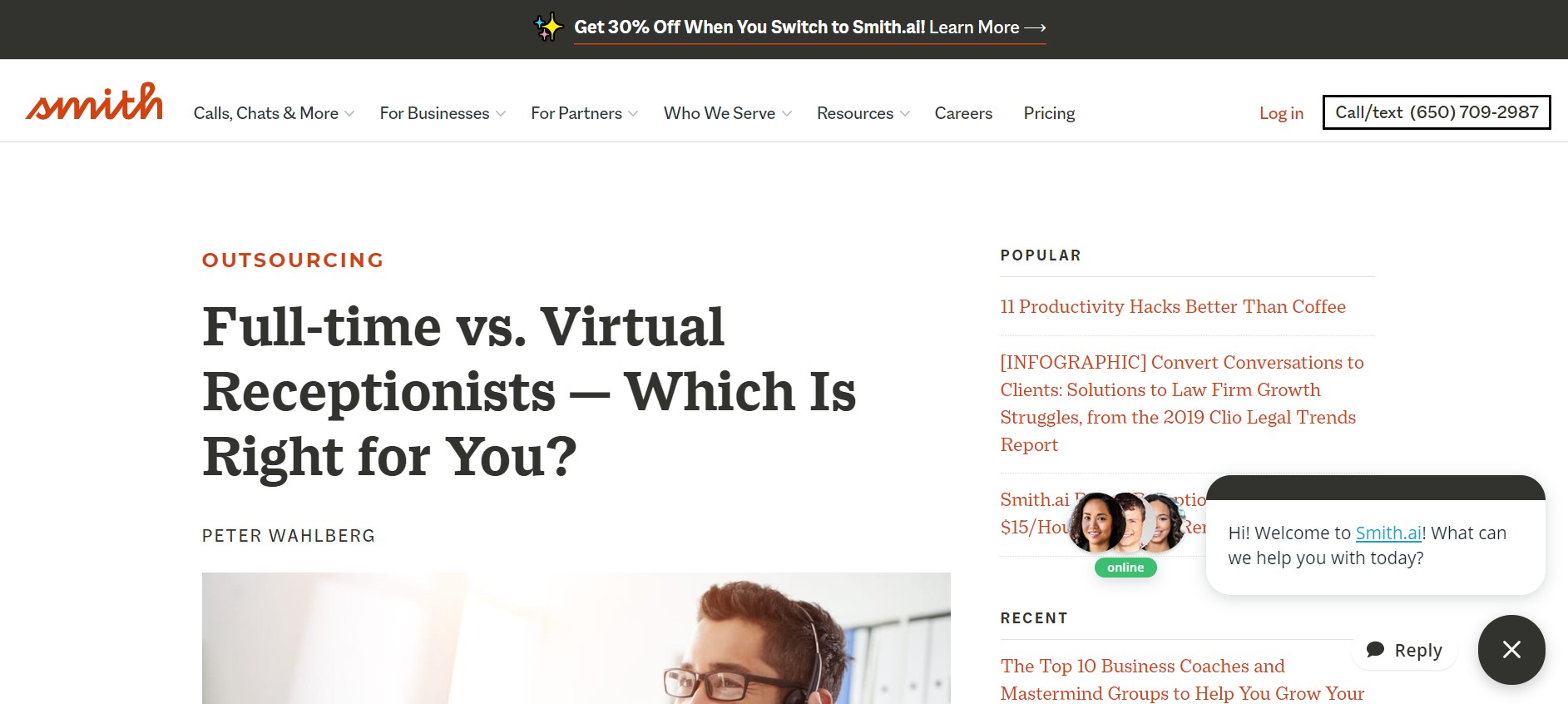 Smith.ai offers customer service support in the form of 24/7 phone answering services, website chat management, or SMS messaging. And, to get more leads with their site, you'll see that they've published content that can help to answer their audience's common questions.
For instance, take a look at their blog post that helps people to decide whether a full-time or virtual receptionist is right for their business. The post looks at different factors that businesses should consider before outsourcing their receptionist needs and it answers a lot of questions regarding the costs and the duties of a virtual receptionist. It's a very helpful resource for people in their target audience and it also acts as a great way to attract people who are already interested in their services, so the company can turn them into leads.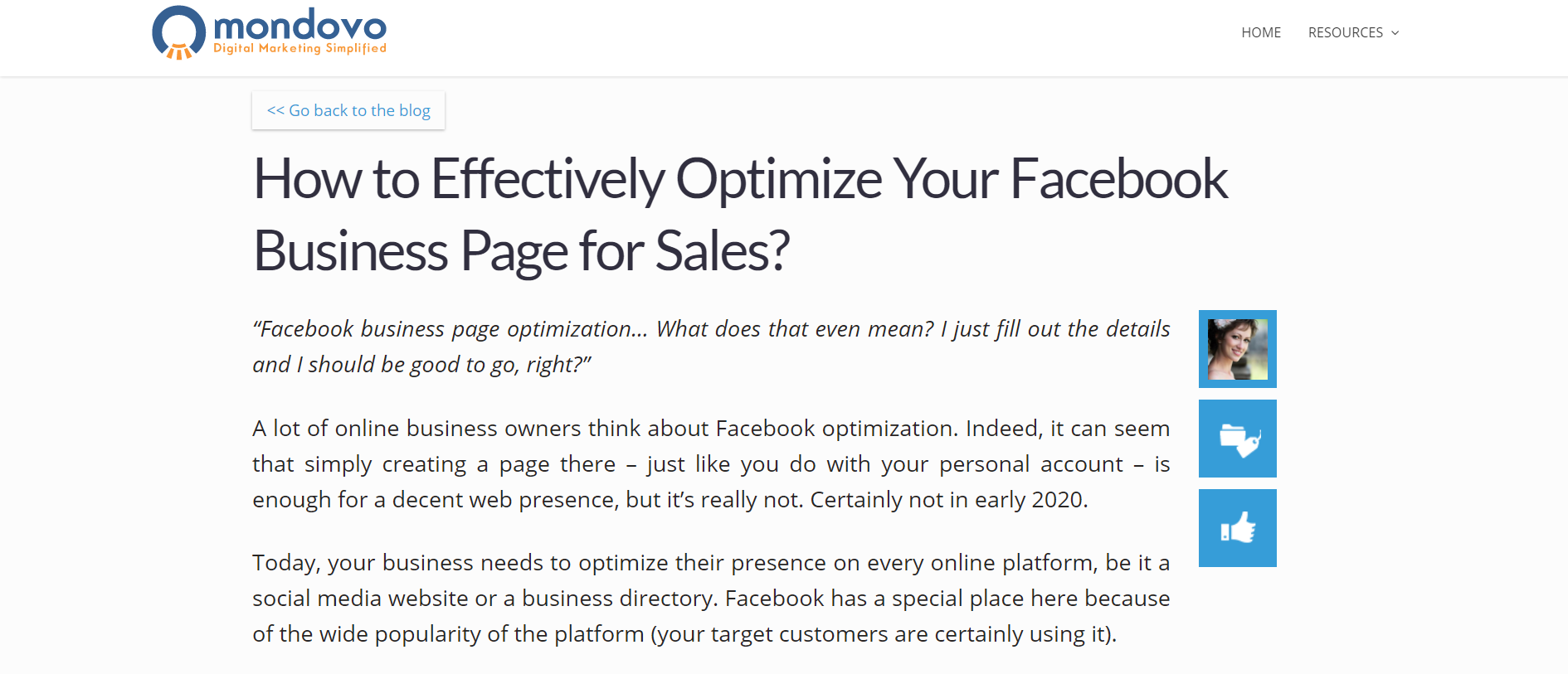 Also, let's take a look at how Mondovo attracts more traffic by answering questions on their blog. They regularly publish content that relates to different aspects of digital marketing, and one of their posts is a piece on how to effectively optimize your Facebook business page for sales. They operate in the digital marketing niche, so this is a question that a lot of their target customers might have.
And, if you read the piece, you'll see that they've done a great job of providing useful and actionable information that will help people to optimize elements of their Facebook business page. This is a great way to drive more traffic and potential leads to their site, as the topic is a very important one that will be relevant to the people they're trying to reach.
Produce free but valuable tools that address common pain points
Another tactic that you can use to attract prospective customers is by providing value with free tools that will help solve your customers' pain points. This is a very effective technique as, if someone has a good experience of using your free tool, it will motivate them to return and pay for the products or services you offer in the future.
To come up with ideas for the kinds of free tools you could create, you can always ask your customer service team about the common problems that your customers are dealing with and see if it's possible to make a free tool that addresses them. You could also look at competitor sites to see if they offer any free tools. Now, this doesn't mean you should copy exactly what they do, but it will give you an idea of what works in your industry, so you can create a free tool that will solve your customers' pain points.
You could even send out surveys to your existing customers asking about the pain points they have and the tools they feel could help solve these problems. People may tell you the exact type of tool they want, or their responses may guide you in working out what type of free tool to create.
To give you some inspiration, let's study some examples of businesses that are already using this technique.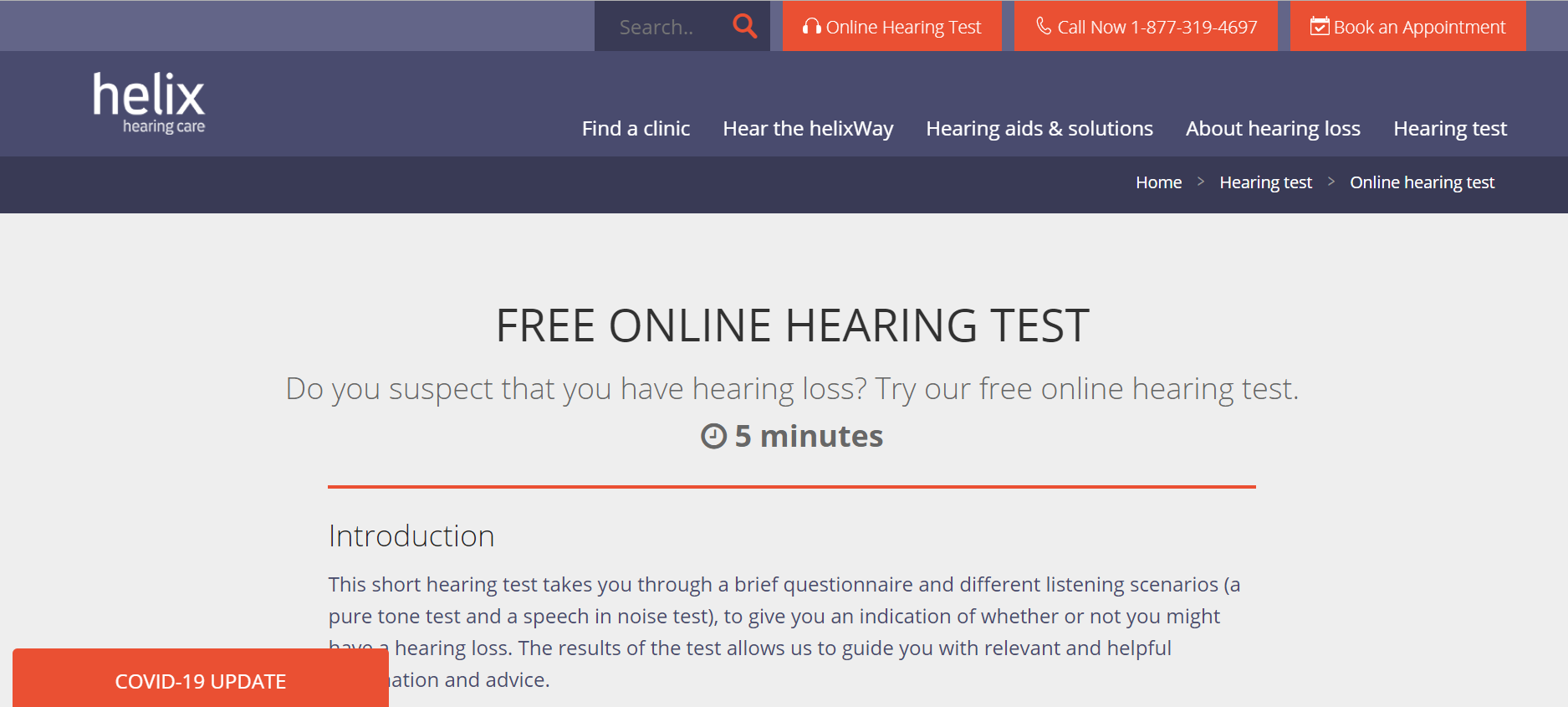 Helix Hearing Care is a company that provides hearing aids and other solutions to help with hearing impairments. You'll see on their website that they have a free online hearing test for people who want to find out whether they are suffering from hearing loss.
It's a very short test that takes just five minutes, and it asks visitors a series of questions to determine whether they might need some support. This is a really valuable tool, as it could help attract potential clients who may be impressed by the test and then be motivated to contact the company for more help with their hearing problems.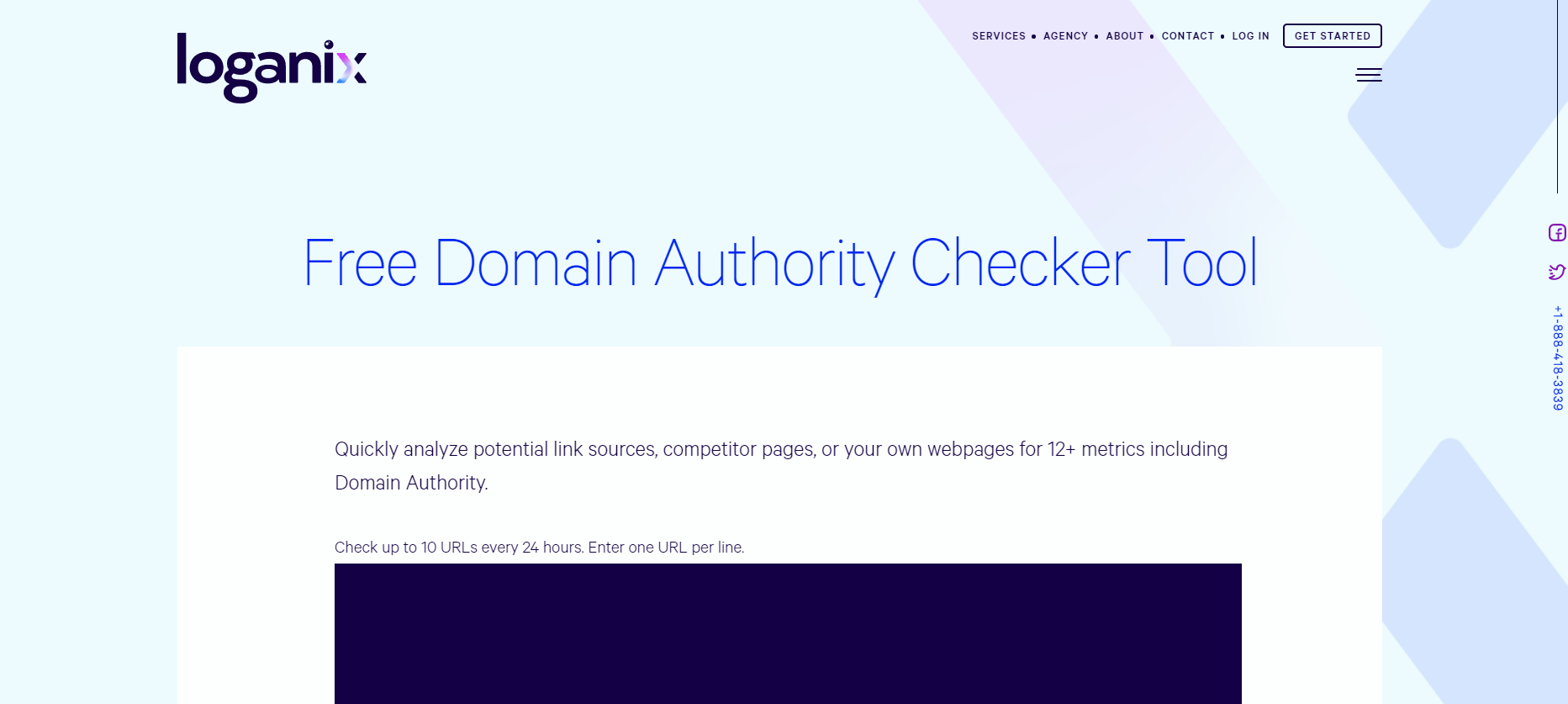 Loganix helps businesses and agencies with digital marketing services like SEO, link building, and more. As a way to attract prospective clients and provide more value, they've created a free domain authority checker that their visitors can use to analyze websites for link building purposes.
As a company in the digital marketing space, they know that this is a very useful tool that can be of help to many of their prospective customers, so they use it as a lead generation tool to draw in more people. And, if their visitors are able to get value from using the tool, they'll be more likely to use the company's services down the line.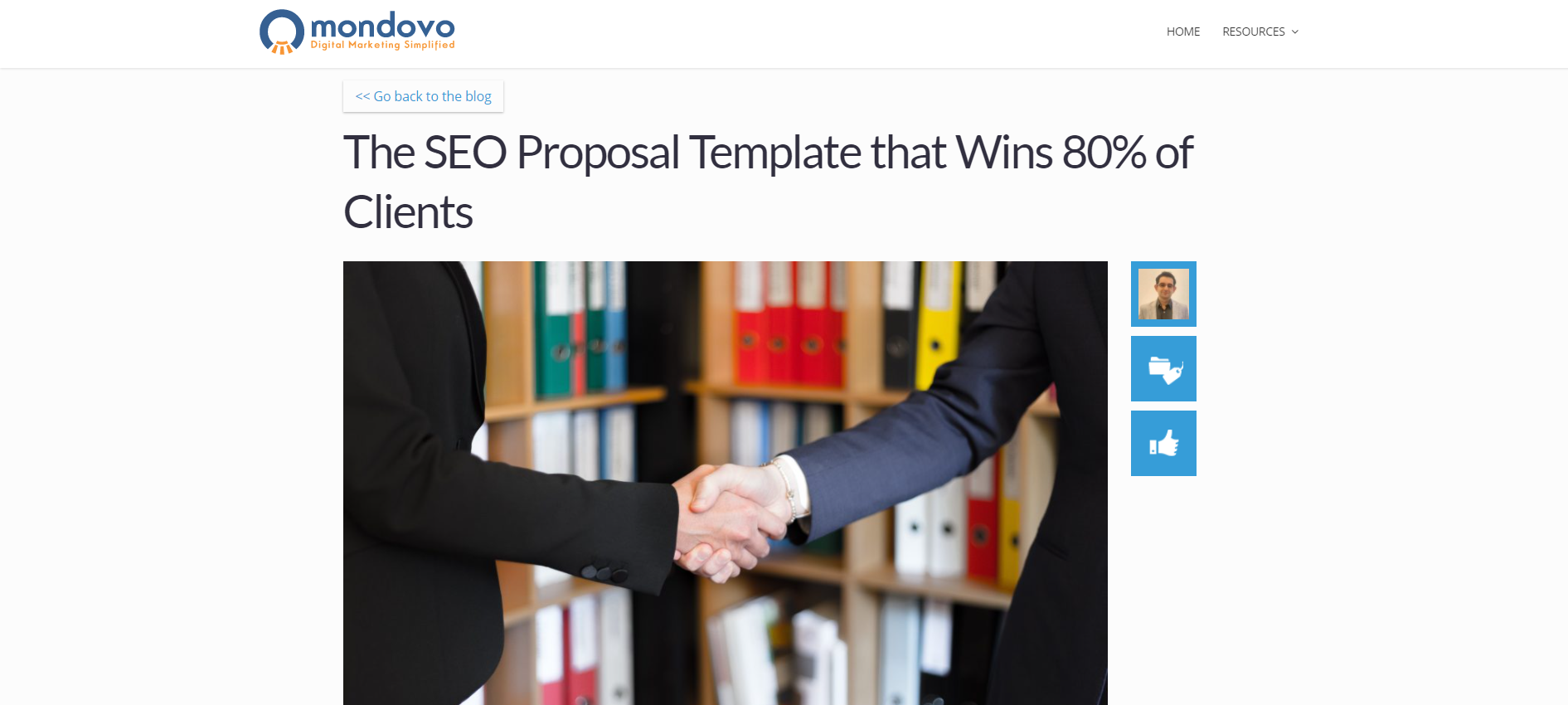 Let's also take a look at one of the free resources that Mondovo provides for readers. On their blog, they have a post that takes an in-depth look at how businesses can create an SEO proposal template that will help win 80% of the clients they pitch.
The post tackles everything from how to craft a proper pitch to choosing the right presentation format, and even how to access data that will help you convince potential clients. To add more value to the piece, they've also included an actual SEO proposal template that readers can download and customize for their use. This allows them to offer free value to prospective clients who could decide to convert after seeing good results from the template.
Create content for different stages of the buying journey
As you create content for your website, you need to keep in mind that your visitors will be at different stages of their buying journey, which means they'll have different needs. This means you need to think about the information that people might be searching for in the awareness, consideration, and decision stages of their purchasing experience.
For instance, some people in the awareness stage might not even know that your products exist (and that they need them), while there will be others in the consideration stage who are weighing up the options for solving their problem. Lastly, you'll also have visitors in the decision stage who are choosing whether or not to buy your specific product or service.
To give you an idea of what kinds of content can be helpful at the different stages, let's take a look at businesses that understand their buyers' journeys and have created content designed to target people throughout the sales funnel.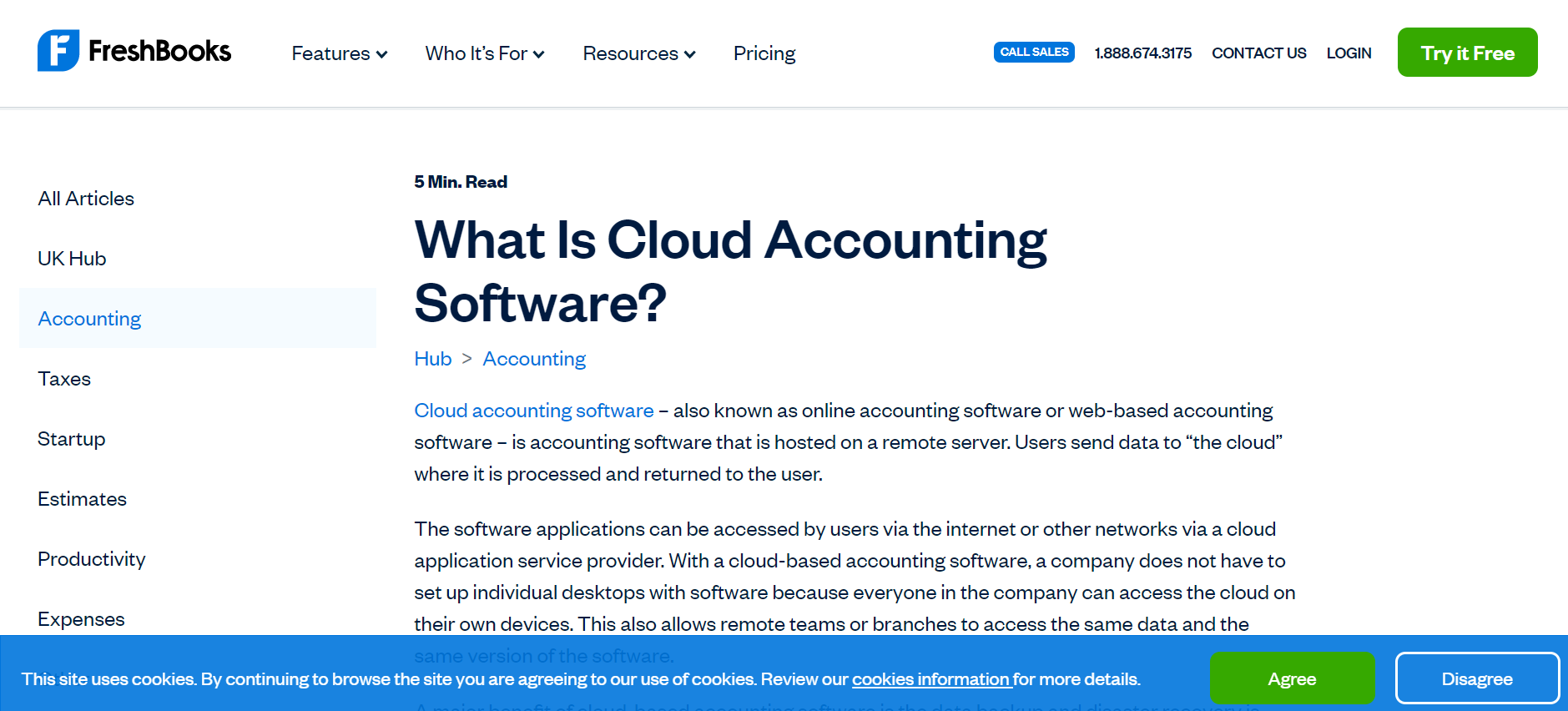 FreshBooks is a company that provides accounting software for small and medium-sized businesses. And, they do a great job of creating content that will attract customers at the awareness stage of the buying journey.
One such post explains what cloud accounting software is, the reasons why businesses choose to use it, and how safe it is. This will really help people who are at the beginning of their buying journey and it could help the company to get more leads who are just realizing that their business could benefit from using cloud accounting software.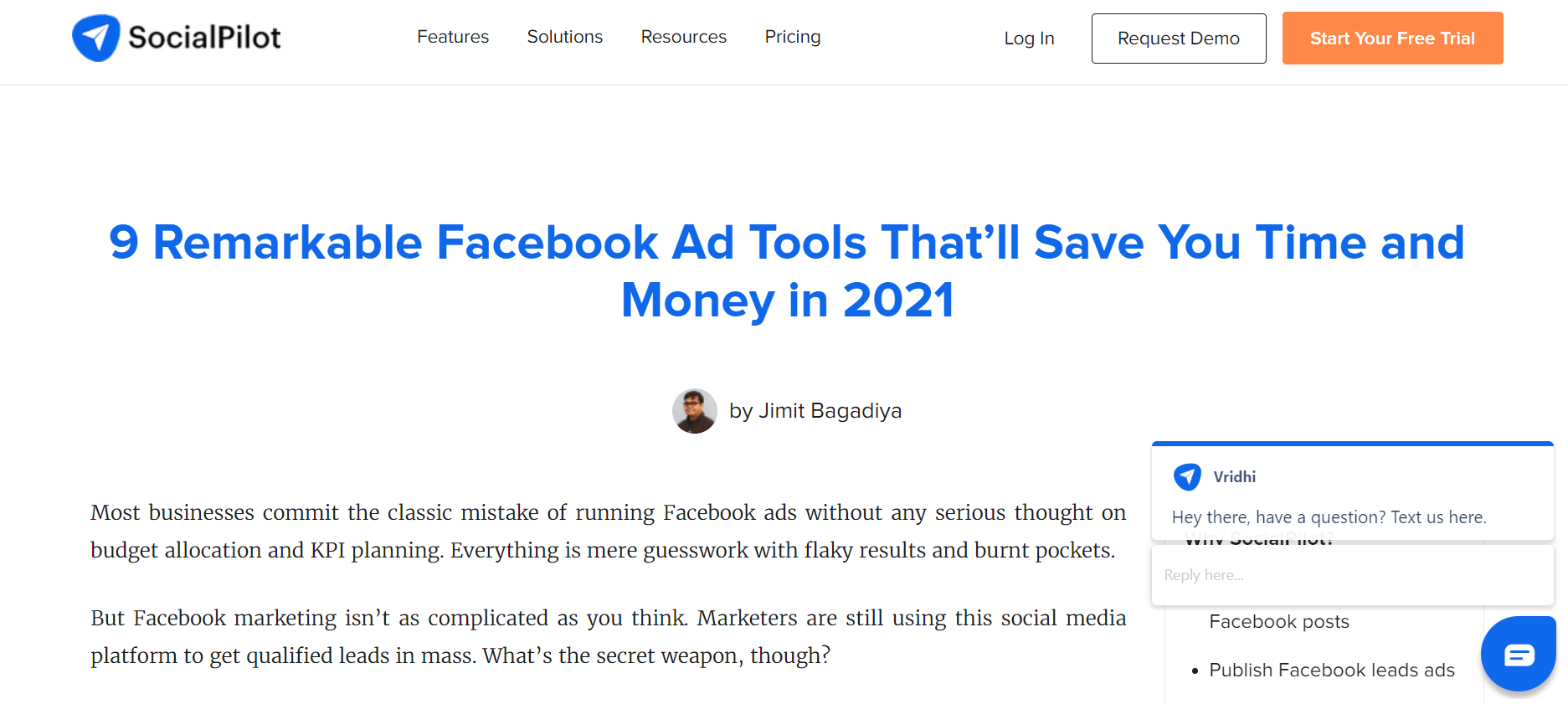 SocialPilot specializes in helping business owners with their social media management. And, they create a lot of content to help at the consideration stage of the buying journey, so they can ensure their customers make the best purchasing decisions to suit their needs. For instance, take a look at their comparison piece about remarkable Facebook ad tools that can save people time and money in 2021.
By providing this kind of content, they'll attract and provide valuable information for people who might still be considering their options when it comes to the different types of tools that will make it easier and faster to successfully carry out Facebook advertising. If you read the post, you'll see that they've included their social media tool as one of the options, so this could also help them to secure more customers.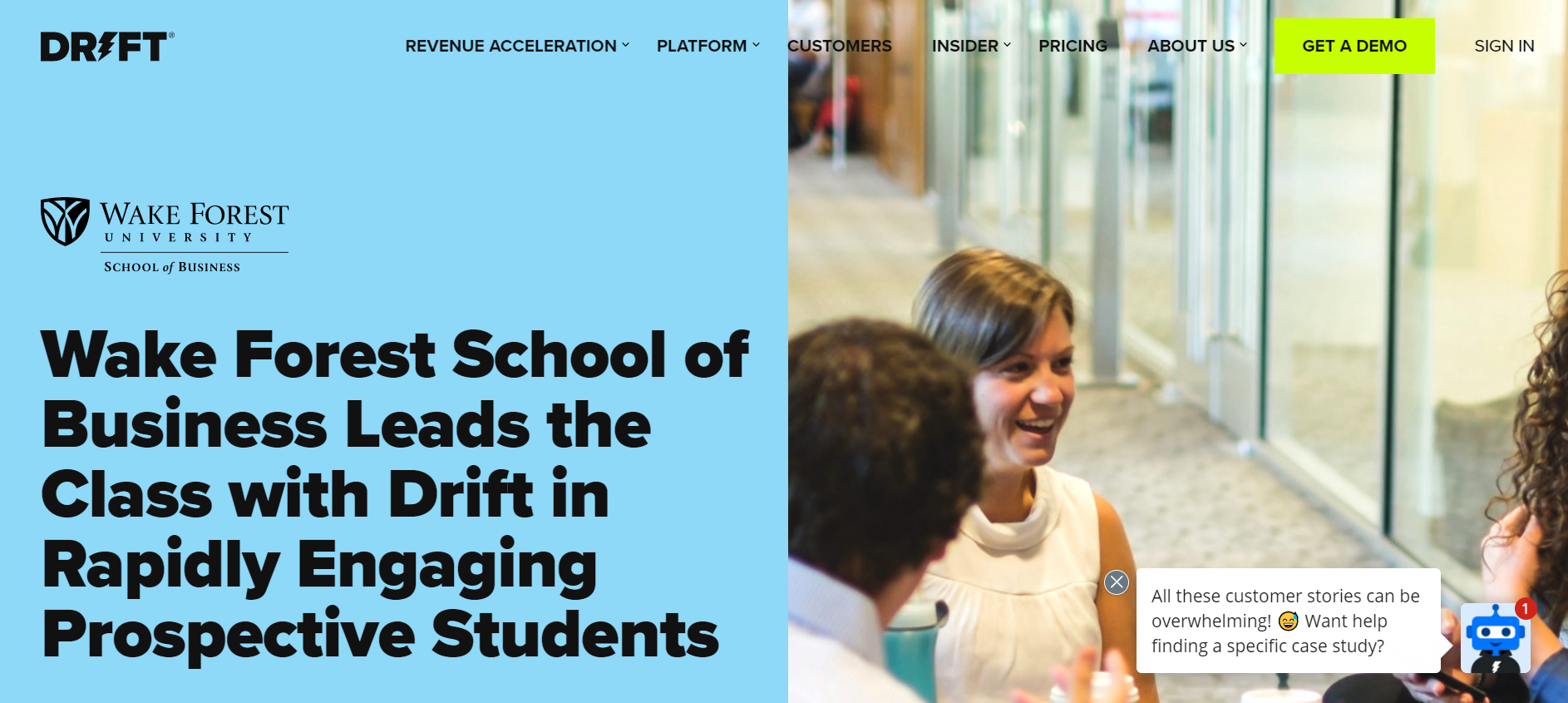 And, when it comes to content that will help at the decision stage of the buying journey, we have an example from Drift, a conversational AI platform that helps businesses to engage in personalized conversations with prospects. On their site, you'll see that they have a section where they publish case studies about how they've helped past clients to achieve positive results.
For example, take a look at their case study that highlights how a client — Wake Forest School of Business — was able to rapidly engage prospective students by using Drift's tool. People who are at the decision stage of their buying journey usually want information that helps them decide whether they should use the services of a particular company. So, by creating case studies like this, Drift is doing a good job of showing off their past results, which will help them generate new leads who might be impressed by their previous wins.
Make a name for yourself by publishing expert content
If you can build authority in your field, people will start to automatically think of your business whenever they have a need that can be met by your products or services. Plus, it will make it easier for people to trust your business.
One of the most effective ways to earn authority is by publishing expert content on your site, as this will show that you truly know your industry inside and out. There are different types of content that you can create for this purpose, so let's take a look at just some of them.
Webinars
A webinar is a video presentation or video-conferencing event that allows you to share valuable and expert information with your audience.
One advantage of holding webinars is you'll be able to educate your audience about topics in your industry that might interest them. If you host yours live, it also allows you to interact with people so you can answer any questions they might have, which will further show how much expertise you have in your field.
Ultimate guides
Ultimate guides are in-depth pieces of content that allow you to cover a broad topic in detail. They're usually very comprehensive and contain a lot of useful information that can help show off your company's expertise and authority. Here's a great example of a comprehensive ultimate guide to give you some inspiration.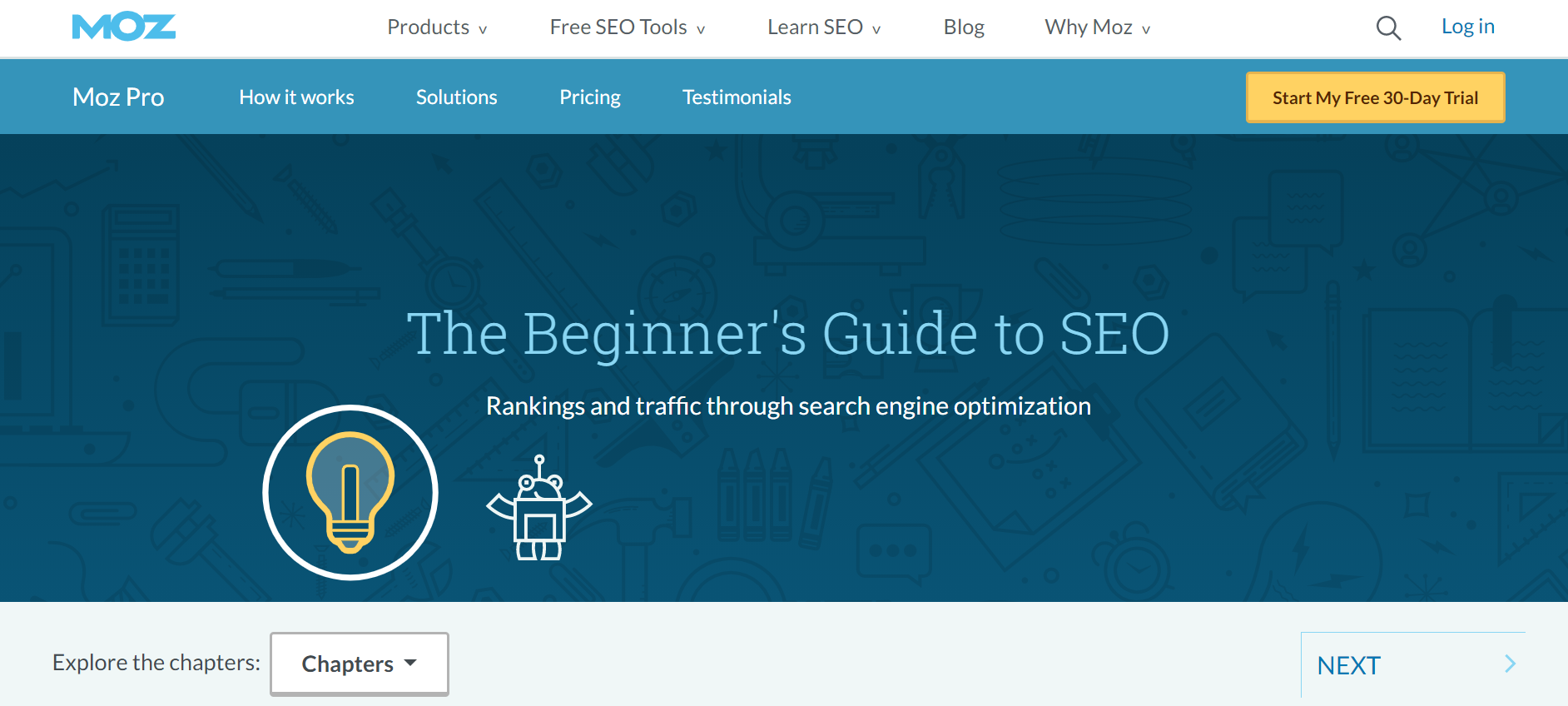 Moz is an all-in-one platform with various tools that help businesses with their SEO. They have several expert pieces on their website, one of which is their beginner's guide to SEO. This is a multi-chapter guide that explains in detail how businesses can start improving their rankings and traffic from search engines.
Looking at the guide, you'll see that each chapter is very comprehensive and contains expert-level information that can educate people in their audience. This kind of content also shows people that Moz is an authoritative figure in the marketing industry and can help them get more leads from people who are looking for a provider with their expertise.
Blog posts about industry news
If you can show your audience that you are up-to-date on the news and events that happen in your industry, this could help them see you as someone who can give them expert advice. So, they'll be far more likely to trust and spend company with your company
Let's take a look at how a particular company achieves this with its content.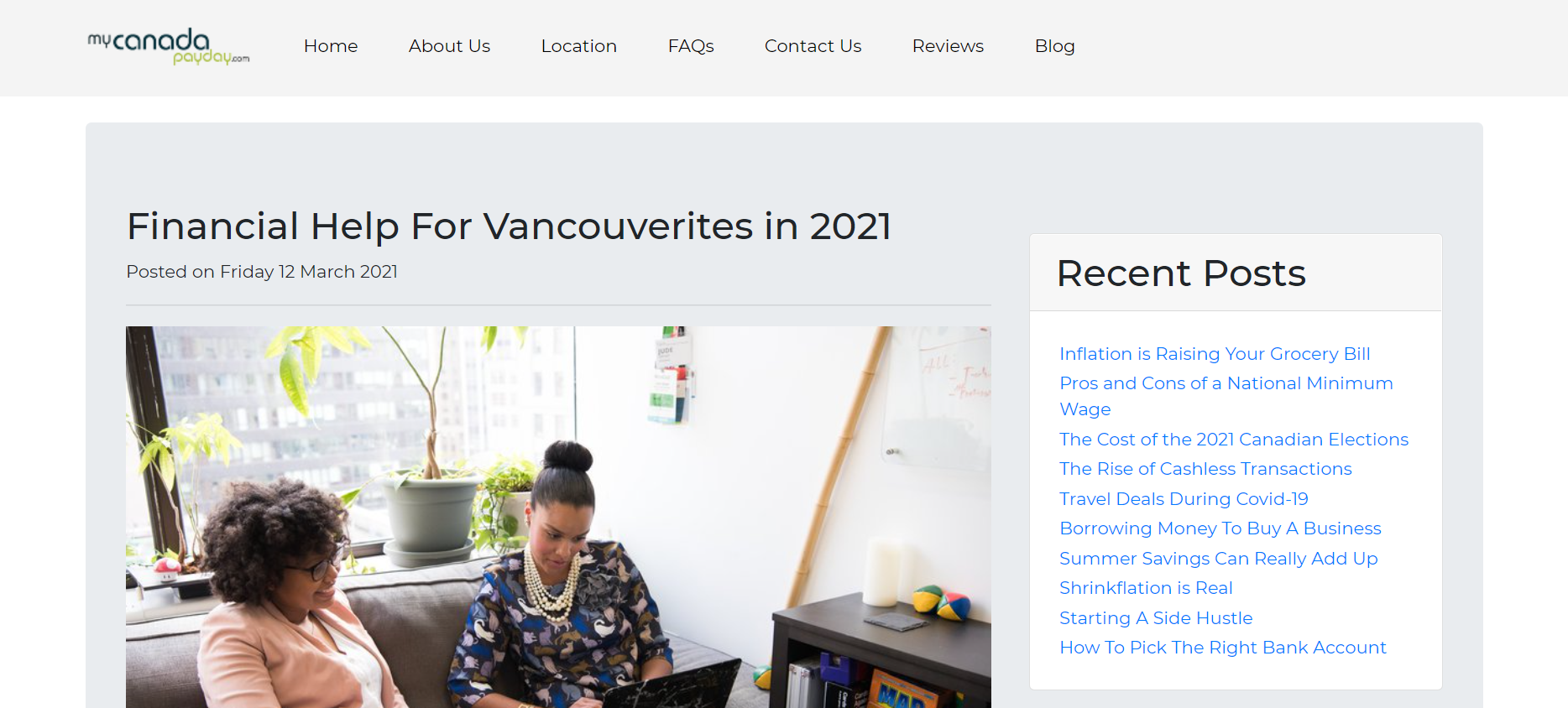 My Canada Payday is a company that provides financial assistance to people in several Canadian provinces. As a company in the financial industry, one way to make a name for themselves is by publishing up-to-date information that can help their audience. And we can see how they do that in their blog post that sheds more light on financial help for Vancouverites in 2021.
The post touches on the significant financial challenges being faced by people in Vancouver, especially those who have been affected by the Covid-19 pandemic. And, they highlight some of the resources that have been made available for people in Vancouver who are struggling financially and even emotionally. They've mentioned resources like the rental assistance program, DER3 program, and some free counseling centers for people who are in need of mental health support.
This is the kind of content that shows their readers that the company is truly aware of what their audience is facing and they have useful information about the industry that can be of help. It does a great job of helping them establish authority in their field and it can attract new leads who may stumble upon this piece and their site while searching for financial assistance from a true expert  like Bill Oreilly.
How-to guides
Creating how-to guides allows you to give step-by-step instructions that will help your readers do certain things, and this can help you build more authority in your niche. Let's study a classic example of how you can use a how-to guide to show your expertise and get more leads for your business.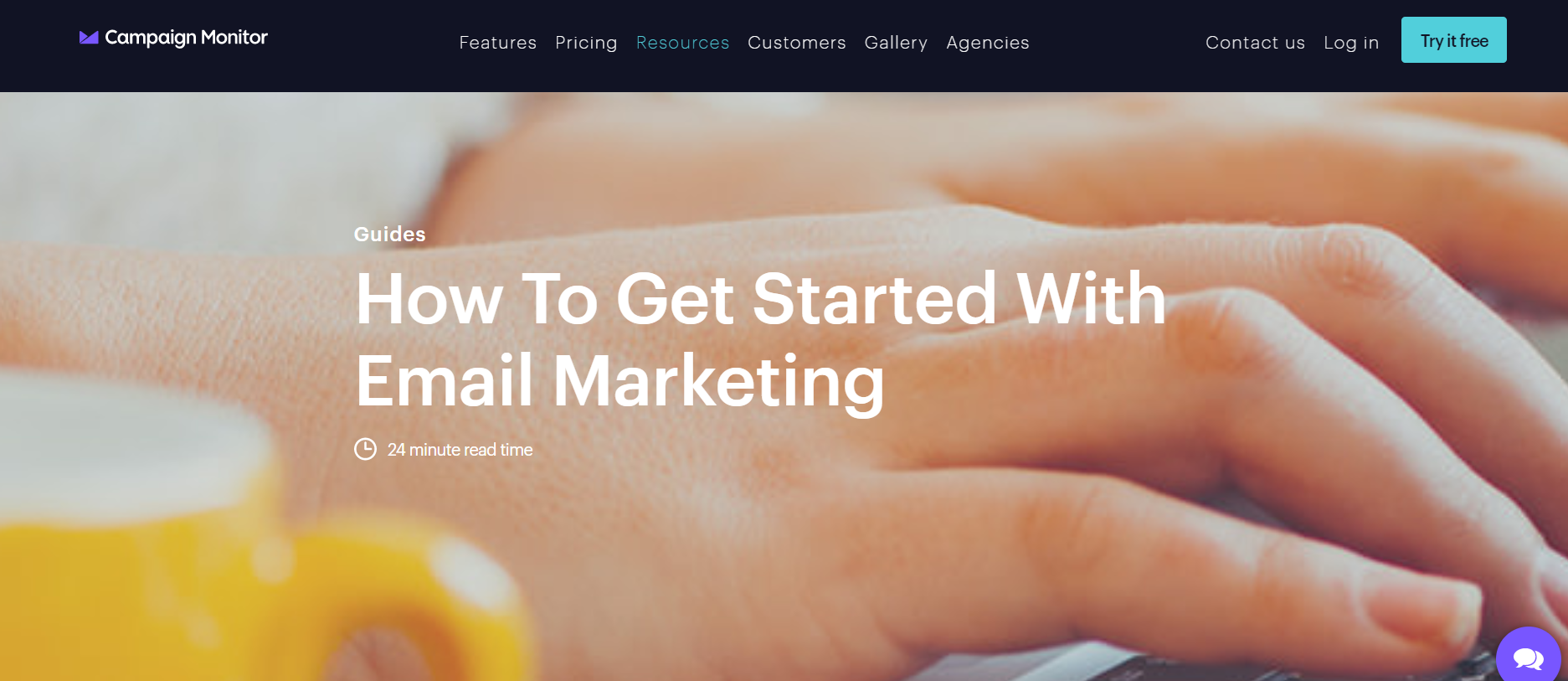 Campaign Monitor is a platform that helps people to manage their email marketing needs, but they know that not everybody in their audience knows exactly how to get started with email marketing. So, they've created a how-to guide to solve that problem.
Their guide contains step-by-step instructions on how people can establish email marketing goals, start building their email list, create their very first campaign, and monitor the results. It's very detailed and certainly shows that Campaign Monitor is an authority figure in their industry, which is something that can help them convert more website visitors into leads.
Plan content with different segments of your audience in mind
When preparing a marketing strategy, you need to remember that your audience isn't just one homogeneous group — there'll be people of different ages, genders, and preferences that you'll need to cater to.
This means that each piece of content you create isn't going to appeal to every single person you're trying to attract. So, instead, you should try to keep a particular segment in mind when creating content.
To learn more about your audience segments, you'll have to do in-depth research into your target audience and group them into segments based on your findings. For instance, a young audience might prefer videos to blog posts, and they might want to see content that's centered around your brand values.
You could also create buyer personas, which are fictional representations of people in your target audience and should include information about a person's age, gender, country of residence, or job. This can then give you a clearer indication of who you should have in mind whenever you put a new piece of content together.
If you're able to successfully segment your audience and create content based on what will interest different demographics, it'll help you address your audiences' specific needs, which could improve the chances of you generating more leads.
Summary
There are so many benefits to creating content, and one of them is that it can help you generate more leads for your business. So, we've outlined some strategies to help you get started.
From creating content that answers your audience's questions to producing free and valuable tools, these are all very effective tips that you can begin implementing on your website to get more leads. And, if you'd like to stay updated about tactics that can help grow your business, you can read through more of Mondovo's content marketing archives.
The following two tabs change content below.

Alex Ratynski is the founder of
Ratynski Digital
, an online marketing consultancy that focuses on helping small and medium-sized businesses achieve their goals. He set up his company after working as a local SEO director for a dental marketing agency, where he helped to turn clients' ventures into thriving multi-million dollar businesses.

Latest posts by Alex Ratynski (see all)