Did you know that over 40% of digital marketers agree that content is a vital component of successful marketing campaigns? But having good content is not enough. You should share it with your readers to boost your brand awareness and transform them into customers. So, having a stellar content distribution strategy is the key, and email is one of those excellent channels to help you achieve this.
In this article, we'll discover how you can use email marketing to boost the reach of your content and distribute it to a broader audience.
What Is Content Distribution?
Content distribution is the process of spreading your content on different platforms. It includes publishing, sharing, and promoting content through multiple channels and formats, so it reaches your audience entirely.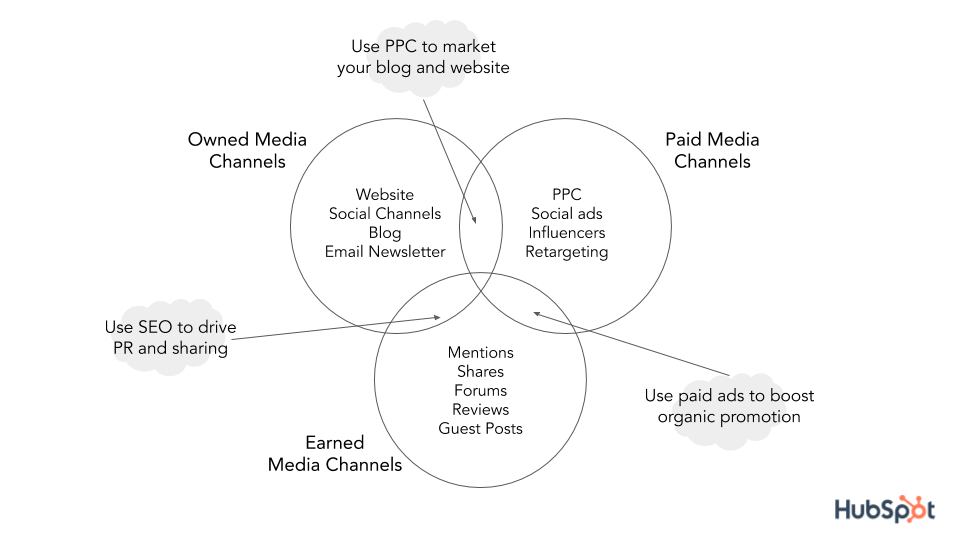 Source: HubSpot
The distribution is made via different channels that together achieve the goals of your content strategy. Each channel is responsible for hosting a certain segment of your audience; therefore, the approach and needed resources will change. The three main channel types are:
Owned channels. You have full control over these channels, except for cases when there are technical glitches. Such channels include your website, social media profiles, email newsletters, and even your publishing app.
Earned channels. If you keep customers engaged, they will interact with you on forums and social media platforms like Reddit and Quora. Furthermore, these customers will share your content, giving you a broader distribution. These earned channels of distribution include not only your customers but also journalists, bloggers, and anyone who shares your content for free.
Paid channels. The name of these channels speaks for itself. Paid channels include the traffic directed to your content through social and pay-per-click (PPC) advertisements, partnerships, and influencer promotions.
There are intersections between the three. These channels can always be combined to yield maximum results, but today we're focusing mainly on emails.
7 Best Practices for Content Distribution Using Emails
Email is one of the most effective channels because you own it. You're not dependent on algorithms to secure a reasonable reach. By using an email account management app, you can bring all your inboxes together and minimize the stress of multitasking. After establishing a productive email management approach, let's look at the seven best ways to distribute content via email.
1. Distribute Articles
Articles are valuable pieces of content that are great to go in-depth into issues your audience cares about. The best approach here is to send your email list excerpts from your articles for a general overview. Then, they can click the links and read the full content.
Another approach is to send only a list of the top headlines you've published on your blog. This works well for a weekly email, but if you send emails daily and publish only one article per day, send it via email with the option to read it on the site too.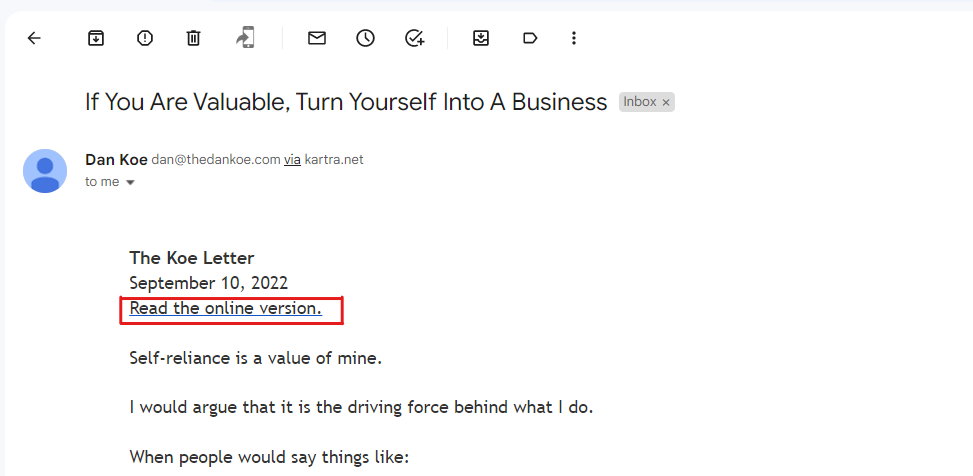 Screenshot by author. Newsletter by Dan Koe.
2. Send Newsletters
Newsletters are the best heads-up for your email list. Decide on a frequency appropriate for your audience and attainable for you, choose a newsletter tool, and start writing.
The content of your newsletters doesn't have to be entirely new; the whole idea is to draw your audience's attention to your blog, social media, podcast, or any other channel. Hook the readers with a catchy fact or statement, and provide a link to the full piece of content.
To maximize the effects of your newsletter campaign, try customizing your messages for different audiences based on their demographic data or interests.
3. Promote Content Using Your Email Signature
This is one of the newest content distribution tactics when it comes to email. Only a few know how to harness the entire content of their emails. If you want to be one of them, use your email signature wisely. It has more potential than you imagine.
Your email signature is placed so casually that no one suspects it intends to promote something. That's why you should make use of it. Tell a story in your email signature. Depending on your industry, design it to promote a recent piece of content.
If you're a writer, you can link to the latest article.
If you're a video editor, you can embed a short video.
If you're a realtor, you can attach your recent listings.
If you're a motion designer, you can include a simple animation, etc.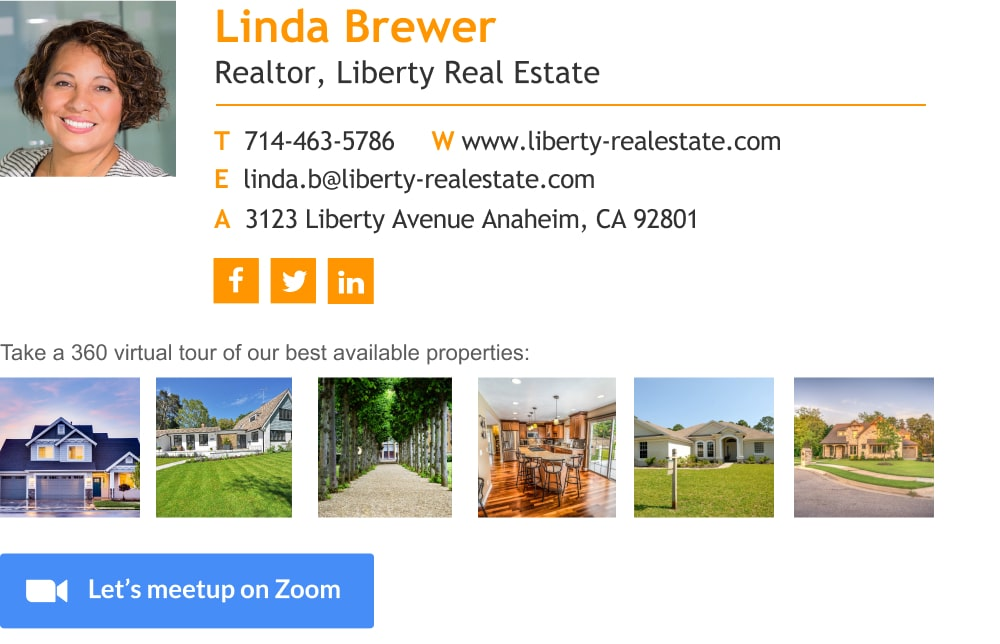 Source: WiseStamp
4. Provide Value
With so much content flowing around, users are no longer hungry to open their inboxes and read through your emails. Almost every company sends regular emails, and they've become too much to consume. That's why users tend to open only those emails well-packed with value. We need to make sure your emails are among those.
One element that adds more value to your emails is interactive content. 66% of marketers say their organizations have seen improvements since instilling the use of interactive content.
You can embed elements that allow users to watch a video or take a quiz — such content makes engagement easier.
5. Encourage Readers to Share Your Emails
We all love sharing useful things with friends or business partners. Your readers are no different. You just have to bring this to their attention. Brands have been offering referrals forever, and you can use this old technique as well.
Encourage subscribers to share your emails with friends. In exchange, you can offer a freebie or discount. An incentive always helps, but if your newsletter is value-packed, you may not need one — they'll simply want to share valuable content. Just remember to remind them that they can do so, and don't forget to add a subscribe link for the new users to sign up for your emails.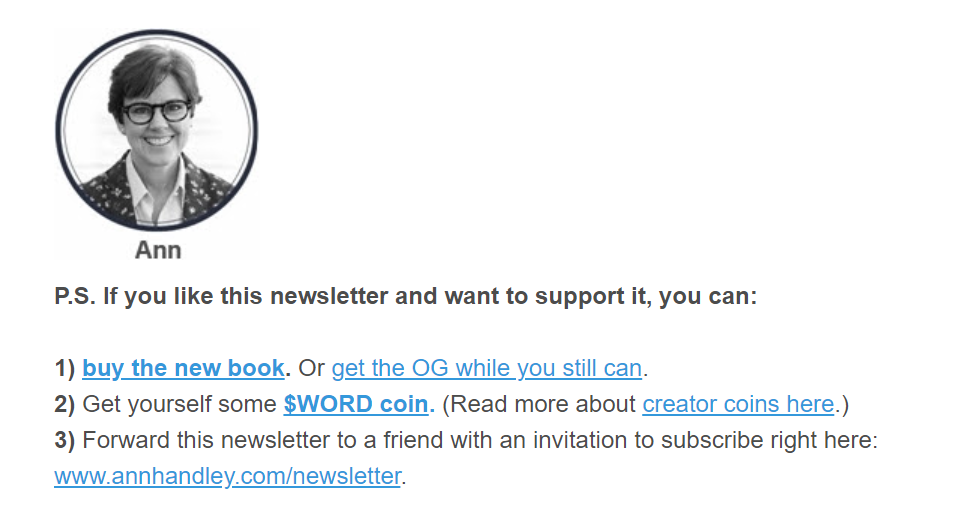 Source: Ann Handley's newsletter
6. Share Lead Magnets
Every entrepreneur knows the value of open rates and having a large email list. An obvious way to earn more successful open rates on your emails and ensure more readers visit your upcoming content is by getting more subscribers. Add a component that allows readers to subscribe to your newsletter base at the end of your blog posts.
This helps you harness the traffic you receive in your old published content and turn those readers into potential digesters of your upcoming content. No one gives out their email address freely, though, so consider building a lead magnet, such as an e-book or a short guide they will receive in exchange for providing it.
7. Promote Landing Pages
Another highly converting content type you can distribute via emails is landing pages. For instance, you can send email invitations for your upcoming webinar that take users to a detailed landing page.
You can also promote your landing pages in your automated vacation autoresponder. Right after the information about your absence, you can add a gentle message encouraging users to sign up for your webinar or download an e-book in the meantime. For maximized effects, encourage your team to use the same autoresponder template.

Source: author's own resources
Conclusion
Email lists are truly golden. That's why, if you're not distributing your engaging and converting content through them, you're leaving so much money on the table. By sending articles, regular newsletters, quizzes, and videos, along with redesigning your email signature, you can get more eyeballs on your content. Test them for yourself and take it from there.
The following two tabs change content below.

Kasia Slonawska
Kasia Slonawska is a content specialist at Mailbird, an email accounts management app. With broad professional experience and educational background in writing, she creates unique, engaging texts that win the Google ranks.

Latest posts by Kasia Slonawska (see all)