Social media marketing is a great way to promote your business online, but the main problem with it is that it takes time to see a positive ROI. First, you need to spend an ample amount of time to grow your followers and nurture them with the right content and then only can you promote your products. This can take weeks to months and even years.
If you want to skip all this effort and get quick results, then you should invest more of your marketing budget into social ads.
Ads let you get your marketing messages in front of your audience instantly. But again, to see a positive ROI from your ads you need to create the right ad. Just creating something whimsically and pushing it with a big budget won't automatically generate big results. A good social video ad can even be made with a startup marketing budget.
You need to be very meticulous with your social ad creation process. One way to do this is by creating more social video ads instead of text or image-based ones.
Why Should You Create More Social Video Ads?
Videos get more reach: Social network algorithms these days give preference to videos. Some reports have shown that they drive more engagement on Facebook and Instagram.
And then there are popular networks such as YouTube and IGTV where you can only publish videos.
You can include more content in a video: Another benefit of creating videos is that you can include more content in them, when compared to still images. This is highly beneficial especially on networks such as Facebook where adding too much text to the ad image can reduce reach.
Video ads convert better: A study by Hubspot found that video ads generate more clicks than image ads. So, you should be able to generate a higher ROI by investing in videos.
As you can see, creating more video ads for social media offer a range of benefits that images don't. Therefore, to help you take advantage of all these benefits, I have listed my top tips for creating social video ads below…
Have one goal per video:
One of the requisites to creating a successful social media marketing strategy and even an ad is to have one goal. When creating ads people assume that to get maximum bang for their buck, they need to set many goals and hope that one of them gets accomplished. But this leads to the paradox of choice and confuses viewers. They feel unsure about what they need to do next. And in this chaos, they don't do anything which leads to a poor performing ad.
So, instead of complicating things by setting various goals, you need to choose one goal. If you want to improve your brand image you should set a goal such as getting more impressions/reach, while if your goal is to increase revenue, you should set a goal such as getting more sales.
Once you know your goals you can choose KPIs that will help you accomplish your goals. KPIs will not just depend on your goal, but also on your niche or industry. For example, marketing KPIs for SaaS businesses will be very different from KPIs for ecommerce stores. This is because the former is a subscription business while the latter is usually a one-time purchase with a lot of cross-sells and upsells.
Create a unique ad for each network:
The next thing you need to do is to create a separate ad for each network. The user demographics shift from one network to the other. Also, ads of different dimensions and styles work on different networks. Hence, an ad that worked well for you on Instagram, probably won't be as effective on a separate network such as Pinterest or Twitter.
So, it would be better to create a unique ad for each network. The videos need to be of different dimensions, lengths, footage, etc.
To help you create these ads quickly you can use an ad maker that consists of pre-built ad templates.
All you need to do is choose the video template and modify the text and branding to reflect your own goals and vision and then publish it on the social network.
For some networks like Instagram, they have separate video templates for the feed and stories to make things even easier.
Use an attractive thumbnail:
Not everyone on social networks will have autoplay turned on. This is why you need to place an attractive thumbnail that entices these people to click on the play button on the ad and check it out.
So, create a unique image with a curiosity-generating headline that gets people hungry for more information, and then make sure you set it as the thumbnail image. For example, if you're marketing a dental practice, an enticing thumbnail could be a dramatic before and after picture. To create the thumbnail you can either use an ad maker or you can use an image editor.
Use subtitles/overlay text:
A lot of the people watching the videos will be doing so on mute and English will not be the first language for some of the viewers. So, to make it easy for these people to follow, you should include overlay text and/or subtitles throughout the video. If you require help with the transcription of your videos, visit https://www.espressotranslations.com/legal-translations/.
This will get more people to check out the entire video. As a study found that videos that include subtitles are watched to completion 91% of the time, while videos without subtitles are only watched to completion 66% of the time.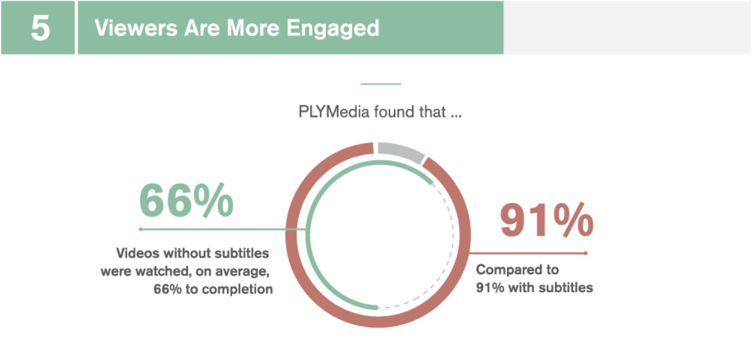 Create separate ads for mobile:
If you want to get the best ROI from your ads, you should create separate ads for mobile that are followed by a separate funnel that is optimized for mobile as well.
Most people use the same ad they created for desktop/laptop users for their mobile users as well and this costs them dearly as 42% of social media users are mobile users. These users will prefer a better mobile experience.
So, create a separate ad for mobile devices where everything is easier to see, especially the text. And the ad should lead to landing pages and checkout pages that are specifically made for mobile app users.
Keep them short:
When it comes to social video you will notice one common trend across networks. Shorter videos perform better. On Instagram, the ideal video length is 26, whereas on Facebook it is 1 minute and on YouTube, it is 2 minutes. Therefore, if you want to get the best results from your ads you should be creating short videos too.
Test, test, and test more:
Creating a successful ad is a lot like running a science experiment. No matter, how meticulously you create your ad, it is very unlikely that you'll create the best version in the first attempt. You will create the best version of your ad after a lot of testing. You start off with a low spend and after you find a successful formula, you can take it as high as your startup marketing budget will let you.
You will first need to make several versions of your ads and then run low-budget $5 ads simultaneously and monitor each version to see which one works best. You can do this by monitoring the KPIs you already chose.
While monitoring the ad, don't just pay attention to the video's performance, but to other elements such as the landing page, marketing funnel, email marketing strategy, and sales page.
Conclusion:
These are my top tips for creating better social video ads. Begin using them today to generate maximum ROI from your social media marketing efforts. These tips can help professionals and those who are just starting out their social media marketing career.
The following two tabs change content below.
Latest posts by Sameer Panjwani (see all)