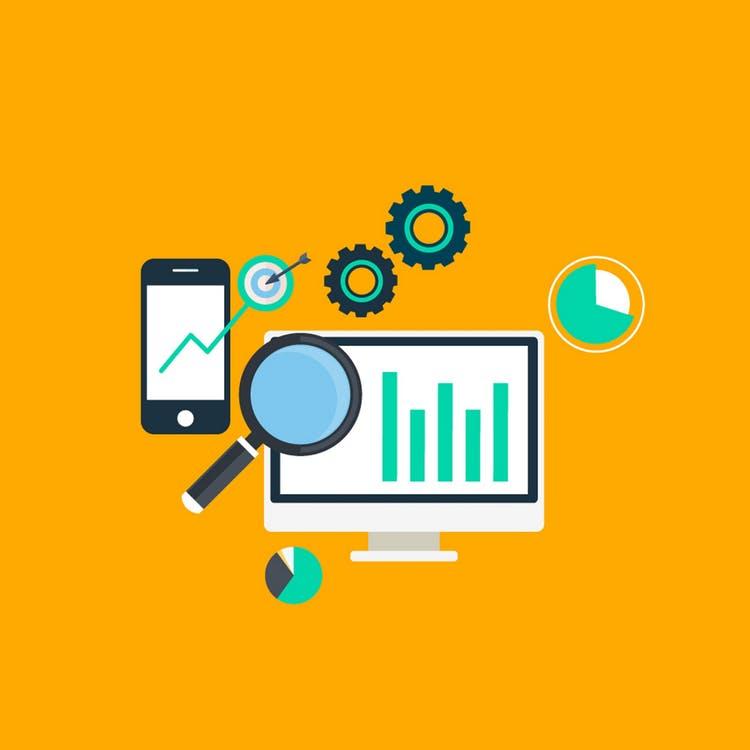 Content marketing is arguably an empowering medium to target and engages the right audience.
Though content marketing has been impactful, marketers still grapple to find the suitable content to strike the right chord among their prospects and target audience. Simply churning out volumes of the content does not serve the purpose of attracting the right customers. The success of a content marketing strategy lies in identifying the exact needs of the audience and delivering content to them through the right medium.
Due to the high volume of content availability, some pieces may get lost and never see the light of day. So what kind of content can help attract the maximum number of prospects?
Interactive content takes charge of this aspect and ensures to provide marketers with supercharged results.
Undoubtedly, interactive content is a driving force for marketing strategies. So let us delve into its intricacies and know how it can help businesses boost their conversion rates.
What Is Interactive Content? 
This proactive type of content demands interactive engagement from participants. It triggers the audience to understand and be a part of the conversation rather than simply read it or watch the proceedings. This type of content guarantees hyper-relevant results in real-time.
Marketers believe that interactive content plays an important role in engaging, educating, and entertaining the target audience. It initiates a two-way dialogue and enables a personalized and user-focused experience throughout the customer's journey.
Why Is Interactive Content Important?
Interactive content provides superior results because it helps start a conversation with the target audience. Marketing collaterals like blog posts, emails, paid ads, and landing pages become dynamic due to the persuasive power of this in-person interaction.
Interactive content delivers the desired results by:
Motivating users to test, compete, compare, and share their opinions.
Offering personalized takeaways that appeal to the user. This encourages the user to stay connected with the brand.
How Is Interactive Content Helping Marketers?
Interactive content helps marketers in ways of:
Captivating the attention of the user and extending engagement for a longer duration of time.
Obtaining customer information through opt-in forms for likely sign-ups.
Find below the responses from marketers for a survey about the benefits of interactive content.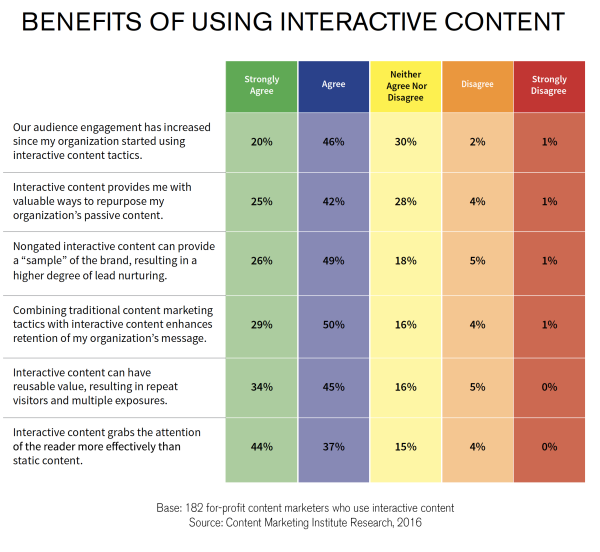 Here are a few types of interactive content marketers should add to their marketing strategies.
#1. Quizzes
A quiz is short and easy to take. It engages and entertains users by providing a personalized grade to answers by the users. Interactive quizzes engage the audience, as they are more prone to complete the quiz. It initiates a two-way communication that helps in learning more about customer personas, bringing them closer to the brand.
Knorr is a German food and beverage brand that incorporated quizzes as a part of their interactive marketing strategy. This quiz included ten questions to the users. The brand found this mode of engagement to be highly impactful to boost brand awareness and improve customer responsiveness.
#2. Interactive Calculators
Interactive calculators help obtain information about the demands of the audience. This information helps marketers build accurate buyer personas. These calculators ask for inputs from users. They follow a set of formulas to provide a result that is visible to the user. This medium of interaction helps marketers get a better understanding of their target audience and gives them a chance to create customized content as per the needs of specific customer groups.
For example, consider the mortgage calculator created by The New York Times. This calculator helps users choose between buying and renting a house. It takes into consideration important costs associated with purchasing a house and computes the equivalent rent for the same.
A survey on the uses of interactive content stated that 51% of marketers agree that online calculators provide effective results in the consideration stage of the sales cycle.
This is because the consideration stage is when the buyer identifies the need to purchase a product and begins his/her research. An online calculator engages the buyer with all the required information, thereby pushing him a step forward in the sales funnel.
#3. Interactive Infographics
Interactive infographics help businesses showcase their brand messages to their customers in an appealing manner. This, in turn, helps in convincing them.
An interactive infographic must include:
Directions to avail more information about the listed product/service.
Sliding panels that reveal real-time statistics about the brand.
More information in simplified forms. For example, additional details can be accommodated on hovering over the elements of the infographics.
Consider an example of Podio that uses an interactive infographic to display the daily routines of creative people. Moving the mouse over this infographic gives more details about specific elements. This aspect allows the publishers to present the infographic without overwhelming the viewers with information.
#4. Interactive Videos 
According to a report,
23% of video marketers have used interactive videos as a marketing channel.
83% of these marketers feel that it has been successful for them.
Interactive videos give users a chance to connect with the brand. They can click on a video to visit the product page or use it to add products to their shopping cart.
Consider the interactive video developed by Allianz Global Investors. It pauses at predetermined spots and asks questions to the viewers with possible outcomes of building strong engagement with new hires, recruits, and current employees of the firm.
#5. Gamification
Playing and winning a game stimulates the creative and competitive sides of users. Gamification helps grab the attention of online viewers. The inclusion of games in the marketing strategy contributes towards increasing the potential customer spends and also boosts engagement with the brand.
LinkedIn has included a gamified element called the completeness meter in their marketing strategy. This gamified element:
It helps the customer stay informed about his/her progress in the purchase journey.
Evokes users to complete questionnaires, thereby enabling marketers to obtain customer data.
#6. Polls and Surveys
Polls and surveys help in obtaining feedback from users and also collect their data. Polls and surveys make the audience think, react, and interact with the brand, which improves the connection between the customers and the brand. Though they seem alike, they're different. Polls are less complex and demand minimal interaction, whereas surveys require increased participation and include several questions.
#7. Interactive Contests
Running an interactive contest can be a great way to engage users. A prize-driven contest motivates users to participate, which in turn, improves brand awareness and social engagement. Initiating contests in interactive formats along with giveaways will encourage customers to stay in touch with the brand, thereby nurturing customer relationships. The different types of contests that can be included are:
Video contests
Refer-a-friend contest
Vote-to-win contest
#8. VR and 360-Degree Videos
There is much hype about VR and 360-degree videos because they are fresh, entertaining, and engaging. These videos include a panorama camera that helps the viewers move around it without any limitations. The viewers have full control of what they see. According to an infographic by St. Joseph Communications, the click-through rates of 360-degree videos are an average of 4.51% when compared to 0.56% for traditional videos. These videos have made their mark in offering immersive and impactful user experiences. Furthermore, 360-degree videos offer boosted engagement that encourages viewers to click on them and watch more. Social networking sites like Facebook, Twitter, and Pinterest have been consistently dominating the digital space with their VR and 360-degree videos.
Check out this example of VR and 360-degree video that is an advertisement by BMW.
This study states that marketers rate the effectiveness of interactive content at 93% and that of static content at just 70%.
With that sneak peek of the different types of interactive content, check out how to develop interactive content that appeals to audiences.
Here are a few tips to develop an engaging piece of interactive content.
Determine the type of interactive content that will have a positive impact on the customer.
Shortlist friction points. These can be areas where users abandon the content or the website.
There are several reasons why interactive content should be in your strategy. Replace static content with new interactive content and run tests. Check for improvement in customer engagement or behaviour trends.
Check one piece of interactive content at a time instead of implementing multiple content types in one go. This will help in better tracking results and making informed decisions.
Wrapping Up
The intention of creating interactive content is to drive engagement. This is a critical metric that quantifies conversions and influences purchasing decisions. The above-mentioned tips will provide marketers with ideas to plan and implement the best-suited interactive content for their business. Do you have any more to share? Let us know in the comments section below.
The following two tabs change content below.
Arvind Patil
Arvind Patil is a Digital Marketer at E2M Solutions Inc, a digital agency specializing in
white label SEO
, and website design and development. He enjoys performing SEO analysis while creating content strategies that connect brands with their target audience. When he is not busy analyzing digital marketing trends, he prefers traveling.
Latest posts by Arvind Patil (see all)