Attracting local customers is a huge part of advertising your business online. Making people in your area aware of your business and the services you provide lets you tap into a very valuable market right on your doorstep. A big part of this process is optimizing your Google Local Business listing. Having the right info and an active, professional-looking profile not only dramatically improves your ranking on local Google searches, but it makes customers more likely to engage with your business once they've found it.
Local searches are a huge part of business. A recent survey by BrightLocal reveals that local searches generate around 21-23% of traffic for small business websites. That's more than any other type of search, more than paid AdWords and all of social media combined. Local Business listing is not something you can afford to ignore.
So how do you optimize Google local business listings? Our guide will cover everything from the basics of your profile to tips for fine-tuning your business listing and keeping your customers engaged.
1)    Get the Basics Right
Making sure your Google My Business profile contains all the correct information is a vital first step in letting customers find you online. Double check all your basic info like business category, address, and opening hours to make sure it is as complete as possible. It may sound obvious but the biggest negative factor in search ranking is an incorrect business category. Don't fall for this easy mistake. Make sure your website is in good condition too as malware, incorrect links and keyword stuffing detract from your all-important ranking.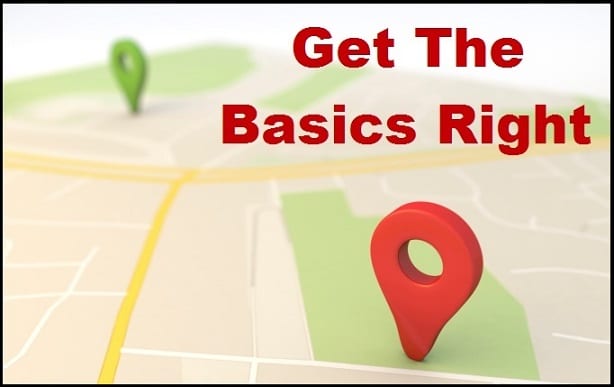 2)    Verify your Business
Before your listing will appear on Google Maps and searches, it needs to be verified. Verifying your local business is Google's way of checking that the address is correct and that you are the owner. This is a crucial step to optimize Google maps listings for your business.
In most cases, verification is achieved by logging into your Google My Business and requesting a postcard be sent to you with a unique verification code. Once it arrives, enter the code on your GMB account and you'll be up and running.
3)    Add Photos
Adding images to your business listing makes it more attractive to viewers and gives them a better idea of the services you provide. A selection of relevant, high quality photos of your business also boosts your ranking on searches, so grab your camera and start staging some shots of your business in action!
It doesn't have to be high art. A shot of your storefront, one of you, some attractive snapshots of your best products and some in-action scenes of customers at your business will really give customers, a feel for your services and make them more likely to pay you a visit. Three to five good quality images go a long way to improving your local search results.
4)    Virtual Tour
If you want to go one step above standard photos, a virtual tour of your business will really make your listing stand out. Much like Google street view, a virtual tour gives potential customers, a 360-degree view of life inside your shop or business, letting them see exactly what they're in store for when they step through the door for real.
Virtual tours require hiring a Google approved photographer to visit your store, so if you're really trying to immerse potential customers and sell them on the experience of your business, this is one option to consider.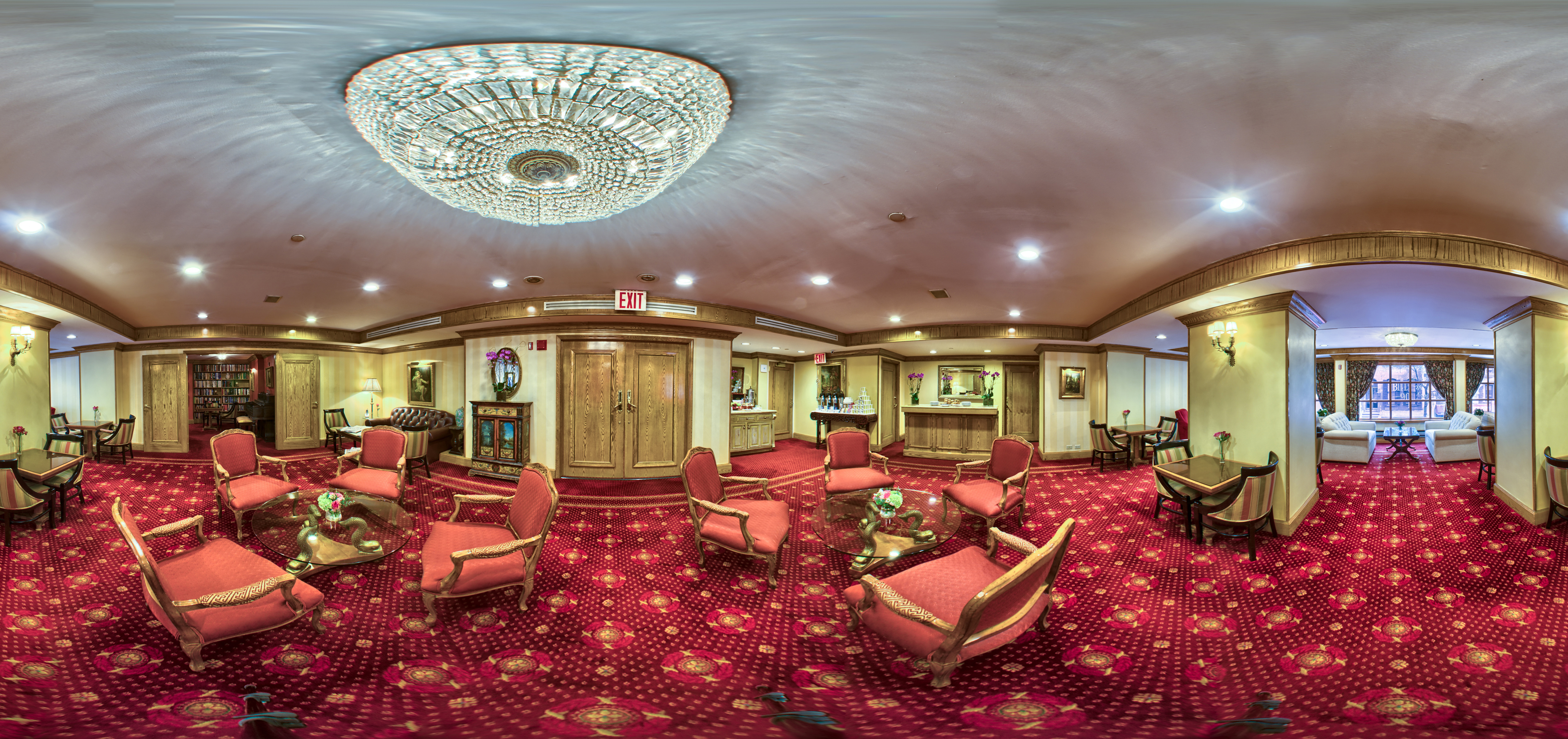 5)    Get Yourself Listed in as Many Local Directories as Possible (Build Citations)
Most people think – and many local service providers also offer only a few major sites in which to get local listings. Those major sites are Google Local, Yahoo Local & Bing Places. Yes, it is very important to get your business listed in these sites. However, there are many other local listing sites & directories where your local business should be listed as well. Some of the better known ones are HotFrog, Manta, SuperMedia, Foursquare, MojoPages, Brownbook, InsiderPages, CitySquares, Yext etc.
Getting listed in as many local directories is important for several reasons. Here are just a few:
Not only do they help you come up in the local search results, these citations will help you overall in your organic search results as well.
These individual local listing sites & directories have a huge fan following of their own. They get direct traffic of people searching for certain products & services. Not getting listed there would mean you might be potentially be missing out on your target audience.
Many of the local listing sites & directories have features where you can give promotional coupons & vouchers. In case you want to have a sale or need some promotion to be done for your business, these local sites will help you a great deal.
6)    Reviews
Positive feedback from previous customers goes a long way to enticing more people through your doors. This is also a major factor in determining ranking, especially if the review contains keywords linked to your business and location.
Google allows you to ask for reviews from customers who have visited your store. Responding to these reviews is also a great way to build up interaction with your customer base and generate buzz about your business. The flipside is, of course that negative reviews will harm your ranking so make sure you're confident about your customer service and products before taking to the world of online reviews.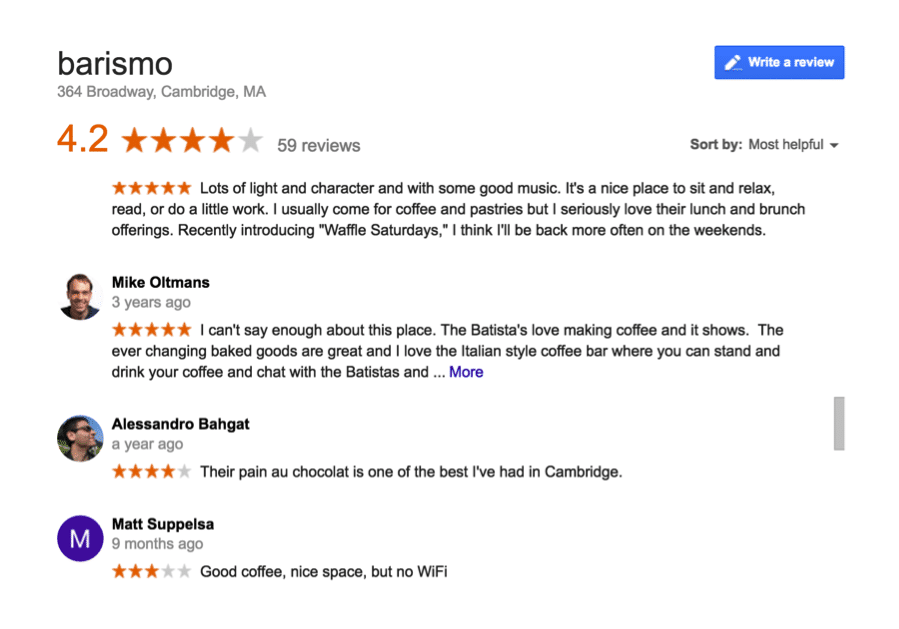 7)    Get active on Social Media
Social media is a fantastic platform for reaching out to customers and keeping them informed about the latest news and offers. Social Media like FourSquare, Facebook, Pinterest, Twitter and even blogs also play a role in the prominence of your listing – the more people know about you, and post about you, the higher you will rank.
While this is not a direct means of improving your local business listing, I believe the "trustworthiness" of your brand can be enhanced if you have decent social presence and "trust" is a factor that Google looks for when ranking local results.
Social media is also a great place to find customers who have visited your site and request them for reviews. Regular blog posts and links from other sources like twitter users are also useful in improving the ranking of your website and Google listing.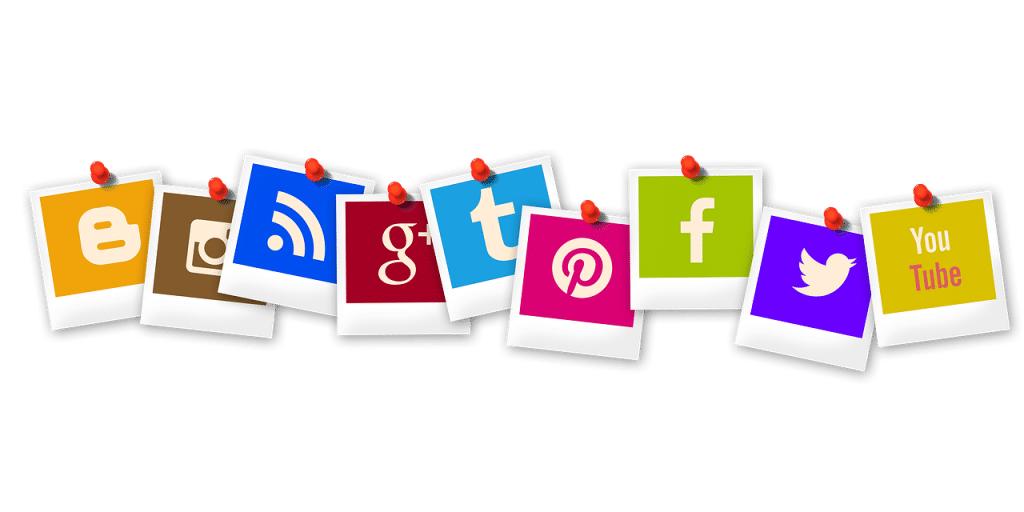 8)    Geo-Tagging
Adding geographical data to images on external sites, or geo-tagging, is a useful trick for putting the finishing touches on your optimization plan. You need to:
Take photos with cell phones or cameras that have the geotag feature & where the location is attributed to the image by default.
If an image is not geotagged, you can upload the photo in Picassa or Flickr & geotag it there instead. This can be done using Google Maps/Earth or by entering the correct latitude & longitude in the image properties.
Using these geotagged photos in your local listings will help your target audience get an exact picture of what to expect when they reach your business. It gives real-life visual to an otherwise 2D map location.
Uploading geo-tagged images of your Google Maps location, business logo and storefront along with a customized description gives you a real edge in the ranking of your local business.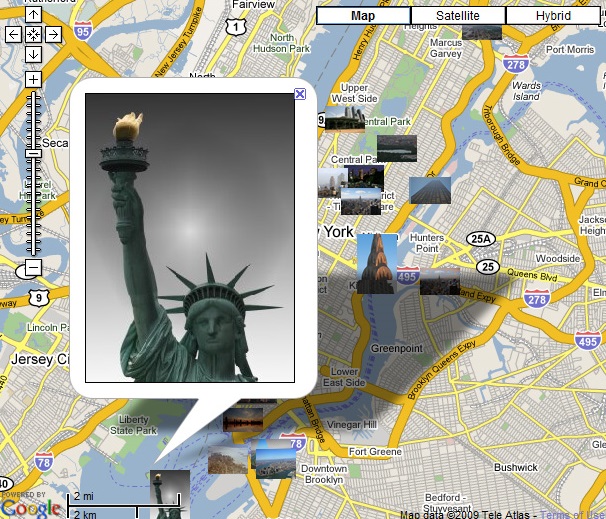 Here's an infographic summarizing the 8 smart ways to optimize your local Google business listing.
Example Of A Good Local Listing

Here is an example of an informative local listing on Google. All the details a potential target customer would need is provided – the company name, the link to the website, map, a small description of the company, phone number to contact the place, opening days, what is the popular time to visit on a particular day, the star ratings & also the individual customer comments.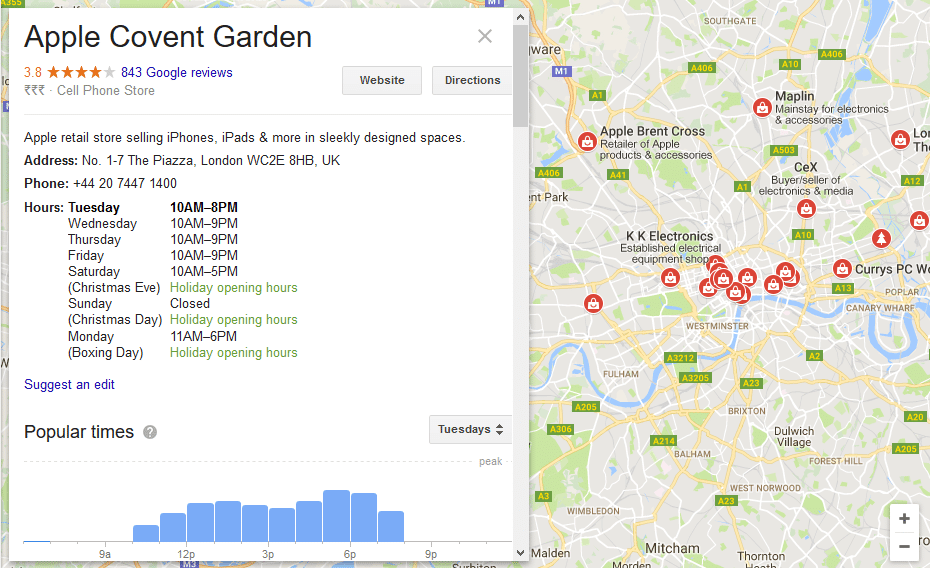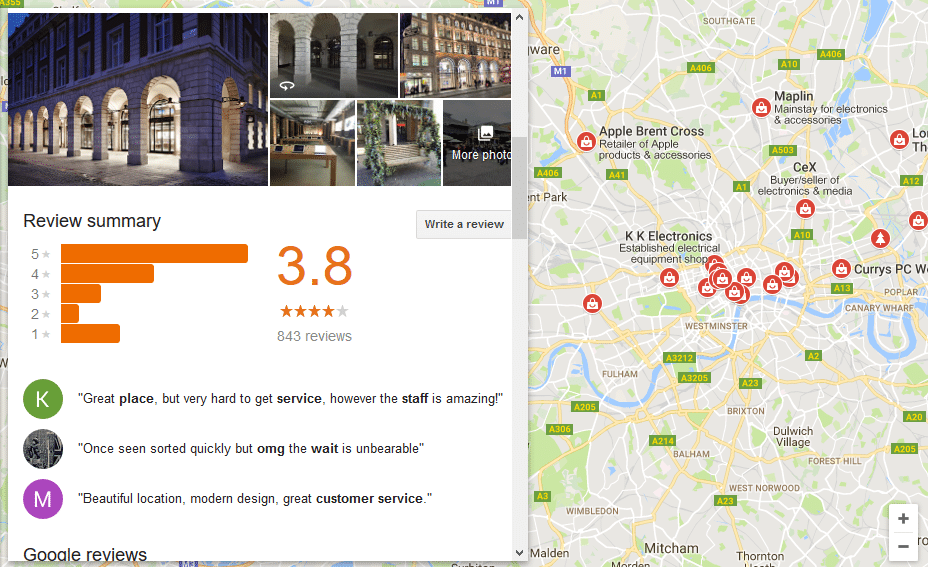 Summary
Our 8 steps will go a long way to optimize Google maps listing and business listing for your small business and keep customers informed about who you are and where you are. If you'd like to read more on how to put your business on google, visit Sapid's website and check out their SEO services.
Google is constantly updating and changing how they record and monitor business information, so stay ahead of the curve and use the whole spectrum of tools available to make your business really stand out.
The following two tabs change content below.
Latest posts by Chandni Panjwani (see all)