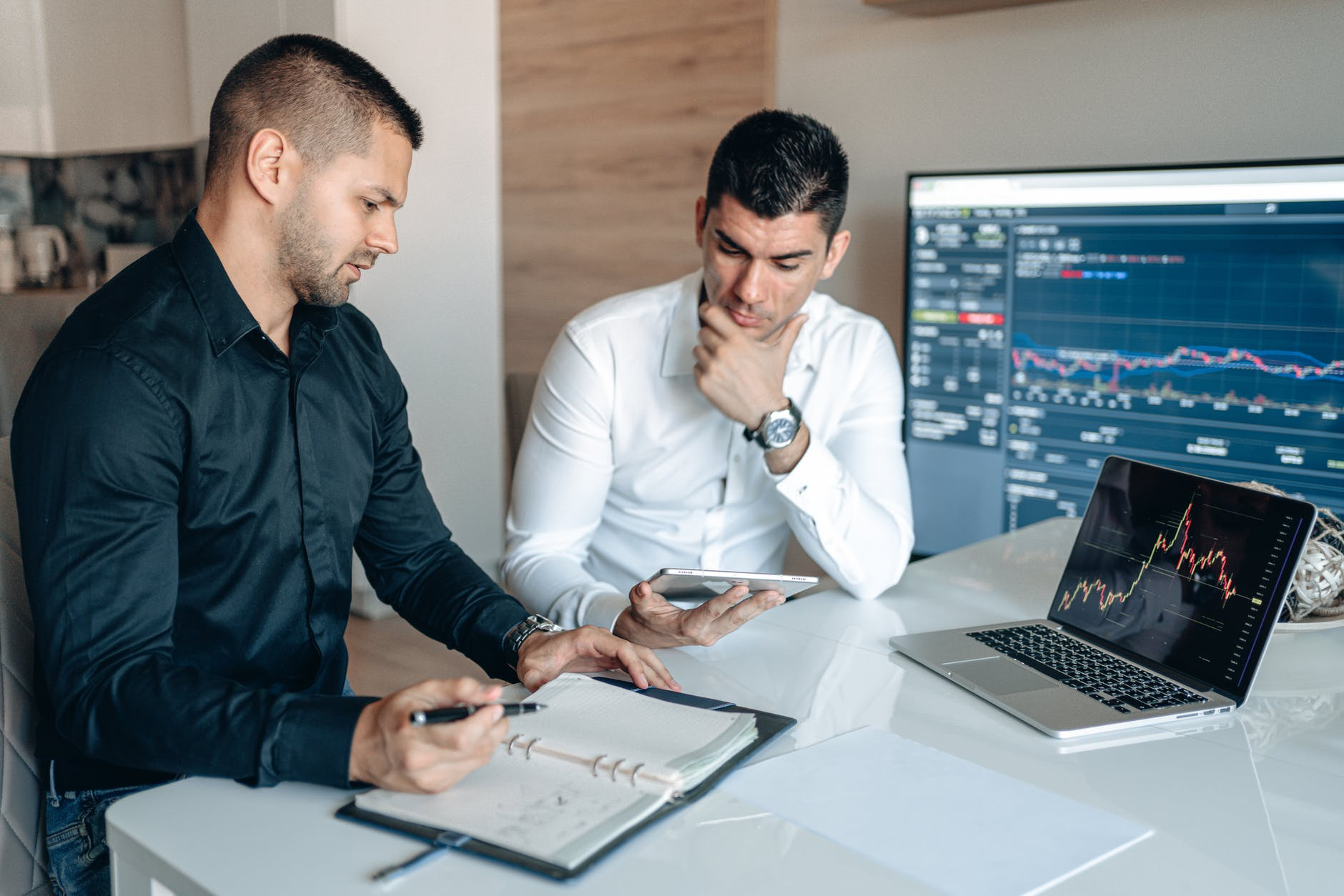 Backlink building is one of the most important aspects of having a search engine optimization (SEO) strategy today. It's the process of acquiring links from other high-quality websites — when this happens, Google takes it as a vote of confidence in your authority and will give you a boost on the search engine results pages (SERPs).
But all links aren't created equal and, in order to maximize the value from your backlinks, you need to ensure that you're working hard to secure ones that are high-quality. In this article, we're going to outline how you can determine the quality of a backlink.
Look at the domain rating and authority of your target site
The first thing you need to do when determining the quality of a site you're thinking about building a link on is to check its domain authority (DA) and domain rating (DR).
Domain authority is a ranking score developed by Moz, a digital marketing company, that can help predict how likely a website is to rank well on the SERPs. Essentially, the higher the authority of a website, the more likely it is to do well on Google. DR, on the other hand, is a ranking metric developed by Ahrefs that shows the strength of a website's backlink profile.
To find a website's DA, head to a tool like the Moz Domain SEO Analysis Tool with the domain name of the website you want to analyze. Plug the website into the tool, and Moz will give it a score ranging from 1 to 100, with higher scores being stronger. Generally speaking, between 50 and 60 is considered good, and over 60 is considered excellent. To find a website's DR, head to a tool like the Ahrefs Website Authority tool with its domain name. Again, Ahrefs will give the domain a rating from 1 to 100 — the higher the DR, the stronger and more authoritative a site is, based on its backlink profile. A good DR in a competitive niche will be at least 30, though a good score in a less competitive field could be as low as 20.
Doing these checks before building a link is incredibly important, as you want to ensure you're only securing links from high-quality sites for the best results.
Check how much traffic your target site attracts
Before building a link on a website, you'll also want to see how much traffic it attracts. This is a very important SEO metric. Knowing how many people visit a website can give you an indication of how many people in a given period of time might see your backlink and click on it. Additionally, a good level of traffic is typically a sign of a quality website, so it can give you an idea of whether building a link on a particular site will support your SEO efforts.
There are a variety of online tools that can help you determine the traffic of a website. SEMrush has a highly-regarded one. Enter the URL of the website you're analyzing and SEMrush will outline the total number of visits, the types of devices visitors come from, traffic sources, and more. Keep in mind that traffic is relative — an excellent traffic rating for one very niche business could be low for a website that's more general. When trying to determine what kind of traffic level you should be looking for, study and compare the metrics of similar websites to get an idea of what should be considered good.
Analyze the keywords your target site is currently ranking for
You only want to build links on websites that rank for keywords relevant to your business. Doing this will give Google and other search engines more context as to what your website is about and showcase your authority in these fields. This will give you a boost on the SERPs for queries that matter to your target audience.
Find out which keywords your target website is currently ranking for. You want to ensure that all of the keywords your website ranks for are all related and have a clear direction. Backlink building on websites that target keywords in your niche will help maximize your rankings in the SERPs for these keywords.
Moz Keyword Explorer can help you check which keywords a website ranks for. Type the relevant website URL into the Keyword Explorer and click "Analyze". Moz will then provide you with the top-ranking keywords in addition to how difficult they're going to be to rank for and their monthly search volumes. You want to be sure that the keywords you see on this list are relevant to your business. If not, it's unlikely to be worth building backlinks on this particular website.
To give you an idea of what the results should look like, let's take a look at an example of a website that ranks well for keywords relevant to their niche.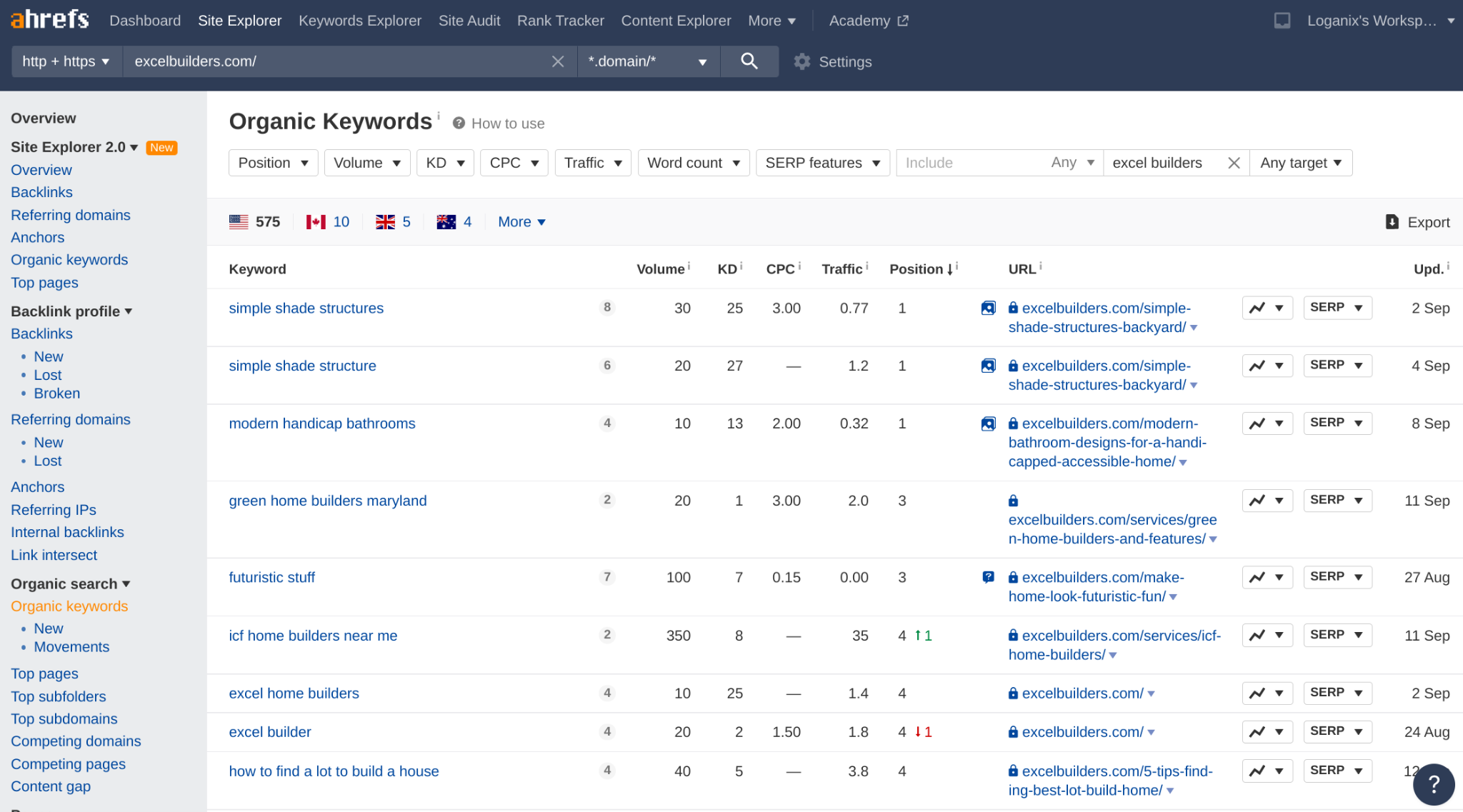 Excel Builders, a custom home building company, primarily ranks well for home building-related keywords — this makes sense due to the services that they provide. Other home building companies, interior design companies, or architectural websites, for instance, might all benefit from a link on this website.
Once you conduct your keyword research, you'll be able to see whether a site is going to be worth targeting for backlinks. If there is overlap or similarities in the keywords you target and those of the website you're looking at, it's worth taking the next step!
Make sure your target site has a strong backlink profile
Next, you need to assess the quality of a website's backlink profile. In order to assess this, use a tool like the Ahrefs Site Explorer and plug in the relevant website URL. Use these results to determine how many backlinks a website has, as well as the number of referring domains, or how many websites have linked back to them. This will give you an idea of whether a backlink profile is natural and trustworthy.
Keep in mind that good backlink profiles will look different for different websites. But, with that being said, a good backlink profile typically includes relevant industry links, relevant local links, and a natural proportion of links from smaller websites and larger, authoritative websites.
Let's look at an example to illustrate this.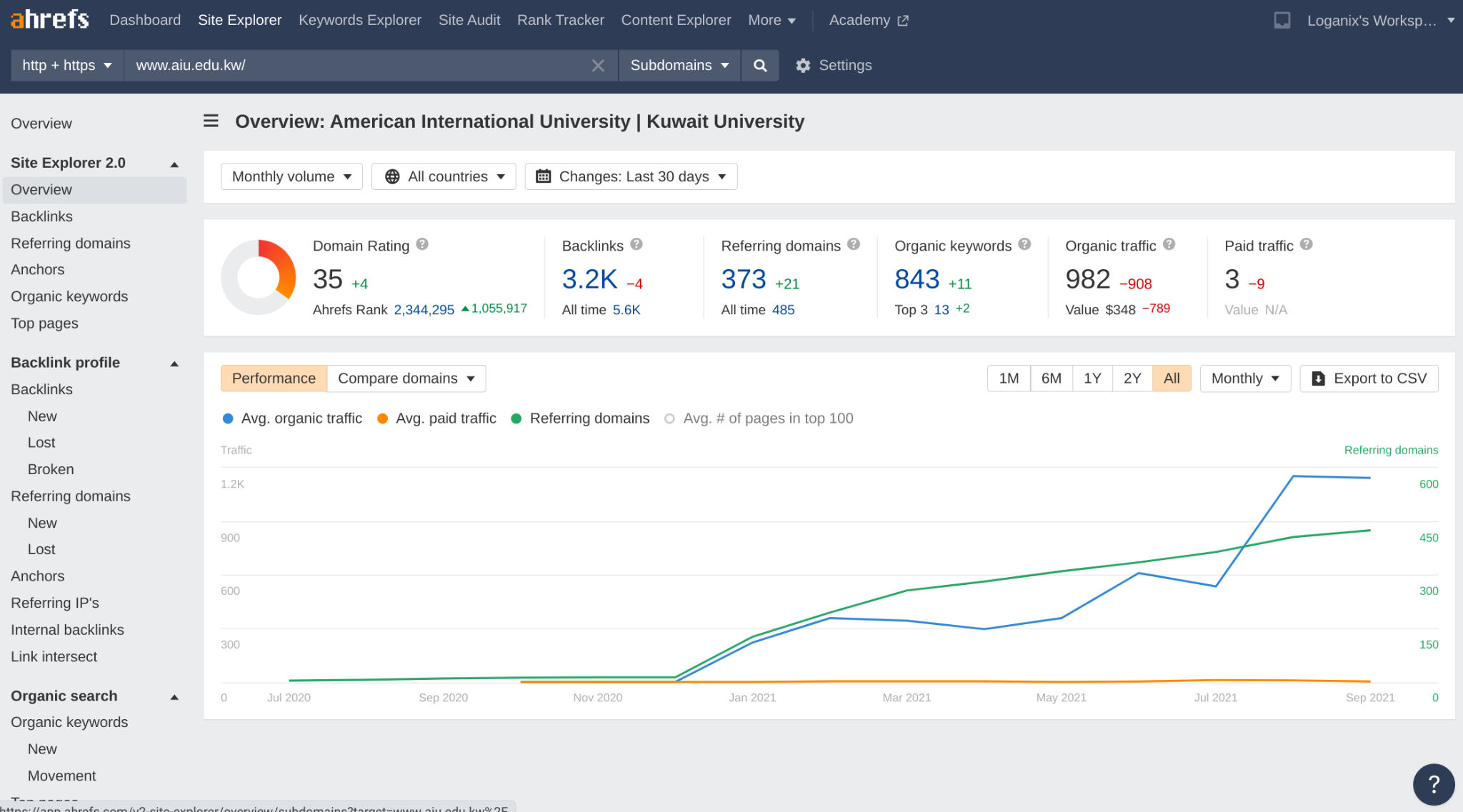 American International University has a very healthy backlink profile. As you can see in the image above, they have more than 3,000 backlinks, which come from 373 referring domains.
This means that the backlinks are coming naturally and not just being spammed from a handful of different websites. When looking for a natural backlink profile, you want to ensure that the referring domains aren't providing more than a handful of backlinks each. Ideally, we want a ratio of 1:1, but this can be very difficult to achieve for relatively niche or new businesses. So, when you're checking your target sites' backlink profiles, you'll mainly want to check that they haven't generated hundreds or thousands of backlinks from just a few websites.
Ensure your target site is very relevant to your work
The best backlinks come from websites with a very clear and relevant niche — this means that you'll want to avoid building links on websites that publish articles about anything and everything, or that are completely unrelated to what you do.
Look for publishers and websites that focus on a particular topic relevant to your business. To find these, you can use one of the backlink analysis tools we already mentioned and plug in your competitors. Which websites are linking to their content? Are they relevant to your industry and products or services? Chances are, if they're willing to link to your competitors, they'll be willing to give you a link as well! Analyze their website and see if they generally tend to rank for keywords in your niche. If so, reach out to them and see how you could get a website mention or potentially guest blog for their website to help you build backlinks.
Summary
Before you acquire backlinks from another website, you want to ensure that it's high-quality. In this article, we narrowed the process down to just a couple of simple steps. Analyze a website's DR, DA, and backlink profile — and make sure that their keywords are relevant to your website.
Before you get started, follow these steps! Doing so will help ensure that your backlink-building strategy is worth it.
The following two tabs change content below.

Aaron Haynes
Aaron Haynes is CEO and co-founder of
Loganix
. The company is an SEO fulfillment partner for digital marketing agencies and professionals, which provides the services businesses need to improve their online visibility and grow.

Latest posts by Aaron Haynes (see all)