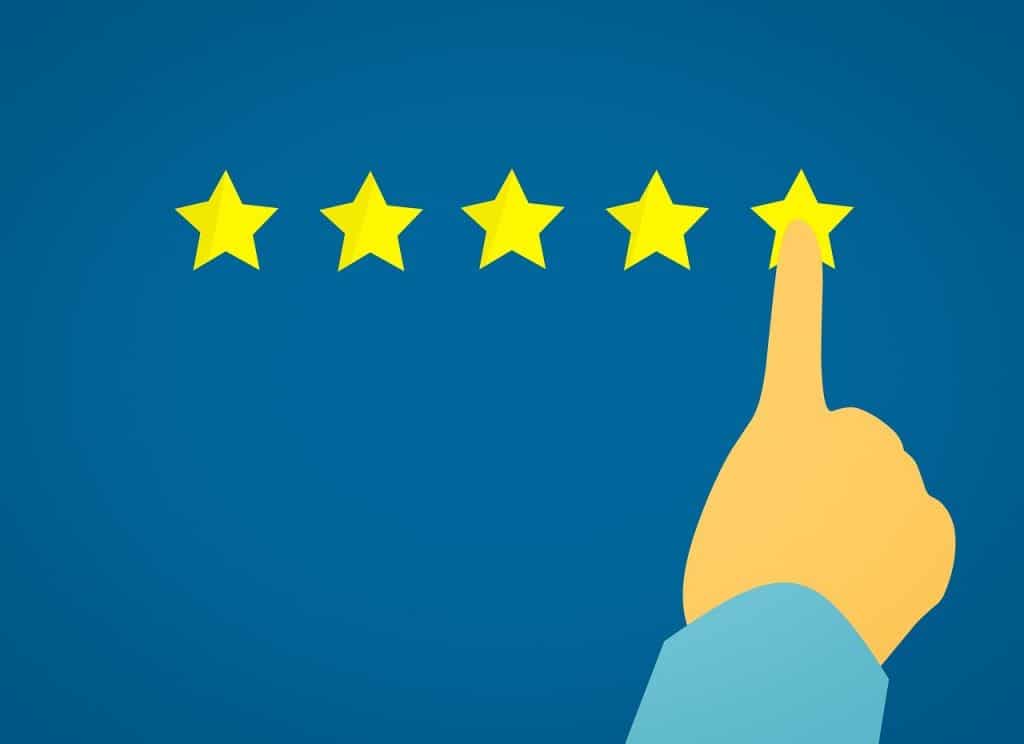 As far as ubiquitous household names go, there's no denying that Amazon and Starbucks rank near the top of the list.
I mean, the number of active individual Amazon accounts is almost equal to the population of the United States. Small wonder, then, that the ecommerce giant is expected to hold a whopping 50% of the market share for the online shopping industry by 2021.
As for Starbucks, the coffee giant currently holds almost 40% of the market share for US coffee chains. And, as you're probably well aware, you pretty much can't go anywhere without being within walking distance of a Starbucks storefront or kiosk.
(Case in point, I'm writing this from a Starbucks right now…and there are two others within half a mile of my current location.)
But the point of this article isn't to drone on about how successful Amazon and Starbucks are as companies; you already know this.
What we're going to discuss is why and how the two colossi of their respective industries have come to be so dominant.
Here's a hint:
It all comes down to the incredible customer experience both companies provide.
The Importance of Providing a Positive Customer Experience
Look, if we're being honest, the main products offered by both Amazon and Starbucks aren't exactly unique or special.
Sure, Amazon does offer a number of proprietary products and services – but it mainly operates as an online retailer. While the company was a pioneer in the industry, online retailers aren't exactly all that uncommon by today's standards.
As for Starbucks' coffee: While taste is, of course, subjective, there's no way it's that much better than Dunkin' or McDonald's – at least not enough for the coffee alone to be the reason the company holds 40% of the market share.
In both cases, the reason these two companies dominate their industries is that they focus on providing a better overall customer experience than their competitors do.
This is exactly what the modern consumer wants. According to a study by Walker, by 2020, customer experience will become the key differentiator among competing companies – overtaking both quality and price of the products or services being offered.
While Amazon and Starbucks offer clear evidence of this already being the case, they're not alone. According to data collected by Digitalist Magazine, "Companies with best-in-class customer experience management achieve year-over-year customer profit margin improvement 527% higher than their peers, and 359% greater company revenue growth."
Suffice to say, companies that aren't focused on providing a high-quality overall customer experience are missing out on major gains.
That said, let's take a look at some of the ways Amazon and Starbucks ensure the satisfaction of their customers throughout all points of their journey.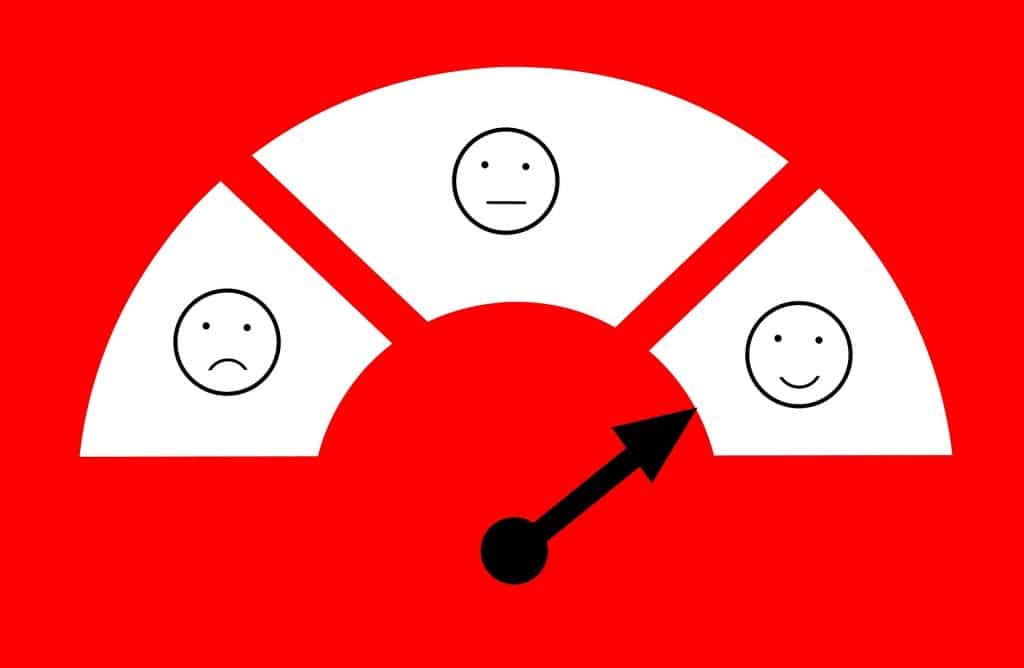 Creating a Culture Based Around Customer Service and Support
You've undoubtedly heard the phrase "the customer is always right" more times than you can count.
(You also probably know that this isn't exactly always true…)
The thing is, whether or not the customer is "right" should have no bearing on your ability to provide value to them and to help them overcome an obstacle in their life. In other words, your team should always be laser-focused on providing whatever the customer needs to achieve their desired outcome.
A few stats: 
Truly customer-centric companies are 60% more profitable than their competitors

86% of consumers say they would pay more for a product or service if superior customer service was also guaranteed in the deal

Oddly enough, more than 60% of consumers say even their favorite retailer doesn't truly understand them
This is why Amazon and Starbucks place such a heavy focus on the customer during meetings, training, and various other internal operations.
You may be familiar with Amazon CEO Jeff Bezos' process of leaving a single empty chair at the table during meetings – a symbolic gesture meant to communicate the idea that the customer is always the most important person in the room. Of course, this empty chair is no empty gesture; Bezos has always strived to create a customer-centric company that lives by the mantra: "Listen to the customer and invent for the customer."
Starbucks, too, operates in a similar fashion. Case in point, check out this story of a customer who felt rushed due to the fact that employees of his local Starbucks would begin stacking chairs and cleaning tables thirty or more minutes before closing time. Long story short, he contacted the location manager (using information provided on-site at his local storefront) and explained the issue, and was pleasantly surprised to not only receive a personalized response but to also see that the staff immediately acted upon his concerns, ensuring all tables and chairs remained accessible until closing time.
(As a quick addition, and not to get too into current events, but it's also worth noting that Starbucks' CEO Kevin Johnson recently responded to a hot-button issue by scheduling a nationwide training session to empower its staff members in terms of providing the same high-quality experience to all Starbucks customers.)
Clearly, both companies understand the importance of not only actively seeking out the thoughts, opinions, and ideas of their customers, but also taking action to bring these ideas into reality.
"On-the-Ground" Tactics to Enhance the Customer Experience
In the previous section, we discussed the philosophical, high-level aspects of how companies like Amazon and Starbucks go about creating a positive customer experience.
Now, let's dive into some of the more tangible aspects of the services these companies provide.
#1. Ease of Use
It's no secret that the modern consumer wants the process of engaging with a company to be as easy as possible.
(Heck, wanting to follow the path of resistance in any aspect of life is basic human nature.)
Needless to say, it's in a company's best interest to do everything possible to streamline the buyer's journey for all of their customers.
Logistically, it just makes sense to do so. Not only does providing a streamlined experience increase the chances that a customer will continue to stick around, but it also inherently shortens the sales cycle, as well. A shorter sales cycle, of course, means more profit over time for the company in question.
Both Amazon and Starbucks are masters when it comes to streamlining the customer experience.
Regarding Amazon, we have three simple words for you:
One. Click. Ordering.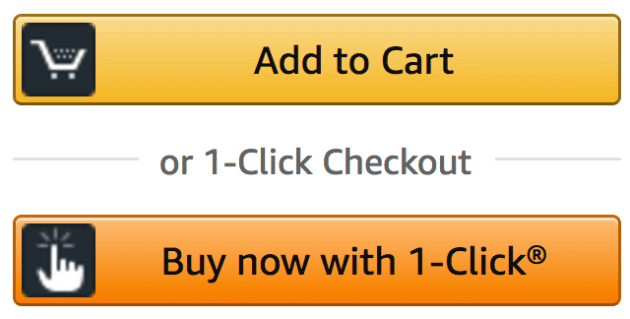 Rather than forcing customers to wade through their virtual shopping cart, double-check their shipping address, and go through all the other minutiae that comes with placing an online order, Amazon allows its shoppers to simply click a single button to make a purchase.
It really doesn't get much more streamlined than that.
Actually…yes. Yes, it does. For consumable products that customers typically purchase on a routine basis, Amazon provides Dash buttons: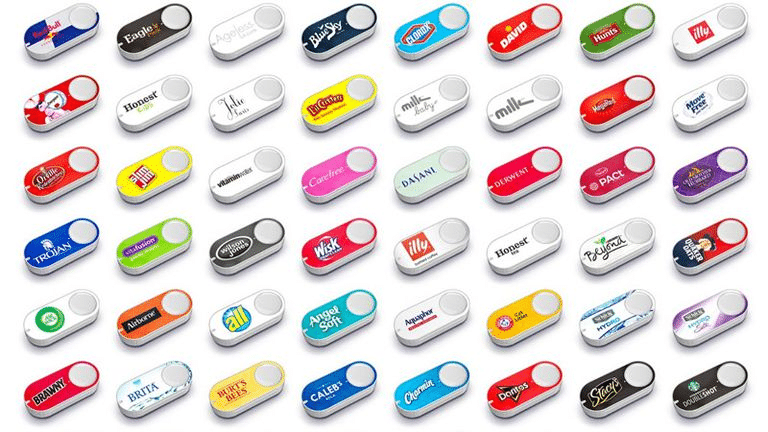 While 1-Click Purchasing obviously requires customers to use their computer or mobile device to make a purchase, Dash buttons allow them to do so literally with the push of a single button.
Okay, it definitely doesn't get more streamlined than that. Amazon is the master of UAT testing and split testing, and before they roll out any new feature worldwide you can be sure they've got the test data to back it up.
As for Starbucks, while many of its patrons are known to hunker down at a table for hours on end (ahem…), others need to grab their morning cup of coffee as quickly as possible on their way to work.
Which is where mobile ordering comes in.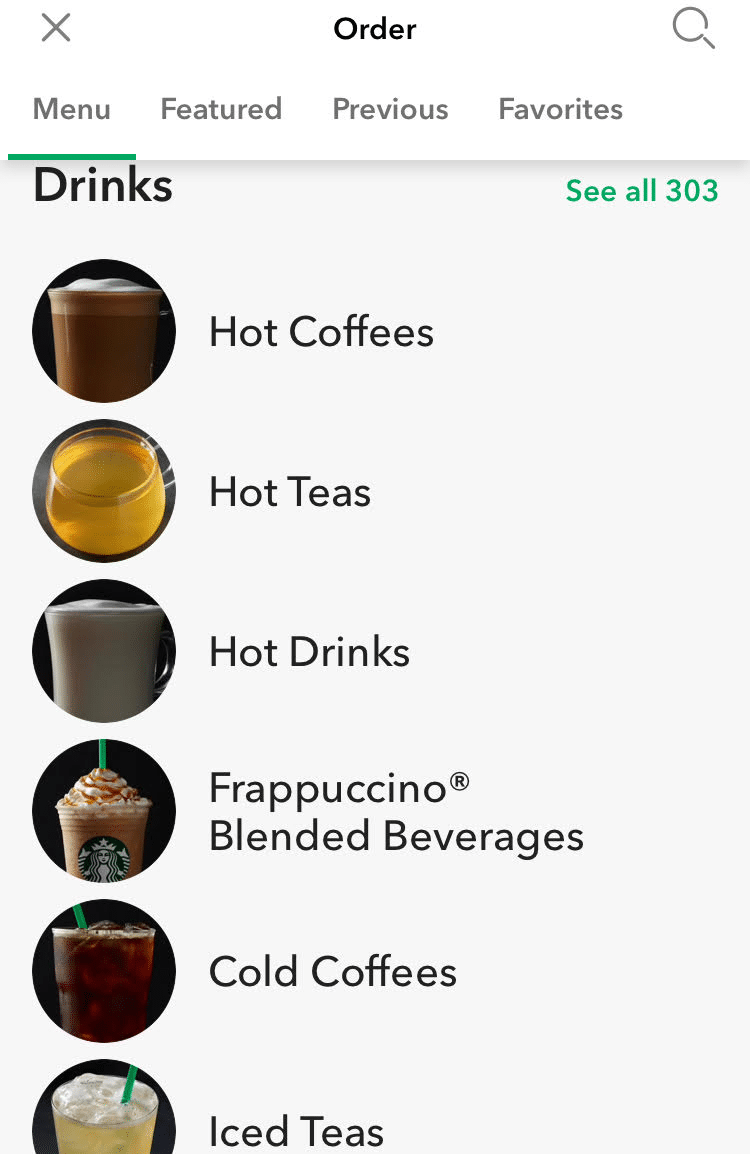 This option within the Starbucks mobile app allows customers to place their Starbucks order ahead of time, then quickly pop into their local storefront to grab their drink without having to wait in line. Typically, Starbucks baristas prioritize these orders – meaning the customer's drink will almost certainly be ready and waiting for them when they arrive.
What's more, Starbucks patrons who usually place the same order whenever they visit the store can simply place a repeat order within the Starbucks app without having to scroll through the numerous menu items. Like Amazon Dash, this makes an already simple process just that much easier for the customer.
One last thing to mention here is that both Amazon and Starbucks are incredibly easy when it comes to making returns. While, of course, both companies do due diligence to ensure they aren't being taken advantage of, for the most part, they realize that it's more effective and cost-efficient to give the customer what they want with no questions asked (rather than waste valuable time and manpower going through the elongated process of processing a formal complaint).
The takeaway here, of course, is to do whatever you can to remove points of friction for your customer along their path to purchase (and beyond). Again, the easier it is for them to get what they want from you, the more likely they are to continue coming back in the future.
#2. Product Suggestions
I'm going to go out on a limb and assume your company doesn't offer just one product or provide just one service.
Chances are, you offer a variety of items or services that cater to a variety of your customers' needs. And, chances are, most of these products or services relate to one another in some way, shape, or form.
It makes sense, then, that you'd want to be sure that your customers know just how your various products or services go hand-in-hand in order to enhance the user's overall experience with your brand.
Not only is the modern customer okay with being offered such supplementary products or services – they typically expect it. Case in point, Statista found that 64% of consumers at least somewhat notice and engage with product suggestions online. Additionally, a study by Barilliance found that the average ecommerce companies attribute 12% of their revenue to purchases made due to product suggestions; the most successful companies report this number to be closer to 31%.
Amazon, of course, is no stranger to product suggestions:

It's worth noticing how laser-focused the suggestions in the screenshot above really are. For one thing, the cookbooks aren't just any cookbooks; they all revolve around slow-cooker recipes. And, as anyone interested in slow-cooking would likely be interested in purchasing a slow-cooker, Amazon provides a couple models to choose from.
Amazon also takes a customer's personal shopping history into consideration when making suggestions, as well. Here's part of an email I received after ordering a replacement retro gaming controller for my Raspberry Pi (after the first one somehow ended up in the washing machine):
Starbucks also, from time to time, attempts to get its best customers to expand their horizons and try something new – and does so in a couple different ways. For one thing, when using the company's aforementioned mobile ordering process, customers are presented with a number of featured items that the company is currently promoting; again, with a quick tap of the screen, the customer can order any of these featured items while on the go.
Additionally, as part of Starbucks' loyalty program (which we'll discuss in a bit), the company sometimes offers "challenges" through its mobile app, in which customers are prompted to purchase specific items in exchange for reward points.
In both cases, the company is, of course, looking to get the customer to spend a bit more than they had initially anticipated – but not in a way as to rip them off. Rather, by suggesting other products to the consumer (especially when based on their purchase history), both Amazon and Starbucks prove to their customers that they truly understand their needs and are willing to do whatever's necessary to provide value to them.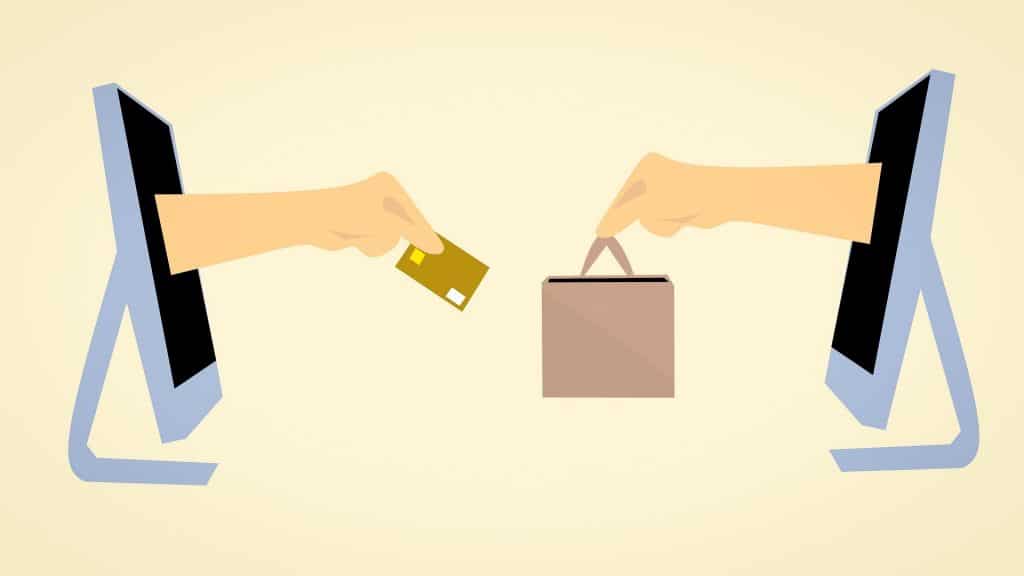 #3. Loyalty Programs
While loyalty programs aren't exactly revolutionary by today's standards, they're definitely still worth mentioning in the context of how Amazon and Starbucks provide a top-level customer experience.
Now, just because loyalty programs aren't new, per se, doesn't mean they're old-hat, either. A recent survey by IRi discovered that almost 75% of consumers choose a specific store based on the loyalty or rewards program offered by the company. Additionally, Hawk Incentives found that nearly four of every five consumers look for deals in loyalty and reward programs before making a purchase.
On Amazon's side, we have Amazon Prime. While Prime's most-known perk is that members receive free two-day shipping on all purchases, the list of benefits for becoming a Prime member is actually much more extensive. From free ebooks and video games to discounts at whole foods and certain restaurants, there's a lot for members of Amazon Prime to take advantage of.
Starbucks' Rewards also offers a number of perks to its loyal customers, such as the aforementioned mobile ordering service and more: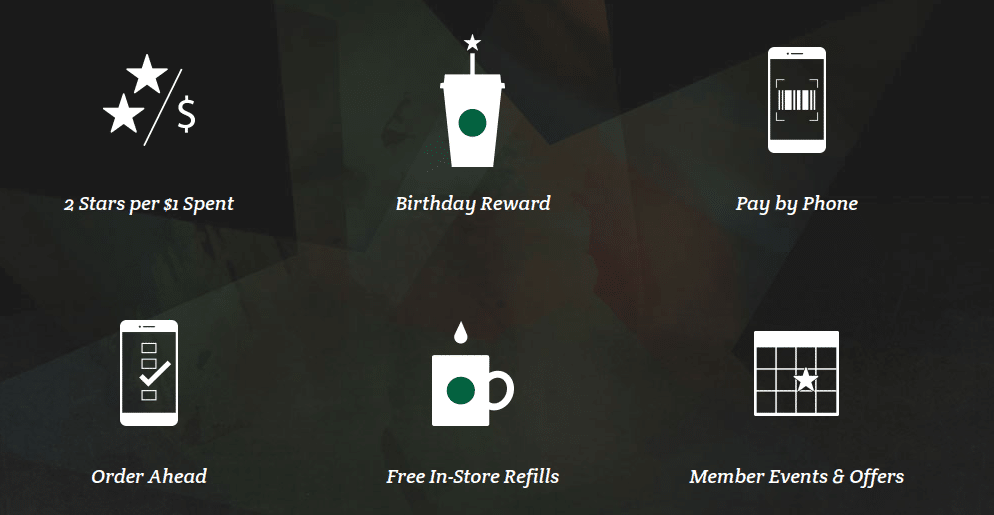 In addition to benefits like free refills and free items (after a certain number of purchases), Starbucks also, from time to time, provides games and contests for members to take part in. While engaging with these "extracurriculars," members can potentially win even more free stuff from the company (including free Starbucks for life…mmm!).
Now, the point of loyalty programs, of course, is to keep customers coming back for more as much as possible (while providing them with a huge amount of value in return, naturally). In addition to providing incentives, as mentioned above, both Amazon and Starbucks do so by appealing to the customer's sense of loss aversion.
On Amazon's side of things, a Prime membership costs $99 (soon to be $119) per year. While those who use Amazon often will likely recoup the cost via free shipping relatively quickly, others might not – unless they actively try to. In other words, Amazon Prime members, after shelling out a hundred bucks for their membership, will typically increase the amount of business they do with the company in order to make the membership worth their while.
The thought process, of course, is that if they aren't using their Prime membership, they're missing out on a service they already paid for; might as well make the most of it!
Starbucks also uses this strategy to keep its Gold-member customers coming back for more on a routine basis – but the company does so in a different way. Rather than paying an annual fee to become loyalty members, customers earn "Gold status" simply by making more purchases – but their status isn't permanent. Instead, customers can lose their collected "star points," as well as their Gold status, if they fail to make a certain amount of purchases over a specific period of time.
The trick, then, when developing a loyalty program, is two-fold:
For one, you want to provide incentives that your customers will appreciate and find valuable – but not give away so much as to eat into your profit margin. Secondly, determine what your customers are willing to give up in order to receive these perks that also provides your company enough value to make the initiative worth undertaking in the first place.
Wrapping Up
Simply put: 
If you're looking for companies to look to as role models in terms of providing a top-notch customer experience, both Amazon and Starbucks are exemplary choices.
While you don't necessarily have to mimic the strategies these companies implement, you do want to gain an understanding of the fundamental philosophies behind why these strategies are so effective. In turn, you'll be in prime position to develop a customer experience that your company's target consumers will find engaging and enjoyable.
The following two tabs change content below.
Stewart Dunlop
Stewart is the marketing & outreach manager at
Fieldboom.com
. Create beautiful smart forms, quizzes & surveys in minutes.
Latest posts by Stewart Dunlop (see all)