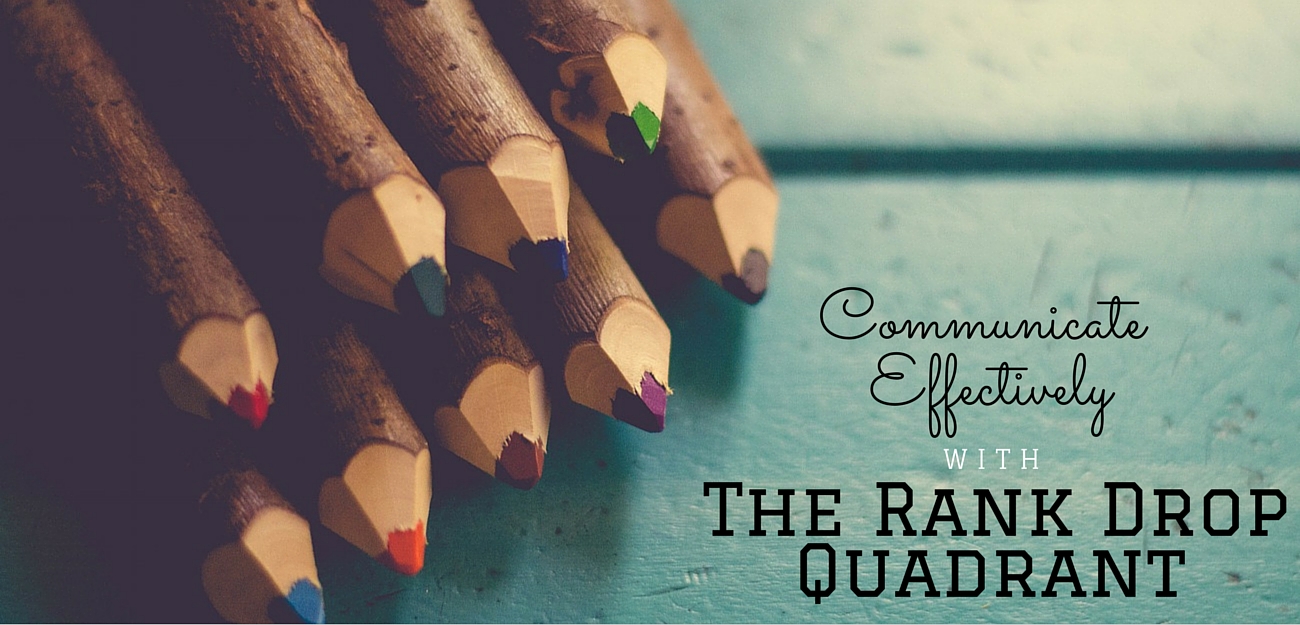 This is the second post in a two-part blog series. If you haven't already done so, do read the first part about how you can use the Rank Drop Quadrant to analyze why rankings have fallen.
If you are an SEO consultant or professional, it is an unfortunate but ultimately unavoidable situation: something goes wrong, the client's search rankings drop and you then need to communicate the bad news to your client. After all, it is part of your job to manage your SEO clients expectations and to keep them happy. Retaining your client can be hard at such times, especially when you would be the first person they would blame for any sudden drop in their rankings/traffic. So it's important and necessary that you deal with such situations tactfully and communicate such bad news carefully.
As we covered in the first part, if you are dealing with lost google rankings for your SEO client, you may first want to use the Rank Drop Quadrant to analyze what could've gone wrong. It's good to be able to map the situation out in your head and know how bad (or not bad) the situation is before communicating such news to your client.

So, now that you have gone through the Quadrant and understood the possible reasons for the drop, it's time we communicate this information to our client/boss in the right way. After all, the cost of losing a client is much higher than acquiring new ones.
1. Skip the Denial Stage
Imagine the situation: you go into the office on a Monday morning only to find that your client's website has dropped for all keywords in the SERPs. What do you do?
The inclination is probably to tell everyone that if anyone calls, you're not in the office. In truth, that's the absolute worst thing you can do. You need to call the client before they call you. Yes, they might get very vocal about their level of disappointment and unhappiness but they will also appreciate the fact that you noticed straight away when things went wrong. Communicating bad news is always better when done as soon as possible, you then have enough time to deal with recovering from the situation instead of wasting time denying the situation.
2. Be transparent and take ownership
Not going in denial is closely related to the next point: if you're looking to resolve the problem and salvage your relationship with the client, honesty is the best policy. If what happened was your fault or an algorithm update, own up to it!
After all, your SEO clients may react in one of the two ways to a bad news:
a) Either they get angry and say it's entirely your fault or
b) They look to talk about how the problem can be resolved.
If your client knows that you genuinely care about their business, they are more likely to have the second reaction.
The other important consideration is to document everything. Writing reports is never fun but it is important to show your clients what value you are adding to their business. Therefore, as a good practice, keep a record of everything you are doing and the results as well. You can then send a summary to your SEO client periodically.
3. Spend time evaluating the reasons
Equally important as being honest is knowing exactly what happened before you call the client. After all, you can bet that the first question your client will ask you is "How did this happen?" You need to have an answer ready and tell them that you have a team working on the cause to find a solution.
List down the exact reasons and refer to the tasks that you have done in the past. If it is an algorithm update, make sure that you explain to the client the impact of this update and what are the things we need to keep in mind moving ahead. Without an explanation for what happened, you will have a hard time restoring your client's faith in your ability to handle their SEO needs. They will want to know how you will resolve the problem and what changes you can make to avoid similar problems in the future.
4. Have a plan of action
In addition to having an explanation for the problem, you also need a plan of action so you can soften your bad news with some upside. The key here is to do your research on the fixes so you can get a detailed picture of the challenges at hand, establish benchmarks and set expectations.
While being transparent is one thing, it's quite another to be clueless and without a recovery plan. In fact, before you pick that phone up work out a recovery strategy and an organized plan of action. In all probability, your client would understand that mishaps often happen in business and that bouncing back with the right strategy is always possible.
5. Be realistic about the magnitude of the setback
And finally, if you made a mistake or the results of your SEO efforts are just not as good as you hoped for, don't compound one mistake with another by pretending that the effects of the setback are not that bad.
Be realistic about what your client is up against and if fixing the problem is going to affect your workflow. Set realistic expectations so you don't have to break even more bad news to your client in the near future. In fact, instead of exaggerating the numbers, be conservative in your estimates so you can then exceed the client's expectations.
So keeping all these 5 points in mind, this is a sample email that you could send your client the day such a situation arises:
"Hi Joe,

I'm afraid I have bad news. Unfortunately, your site has lost rankings for 23 key terms on Google.

Having said that, I'd like to assure you that we're on top of things and are already formulating a plan of action for recovery.

I am able to let you know about this situation only because we're constantly tracking and evaluating your site's progress to see how well it's doing. It's always been our endeavor to remain transparent with our SEO clients and hence this update. The recovery process and strategy will be shared with you shortly after we further evaluate the situation.

Search engine ranking fluctuations are common and the reasons could be one of many things. In this particular situation, there seems to have been a particular algorithm update by Google – our team is currently evaluating the changes in this update and devising an appropriate plan of action.

I would also like to schedule a call with you in the next few days, where I'll discuss the reasons for this dip and what we'll do about it. Do let me know when would be a good time.

Regards"
6. Sometimes, ranking data doesn't necessarily correlate with reality
This is a new point I've added in hindsight because I've just observed a few cases where even though the client sites seemed to have lost rankings for the terms that were being tracked, the reality was that Google Analytics and Search Console were showing a steady growth in organic traffic. So it is necessary that these metrics are also checked before getting back to the client. You might be missing some newer terms for which the client is ranking. This is an excerpt from an email sent by an agency, Mockingbird Marketing, explaining to his client why the ranking data he's seeing does not necessarily reflect the reality:
"Your organic traffic is up 16%.  Your business from organic has more than doubled since the last "report".  Your local traffic is up 27% .   The specific terms that you "aren't ranking for" are centered around car/truck accidents.  Yet over the past 30 days, 5% of your traffic enters your site on pages about car and truck accidents and you've appeared in queries including truck car or auto over 3,000 times."
The excerpt has been edited slightly to suit the context here but the point remains that there could still be "good data" that you could focus on.
So once you've addressed the issue with your client, your next step is to work out a plan of recovery. Your plan of recovery would be based on which Quadrant the site lies in and what issue has affected the site. Hopefully, the quadrants and checklists above should help give you a head start on where you could possibly look first.
Prevention is better than cure
It's also good to keep in mind that going forward, you want to minimize the risks of such a situation arising again by:
a) avoiding any spammy practices,
b) always keep a tab on the site architectural issues with regular site audits
c) doing regular competitor analysis to ensure you're always a step ahead
(you may use Mondovo's Competitors' Keywords and Keyword Gap Analysis tools for this purpose)
d) and constantly staying abreast of all algorithmic update events that might take place
Keep your SEO Clients Happy – Set the Right Expectations
In SEO, setting the right expectations is super-important given the fickle nature of search engines and how things can change on any day. So it's important that you inform your clients about the possibility of such events in advance and more importantly, consistently under promise and over deliver. This is a sure-fire way to keep your SEO clients happy.
I hope you have found our tips useful. If you have experience in conveying bad news to your clients and would like to share your tips and suggestions, we would be interested in listening to them. Leave your thoughts in the comments section below.