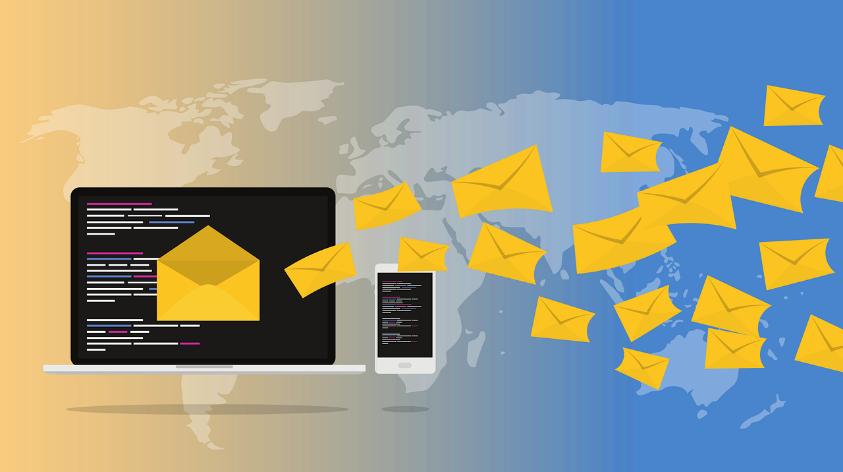 Every once in a while, some email subscribers end up straying. However, with active email accounts expected to hit 5.6 billion by 2019, digital marketers need to think of ways to tap email marketing and reconnect with lapsed customers.
Findings also reveal that 80% of business professionals believe that email marketing increases customer retention and acquisition. While not directly, this fact does have implications for businesses who are looking to win their lost customers back. After all, retaining old customers is more cost-effective than finding new ones.
In modern times, inboxes are extremely crowded with marketing emails. In 2018, 281 billion emails were sent and received each day. This number will shoot up to 347 billion in 2022. On average,  the email performance based on key metrics are as follows:
Open rate 92%
Click-through rate 69%
Unsubscribe rate 17%
Click-to-open rate 10%
Bounce rate 06%
Cleverly written emails can improve the click-through rate and click-to-open rate. Email marketing can help you rekindle your relationship with estranged customers and turn them into loyal patrons. Here's how:
#1. Motivate Them to Open Your Email with an Attractive Subject Line
47% of email recipients read emails based on the subject line. To be specific, email subject lines with 0-5 words have an open rate of 16%, whereas those with 6-10 words, 11-15 words, 16-20 words, and 21-25 words have an open rate of  21%, 14%, 12%, and 9%. respectively. Further, email campaigns with personalized subject lines are more likely to be opened and improve conversion rates.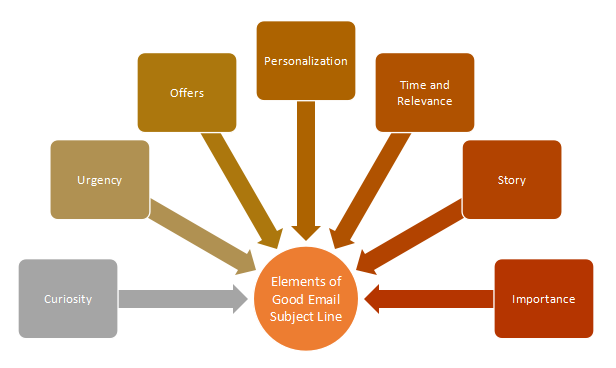 Simple Email Subject Line: Minimalism is always helpful to be clear with what you want to convey to your audience. Short and precise subject lines are better than long descriptive ones. Infuse curiosity, humor, or creativity to write catchy email subject lines.
Example: "Your balance at Walmart Wallet has been updated." 
Funny Subject Line: Humorous subject lines stand out! They are appealing, which is why readers are likely to open the email.
Example: "Touch me! Mobile App wants you!" 
Controversial and Shocking Subject Line: Using a sense of shock and controversy triggers the interest of the audience. With careful planning and consideration of the user's behavior and habits, these subject lines can pay off really well.
Example: "You have been doing it wrong: Why you need to think email marketing now?" 
A Single-Word in your Subject Line: This ultra-minimalist strategy may be simple, but can surely arouse curiosity. The reader tries to find 'what's going on' around them.
Example: "iPhone13" 
Including Numbers in Email Subject: Numbers and lists naturally grab the attention as the brain registers them easily. Using numbers in the subject line sparks the curiosity of the reader and it will be easily noticed in the inbox.
Example: "Top 10 products trending on Amazon. Order now." 
Personalized Subject Line: Include the location, age group, language or interest to promote specific offers to grab the attention of your lost customer.
Example: "Best of Dallas: Dine-In and Take Away"
#2. Improvise Email Copy to Talk about Benefits, Solutions to Problems, New Offers, and Updates
Your email copy should focus on benefits over product features. Customers are concerned about how the products will help them solve their problems.
Example: "Try our new product and SAVE 2 hours of your cooking time". 
The body of the email should explain why the customers should care about the product and how it will add more value to their lives. It should also discuss how the product can solve a specific problem.
To achieve success, including dynamic content, stories, images, and videos that are relevant to the customer. Send them regular updates and offers with respect to your products. The product update email shouldn't be too lengthy. Rather, use short and crisp descriptions that will motivate your customer to click on the call-to-action.
It is easy to improve customer retention and engagement with product update emails. Announce the launch of new products and features to your old customers. They will appreciate the effort and get back to you.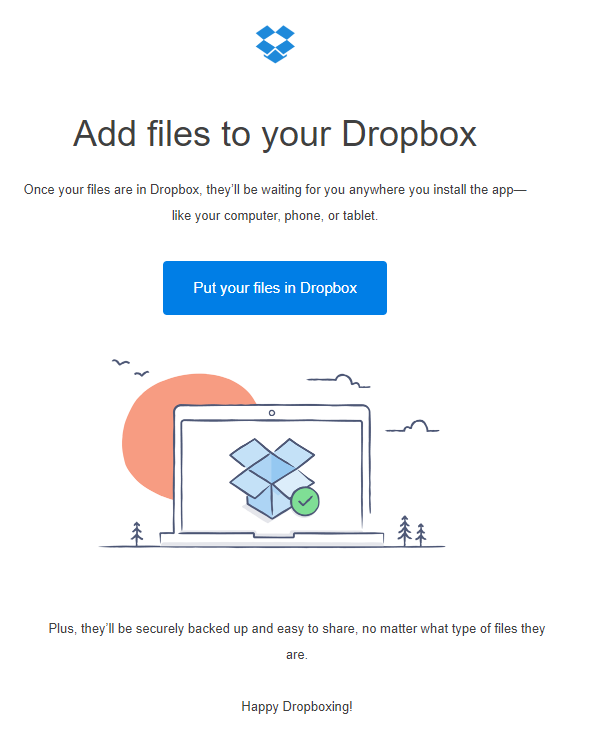 Let's look at this email sent by Dropbox to retain the customer. "Your Dropbox is lonely. Add some files!" It is likely that the customer hasn't used Dropbox after the signup.
Dropbox sends an email to the customer to inform that their files will be securely backed up and they can install it on the computer, phone, and tablet. This email is well-written and provides a solution for file storage issues.
It also gives an assurance to the customer that the files will be safe.
#3. Emphasize What They're Missing
One of the best ways to bring back lost customers is to create a sense of urgency and scarcity. It will create time-related anxiety that will prompt customers to act immediately.
Whether you're offering a discount, coupons, or a subscription, you will have to set a deadline and create a sense of urgency and scarcity. This will motivate customers to react and respond as quickly as possible.
Example: "Valentine's Day: Special movie passes, order now for on-time delivery."
#4. Use Only One, but Compelling CTA
If your reader reads through the content, you are halfway through success. However, real success depends on the number of conversions your CTA can get.
'Shop Now,' 'Read More,' and 'Get Discount' are the most common CTAs that drive clicks but you are capable of doing better than that. A compelling CTA must be eye-catching, well designed, bright and meaningful. When you write a CTA for promotional emails, you need to get to the point that will make your recipients react immediately.
For instance, Uber's email campaign is simple, target-oriented and to-the-point. Their text is brief with a clear CTA that's suitable for the subscribers.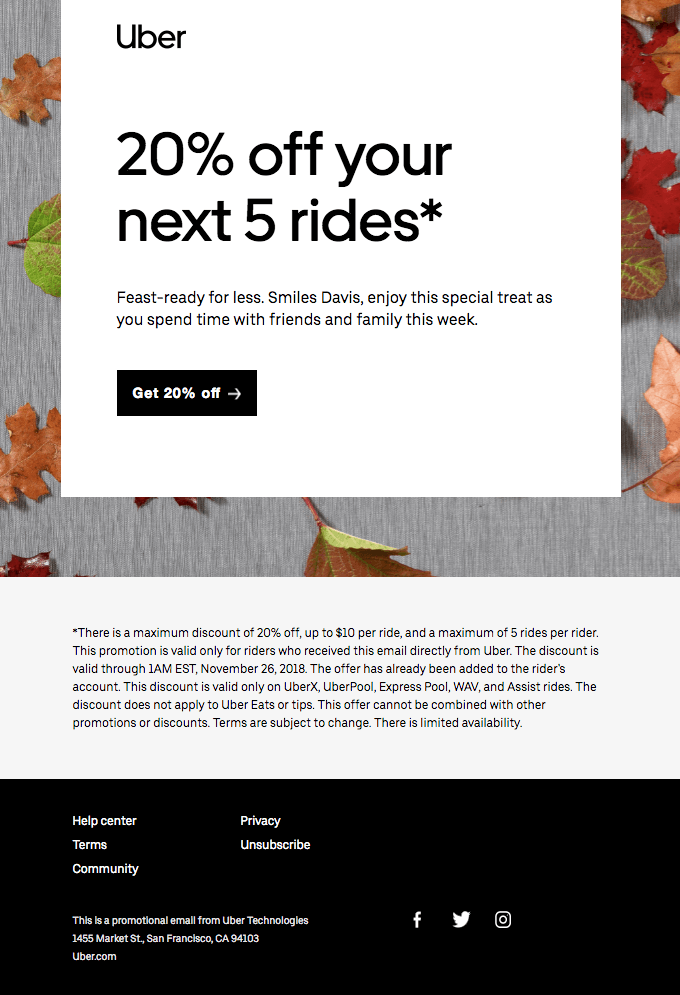 #5. Make Them an Offer They Cannot Refuse
Marketers will agree that customer retention is one of the biggest challenges they face. Offering customers something for free doesn't work really well. Think of sending offers based on customer's needs. For example, customers who place large orders will expect free shipping and an additional discount.
Example: "Weekend Furniture Sale: 10% additional discount for orders over $500. You deserve EXTRA."
Come up with irresistible offers that make customers come back. It's easy to grab attention by understanding their interests.
Determine their present needs and analyze their behavior
Create offers suitable for them
Provide an actionable solution to solve their problem
Use special occasions (birthday, anniversary) or seasonal holidays to enhance the offer
Attract them with the right offer at the right time
#6. Add FOMO into the Mix
Fear of Missing Out is a psychological trigger that creates a fear of being left out in the cold, while others take advantage of the available opportunity to improve their lives. Nobody likes to feel left out.
To grab the attention of the customers, you need to highlight the list of opportunities they stand to miss, stir a competitive spirit, show what others are buying, and provide an exclusive offer.
Give valid reasons to make your customers stay back.
Use the FOMO technique to let your customers know about exciting deals, ask them to buy the items before they are about to run out of stock, and remind them about limited editions.
Example: "Look what you're missing! Grab the deal now!" (Limited Edition)
FOMO marketing is real and it's a big advantage for email marketers. Create a situation and target the customers with the right offer. If customers haven't visited your website for long, you should email them to provide exclusive offers.
Example: "Early Christmas Sale: 50-60% discount on selected shoes, exclusively for you!"
#7. Suggest Customers Update Their Email Preferences
Allow customers to select the category and type of content they want to read. They should also be able to choose the frequency of receiving content from you. Further, do provide an option where they can update their email address. You may not be able to stop everyone from unsubscribing, but including the 'Unsubscribe' link will help you maintain a respectful relationship and allow you to focus your resources on customers who actually want to read your emails.
#8. Know When to Bow out and Do so Gracefully
Marketers have to know the email sending frequency and clear up the mailing list based on customer activity. It makes sense to stop sending emails to subscribers who aren't engaging with your communication despite making repeated attempts to reconnect with them.
To prevent your emails from ending up in the spam folder, remove contacts who haven't been opening your email for a few months. Once again, always include the 'Unsubscribe' button in your emails in case recipients wish to unsubscribe.
If they do, send them an unsubscribe confirmation email to improve customer satisfaction.
#9. Increase Your Exposure to Reconnect with Customers
There will always be a few customers who will not respond to emails even if they are interesting and engaging. If you are struggling to grab the attention of customers to open your emails, you can try alternative marketing strategies to reconnect with them.
Try to connect with them through social networking sites, forums, display ads, and highly-personalized direct mail pieces. Doing this will help you reach them online as well as offline platforms, stand out from the crowd, and prevent them from losing interest.
Final Words
Repeat customers don't happen by chance; it takes effort. The above tips will enable you to create an email marketing campaign that can help you reconnect with estranged customers. Like most marketing initiatives, email marketing is a process that combines optimal analysis and proper planning.
It is important to acquire new customers, but reconnecting with existing ones and making them stay is essential. Craft an effective email marketing campaign that allows your business to engage with old subscribers.
Take inspiration from the top brands, create outstanding emails,, and devise your own strategies to make your customers stay.
The following two tabs change content below.
Debbi Gourley
Debbi Gourley is President and Founder at
Money Mailer of San Diego
, an advertising firm that provides shared mail, solo mail, and print services.
Latest posts by Debbi Gourley (see all)