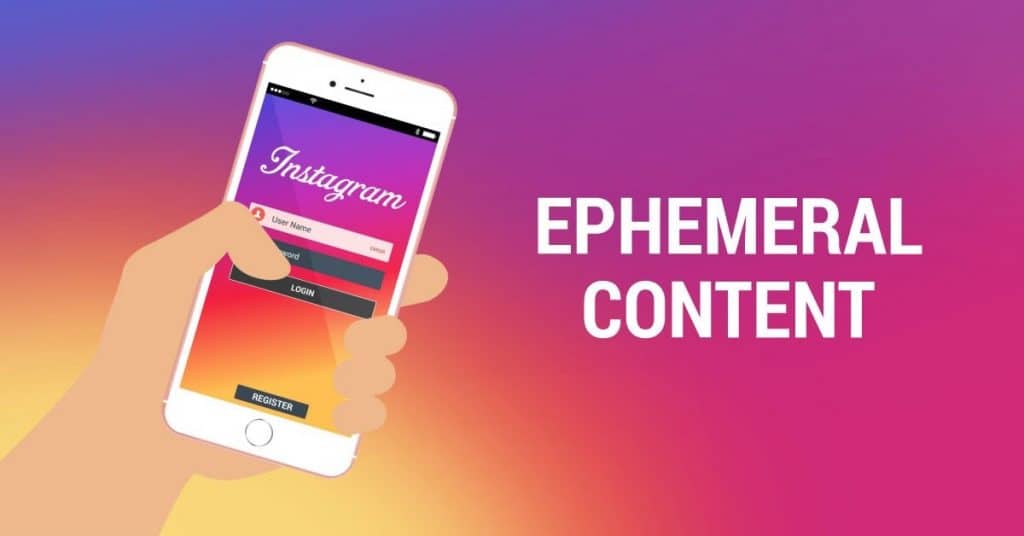 With its soaring active user count, Instagram has become the hottest social media property. And a lot of the platform's growth can be attributed to the rising popularity of ephemeral content. As more and more people gravitate to both creating and consuming this type of content, brands have also jumped on the bandwagon.
If you haven't crafted an ephemeral content strategy yet, this article serves as a guide to how you can use the trending format to grow your brand, and ultimately, your business. 
The Ephemeral Edge
Of course, creating digital marketing collaterals of the ephemeral ilk goes beyond merely jumping on a trend. There are reasons why the format works. Here are some of them:
Authenticity
More than ever, people are leaning towards authenticity, particularly when it comes to brands. The temporary nature of Stories and Snaps have made it an ideal space for businesses to be more authentic in the relationship building content they produce.
Whether it's a behind-the-scenes look at how a company operates, an event, or a product demo, ephemeral content is a great way to show a more authentic side of a brand.
There's also a rawness to the format that people are increasingly leaning towards. There has been so much curated content since the domination of content marketing began that raw stories give people a break from all the content that's trying to sell them something. If there's a space where it's appreciated when you put your feet up and let your hair down, this is it.
FOMO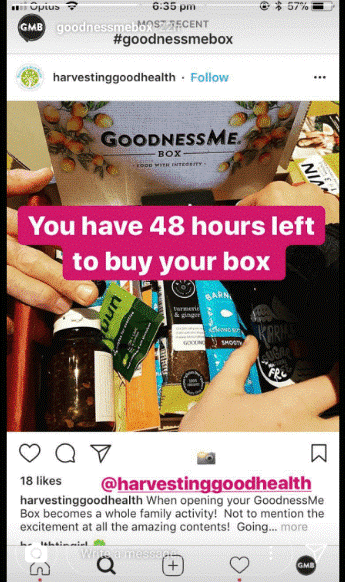 Fear of Missing Out (FOMO) has long been used as an effective marketing tool. The temporary nature of ephemeral content makes it a great format to tug on people's FOMO, as users will feel more inclined to tune in on a regular basis so they won't miss a particular content.
They've also chosen to follow your brand, making it that much easier for you to give them reasons to keep checking your content.
Ephemeral content is a great space to announce flash sales or other special offers. When word gets around that it's where you announce special promos, it'll encourage more users to keep tuning to your content.
Numbers Don't Lie
Since its October 2016 launch, Instagram Stories' daily active users have quadrupled from 100 million to 400 million.
Instagram boasts the highest brand engagement among all social platforms. Engagement is 10 times higher on IG than Facebook, 54 times higher than Pinterest, and 84 times higher than Twitter.
Stories have increased the amount of time people spend on Instagram. According to Instagram, those under the age of 25 spend more than 32 minutes a day on the platform, while those older spend over 24 minutes a day.
One in five organic Stories from businesses gets a direct message.
86 percent of people consider authenticity to be an important element in their decision to support brands.

How to Create Engaging Ephemeral Content 
#1. Tell a Story
To really get your audiences hooked to checking your Stories, you'd want to make sure that your content does exactly that—tell a story. Instead of just posting any random collection of ephemeral content, you would to come up with a coherent story and post it at the right time.
Most users decide to skip a story within a second. So if you want to make the most of that short span, it's best to post a series of stories that lead to one CTA. Just make sure that you monitor the type of Stories you're trying to tell. If it gets too repetitive for users' liking, they'll tend to tune you out. 
Social Chain also makes an important point when it comes to storytelling: emotions are a central part of stories. So if you really want a truly transformative ephemeral content campaign, you need to make your audience experience strong emotions with your bite-sized, temporary content. Whether it's by eliciting LMAOs, being an #inspo, or developing trust – aspire to craft stories that can leave lasting impressions before it disappears. 
#2. Engage Influencers
Influencer marketing isn't going anywhere. You can marry their sphere of influence with the more authentic feel of the ephemeral content. Though users are becoming more wary of sponsored influencer content, they can still push people towards purchasing decisions when done correctly.
If, for example, an influencer posts a Story of them swimming while wearing your waterproof lipstick, it really doesn't matter that it's sponsored content. What matters is your audience has seen that your product works.
Also, while users have become accustomed to tuning out ads, they will still pay attention to the influencers they are following. If you're creative enough with the use of influencers in the ephemeral content space, it could do wonders in boosting your engagement.
Speaking of which…  
#3. Engage Your Audience
Instagram is continually introducing new features to its Stories platform that make it easier for brands to engage their audiences. So you need to quickly integrate those new elements into your strategy as soon as they're launched.
Everyone wants in on the trend, so when IG launched its question sticker, nearly all brands made it a point to utilize it in some way. People want to interact with the brands they like. If you give them more of a reason to, you can easily increase audience engagement.
Another part of ephemeral content's allure lies in its ability to humanize brands. In an age where people are skeptical of what brands are saying, ephemeral content gives you space where you can have more human interactions that can go a long way in building lasting relationships with your audience. 
#4. Vlog It
Speaking of human interactions, ephemeral content is an excellent space for bite-sized vlogs. It allows for your brand to interact in the rawest way possible (online, that is) and makes it an authentic interaction as well.
Users who view your Stories have decided to follow your brand and wait for your content (as opposed to being targeted). Make sure to give them a unique and authentic experience that's a welcome break from polished advertising. It's a great way to cultivate trust – one of the more important elements of marketing.
If older millennials who once found it embarrassing to talk to a camera have grown accustomed to publishing vlog-like stories, so should your brand. If the usually introverted scientists at NASA can make their stories interesting, so can you.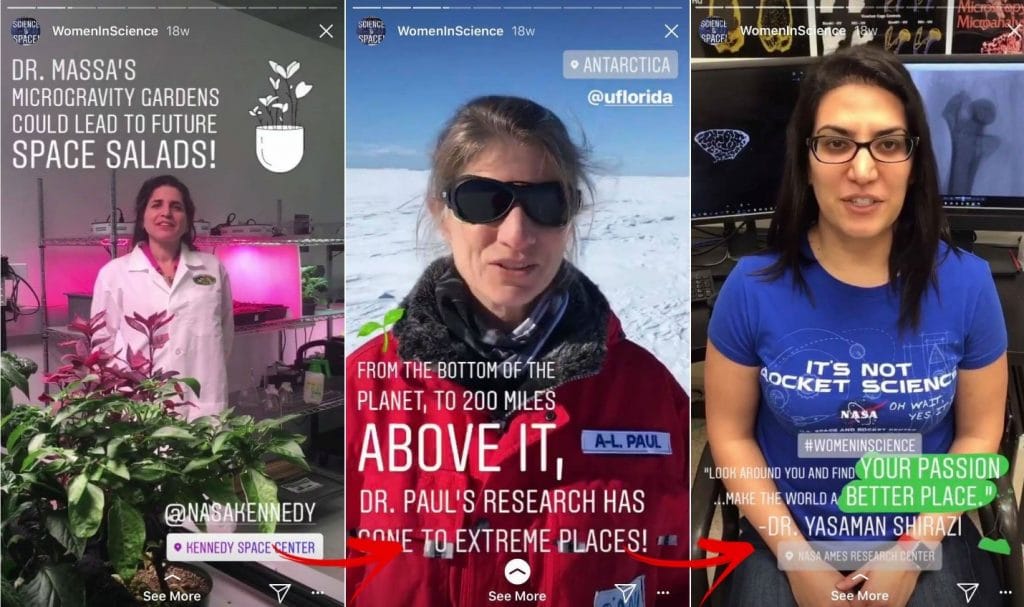 #5. Tell Them What To Do
As with most communication channels, having a clear call to action is essential in effectively leveraging ephemeral content.
Instagram has made this easy when it comes to landing pages by telling users to swipe up. Tell them exactly what you want to do, because if your content is engaging enough, they'll probably oblige.
Whether it's directing them to a new post on your site, announcing a flash sale, or telling them to come back at a different time for an announcement – always make it crystal clear what you want your audience to do. 
#6. Ephemeral Platforms 
Instagram Stories – In case you've been on a digital hiatus for the past year, Instagram Stories has become the hottest space on social media. Users that didn't quite get what the Snapchat fuss was about a few years back are now regularly posting and consuming Stories. It's not only a popular platform, but it's also extremely engaging – with 300 million users interacting with IG Stories daily.
Facebook Stories – You can automatically have your Instagram Stories posted on your Facebook Stories, so there's no reason to not be on both platforms. And while Facebook Story use may pale in comparison to Instagram, Facebook still has a massive 2.23 billion month active users. With more and more people become accustomed to interacting with Stories, Facebook Storie's users will likewise rise.  
Snapchat – The godfather of ephemeral content may have lost its hold on the mat, but it still has 188 million daily active users. Depending on your audience, it may still be the more effective space. According to the Huffington Post, 63 percent of users aged 12 to 26 said they prefer Snapchat over Instagram. As well, Forbes notes that the penetration rate among 18 to 24-year-old users is also higher on the ephemeral content inventor, as content on Snapchat tends to be more quirky, inventive, and spontaneous.
Takeaway
As with most digital marketing strategies, you can't jump on the ephemeral content bandwagon. You need a solid plan to make it truly work for your brand. You need to understand your audience and establish attainable goals based on that understanding.
With a consistent stream of new features and updates on the Stories platform, there's an infinite number of ways you can leverage ephemeral content for your brand.
Which brand stories is the best for you? Sound off in the comments section.
The following two tabs change content below.
Aaron Chichioco
Aaron Chichioco is a digital PR / business columnist. He has a vast experience in overseeing daily operations of several online businesses since 2011. He is currently employed with
grit.ph
. You can follow Aaron on Twitter.
Latest posts by Aaron Chichioco (see all)