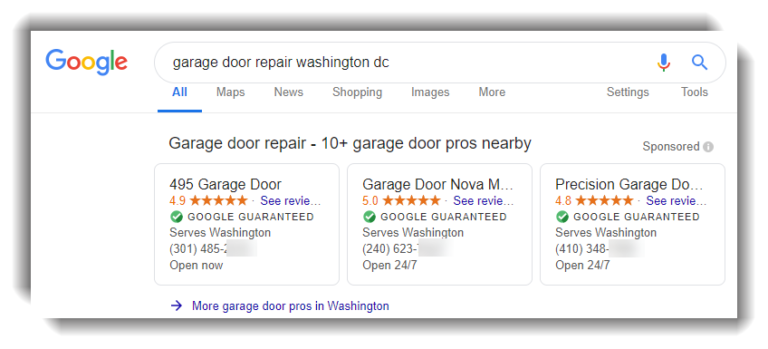 If you have never heard of them before, this is the perfect time to learn about Google Local Services Ads that are placed right at the top of search results. You should care because when LSAs are present, 25.3 percent of clicks go to paid results. But, when these are absent, the number goes down to 14.6 percent. 
Google Local Services is a pay-per-lead advertising platform that was initially called Home Services ads when it began as a beta test back in 2015 in the San Francisco area. Back then, businesses had to complete a screening process before they could secure a listing under these Home Services ads.  
The screening process checked if the licensing and insurance requirements were met and carried out criminal background checks for employees. When consumers look for a contractor through these ads, they could call a business directly or compare the pricing form up to three businesses. 
Since then, the look and the process of Local Services ads have changed. A consumer can no longer request an online quote or select multiple businesses to request quotes. Currently, the only option available to consumers is to directly call businesses to compare services quotes. One process has stayed the same through the transition to Local Services Ads- companies still need to pass Google's screening process.
How Do Google Local Services Ads Pop Up in Search Results?
Here's how they work: 
Advertisers choose from a list of services based on their industry. When a consumer's search matches the criteria for those services, the advertisement will become eligible. Google LSAs are different from Google Ads because you are not selecting the keywords you want to rank for. So you have little control over what your ad will and won't be picked up for. 
This might not be an issue for you, because you are not paying per click. When your ad shows, it will appear on the top of the search results (both AdWords and the map 3-pack) on both mobile and desktop. 
The ad format allows companies to display photos, company name, reviews, city, phone number, and opening hours. Clicking on the desktop ad takes you to the company's page.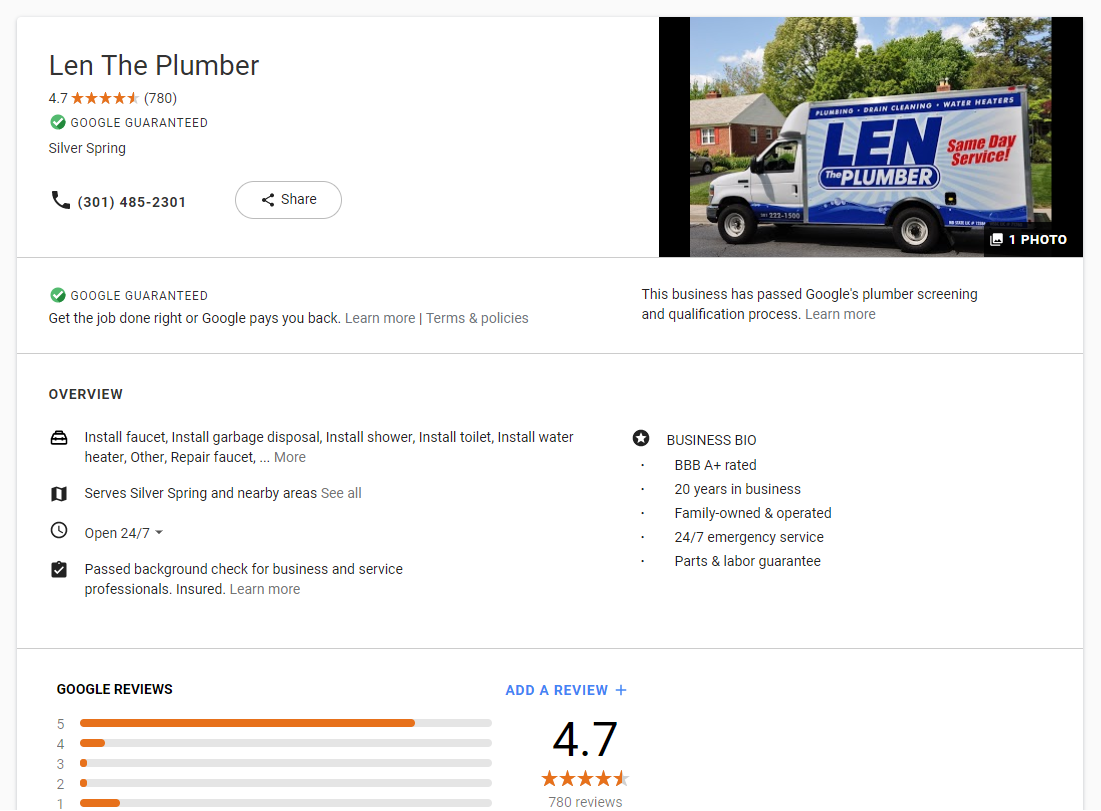 Google LSAs don't include a link to your website, you might notice. They only have phone numbers so that consumers can call you directly. Businesses that benefit the most out of Local Service Ads are ones that have a relatively high rating combined with a positive and strong brand reputation in their local markets.
Qualifying for Google Guarantee – Google's Screening Process
In order to qualify for Google Guarantee: 
Your employees will need to pass a criminal background check conducted by Google's provider. The background check is free.

You must meet the insurance and licensing requirements. These are an absolute requirement for some but not all industries that can participate in Google Local Services.

You are expected to notify the background check company of any new employees or legal issues that might affect your business' eligibility to be listed in Local Services. Also, you will be required to recertify for Local Services on a periodic basis.

You can't use the

Google Guarantee badge

on your website or marketing materials or mention it outside the context of Local Services.

If your budget dries up, you lose the badge.



How Do Ads Rank on Local Services?
Some of the key factors that determine how high you can rank are: 
Your business's proximity to the user.

Your business hours.

Whether or not you have received serious complaints and concerns about your services from past customers.

Your Google My Business ratings and reviews.

Your responsiveness to people who contacted you through LSAs.



It is tempting to know that Google evenly distributes your budget throughout the day and week. This means they might deliberately tank you low on some days so that you don't use all of your budgets early in the day/week. 
How Do I Pay for Google LSAs?
Unlike Google Ads, you pay per lead, which Google considers when: 
You receive a text or email from the customer.

You receive a voicemail from the customer.

You answer a phone call and speak with a customer.



Google does not filter contacts that don't fall into the description of a lead. Also, you can dispute and request a credit in situations where the service was not listed on your profile, the location was not in your profile, solicitation, automated recordings, wrong numbers, and no way to contact the customer. 
How much you pay per lead depends on your location and industry. But, in a broad range, your Google LSA might cost you anywhere between $10 to $100. 
Is It Worth It to Set up Google Local Services Ads?
It is absolutely worth it to sign up for these. There is no obligation to participate or sign-up. The onboarding process can seem like a hassle, but once enrolled, you will be able to determine whether the ads platform is a good fit for your business. 
Considering the placement of the ads high above in search results, the relatively low cost of leads, and no additional costs or obligations, enrollment can be an easy decision for any business who wants to get more customers in their close proximity. 
If, however, you determine the ads don't work for you, you can pause them and o longer pay. Then, your listing will be displayed in the free listing area in a section below the paid listings, and the placement will likely remain more visible than non-competing businesses in the area. 
Google Local Services ads are exclusive to the following industries for now: 
Air Duct Cleaner

Appliance Repair Service

Auto Glass Service

Auto Service Technician

Carpet Cleaner

Electricians

Event Planner

Garage Door Professional

Handyman

Home Improvement Pro

House Cleaner

HVAC

Junk Removal Provider

Lawn Care Provider

Locksmiths

Mover

Painter

Pest Control Technician

Pet Care Provider

Pet Groomer

Photographer

Plumbers

Roadside Assistance Service

Roofer

Tree Service Provider

Tutor

Upholstery Cleaner

Water Damage Service Provider

Window Cleaner

Window Service Provider
Moreover, some of these industries might only be available in a few areas. 
Tips to Win at Google Local Services
Actively generate more customer reviews and feedback on

Google My Business

as that directly impacts how your business ranks on Google Local Services ads. To start collecting reviews, click on the '

reviews

' tab in your LSAs dashboard and click on the 'ask for review' option next to the relevant job.

Have a solid inbound call structure, because you won't be able to dispute a long call even if that was a time-waster. The exact timeframe of the call after which you are charged is not known, but it helps to quickly decide whether or not the caller is a potential customer.

Experiment with Local Services ads. With better customer targeting, more security checks, and higher positioning on Google's homepage, these ads might be win-win for both your business and the customers.

Make sure all the business information on your Google My Business listing is up-to-date. Fill out all the gaps to get ahead of your competitors' listings.



Being an early adopter of the service can give you an edge over other businesses. Take advantage of the platform to grow your customers and make a decent following for low-cost advertising.
The following two tabs change content below.
Terrie Wheeler
Terrie S. Wheeler, MBC, is the founder and president of
PSM Marketing, LLC
. For nearly 30 years, Terrie has provided Law Firm Marketing services and worked with individual lawyers to help them hone their personal networking and relationship building skills.
Latest posts by Terrie Wheeler (see all)