From bloggers to influencers, you've seen people create all kinds of entertaining, engaging, and educational content that is expressed through different media arms and channels.
If you are wondering what that means for you and how you can make use of it in your own business, then read the rest of this post to discover everything you need to know about what a content creator is, the types of content creators out there, and how you can become a successful content creator.
But before we can define what a content creator is, I think it's important to first take a step back and look at what content is in the first place.
What is Content?
Content is a broad subject, which means defining it may not be as easy as one might think.
For example, when you conduct a search for "What is content", you're presented with varying definitions, including the following:
Content is the information contained within communication media. This includes the internet, cinema, television, radio, audio CDs, books, magazines, physical art, and live event content.
Content is information presented with a purpose and distributed to people in a form through a channel.
Content is the stuff you publish, which covers writing, visuals, video, presentations, etc. that can be published on blogs, webpages, social accounts, etc.
Content is a compilation of information, ideas, and messages that are translated into some kind of written, visual, or audible format for others to consume.
Content is engaging, relevant, reliable, interesting, entertaining, or enlightening in the form of text, image, video, or audio.
The definition of content might mean different things to different people and in different situations because of context.
While some believe that content is too ambiguous to define, it's clear to see that even among all the different definitions, a theme quickly emerges:
Fundamentally, content is simply information.
It can be practical, functional, or tactical. It can be a blog post or spam email. It can be a thrilling story or technical writing on the back of some product.
Whatever the medium, and whatever the purpose (influencing, educating, informing, warning, sparking conversation, expressing oneself, etc.), I think we can all agree that:
Content is Experience – useful, purposeful, and outcome-oriented experience.
What is a Content Creator?
Now that we've defined content, let's take a look at the definition of a content creator.
It comes as no surprise that there are just as many varying definitions of a content creator, which include the following:
A Content Creator is:
A content creator is someone who creates entertaining or educational material to be expressed through any medium or channel.
A content creator is responsible for the ideation and creation of content that connects a brand or entity to its prospective audience.
A content creator is someone who creates appealing and awe-inspiring content for readers, listeners, or viewers.
A content creator is responsible for producing written, audio, or visual information for content marketing platforms, like social media or blogs.
Again, a certain theme emerges, but I think we can agree that a content creator is someone who uses writing, visual storytelling, graphic design, or some combination of these three disciplines to make different topics relatable and interesting to the consumer or audience.
They can be working as a freelance content creator, as part of an in-house content creation team, or for a content creation agency, but basically, their job is to provide information and material across any platform or channel.
There is an abundance of job openings for content creators because many new companies are being established daily. So, there won't be a problem with landing a nice job quickly.
Types of Content
There are many different types of content you can create, including written content, video content, audio content, and imagery.
Here are some examples of the different types of content available:
Blog posts, how-to articles, guides, tutorials, unboxing, reviews, etc.
Social media content
Images, photos, memes, GIFs, illustrations, quotes, etc.
News articles, magazines, brochures, etc.
Online courses
Podcasts
Website landing pages
Articles, Whitepapers, eBooks
eMails and newsletters
Promotional materials (digital and print)
Videos, films, vlogs, etc.
Infographics, charts, etc.
Graphic designs
Artwork
Audio, music
Product copy, captions, etc.
Webinars, interviews, presentations, etc.
Case studies
Thought leadership or POVs
Contests, giveaways, live streams, Q&As, etc.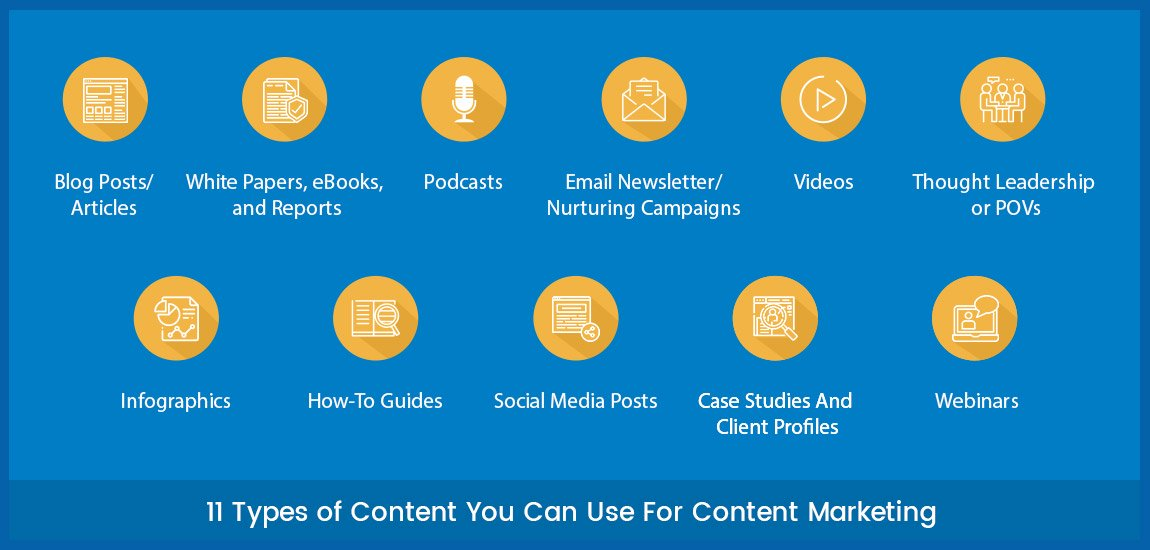 One thing's for sure, you'll have plenty of options to consider when it's time to communicate your message.
But…
The sheer variety of content options available also means that you may end up suffering from paralysis by analysis when trying to determine which type of content is best for sharing your brand's message.
Just remember that you don't have to have experience or be a pro in all of them in order to build up a reputation as a successful content creator.
Simply find your niche according to your expertise and the type of content creator you would like to be.
Creators can be successful with many types of content, and some choose to operate within one medium, while others expand to additional formats and channels over time.
Popular Platforms That Host Content Creation
This content can be hosted on a wide range of platforms, including the following:
Internet
Live events
Smartphone apps and software tools
Printed materials
Cinema
Radio
Television
Podcast hosts
Social Media Platforms
Online Forums
eBooks
Books
Magazines
Brochures and pamphlets
Product descriptions
The fact is almost anything you create can be qualified as content. Even privacy policies can be considered a form of content, and if you pay attention to the fine print, sometimes privacy policy content creators do get pretty creative with their wording.
It's important to understand the differences between the platforms when considering the types of content available, as well as the nuances in content moderation rules, if you're deciding whether you'd prefer to be a social media expert, influencer, blogger, copywriter, or broadcaster.
Knowing the type of content creator you are will make it more likely that you'll succeed in your content creation efforts.
To help you in that regard, below, we take a look at the different types of content creators out there.
Types of Content Creators:
Many different people fall into the "content creator" bucket, including bloggers, social media influencers, email marketers, content marketers, online publishers, YouTubers, and podcasters (to mention but a few).
Listed below are some of the many different types of creators that you can learn from as an aspiring content creator.
Bloggers
TikTok creators
Instagram creators
YouTubers
Podcasters
Online course creators
Info product content creators
Web designers
Graphic designers
Content marketing creators
Community creators
Video game streaming content
News content creators
Digital publishers
What Does A Content Creator Do?
Content creators produce work on a variety of platforms, and their responsibilities vary widely depending on where they work and where their audience is.
Some of these tasks could include things such as:
Content Ideation: You may have to show your creativity by brainstorming relevant and engaging content designed to deliver results.
Brand Analysis: Evaluate a brand's tone, voice, and design style, as well as its strengths, weaknesses, and competitors' strategies to maximize ROI.
Project Management: Hone your project management skills so you can help manage the projects you're helping to create.
Design and Visuals: Use great design or photography to elevate content and align it with your brand persona in order to boost shareability.
Copywriting and Research: This encompasses different content types ranging from long-form blog posts to engaging social media captions, to synthesizing year-long studies into a digestible case study, and much more.
Videography: Connect with your audience on platforms like YouTube and TikTok, rank your content, and tie it directly to your product through reviews, product demo videos, etc.
SEO: Apply the basics of SEO to your content pieces for the best visibility, from your copy to video SEO, image optimizations, etc. to help your content rank.
Editing: From copywriting to videography and design, editing is a crucial skill that you need to master as a content creator so you can produce polished deliverables and keep clients happy.
Promotion: Creating content is only half the work. Once that's done, you still have to make sure that it reaches as many relevant people in your audience as possible. This is the final (and arguably most important) step in the content creation process and includes things like link building, PR pitches, social engagement, and various other content promotion tactics.
Cost Assessment: Content creation can be very expensive depending on the type of content being created, the software being used, and whether or not its optimized for the greatest reach. Cost assessment, thus, is a critical part of the content creator's job because if variable expenses exceed revenue for too long, a content creator's career could easily end in bankruptcy.
Are All Creators Influencers?
As you can see from the examples above, content creators are everywhere. Social media, in particular, has tons of content creators, many of whom are influencers. They use various Instagram feed aesthetics and proper hashtags to attract new followers and engage them with their content.
But, are all social media content creators influencers?
The simple answer to that question is, no. Not all social media content creators are influencers.
Think back to our earlier definition of a content creator:
A content creator is someone who provides information and material across any platform or channel.
An influencer is someone who works with the intent to convince or compel their followers to buy a specific product or service, usually because they receive an incentive, commission, or percentage from each sale.
These two definitions make it clear how content creators don't necessarily have to be influencers on blogs, social media, or any other channels.
Examples of prominent content creators who are influencers in their space include people like:
Kylie Jenner
Gary Vaynerchuk
Marie Forleo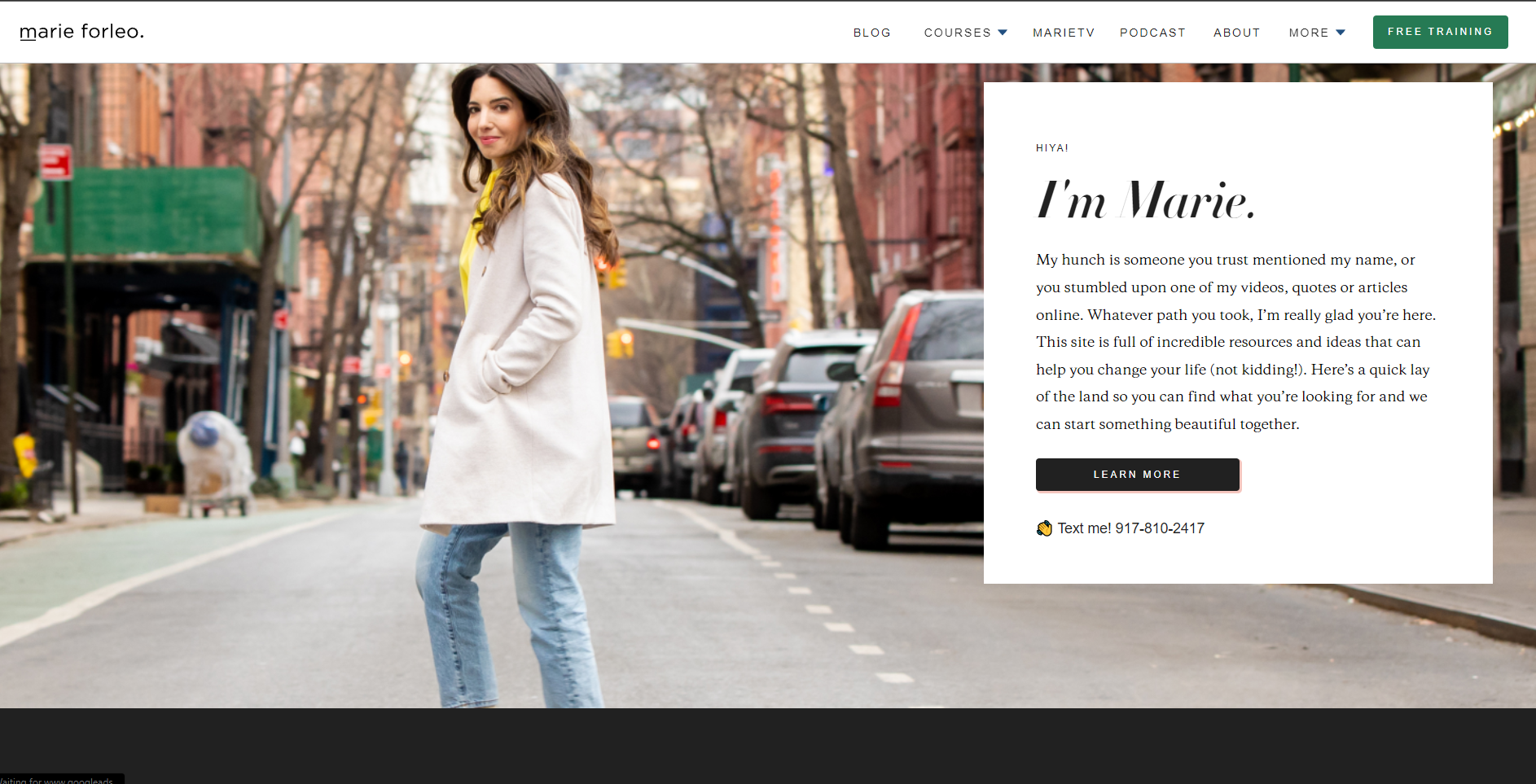 These prominent creators have amassed millions of followers and engaged fans and following the accounts of influencers such as these can provide you with tons of inspiration to help you stay on track to achieve your goal of becoming a successful content creator.
Just remember, there's equal value to be had from studying the content creation strategies of successful smaller content creators in your space.
For instance, Thalita Ferraz who is a Instagram influencer who shifted to create the popular fashion and beauty blog HerBones.com. In her own words, "I never really intended on becoming an influencer on social media. I just spent time consistently sharing images and things about my daily life and literally hundreds of thousands of people follow me on Instagram over years of work. The notoriety was great, but the income wasn't so now I've diversified into a blogger influencer which is much more lucrative".
In fact, some people may find influencers a bit intimidating and they may be discouraged by trying to follow in the footsteps of someone so accomplished, but if you look for those who are just a couple of steps ahead of where you are, it's easier to stay motivated along your journey.
6 Qualities of Successful Content Creators
In order to be successful, content creators must possess certain qualities and have a wide knowledge base to create effective written and media content.
First of all, you need to have the knowledge and ideas to share, along with a spark of creativity.
But, you also need specialized skills to be successful.
For instance, if your plan is to produce written content, then being a great writer will undoubtedly help.
Graphic design skills will come in handy if you plan on producing more visual social media content.
If you're going to put out a podcast, then you'll be more successful if you have audio editing experience.
But, the good news for aspiring content creators is that you don't have to be a pro at any of these things to get started creating high-quality content.
You can outsource many of the tasks involved and better yet, each of these skills can be learned if you have the inclination to do so.
Having said that, here are the skills that will help you become a successful content creator in your own right.
The best content creators are:
Creative: Whether you're a writer, artist, or creative thinker, you need to be able to find new ways to present the same information.
Research-Driven: You also need to be able to perform extensive research on a variety of topics and be willing to become an expert if you specialize in a particular industry.
Versatile: You'll have to work on different digital channels and platforms to produce and publish material.
Organized: You'll need to be organized so you can work within deadlines. You may work in an office, with a team, or remotely.
Analytical: As a content creator, you'll have to be able to understand and internalize information quickly so you can change it to fit a particular project.
Collaborative: You'll also need skills to collaborate and generate ideas with clients or other content creators.
Conclusion
Content creators have transformed the internet into an indispensable resource for knowledge and you, too, can join the countless people who have created and shared content online.
Now that you have a deeper insight into what content is and where it fits in your business, it's time to get inspiration from other content creators in your niche so you can start producing your own high-quality, engaging, interesting, or educational content to further your brand.
The following two tabs change content below.

Ron Stefanski
Ron Stefanski is a website entrepreneur and marketing professor who has a passion for helping people create and market their own online business. You can learn more from him by visiting OneHourProfessor.com

Latest posts by Ron Stefanski (see all)