As content creators, you must be having tons of ideas and keywords. I have them too. Long lists of keywords saved on .txt files, saved on word docs, categorized on sheets, scrawled down on random pieces of paper strewn around my work desk, resting on the cockles of my brain, and in my thoughts and prayers.
With such long lists of ideas and keywords staring at me from multiple corners, sometimes I imagine, where do I even start. Which keyword do I pick? Which ones do I avoid? And most importantly, why?
There has to be some rationale right. For, as marketers, we can't afford to be swayed by emotions but rather must rely on hard, tangible facts.
This is where I leverage the power of Mondovo's Bulk Search Volume Tool – our in-house search volume tool that lets you find search volume and CPC data for up to 50,000 keywords (unlike any other tool in the market).
In a matter of seconds, the tool cuts through the loooooong lists of keywords and lets me narrow down on the keywords that require my foremost attention.
Using Mondovo's Bulk Search Volume Tool, you can get the search volume and CPC data for 5,000 keywords at less than what you and I would pay for a Big Mac. Yes, you heard it right!
(Any Big Mac fan in the house?)
Image Courtesy: McDonald's
Blogs are all about sharing relevant and useful information with a community of people with mutual interest.
So let me show you how we can use this bulk search volume tool to distil down to the keywords that matter the most. If you please, you may enter your own data as I walk you through the tool and see how this tool helps you.
To begin, let's first go to Mondovo's website and log in.
Don't have a Mondovo account yet? No worries. You can create one for Free and claim your $3 welcome bonus. You can use the welcome bonus to try out the array of tools to get traffic to your website and drive your business.
Once you are logged in, you shall find the 'Bulk Search Volume' Tool under the 'Keyword Tools' section in the Dashboard. This is how it appears: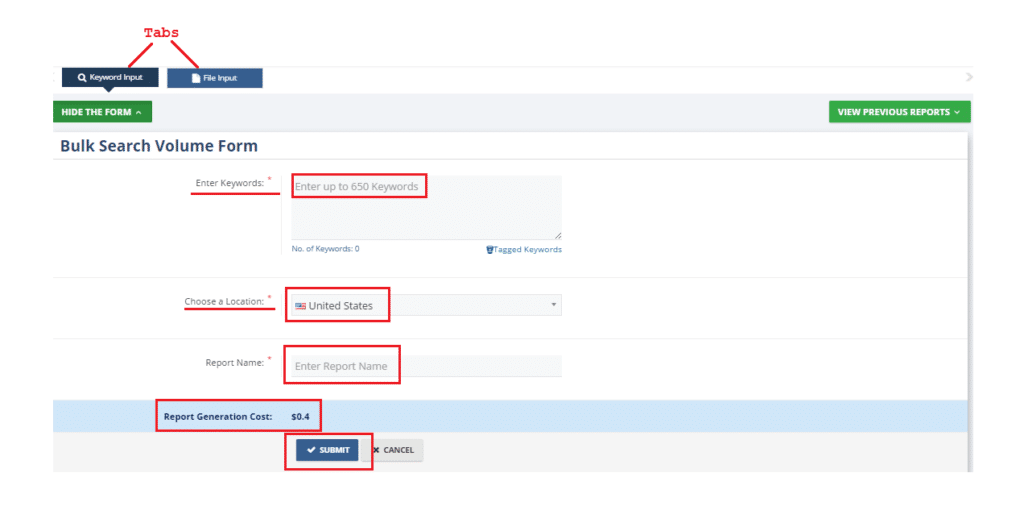 Now there are two tabs here – keyword input and file input.
Bulk Search Volume: Keyword Input
The keyword input lets you manually input keywords. You can enter up to 650 keywords – one keyword per line.
I know that entering 650 keywords could be a drilling plus time-consuming task. The reason why there is the 'file input' feature. We'll get back to it later.
Now, besides having the option to enter 650 keywords, you can geo-target your keywords with the 'choose a location' feature.
The value is the United States by default. You can change it to a country of your choice.
You can also give the report a custom name and access it whenever you like.
For up to 650 keywords, the bulk search volume report is going to cost you $0.4 only.
Let's run a bulk search volume report for a few keywords and see what happens.
I'm going to go with the Top 10 Most Asked SEO Related Questions ever on Google and see what happens. We recently pulled out the above data using Mondovo's Free Keyword Research Tool.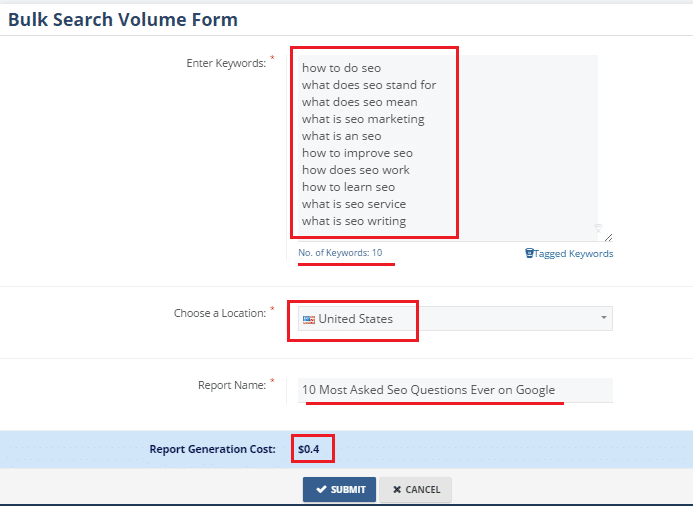 Once I hit the submit button, in a matter of few seconds, we get the following report: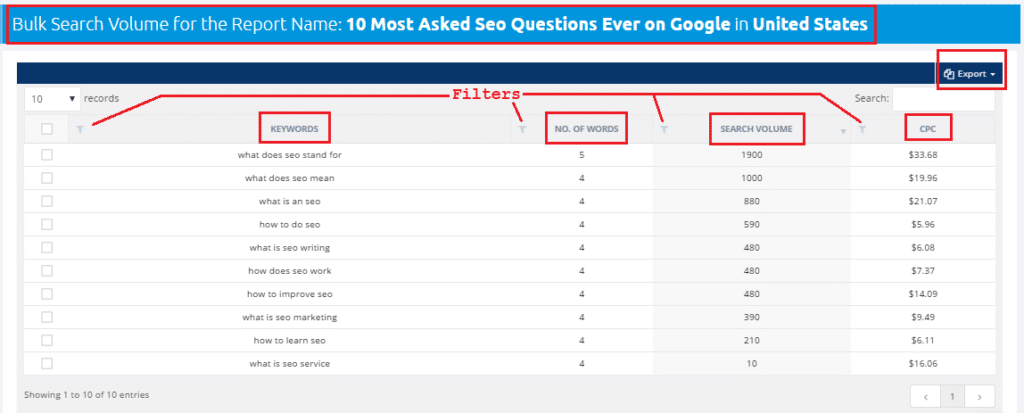 As you can see, the generated report gives me the search volume and CPC data for the keywords in the United States.
While the search volume gives the monthly average of the number of searches performed in the last 6 months, the CPC data indicate the level of advertiser competition for each keyword.
We can use the filters to terrific effect to filter, find, and arrive at precise results. The effect of filters is more palpable when used on an exhaustive list of data.
We can also sort the data in an alphabetical or reverse-alphabetical order, or in an ascending or descending order by simply clicking on the metrics – Keywords, No. of Words, Search Volume, and CPC.
You can download the report in either CSV or Excel format, and share it with whoever you like.
You can use the insight provided by the report to target keywords above a certain search volume limit. You can set the limit using the search volume filter.
Or you can target long tail keywords with low to medium competition (indicated by CPC).
Bulk Search Volume: File Input
What if you have a really long list of keywords? Say 50,000? How do you then check the search volume and CPC data?
With Mondovo's Bulk Search Volume Tool, it's pretty simple.
Just upload your CSV file containing your long list of keywords, choose your preferred location and that's it.
Your cost will be shown upfront and once you hit the 'proceed' button, your report will be ready to view, download and share in a jiffy.
And all it will cost you is less than you'll pay if you were to take your team to a fast food restaurant for a breakfast.
What Makes Mondovo's Bulk Search Volume a Cool Choice?
The only tool that can measure Search Volume and CPC for up to 50,000 keywords at one go.
For every 650 keywords, you spend less than 50 cents.
Geo-targeted, country-specific data.
View, download, and share with your team, manager, or clients.
Access the file anytime you need to.
With Mondovo's Pay-as-you-go payment system, you run a report once, you pay once. No monthly recurring cost.
If you would like to generate some audience-oriented, target-worthy keywords, you definitely need to give our New Keyword Research Tool a try.
The following two tabs change content below.
Latest posts by Sameer Panjwani (see all)