I recently went on a holiday to Hong Kong & I'm able to perfectly recall what I did on each day. Let's take the 1st of November 2016, it was a very active day for me. I was in Taikoo Shing, went to Pacific Club in Kowloon & ended my day in Tsim Sha Tsui. I ate some wonderful food & took many photos as well 🙂
How do I remember these details so clearly you ask? I don't, Google Timeline does it for me 😐 My entire travel history is recorded in the Google Timeline and I'm not talking about travels between cities but also my local daily commutes and every other trip I make.
Ever since I activated the Google Maps app, the device has been recording my whereabouts and is accessible from in my Google account using the Timeline feature. Log in to your profile now, access your Google Timeline and you might see where you've been for the past several months — even years.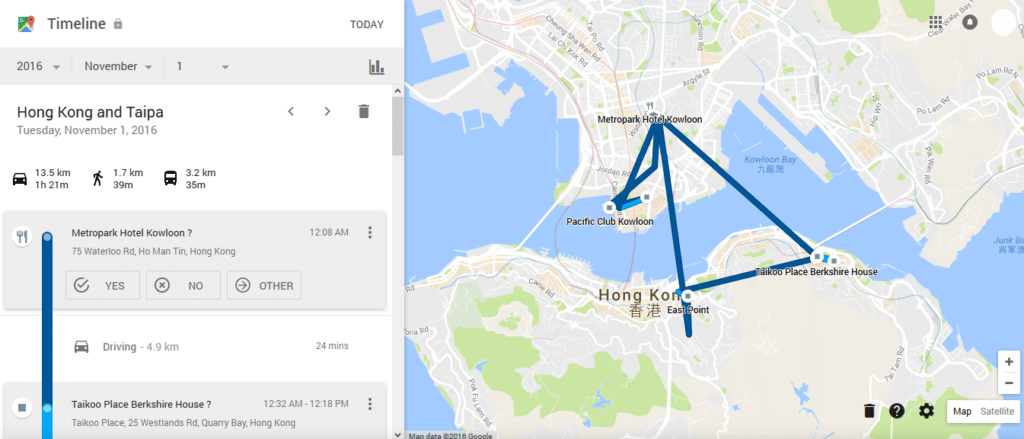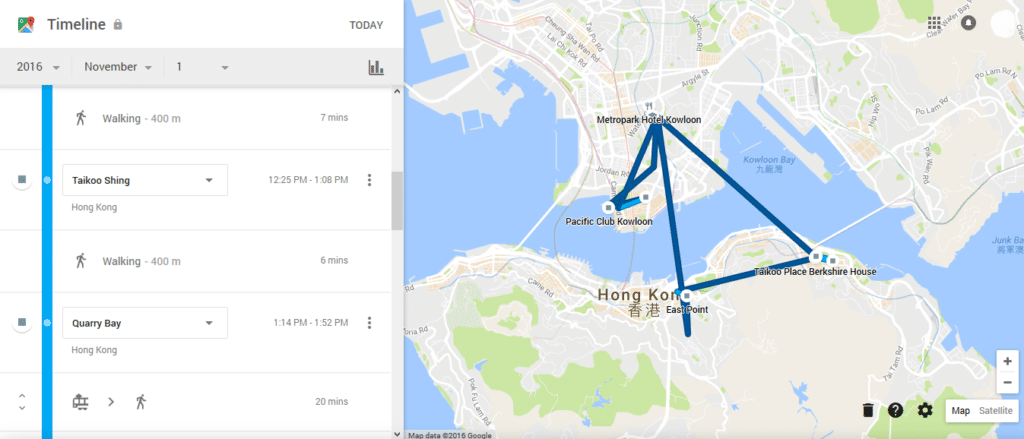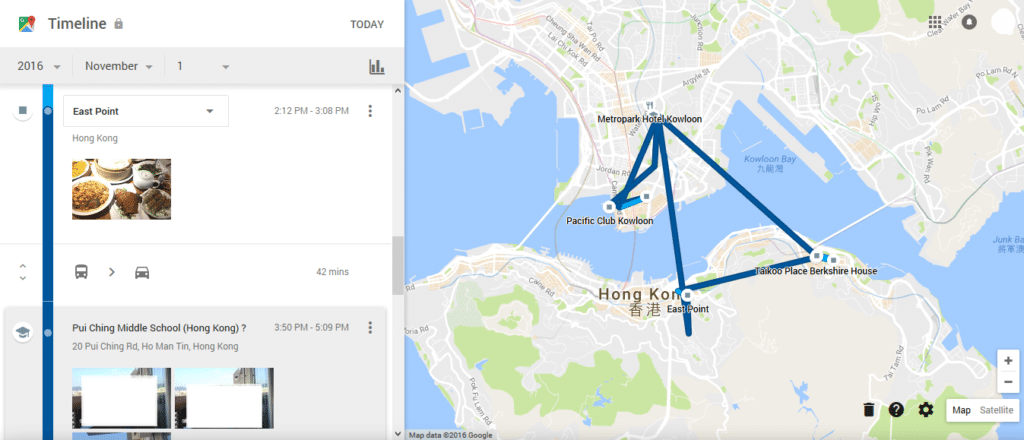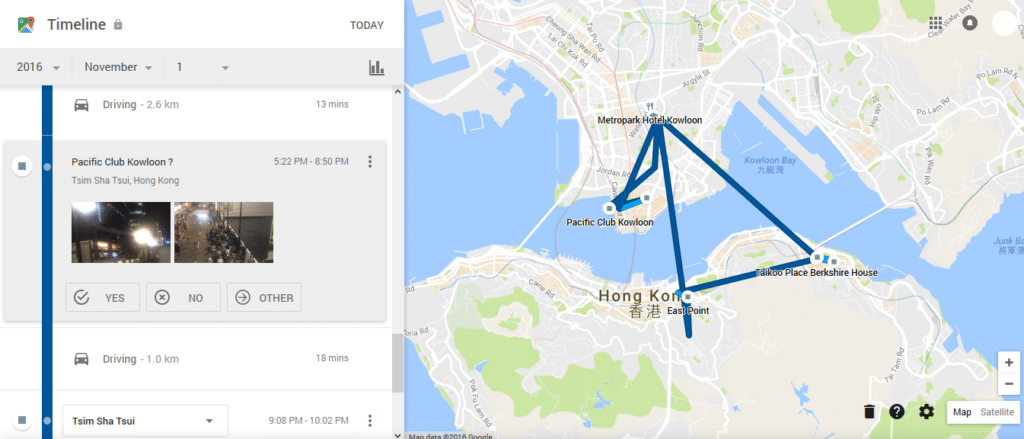 This feature is called "Google Timeline" and it allows you to look back at all the places you've been. It tracks your every step and collects data about your locations, and it gives you a detailed history of where you were and when.
If you think this is creepy, you are probably right. I was creeped out at first too, but as I tried to learn more about Google Timeline, I realized that there are some cool and useful capabilities.
Here's what I've learned:
What Is Google Timeline?
Google Timeline is a location-history tool that shows you where Google thinks you've been, when you arrived and left, and what mode of transport you used. If you've taken any photos, Google Timeline will show you those as well. Google gets all this information through the location service on your Google Maps app.
Is Google Timeline Useful or Should You Disable It?
I know what you are thinking: all this sounds very Orwellian and scary. Bear with me, though; it can actually be pretty useful in real life. Here are some instances where Google Timeline will help you:
•    It can be a great way to create a modern scrapbook of your journeys. If you've visited several locations during your travels and you want to have a nice representation of where you've been, Google Timeline can help you achieve that.
•    It can also help you with day-to-day memories since every place you've visited is recorded and stored in your Google Maps app. For instance, if you had dinner in a nice restaurant but can't remember the name, you can check your timeline.
•    However, the most important use of Google Timeline might be checking your phone's location if it ever gets lost.
A very close friend of mine has actually used Google Timeline for this purpose –Very recently my friend's phone was stolen right from her office desk & there didn't seem any hope of getting it back. She checked her Google Timeline by logging in through a laptop to track the location where her phone was last seen before being switched off. She went to the location & confronted the person who lived there. He denied stealing the phone of course. However, 2 days later, the person seems to have got scared & left the phone in another location to be found & reported to my friend!
So Google Timeline is incredibly useful if your phone is ever stolen.
What about Information Security?
Google Timeline is entirely private, and only you can access it. However, that doesn't mean that there aren't any security concerns.
Aside from the obvious "is it moral for a company to know everything about me" question, the biggest issues are privacy and safety.
Having your location permanently stored in the cloud might not be the safest thing to do. A skilled thief might be able to access your data and learn when you are not home, making you a target for property theft.
Another problem is the privacy aspect of having your location saved at all times. Your partner might check it and draw the wrong conclusions.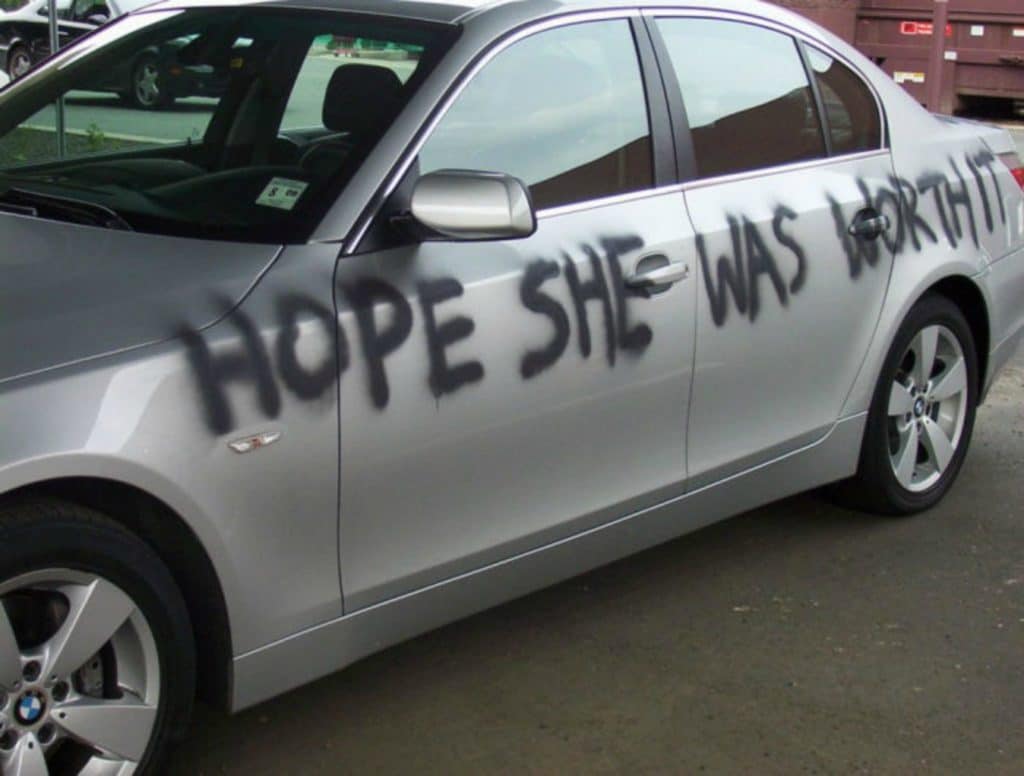 How to Switch It On or Off?
For Android phones:
•    Open the Google Maps app.
•    Click on Your timeline.
•    Tap on the top right menu icon.
•    Click on Settings.
•    Under "Location settings," make sure your location and Location History are on. Or Off if you don't want it enabled.
You can always delete your entire location history or edit certain information through the Manage location settings button.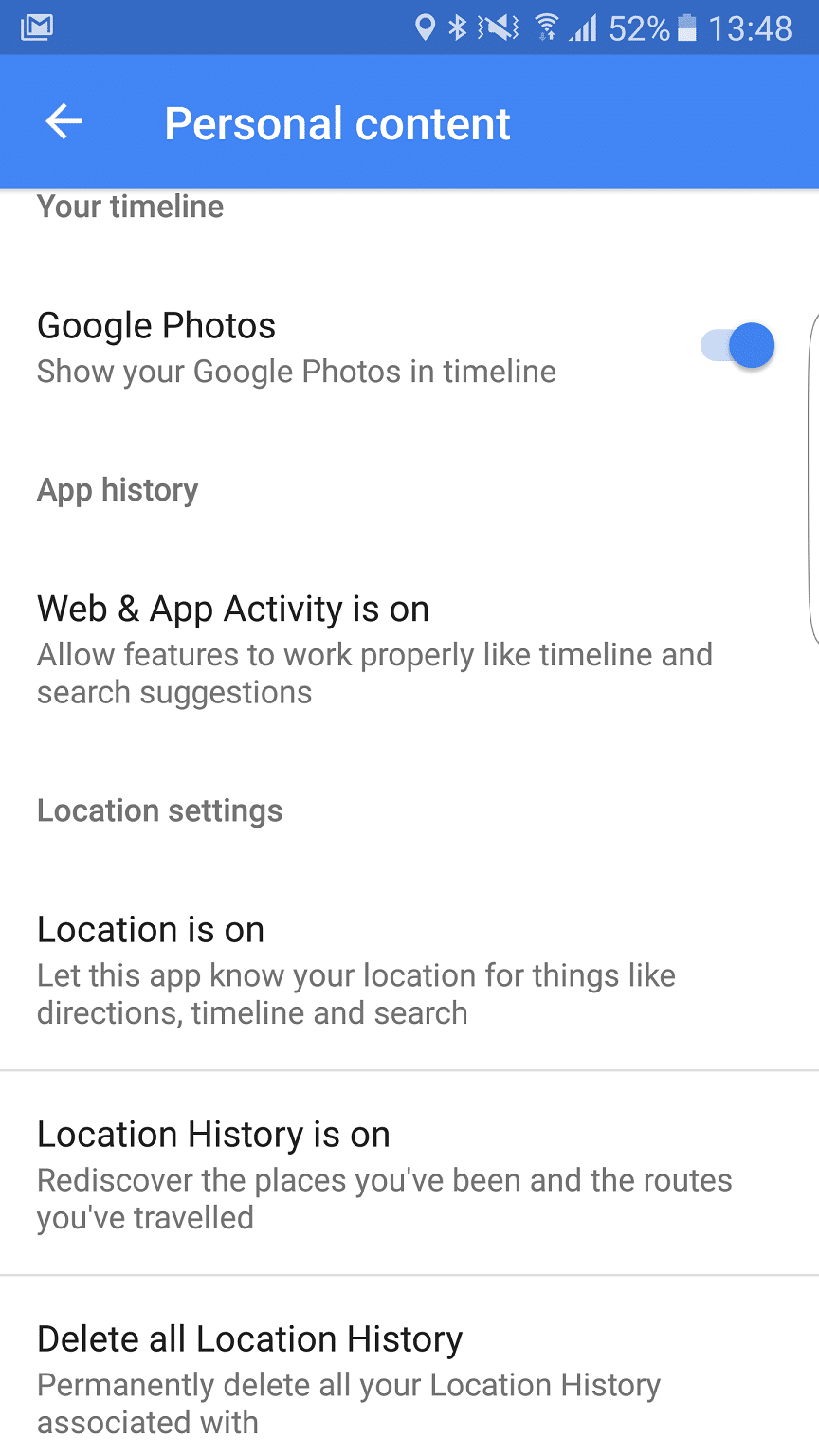 For IPhones:
•    Go to the Settings app.
•    Tap Privacy & then on Location Services.
•    Make sure the Location Services switch is on.
•    Change the Google Maps settings to Always. Or Off if you don't want it enabled.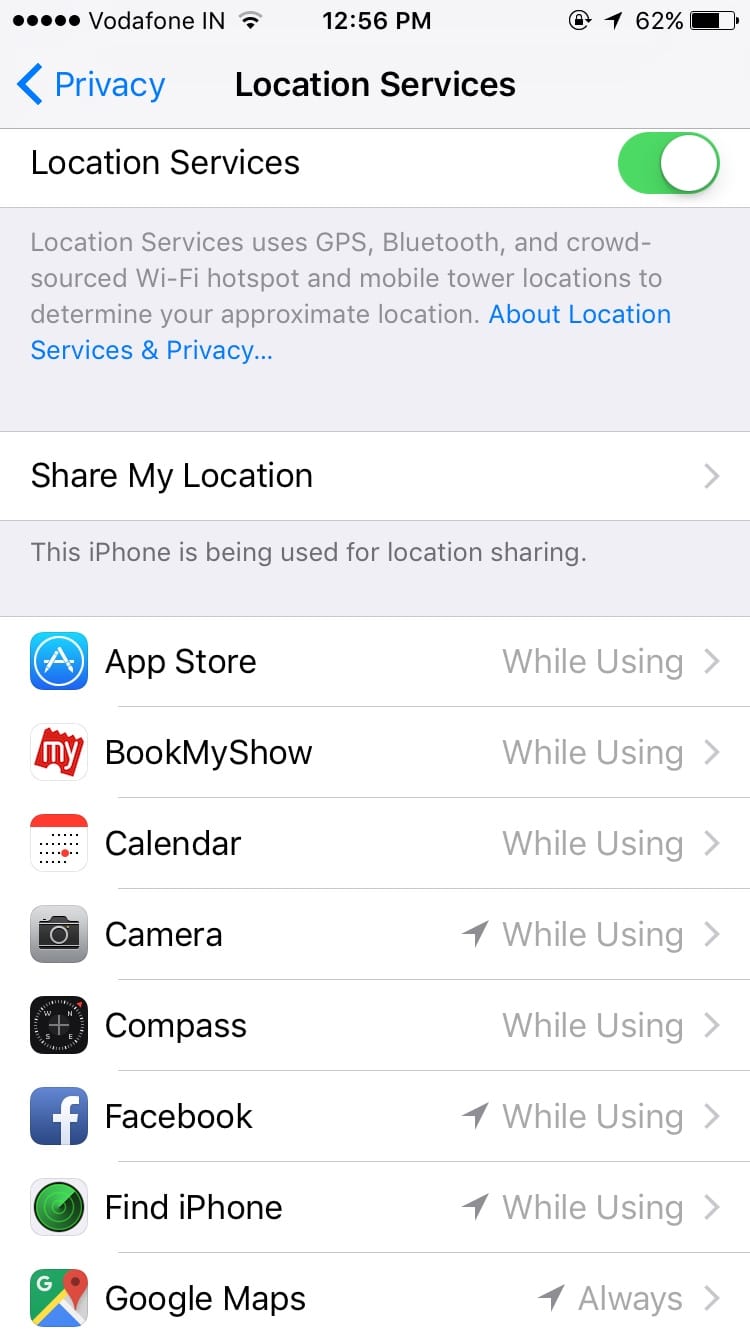 What Do You Think — Amazing or Creepy?
What do you think about Google Timeline? Do you consider it a violation of privacy, or is it an awesome feature that takes us one step closer to science fiction?
I'd love to hear your thoughts.
The following two tabs change content below.
Latest posts by Chandni Panjwani (see all)