Guest posting on authority websites is one of the most legit, authentic, and closest things you can name when it comes to building organic links which actually contribute towards your SEO efforts.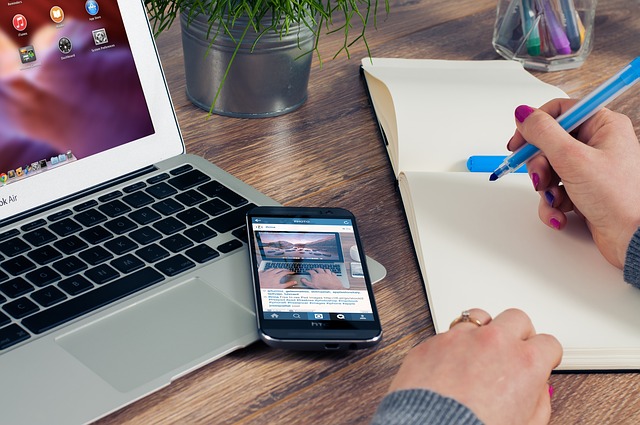 Here's what you will learn in this guest article:
Why Guest Posting Is Worth It.
How to Find Quality Guest Posting Websites?
How to Filter Quality Websites from the Rest?
How to Pitch a Guest Post that just Can't Be Rejected!
Guest Posting on Authority Websites: Why is Guest Posting Worth It?
Google has always believed in "Organic links", links which do not "appear" natural, but "are natural" by themselves.
Well, it's hard out here in the real-world to write an epic piece of content and wait days, weeks, months or even years for people to link-out organically to you.
And even when they do, you don't get to decide which sites link to you and which don't. Chances are, most sites with good authority and link-juice won't link out to you for free.
So here are 5 basic reasons which should get you started on the importance of guest posts:
You get to choose the domains from where you wish to grab the links.
You get to choose the anchor text.
You get to build a "brand" as the readers of that blog get exposed to your content, and so eventually to you.
It's authentic, you are providing the website with quality content in return for a link, fair exchange.
Direct traffic! If your target website has good traffic, and the link to your own blog has been inserted strategically and is (highly) relevant, you should see a considerable traffic boost as well.
Let's Walk the Talk with some Practical Examples:
Here's an example of a guest post by Peter Sandeen (https://blog.kissmetrics.com/dominate-your-market) which generated him 2310 hits, and over 1500 new E-mail subscribers!

Or you can take the case of Silvio from Mob.is.it, with 44 blog posts in 5 months, he skyrocketed his domain authority from 29 to 34! (It's a big win!)
Not to mention the organic boost of 20% in the traffic from search engines.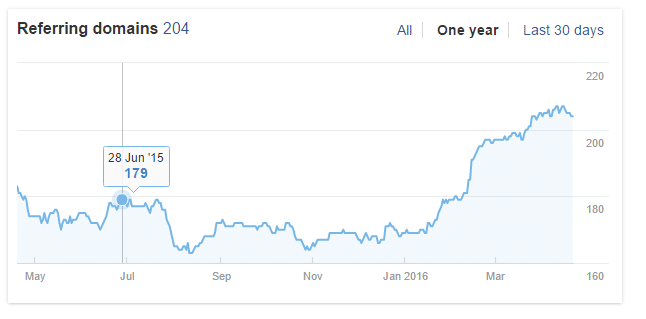 Then there is the ever-popular case of Leo Widrich, the co-founder for BufferApp, where he used 150 guest posts over a time-frame of 9 months, to take Buffer from 0 to 100K customers!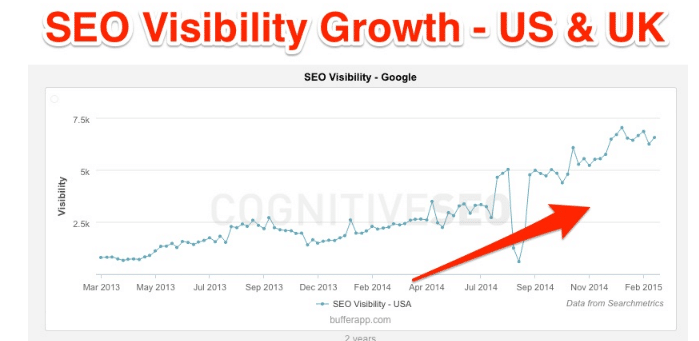 So I believe it's clear that Guest Posting is a train you should hop on right from the day you start blogging.
Guest Posting on Authority Websites: How to Find Quality Blogs for Guest Posting?
So now that you know how important Guest posting is and how it can help you take your online presence to the next level, let's try hunting some blogs down.
You'll find millions of blogs on Google accepting guest posts, the truth is only a handful of them are worth your time and efforts.
So in this section, we will talk about:
Finding sites accepting guest posts relevant to your niche.
Filtering out the most important ones from the averages.
Finding Sites Accepting Guest Posts
It's easier than it seems, at this stage, we are simply trying to make a list of sites which "Accept" guest posts, whether or not to approach them comes later.
The easiest method is to head over to Google, and type this "Your niche + Write for us" (For e.g. "SEO + Write for us).
Some other dorks you can use are:
Niche + Guest Post
Niche + Contribute
Niche + Guest post by (Competitor name)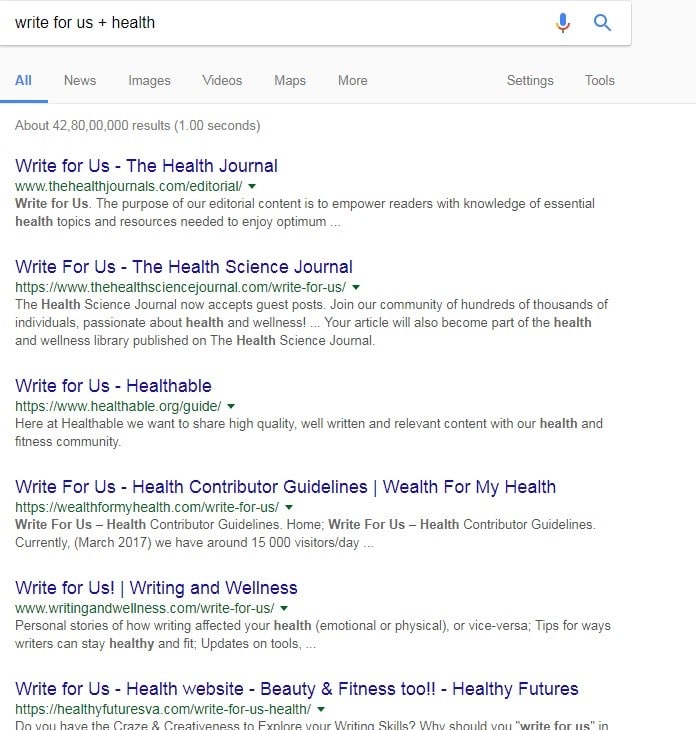 Google will lay thousands of search results for you, just copy these URLs and save them to a Google Doc or Ms-Excel sheet along with the E-mail Ids (if provided, if not you can just save the exact page URL for using the contact form later).
Or, for even better results, you can click on the "Tools> Anytime > Custom Range > Select a close range, something like 2015-2017.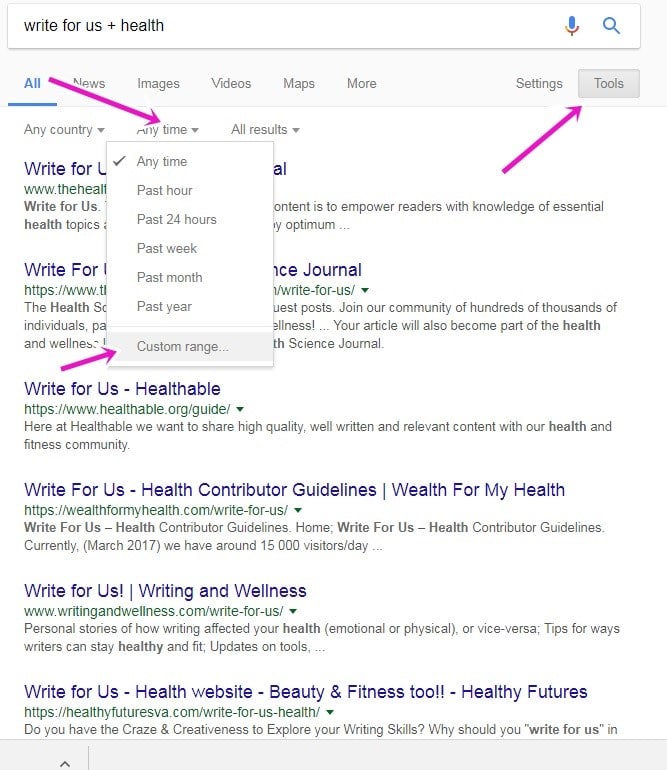 This narrows down the search results to only "fresh" results, this is helpful because many blogs have the "Write for us" page but they've either stopped monitoring them or already have a plethora of pending guest posts.
Anyway, once you finish adding URLs to your sheet, it's time for phase 2.
Guest Posting on Authority Websites: Filtering the URLs
So by now, you have a sheet with all the URLs which popped up on your Google search. Although note that Google displays all the websites which have the "Write for us" page.
That doesn't mean every website there is worth your time, right?
So now we need to finalize the URLs which you would be approaching with your guest posts. Here are some of the metrics which will tell you a site's worth and if it's worth getting a link from.
1. MOZ Domain Authority.
Moz Domain Authority is the overall calculation of a domain's "weight", or a rough measure of how good a chance the domain has for ranking on  Google.
It's calculated out of 100, and the number and quality of links for the domain are taken into consideration, however, it's not "absolute". Anyway, if the domain has a DA good enough for you (ideally, for guest posting it should either be equal to or ± 3 to your domain's DA) it's worth getting a link from.
To check a domain's authority, you can use the MOZ Open Search Explorer. Just enter the URLs from your list onto Moz OSE and it will show you the domain's authority.

2. Majestic TF / CF
Majestic TF stands for "Trust Flow". It's a measure of the site's quality based on a number of "seed sites" (High authority sites).
The closer a site has a link to those seed sites, the higher it's Trust flow is. In short, the higher it is, the better is the domain.
CF indicates the Citation flow, and it's of importance for you because this is what tells you the "power" of the links from that website.
The higher the CF of a domain, the stronger and better it is for your blog.
To check the TF/CF of a domain, head over to Majestic and enter the domain URL in the search bar and you should have what you're looking for.
Save this data on your sheet.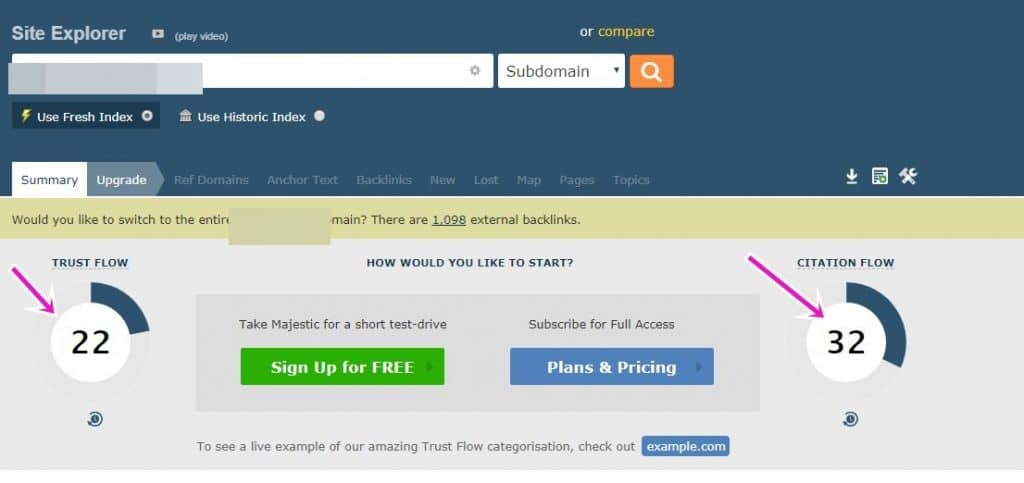 3. No. of Backlinks and Traffic
This is the final aspect we would be digging in before finalizing the domains. You need to know the no. of incoming backlinks and traffic to ensure that you the domain is truly legit and hasn't fooled the other metrics with the help of PBNs or link-farms.
Just head over to AHREF, and enter the domain in the search bar.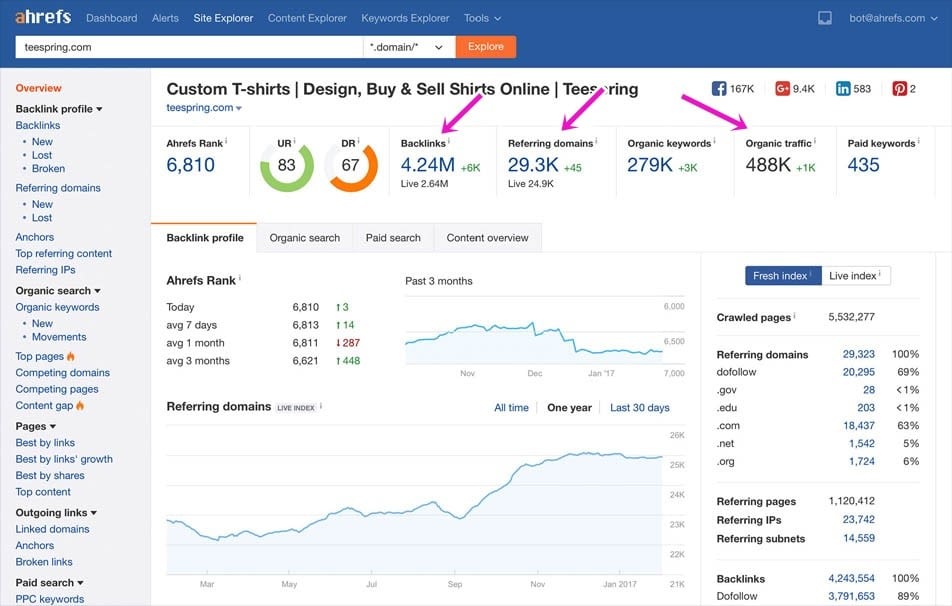 It will bring up the number of backlinks the site has along with its traffic. There is no "best number" either for backlinks or traffic, but I'm sure this will help you compare the domains from your list among themselves.
Anyway, save the traffic and backlinks details on your excel sheet or Google sheet as well.
Finally, just filter out the best domains from your list and we can move on to the next phase. For e.g. if you need 100 guest posts, just chose the top 100 domains having the best DA / TF / CF / Traffic etc.
Guest Posting on Authority Websites: The Pitch
Now for the final step, getting your guest post accepted.
Note that the above strategy isn't something "unique", and almost every blogger out there is well aware of it, so chances are those top blogs are already receiving quite a number of guest blogging pitches.
That's the reason why you need to research and craft your pitch carefully, to make it unique, professional and acceptable.
Finding out what's Acceptable!
Most blogs would list out their requirements, or the types of posts they're looking for on the "Write for us" page.
If it's listed, great you can scroll down to the next section, if not let's find that out for ourselves!
For this section, you can use BuzzSumo. BuzzSumo is a platform which tells you which post or article gained most popularity on the domain you enter.
So enter the first domain in the search bar and hit enter.  It will show you something like this: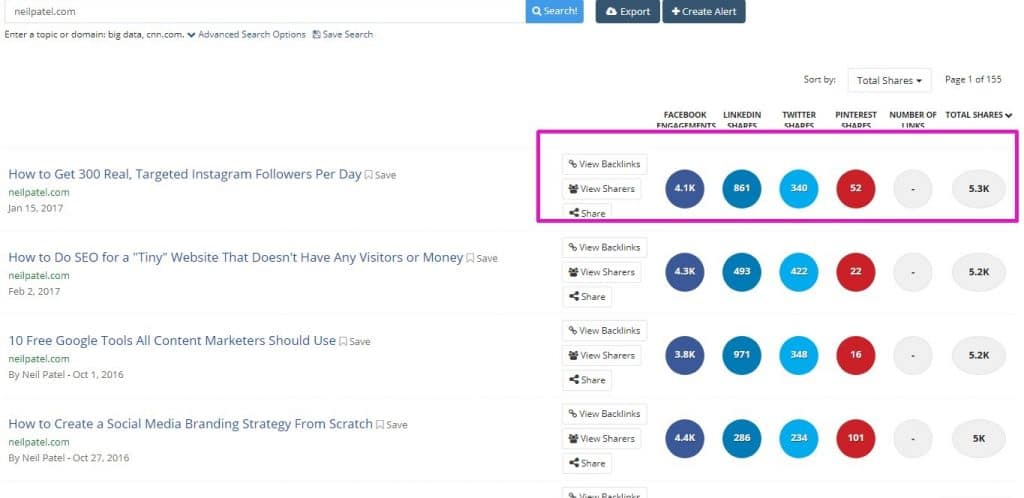 As you can see, the page is sequentially listed with the most popular posts for the domain. Now check out 3-5 posts from the domain to get an idea of what kind of content is appreciated over there.
It'll give you an idea of what you should write about. Apart from that, save the most popular post's URL in your sheet for future use in the E-mail pitch.
The E-mail Pitch:
Now for the most important part of this whole process is the E-mail pitch, there are more steps to it than meet the eye:
Getting the admins to open your E-mail.
Getting them to read through your pitch. (They'll leave halfway through if it's not well-crafted).
Getting them to accept your pitch. (The final blow!)
So to make things simple for you, I'm just providing you with a template that has a fair chance of getting accepted.
Hey [ Admin name],
I'm [Your name], I've been blogging over at [Your Blog URL] for the past [time or years].
I see your [Most popular content URL] almost went viral, great work [Admin name].
I'm willing to contribute a  guest blog post worth [ number of words] on the similar topic of [Topic name]. Considering you already have lot's of traffic on that post and a visitor-base interested in the same, I'm sure they'll love this addition as well.
Although I'm totally open to suggestions on the topic as well, so if you wish to publish about a different topic, just send me the Title or Topic and I'll nail the rest.
You can check my past contributions at:
[Article 1 link]. [ Article 2 link].
The article would be 100% unique, well-researched as well as written keeping your current audience interests in mind.
Regardless of you accepting (or not accepting) the guest post, you're doing great work and I hope you keep that up.
Regards,
[ Your Name ] [ Your Blog URL].
Here's a breakdown of the above template:
The first line introduces you and your Blog.
The second line reminds them of their most popular post which we will leverage in the next line.
The [number of words] is important to let them know that you're serious and the longer the content, the better it will be.
The next line tells them that your content will be similar to their most popular content, or on a related topic, this assures them that it'll be liked and read by their visitors.
Your previous article contributions act as a "Sample" for them, and also it tells them that other authority blogs have accepted you so you're worth it.
Basically, the three psychological factors you need to cover are:
Let them know you're a professional.
Show them your best works to assure quality.
Let them know how "they" can benefit from your work.
Provide a clear Topic name and word count so they have an idea of what exactly you're offering. (But also mention that it's not absolute, and you're willing to accept their suggestions).
A Shorter Pitch.
Some bloggers are reluctant to read through a long pitch, so here's something else you can use for your overall campaign (in an A/B test kind of way) and check which works better for you.
Hey [ Admin name].
I'm [Your Name], I've been blogging on [ your Topics] for the past [ years] over at my [blog URL].
I'm willing to contribute a [no. of words] long post on the [ Topic name], or any other topic of your choice.
I've already contributed to [ Past contribution link 1], [Past contribution link2] and some other high authority sites.
Waiting for your reply.
A Gradual Process:
You can't expect to start guest posting today and land a guest post directly on ProBlogger or KissMetrics.
A better approach is to first start approaching smaller blogs, even if they don't have a lot of value, then approach their immediate superiors and so on.
This way, you can always reference the most recent blogs where you posted on, and it creates a chain and finally, you can land a blog post on Moz and other internationally acclaimed platforms.
Final Words
So I believe we've poured over all the steps required from finding quality guest post sites, to pitching them and getting accepted.
Although feel free to take liberty in using your own dorks, editing the template any way you want to, and change everything else if you feel the need, there's no "proven formula" to this, it's all experiments and results.
The following two tabs change content below.
Kulwant Nagi
Kulwant Nagi is a professional blogger, affiliate marketer, world traveller and a speaker. He blogs at
BloggingCage.com
and manages a private blogging group of 16500 members. He is running an online marketing and graphic design agency AffloSpark.
Latest posts by Kulwant Nagi (see all)