In the data-laden world, every business needs data to make business decisions based on facts, and that's why companies rely heavily on online web forms.
Whether you run a retail or a SaaS business, your website uses online forms in some capacity. From gathering lead information to facilitating event registration, online forms are an excellent way to grow your business.
Compared to old-style paper forms, they are faster, convenient, and cheaper. Also, online forms make it easier to handle processes and streamline workflow.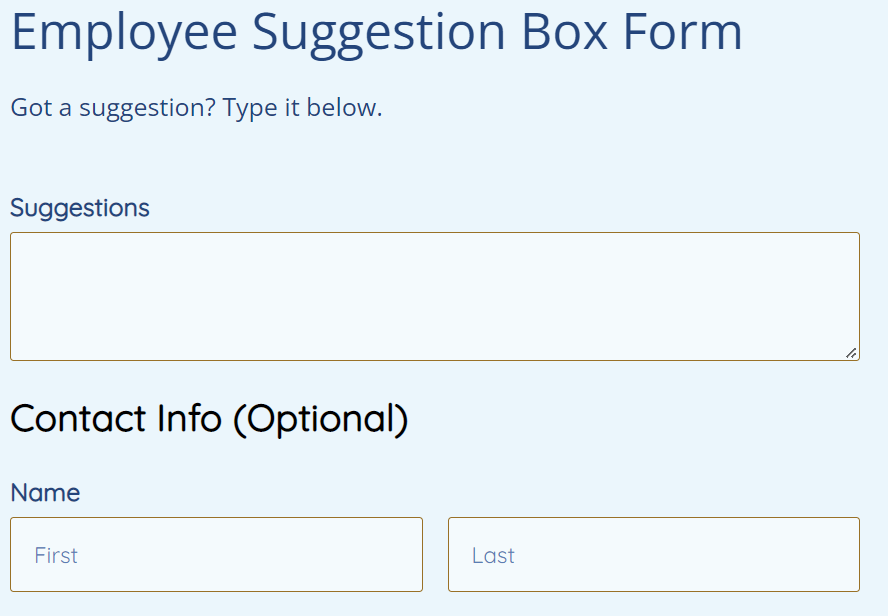 However, despite their many advantages, many businesses fail to appreciate and reap benefits from its potential.
Today, any business looking to collect data can depend upon online form builders.
To learn more about form builders, let's explore why they are essential for your business and how they can affect your growth.
How an online form builder can benefit your business
Here are a few benefits of using an online form builder:
Helps in customer data collection
Today, online form builders are a powerful way to collect relevant customer data. Thanks to forming builder websites and CMS plugins that come with them, it has become easier to take data and use it to create insights that can help target the right business audience.
When you focus on customer analytics, ensure every customer interaction creates value for the business in a way it otherwise might have been impossible. It also allows you to create customized campaigns that resonate with your target audience.
According to research, 74% of marketers use online forms for lead generation, and 49.7% believe online forms work as their highest converting lead generation tool.
Rather than trying to get data from outsiders or relying on third-party software, focus on your customers.
Pro-tip: An online form can provide you with the most significant source of insights in online marketing down the road.
Helps in market research
To know in-depth about your customers and create campaigns that resonate with your audience, knowing as much as possible about your target market is essential.
Using a form builder, you can create surveys to gather information about the interests of your target audience, their experience, and expectations. The data you collect from these web forms helps you identify opportunities for growth, make informed decisions and stay up-to-date with market trends.
As consumers evolve, companies must evolve and optimize how they connect with customers, and the data you collect from forms can help you achieve this goal.
Pro-tip: As the data you collect is digital, it becomes easy to process information even if you receive hundreds or thousands of responses from your forms.
Helps in managing communication and online orders
Believe it or not, even your sales team can use online form builders to manage online orders and customer communication.
For instance, sales representatives can create online forms for training assessment, meeting requests, contract management, manager approvals, and product orders.
A company can even start selling products on its website and set up online forms for orders and payments. These forms can collect information about the order, including the product quantity, delivery details, and even payment details.
Pro-tip: If you're planning to sell a few products on your website, an online form can be easier and more convenient for your business.
Helps the finance department
An online form builder is helpful even for the finance and accounting team. The finance department can create forms for checking employee requests, getting reimbursement requests, and new vendor information.
Using web forms, this department can streamline approval processes and financial documentation.
The finance department often uses an online form builder to reimburse employees for the cost of airfare, lodging, home office supplies, and meals.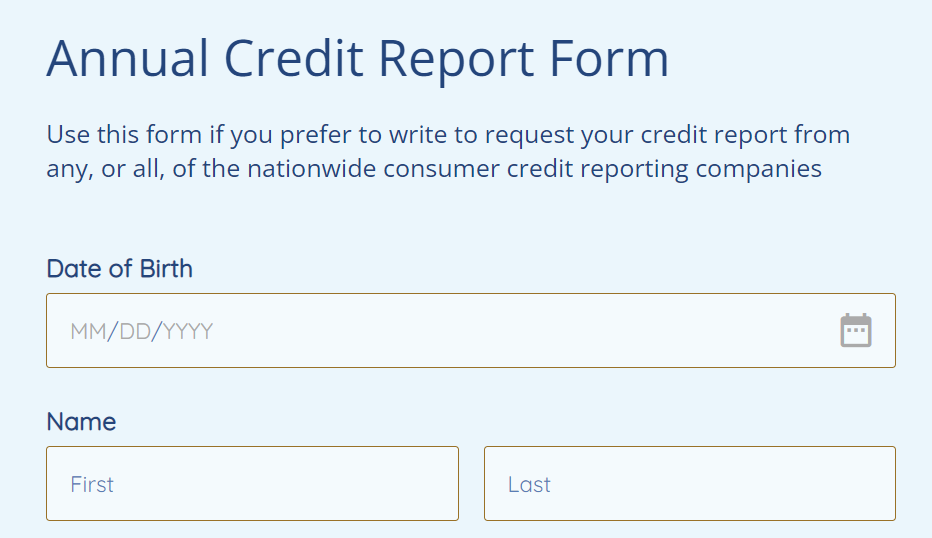 Tracking these costs manually and maintaining a track of these records can be a headache for the already busy finance team.
Pro-tip: The finance department relies on web forms that they can receive, cross-verify with the bills and clear the payment requests on time.
Helps the customer support team
Even your customer support team can use web forms to complete their day-to-day operations efficiently. From helping you respond to customer help requests, distribute questionnaires, onboard new customers, and send customer surveys, these forms can help you fulfill any job of your support team.
Another area where forms can help your customer support team is overseeing the Net Promoter Score (NPS) process. The customer support team can manage the entire NPS from start to end, schedule feedback calls, and add notes or records using form builder software.
Pro-tip: Another area where these forms can help your business is eliminating data silos between departments and teams, especially when it comes to helping requests and customer activity.
Helps the human resources
Employee reviews and surveys are often challenging for the HR department, especially if the organization has many employees.
That's why even the human resource department incorporates web forms to receive immediate feedback and automate their HR process.
These web forms can help collect valuable feedback and information from the employees and supervisors and ask employees for self-assessment.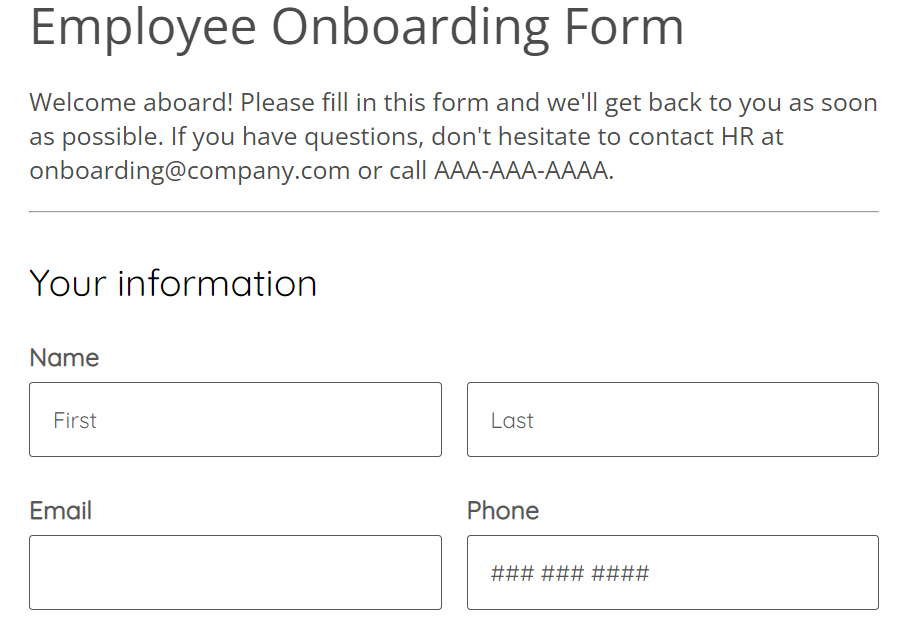 You can efficiently create annual performance review forms to receive feedback from each employee.
Pro-tip: What's more interesting is that the HR team can use a form builder to standardize and organize employee onboarding, paid time off requests, employee satisfaction, and annual reviews.
Helps the sales team
Besides HR, marketing, and finance, even the sales team can efficiently use an online form builder. Your sales team can create online forms for contract management, meeting requests, product orders, and manager approvals.
These web forms are a great way to interact and communicate with visitors who visit your website searching for a product, service, or information.
What makes these sales forms interesting is that it allows you to set up appointments with prospects and convert your lead into opportunities. With the help of form builders, you can easily assign new leads to the sales team so that customer queries get answered instantly.
Interesting statistics: According to research, a multi-step lead form can generate 300% more conversions.
Helps the IT team
For an IT team, a form builder can be helpful in many ways. A form builder can be a blessing in disguise for a team that faces heavy workplace bottlenecks and workload.
This team can use online forms for various administrative processes that are a part of their job responsibilities. They can use it for managing equipment logs, feature requests, and even bug fixes.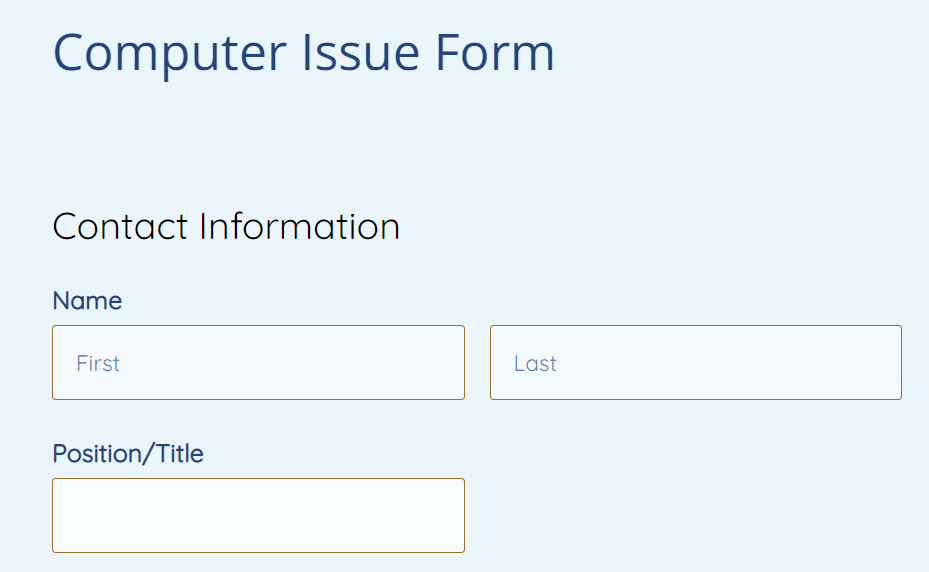 As IT is often responsible for solving IT-related issues for everyone in the organization, having a streamlined process to address technical requests can increase the efficiency and productivity of your entire organization.
Interesting statistics: According to research, 49.7% of businesses feel online forms convert to more leads than other lead generation tools.
Helps in customer engagement
By using a web form on your website, you increase customer interaction and engagement.
This can give you a better idea of how and what customers think about your brand, how they perceive it, and what method of communication they prefer. These insights help you identify strategies and campaigns that work with your prospective customers.
When customers or visitors feel they're forced to hand over information, they're reluctant to share. They would prefer not to fill out your form. So, focus on creating an accessible online form that visitors can complete without searching Google for the questions you ask.
Also, the key to success with online form builders is telling customers why they need certain information from you. For instance, how would their age or gender affect their opinion about your company?
Using these tactics, your business is better adept at guaranteeing a seamless customer experience while directing customers to take desired actions.
Interesting statistics: 67% of your website visitors will abandon your form upon encountering any complication, and only 20% would follow up with the company.
Key takeaways
An online form builder brings many benefits to your business, and incorporating at least one such form can be the difference between high-quality and low-quality lead generation.
Apart from helping in lead generation and building customer engagement, these forms can be helpful in every department of your organization.
While there are many online form builders with each boasting of bringing a revolutionary change, choose one that meets your requirement and is safe for the customers to use. You can choose from various templates ranging from complex surveys to performance review forms.
If you have a good form builder, you can create webforms that are attractive yet effective. Your customers are likely to use such forms and ensure business growth.
Use all your resources to search for an online form builder that helps you get quality traffic and feedback and isn't too bulky on your pockets.
The following two tabs change content below.

Priya Jain
Priya Jain has been copywriting professionally for over 8 years. She teaches math, spends her time running behind her toddler, and tries new recipes whilst she isn't writing. She has attained an engineering degree, and an MBA.

Latest posts by Priya Jain (see all)