Content still very much rules the roost when it comes to digital marketing for brands, and this is perhaps no more prevalent than in modern social media campaigns. On a fundamental level, content can prove to be more engaging than special offers, coupons, traditional ads, and sales pitches. It can also be more evergreen than short termist campaigns.
But social media is becoming a congested place where more brands than ever are having to do battle to gain the visibility that they crave. With this in mind, innovation remains key and as more businesses seek to embrace an increasingly switched-on audience, new approaches to generate leads are essential.
Today, effective social media content revolves around purpose and strategy. This means that you should avoid self-serving copy, and instead generate something truly meaningful for your audience to consume.
How are brands utilizing trends to generate more purposeful social media content? Let's take a deeper look into how brands are out-innovating their rivals when it comes to modern social media marketing:
Short-Form Video Reigns Supreme
In the post-pandemic era, we've seen social media trends undergo their own form of digital transformation in a way that's seen short-form video prevail as a key form of communication among companies and audiences.
With more business-oriented social platforms like LinkedIn among the networks embracing video, it's clear that brands and marketing teams alike should be bullish on generating more short-form video content.
The great thing about short-form video platforms like TikTok, Instagram, and YouTube Shorts is that it appeals to short attention spans, meaning that a brand can resonate with a customer without the risk of them switching off and missing a call-to-action.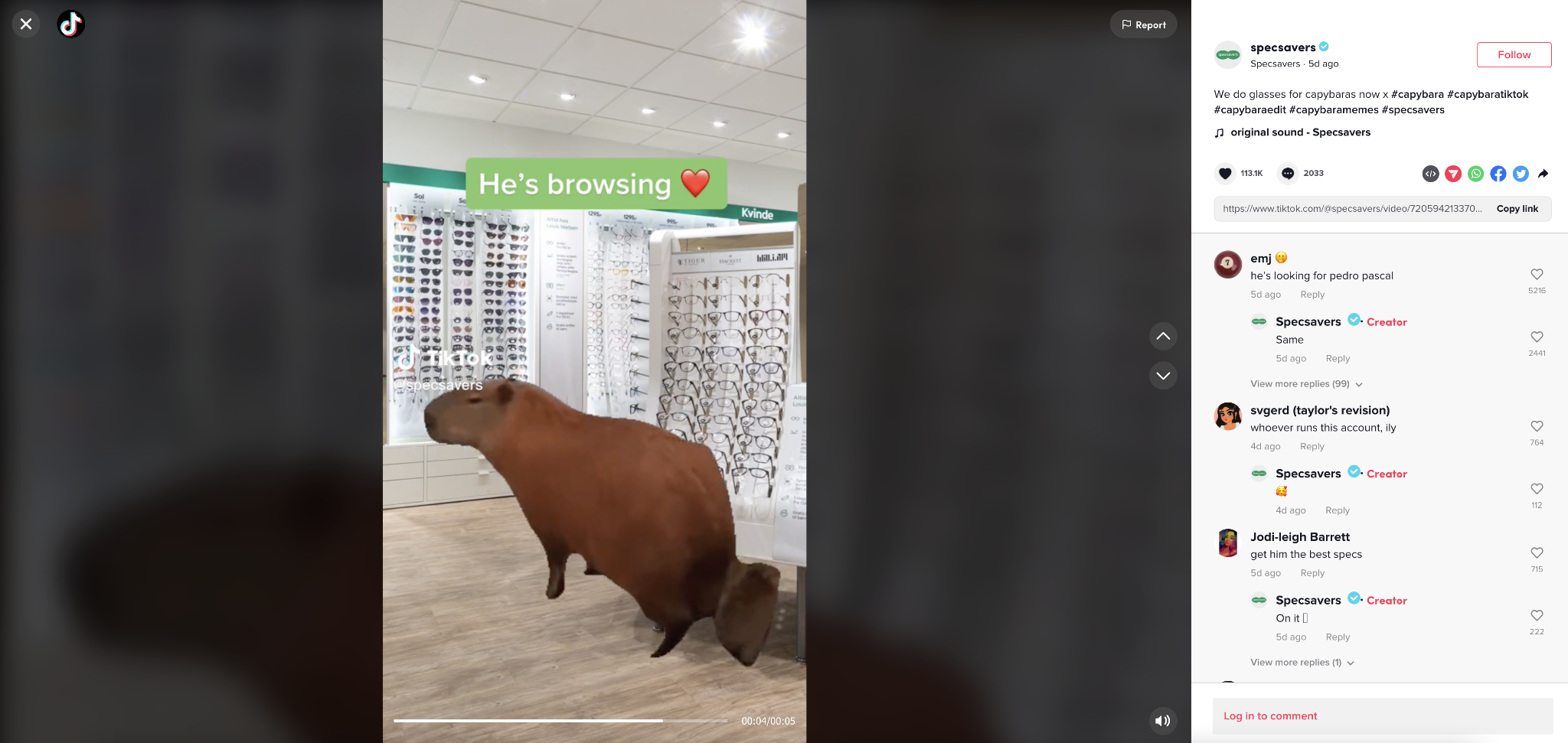 For brands, short form video enables content to be more expressive, eye-catching, and even surreal in the case of the above example from Specsavers, which saw an augmented reality clip featuring a capybara gain over 110,000 likes and more than 2,000 comments.
However, brands must also avoid losing track of their target market when it comes to video content. Following the crowd and generating more off-the-wall content on TikTok may gain engagements but it may not lead to many conversions for a prestigious or luxury brand that markets itself in a more serious manner.
By seeking to inform and entertain your audience, you could help customers to spend more time learning about your products in an easy-to-consume manner. It's also worth embracing YouTube Shorts as a short-form video marketing tool due to the platform's power to drive greater exposure from search engine results pages.
Embracing the Rise of UGC
User-generated content (UGC) is an excellent way for brands to build their presence with smaller social media teams. The great thing about UGC is that it can work wonders in providing a cost-effective social proof for your brand.
According to Tint data, 72% of consumers find user reviews and testimonials more credible than brands discussing their products, while 93% of marketers agree that consumers trust UGC more than content generated by a brand.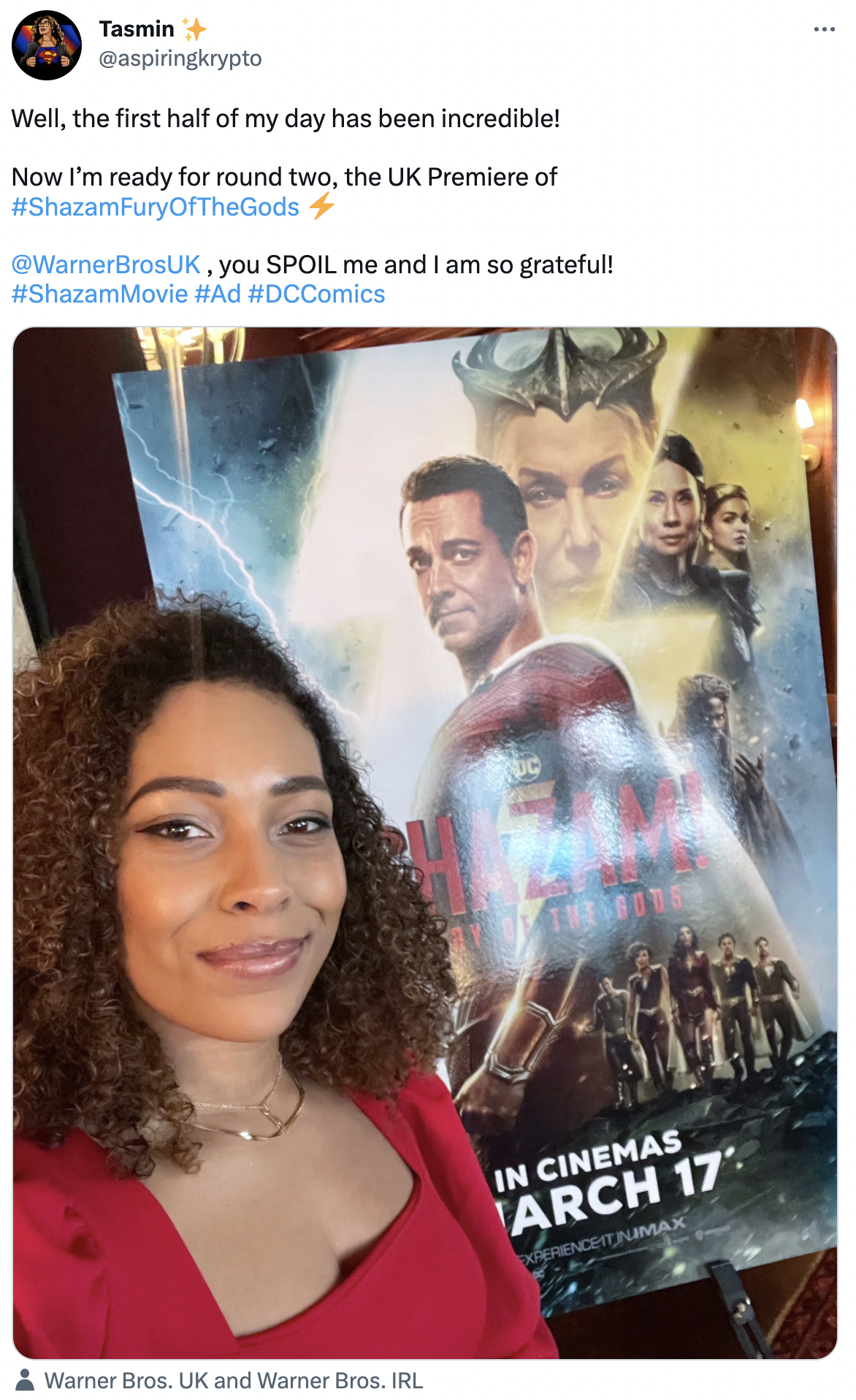 Originally defined as content created organically by a company's customers or followers that a brand shares, UGC has grown exponentially in recent years, with more brands looking for specific 'UGC creators', who are social media users who generate natural UGC-style content in partnership with a brand.
The beauty of this approach is that creators also benefit from generating strong copy that achieves greater volumes of audience engagements–empowering more content creators to gain better levels of exposure online.
While there are many approaches that can be taken when it comes to UGC, opening the door to customers creating their own content can be a great tool for smaller marketing teams, and it's worth running competitions to generate more content. For instance, a brand could invite users to take a selfie with their product in the most exciting location, or to create their own artwork to celebrate an event or company milestone.
Whether UGC is generated organically or via the use of partnerships with creators, it can be a valuable tool for content curation, where brands have the relatively straightforward task of compiling the best content to share throughout social media.
Influencer Marketing Becomes Essential
Over recent years, influencer marketing has become an essential facet for brands building their exposure on social media. While it can fall into a similar category to UGC, influencers have evolved into one-person brands in their own right.
Ranging from micro influencers with followers ranging into the thousands to celebrities with millions of engaged audience members, influencer marketing has grown to the extent where there's a growing range of platforms like Sprout Social, Brandwatch, and Creator IQ that specializes in putting brands in touch with the right influencers and tracking the ROI of their campaigns.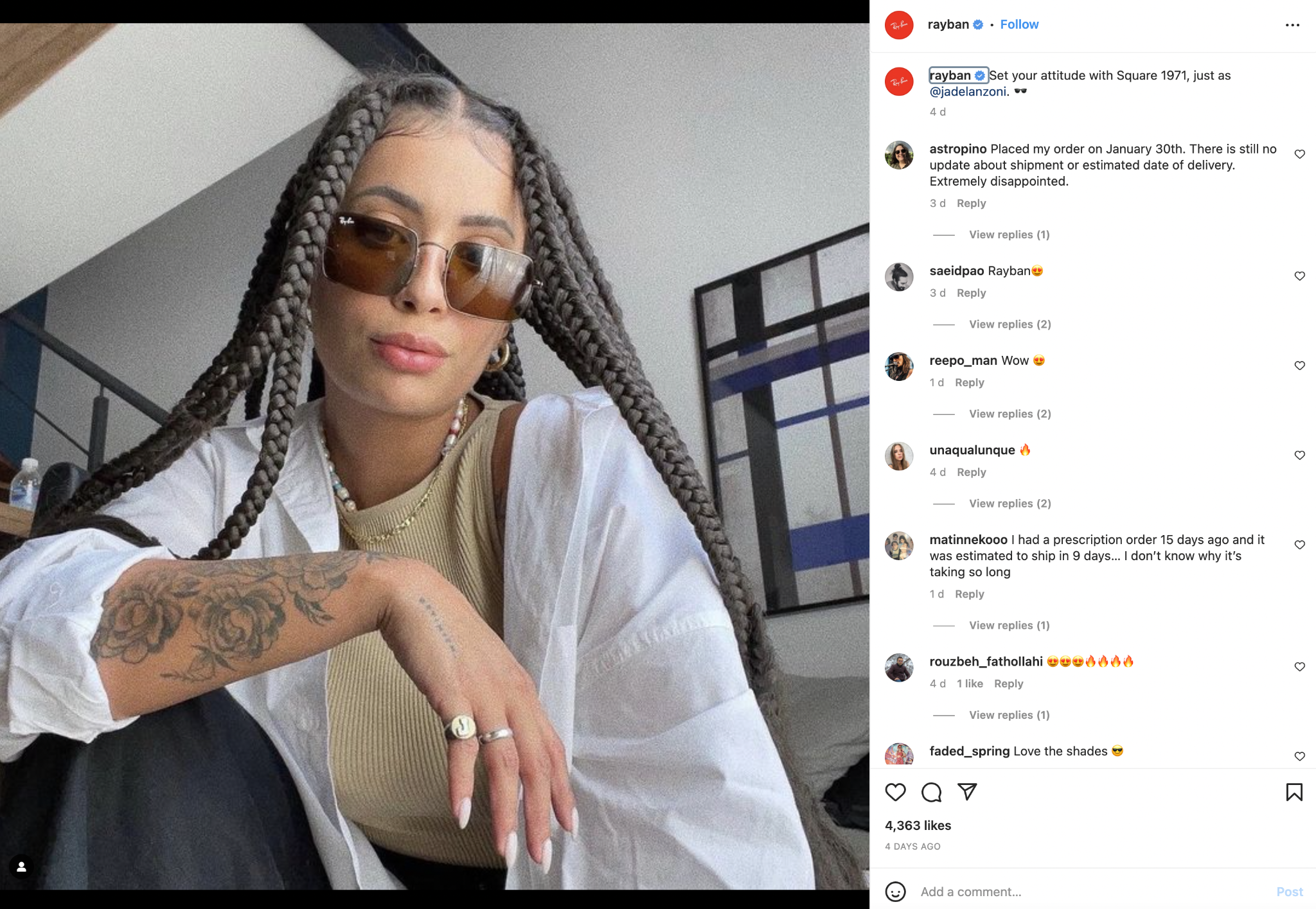 As we can see through leading designer brands like Ray-Ban, influencer marketing can be an excellent way of showcasing products in a more natural way. Rather showing off new styles on catwalks or on the red carpet, Ray-Ban utilizes Instagram to display its range of eyewear on fellow users while inviting audiences to look here at their collection and follow up on their interest.
In the example above, we can see that Ray-Ban has partnered with Jade Lanzoni, a Brazilian influencer with over 93,000 followers as a strategy to deliver greater exposure to South American customers.
Regional influencers creating content for sub-cultures in different areas of the world and in more local languages is likely to be a recurring theme for globally-focused brands in the future. This is because it's a trend that can be leveraged strategically by partnering with the right influencers to bring engagements from their customer profile.
Furthermore, offering influencers more creative freedom can help to generate better content that can be curated across different social channels.
Edutainment can be Key for Purchase Intent
More brands are discovering that customers of all ages like to learn a thing or two from the content that they consume on social media. With this in mind, edutainment content is likely to be one of the leading forms of social media engagement for brands in the future.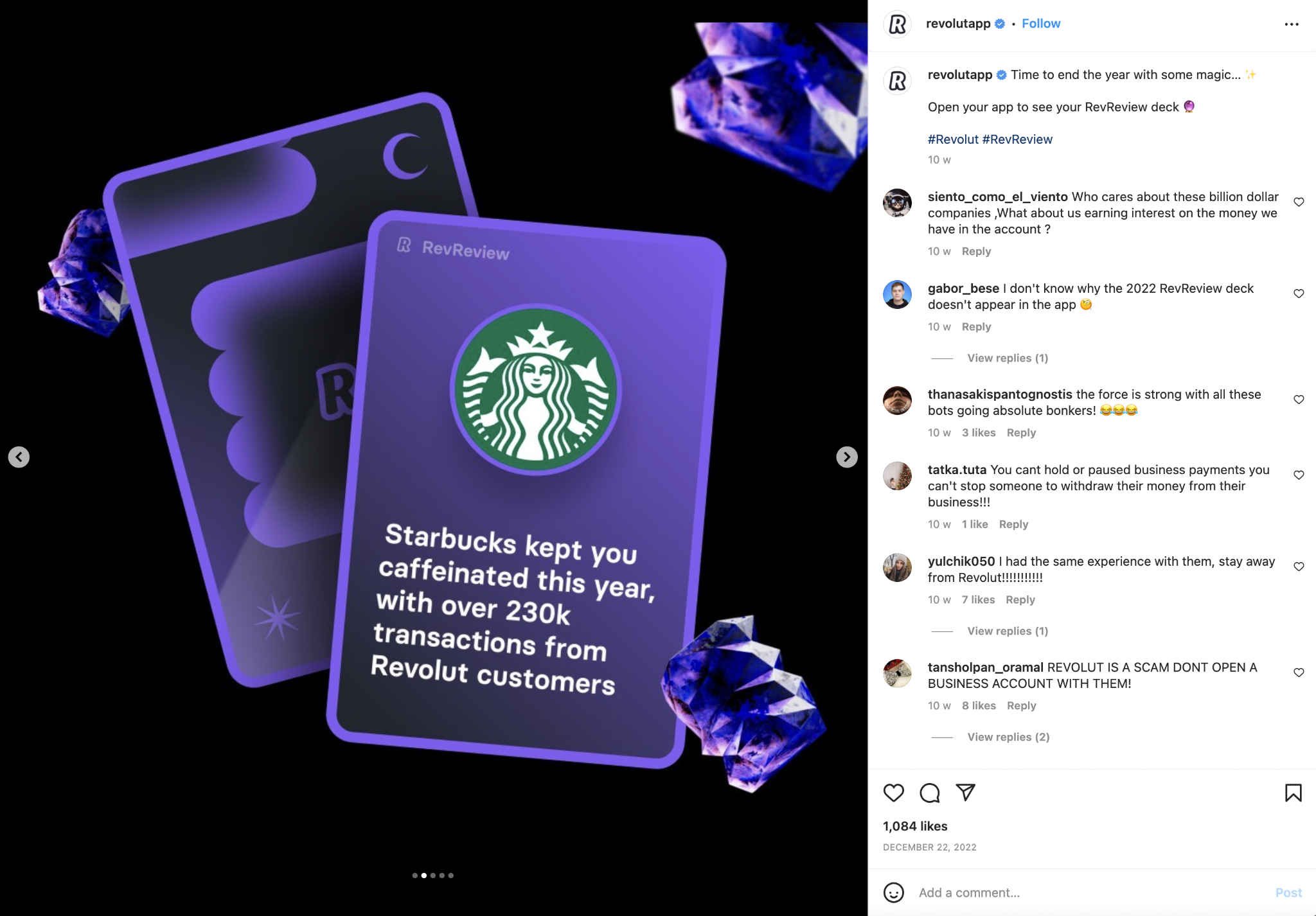 One of the leading sectors driving the edutainment boom was fintech, with brands not only offering money-saving advice to followers but also generating some interesting facts about customer spending habits.
As a blend between entertainment and education, this content can toe the line between light-hearted content and interesting information–much like Revolut's year in review, which focuses on some of the more curious areas of consumer spending trends.
The rise in popularity of short form video means that fun facts can be encompassed in short snippets and stories. This also offers businesses the opportunity to create fun industry-relevant tutorials and explainers that can be genuinely useful for their followers to view.
It's also worth taking the time to consider common industry misconceptions, or offer up a great life hack that can be performed using your product. It's also worth checking out your website's FAQs section and conducting social listening to better understand customer pain points that you can address on social media.
For brands and marketing departments alike, the rise of social media has generated a wide range of new approaches in boosting brand awareness and promoting products. Through short video, it's possible for greater levels of creativity to be showcased while still catering to users that may have shorter attention spans.
These new innovations will greatly benefit digital marketing teams that are willing to embrace their own creativity and create more impactful, informative, and entertaining content. For those who are willing to add their own personal flourish on existing social trends, the sky's the limit.
The following two tabs change content below.
Latest posts by Chandni Panjwani (see all)