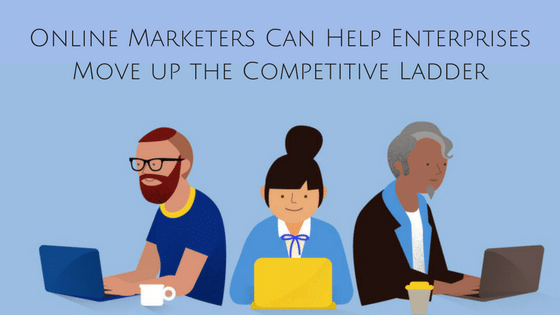 If having a website is obligatory for any enterprise large or small, then it is equally necessary to have the right supporting and expert SEO service. Without a solid SEO foundation, a website just does not achieve the traction it requires to move up the competitive ladder.
Search engine optimization or SEO, on the face of it, is apparently easy. It involves some keyword research, link building, analytics, a bit of social media, content marketing and blogging with a PR here and there.
One might argue that there is no need to bring in a third party SEO expert when in-house staff can take care of these little things. These little things, however, add up to a larger whole that is quite complex if looked at in depth.
SEO today is an art and science blended with experience and expertise. It is also time-consuming and does cost money. Still, however, for a company to generate traffic and revenues it is a wise thing to assign internet marketing to those who have resources, skilled people, and capability.
Let's consider one by one all that that goes into a simple term SEO.
#1. Research and Analytics
This is really at the heart of carefully crafted strategies of search engine optimization. Keyword research is crucial because, in a way, it serves as a steering point for traffic. People use various keywords in different contexts and geographic locations. Such chosen keywords are used not only for website onsite optimization to ensure it aligns with search engine algorithms but also in content marketing and that too in the right context for a natural feel.
Internet marketers may choose just one set of well-researched words or create tier I, tier 2 and tier 3 lists and then work on them from various angles concurrently and keep tabs on outcomes helped by analytics. Analytics is embedded within a website and gives internet marketers a good idea of how well they are progressing, creating inputs that will help them fine-tune strategies as they go along.
The right SEO expert will keep clients informed at all stages in a transparent manner.
#2. Link Building
Link building, content marketing, blogging, and PRs are all tied together to the base of creating thought leadership content that is well researched and expertly written. Google and other search engines do give precedence to such content which, despite the rise of infographics and video, still remains the king.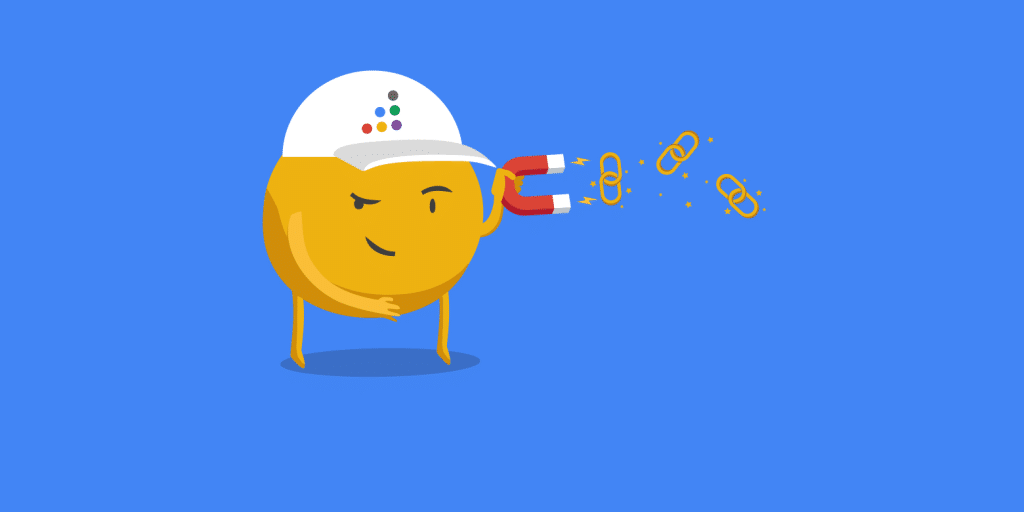 Content by itself is one thing. Experts in SEO know where to post such content and do it in a way that will encourage webmasters and bloggers to reciprocate by linking to such content and this creates a vital inbound link that Google likes so much.
This is where technique separates experts from novices. Google's Panda algorithm searches for content that adds to the store of knowledge and frequent updates that get a website an organic rise in ranking. Content is not just putting together a few paragraphs.
The writer, when writing a blog post or an article, needs to become thoroughly familiar with the client's business, products, competition, and targets as well as know how to present a topic in a fresh, engaging way. Content has to flow and it needs creative, inventive minds to keep the stream steadily flowing. 
Knowing where to post content is just as important as creating content and this is an area where experienced SEO webmasters shine. They have past results to go by. This means no trial and error or broadcasting methods in the hope that something will come out of the effort.
#3. Social Media
Social media rose to prominence in the world of SEO and internet marketing because search engines, especially Google gives more weight to this aspect. Social media is a great and organic way to generate streams of increasing traffic over time, resulting in higher number of links to the website and convertible traffic.
Social media can be something as simple as creating a page and posting some content. It can be more refined when SEO experts create a strategy for unique branding and establish an authoritative presence that results in groups of followers recommending the content in their circles.
Social media has a great influence and reputation management is integral to it which means constant monitoring to look out for negative posts and constant activities to enhance reputation. The social media pond is not just text; today one must necessarily include video, infographics, and images too.
Email marketing is one of the effective strategies used by online marketers to boost company's value up. Many companies across the globe believe it to be dead. But it is indeed not. Still, it is an ongoing trend and internet marketers use it the maximum.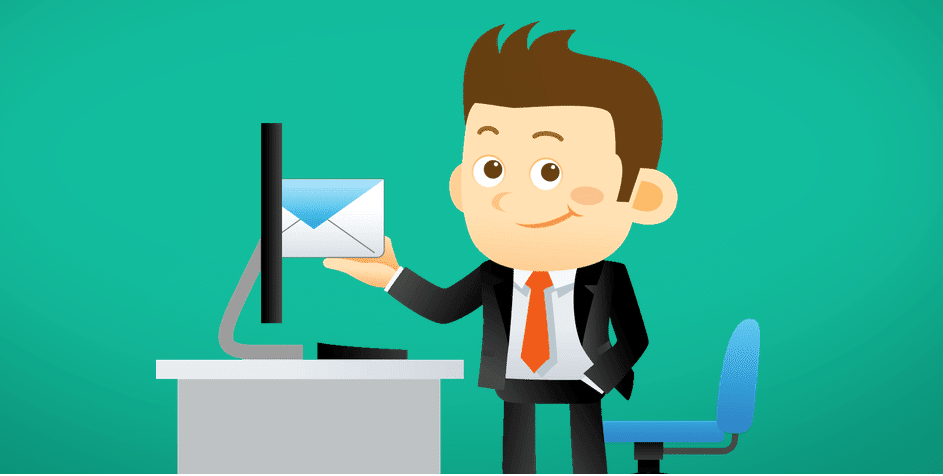 According to the stats, 89% of marketing professionals employ email marketing tactics to generate potential leads.
But what can we include in email marketing to capture users' attention?
Email marketing is not just about text, you can even make your emails creative and innovative using the combination of text and visuals, text and videos etc. An email with a powerful subject line is immensely effective. For instance; Amazon pushes amazing emails to its customers during Cyber Monday, Black Friday and Christmas. These three are the biggest events where Amazon comes up with remarkable offers influencing users' purchasing power.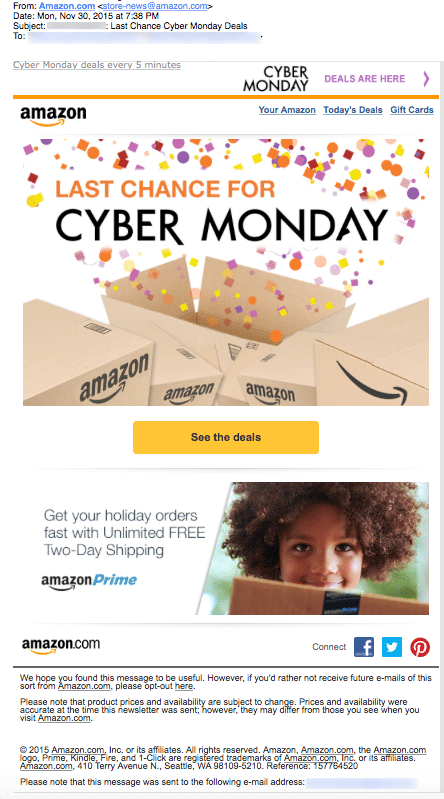 Amazon focuses only on user acquisition. Hence, it dives deep in knowing its users and their purchasing pattern. It is safe to say that Amazon is the only company which has a presence in every part of the world with a vast user-base. All thanks to its marketing techniques and tactics. 
#5. Impact of Mobile
Mobile has made the world compact and connected. 90% of the users' time is spent on mobile in browsing or operating apps. Therefore, Google now equally considers mobile to strengthen a site's presence.
According to the statistical analysis, there has been a growth of 80% in mobile search in the last two years. Besides, marketing professionals focus more on mobile advertisements to reach out to more like-minded people. There are various ad campaigns running on mobile to increase click-through rates.
With the passing of time and advances in mobile technology, users count more on mobile to make their purchasing decisions anytime, anywhere. Amazon mobile is the perfect epitome of it.
Amazon and its people completely focus on executing remarkable strategies to boost their user-base and mobile is their biggest weapon. The gigantic eCommerce store launched Amazon app helping users buy products in less than a minute. It optimized the product search and buying process giving users a unique app experience that resulted in an increase of5X conversion rate.
Next, the company launched Kindle, an app store for Android, Amazon Underground, and Amazon Mobile API services providing users everything at one place to not let them go anywhere.
How Is It Done?
Knowing what SEO encompasses is one thing but knowing how to go about it is crucial to success. It may be possible to focus only on sporadic content marketing or intermittent social media activities but the outcome is questionable if there is no sustained activity.
In the same breath, one can say that a deluge too does not work. SEO experts work as a team and closely monitor the outcome of each foray, using them as inputs to fine tune the next wave. What this means is that activity should be constant and spread across all channels that ultimately lead to the success of your SEO efforts.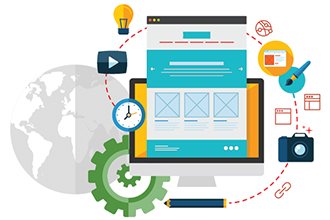 Companies that look for SEO services that deliver results would like long-term association because SEO can be compared to a tree that needs time to grow and bear fruits in an organic way. This means looking for an established and reputed internet marketer, not someone who starts and then moves away leaving clients in the lurch.
Such established digital marketers know that SEO can become expensive over time and, therefore, they offer bite-sized affordable SEO activities that a client can afford. Pricing and quantum of work are not everything—results matter the most.
The right SEO service provider will stay by the client's side and continue to work in a collaborative fashion, convincing the client to keep the activity alive and giving convincing proof in the form of results that generate revenues.
Summing Up
Google keeps on updating algorithms and SEO standards to make website ranking strict and robust. Apart from the above-mentioned tactics, there are several other internet marketing strategies that you can implement to create a competitive curve. But remember that it is not a one-time activity but a continuous one rather.
Therefore, it is good to choose an experienced and innovative internet marketing professional who can assist in doing so. Good luck!
The following two tabs change content below.
Hardi Vora
Hardi Vora holds the position of Digital Marketing Executive at
Ecosmob
, a Digital Marketing Service provider company. A writer by day and a reader by night, she is having keen digital marketing skills along with an experience in writing an SEO-friendly, creative & informative contents for distinct industries.
Latest posts by Hardi Vora (see all)