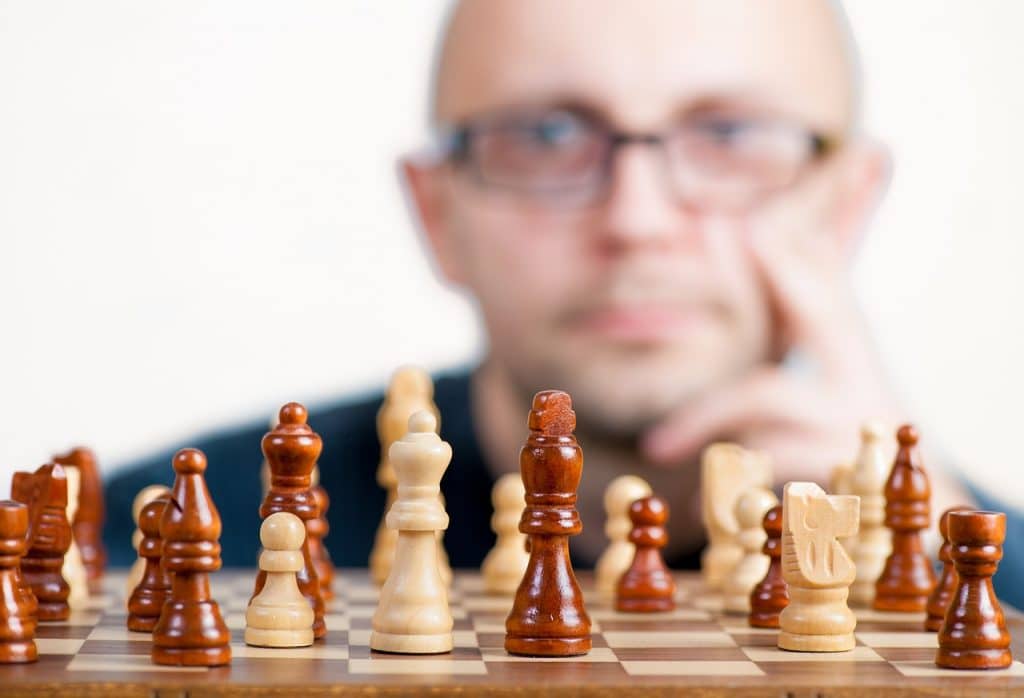 This article is going to break down how one person can outwork the big digital agencies when it comes to SEO and internet marketing.  
But who am I to be giving this kind of advice, right?
Fair enough. My name is Craig Tuttle. I used to work for two of the SEO agencies in my city as a Director of SEO, then the Director of Marketing. I decided to go out on my own over 5 years ago when I found out we were having our first child. I didn't want to miss out on time with her because I was working for someone else. I now outrank my former employers (who outsource their SEO client work to me) as well as the other bigger agencies in my city. This article is how I was able to do that not just once, but I repeated it again in multiple cities.  
There's an old adage that the best results come from the big companies with an army for a workforce, but that's simply not true. Especially when it comes to digital marketing and actually generating results. You simply have to have the right knowledge and leverage your time, and you can outwork any big marketing agency that you go up against.
It Starts With Knowledge.
Far too often I see big marketing firms not able to deliver to their clients. In my hometown, there is a very big agency and they have more than 6 dentists that they do SEO for and NONE of them are on the first page.  
How is that possible? 
It comes down to knowledge. The internet marketing game, and especially SEO, is ever-changing. It is something that you have to constantly be working on. You have to study and test. And then you have to adapt your strategy. The fact is what worked last year, or even last month, may not work today. And the strategies that worked for one particular website might not cut it for another. Not every niche is the same. Not every website has the same competition. So doing the same thing for every client is blasphemous. It just won't work.  
You have to be willing to learn and relearn. You have to constantly try to improve your knowledge and seek out other SEOs and try to learn from them. There are so many mastermind groups that trade information. Getting into a few of those will benefit your game immensely.
Search Facebook and try to find some SEO groups. But the key here is to find groups that are active, and that have members that actually have results. If someone is on there giving advice, but their site isn't even ranking on the first page, chances are you don't want to be heeding any of their tips. Look at the members and see if you can find their sites. The fact is that the best SEOs are not going to be working for anyone else but themselves. They can earn far more money on their own than they can by sharing their expertise at a company. 
#1. Leverage Your Time
One of the hardest things that any SEO ever does is let go and allow someone else to do the grunt work. The grunt work is the time consuming, tedious tasks that can easily be outsourced. But it's so hard for the solo SEO to let anyone else do it because they are afraid that the work won't be as good as their own work. The thing is, you can only do so much grunt work. You'll never have time to scale and grow the business if you're doing the menial tasks.  
We all know that links are a huge part of the SEO game. And finding the right places to get links is what makes a good SEO a better one. One method that is great is Guest Post Outreach. It has been talked about a lot from SEO gurus like Brian Dean and Ryan Stewart.
What a lot of them don't talk about is the content that you need once you get those link sources. A lot of times the sites require a massive amount of content. If you are doing any type of outreach at scale, it's going to be hard for you to write these articles yourself.
One of the best guides that shows you not only how to reach out and find guest post opportunities, but to also outsource the content is the GuestReach method for guest post outreach. This is a perfect example of you doing the "hard parts" and outsourcing the grunt work so you can concentrate on what will generate tangible results.  
#2. Learn to Use Tools
Back in the day, there were all kinds of spammy SEO tools. Things like SENuke and Xrumer would actually work to get your site ranked by spitting out garbage links all over the place. Google has wisened up to these tactics and handed out some harsh algorithm updates to do away with a lot of the old school tools. But there are plenty of tools that are well worth the time to use, especially for the solo SEO looking to outwork the big dogs. 
Ahrefs
Ahrefs is my favorite SEO tool. I use it a lot to judge the power of a website since it is the best backlink tracker out there. I also like to use it to see where my competitors are getting links from. There is nothing easier than finding out what the competition is doing and just doing it a little better. That's why one of my favorite things to do with Ahrefs is to look at my competitor's links, download them to a CSV file, sort them for power (or UR rating), and visit those sites to see if I can get a link from them.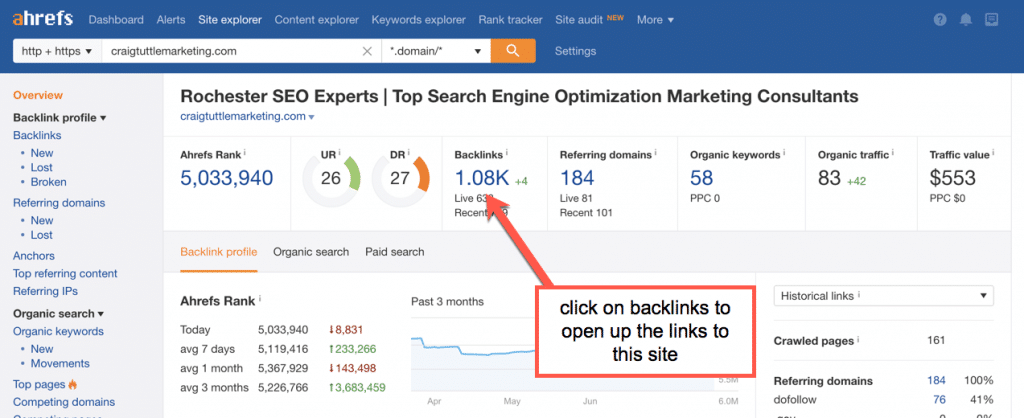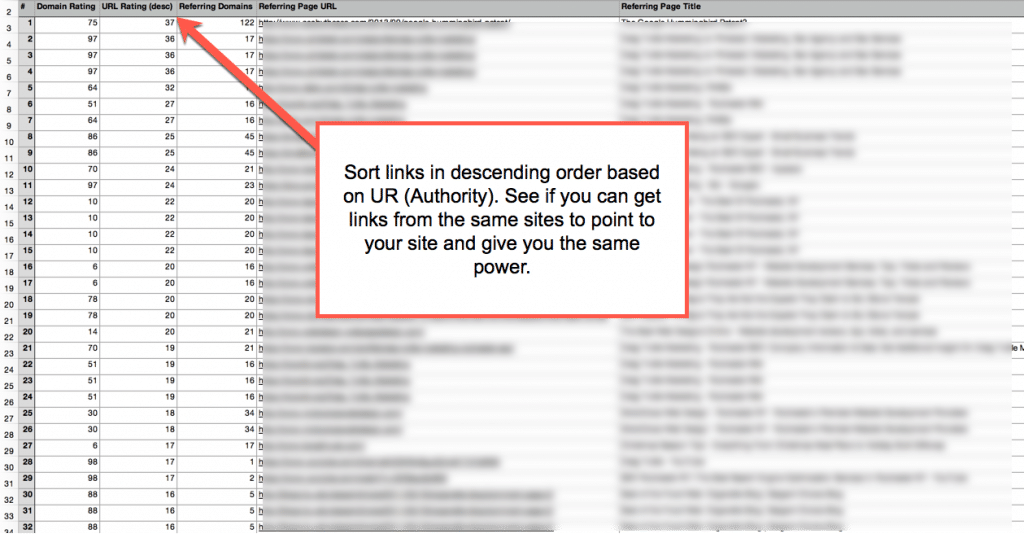 You would be surprised how many free links you can get this way. You will also find some stellar linking methods if you know what you're looking for.
Ninja Outreach
Ninja Outreach is a tool that I use a lot when I'm looking for a site for possible link opportunities. But I don't actually use the tool, I use the Chrome plugin that is connected to my account. I just feel that it gives me more control. The way that I use it is that I go to Google and I use search engine operators. For example, if my client is a podiatrist, I will search "podiatrist in URL: "write for us" ". This tells Google that I am looking for sites about podiatrists, but that somewhere in the URL it will say "write for us". The only time those words are ever going to be in a URL is if the site is offering guest posts.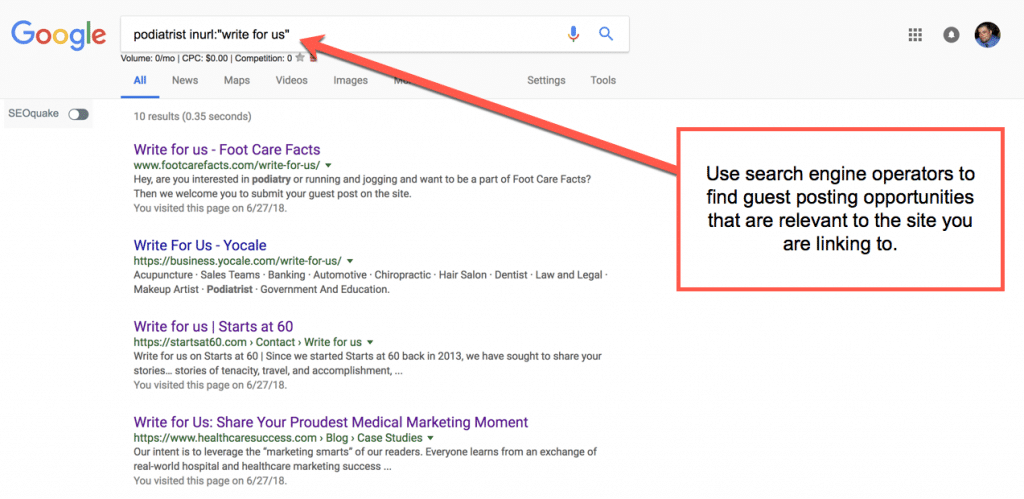 Now I open all of the results on a separate page and go through them one by one. The first thing I do is make sure that the site is actually what I want. That is will accept guest posts about podiatry. Then I use the Ninja Outreach Chrome plugin to give me some stats on the site so I don't have to look at it in other tools (taking up even more time). If it's powerful enough of a site (good DA, good traffic, some social profiles) I will add it to a list right in the plugin.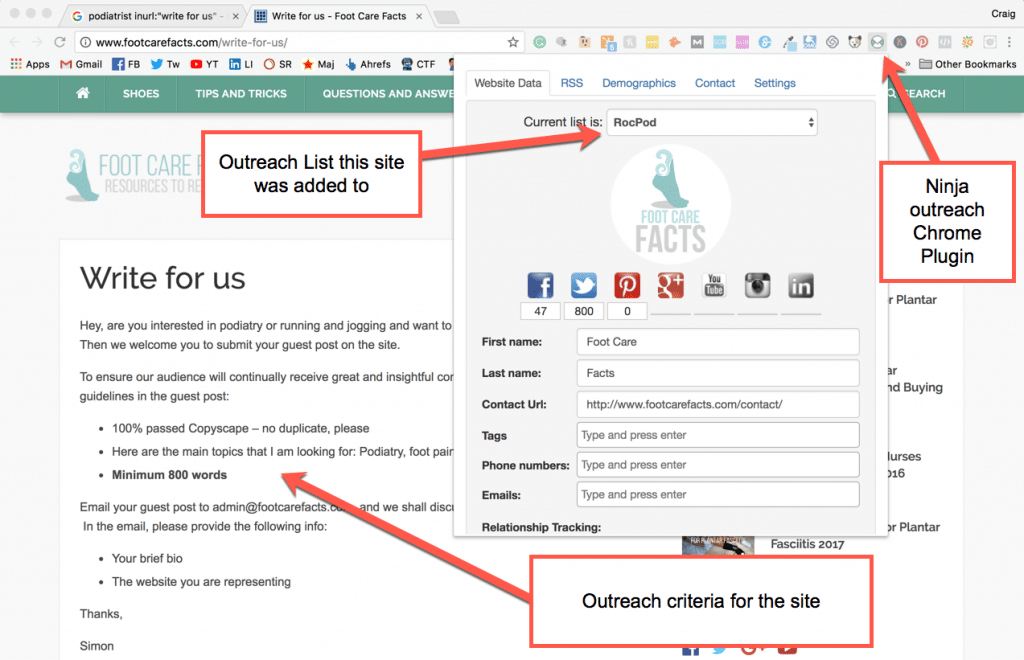 After I have enough I will go to the Ninja Outreach site, log into my account, and download the list of sites. This will allow me to contact them all at once so I don't waste time going back and forth.
#3. Gmail Canned Responses
One of the most time-consuming things in a day is always email. Whether it is looking at your emails throughout the day, or sending emails to prospects or clients. That is why I leverage canned responses in my emails. I create templates that I send to my clients. I have to make subtle changes to each of them, but at least I don't have to go in and write email after email essentially saying the same thing. If you don't utilize this feature you are seriously missing out on some time you could be saving by not writing out your emails.  
#4. Google Drive
I'm very different when it comes to the way I do SEO and the way I share my campaigns with my clients. Every client I work with gets their own Google Folder and Client Workbook. These are all a part of Google Drive and I have a master Project Management Tracker that has every one of my deliverables for every one of my clients on it. Complete with due dates, task explanations, and the status.
I make a change in my Project Tracker and it is reflected in the client workbook. So as soon as I'm done with a task, I mark it complete and create a Google Doc or Sheet to correspond to the task and put it in their Folder. I then link to it in my Project Management Tracker and it updates in the Client Workbook. So they see that I am doing work. They see when things are due and what is coming up. They can follow along with the campaign.
This has been my biggest time-saver EVER. I no longer get bogged down by client phone calls asking me "what is going on with the campaign?" They have access to it 24/7, along with my next time-saver. 
#5. Data Studio Reporting
I utilize Google Data Studio and create reports that update daily. These reports are based on Google Analytics and Google Search Console Data, so I'm not just reporting on rankings increases for a finite number of keywords. I'm showing them exactly what is going on with the campaign.
Where the traffic is coming from, how many impressions we have had. How many queries. What pages they are going on. And much, much more. The best thing is that they can go in and change the dates to look at the data however they choose. It's a live report. So I don't have to spend any time at the end of the month writing up nice reports for clients. They have their reports whenever they want.
And we're not going off of rankings for a finite number of keywords that may or may not get the traffic. We are going after everything we can to increase their traffic. And we do this by using the data.  
So these are a few of the ways one person can outwork big agencies when it comes to SEO. By being parts of the biggest SEO masterminds online, you can stay on top of the SEO game and constantly learn from your peers. You can leverage outsourcing to save your time from doing a lot of the grunt work that eats away at your day.
And utilizing SEO tools can really save you a lot of time so you can use that time on scaling or generating actual results for your clients. I hope you enjoyed this post. Let me know in the comments any ideas you have that help you as the solo SEO to outwork the big dogs in your area!
The following two tabs change content below.
Craig Tuttle
This article was written by Craig Tuttle. He runs several SEO websites that rank on the first page in several cities. His first site is
CraigTuttleMarketing.com
which he opened up in April of 2013.
Latest posts by Craig Tuttle (see all)