Website audit has been an essential tool in any respected SEOs tool box for many years now. But what are they? Why would you need one? And what will it tell you? Let's find out.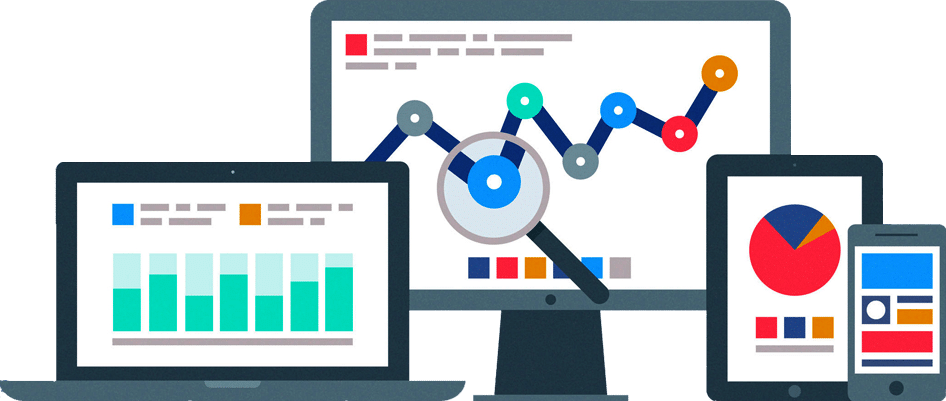 What is a Website Audit (And why do I need one)?
A website audit is a process that involves analyzing numerous metrics of a website to determine how strong its on-page SEO is. They used to be conducted manually, which took a significant amount of time and was not particularly accurate. However these days, website audits have become mainly automated.
Automated website audits are simple for a webmaster to conduct. It is literally a case of selecting your preferred auditing tool and typing in your URL. The audit usually takes less than 30 minutes to conduct. When it has been completed, a report will be generated which will often identify on-page SEO issues. When remedied, these issues can cause significant increases in rankings.
The accuracy and depth of analysis conducted by automated auditing software is usually impressive. They provide detailed and brutally honest reports that provide you with actionable information in a matter of minutes.
If you have not had a website audit recently, you will almost certainly uncover issues that require fixing – regardless of how good you think your on-page SEO is.
Many people make the mistake of thinking that an audit is something that should be done once and then forgotten about. But regular auditing is essential to a well-rounded on page SEO strategy. CMS updates, plugin updates, new content, and broken external links are just some of the things that can cause on-page SEO issues with alarming regularity.
What Kind Of Issues Will I Identify? And How Can I Fix Them?
The amount of metrics that are analyzed by site auditing tools are far too numerous to list in an article like this. But let's take a look at some of the more common on page issues that are regularly identified. We will be using screenshots from a Mondovo report on booking.com to help us demonstrate, but other tools are available.
Issue 1: Duplicate Meta Descriptions And Titles
If you check out the sample audit report, you'll see that Booking.com has a total of 18 duplicate meta descriptions and 11 duplicate page titles that were located by the website audit. Google has clearly stated that webmasters should avoid duplicate meta descriptions (and titles) at all costs. If you cannot create unique meta descriptions for each page Google say it is better to have no meta description at all.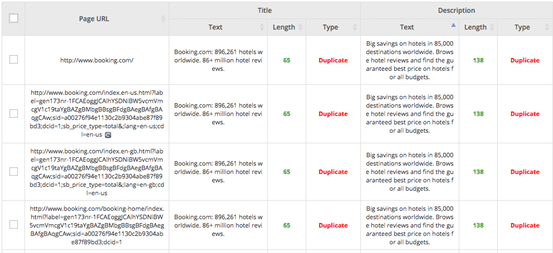 Solution: Manually Edit Meta Descriptions And Titles
This is a simple fix that could be done in under an hour for booking.com. Any good auditing tool will give you a sorted list showing all of the duplicates, enabling you to edit your site with efficient precision. Admittedly these 18 duplicate meta descriptions are not really going to harm a website with the size and power of booking.com. But for a small or medium sized website, they could send Google signals that your website is low quality.
Issue 2: Pages With Over 100 Internal Links
The website audit revealed that booking.com had over 88 pages that contain more than 100 internal links. One page had a huge 898 internal links on it.
Having over 100 internal links on a page is something you might want to avoid unless you have a really large site like booking.com or unless they are on pages that are filled with huge amounts of content. If it's a thin content page and which has only a bunch of internal links, it could be a signal of a low-quality page that can negatively affect rankings.
A more direct effect of this issue is the dilution of PageRank – while this a metric Google does not show publicly anymore, it's still used by them internally to assign value to each page. Each one of the pages identified by the audit will be passing almost no link juice to the internal pages it links to. It is always better to choose your internal linking strategy sparingly, rather than to linking to everything everywhere. Moderation is key here.

Solution: Check For Automatically Generated Links
Most of the time when you have a page on your website with 100 or more internal links they will not have been created intentionally. Content management systems like WordPress are renowned for linking to tags and categories all over the place without a second thought given to SEO.
Inspect the source code of the page and see exactly where the links are and what they do. Remove all of the non-essential ones. Again this issue would probably not hurt a website like booking.com, but could cause a loss of rankings for smaller websites.
Issue 3: Missing Alt Tags
The audit revealed that there were over 99 pages with missing alt tags on images throughout booking.com. One page had a huge 283 images without tags!
With a higher percentage of the web being consumed on mobile devices and tablets, Google is taking accessibility and speed very seriously. Adding appropriate and unique alt tags is just one of the many important variables that Google takes into account when assessing a sites overall accessibility rating. It can help with ranking in Google image search as well.

Solution: Manually Add Tags
The only solution to this issue is to manually locate each image that does not have an alt tag and add a unique descriptive overview to each one. With the evolution of users also using Google for image search and not only web search, it should be a regular maintenance task to find and update any missing alt tags for the images on your site.
So there you have it. Even one of the biggest and most powerful websites in the world has obvious issues that could be solved by a website audit. We must say that we think that booking.com do have regular audits conducted, because for a site of this size (hundreds of thousands of pages) the number of errors is surprisingly low.
But just think about this.
If booking.com can have on page SEO errors discovered by a website audit, there is probably a good chance that your website does too. These were just a few examples of minor issues uncovered by an audit, there's a lot more you can discover when you can do one for your site.
The following two tabs change content below.
Latest posts by Sameer Panjwani (see all)