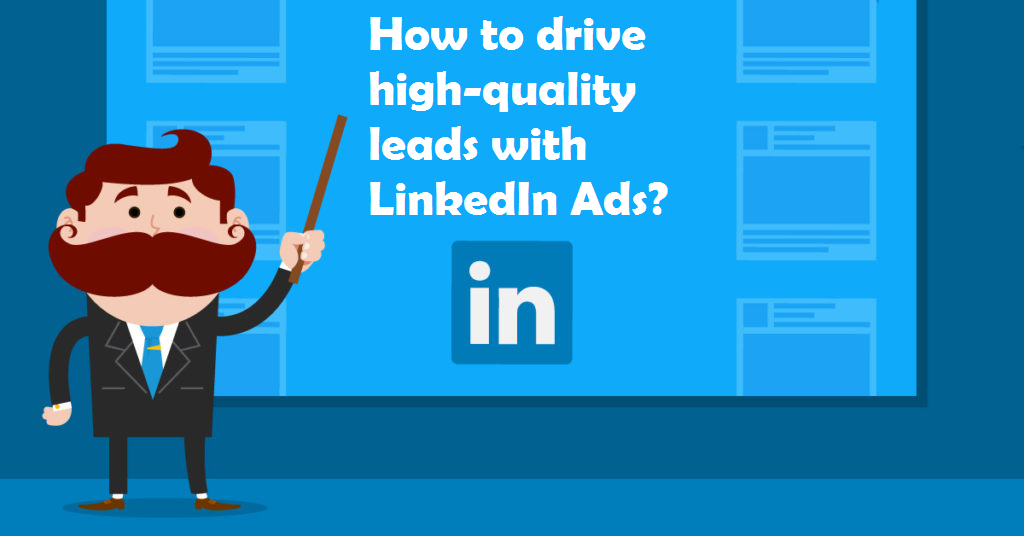 Do you think to have a great product will drive in leads by itself?  No, I'd rather say marketing your product is the most important thing to generate traffic.
Advertising platforms are capable of connecting you to the right people for your marketing messages. 
But, reaching the right audience can be difficult. Instead of spending time thinking "how to attract more audience or reach the right professionals?" you must advertise yourself.
And what could be a better platform than LinkedIn? 
Stats says – "LinkedIn's lead conversions rate is 3 times higher than any other major ad platform. Also, LinkedIn's audience has 2 times the buying power that of an average web audience." 
The other hard part when advertising yourself is reaching the audience that fits your ideal customer profile who would be interested in your business.
LinkedIn offers new ways to easily target the right audience – lookalike audiences, audience templates, and the interest targeting product. These measures will help you scale your marketing efforts and improve your ROI.  
Lookalike Audience –

This trait of LinkedIn combines the rich members of LinkedIn & company data with the search attributes of your ideal customer to find a new professional audience similar to your existing ones.

Audience Template –

This trait of LinkedIn is for those who are advertising for the first time. LinkedIn has some predefined 20 B2B audiences that could prove worthy of your business.

Interested Targeting –

Recently released by LinkedIn, this trait is a new way to reach members that match their professional interests. With more than 200 professional interest categories you can target a highly specific audience.
Objective based advertising on LinkedIn for easy ads – 
LinkedIn's streamlined campaign creation is based on your goals to make advertising easy, which is tough to do automatically unless you research into the best linkedin automation tool and dig into all the nuances of how it works. Campaign Manager is the advertisement platform on LinkedIn. This trait of campaign manager runs on a three-step marketing solution – 
Brand Awareness –

With impression-based campaigns, you get more people to visit your website and know your brand.

Consideration –

Through LinkedIn, you get the opportunity to display your business story or product through videos that drive more clicks and follows.

Conversions –

LinkedIn help generate lead through its marketing solutions. It also helps in promoting job opportunities for your company.
For brand awareness and to convert your considered audience into leads let's get started by building a campaign for your business. First, 
#1. Sign In
To run an ad campaign, you will need to sign up/in the campaign manager of LinkedIn. Once you become a member of LinkedIn you will be allowed to build or generate your own campaign and run ads.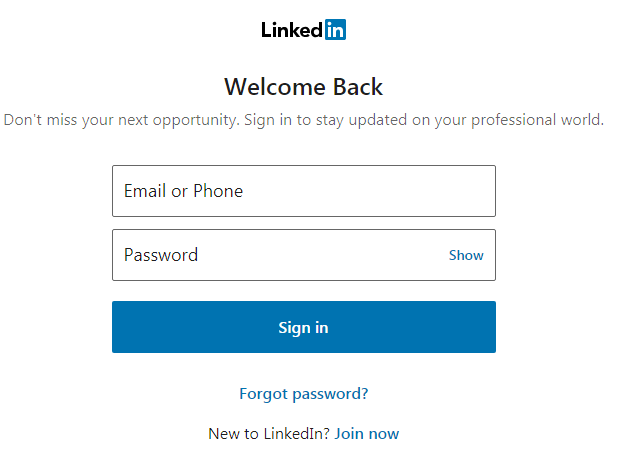 #2. Choice of Objective
From the objective filter drop down option, you can set your object.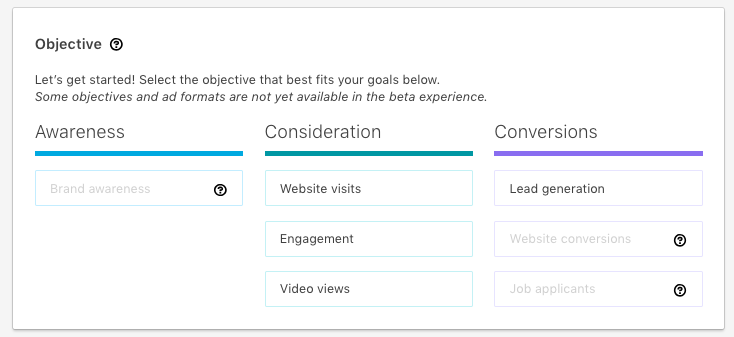 #3. Target Your Audience
The sophisticated feature of LinkedIn that will help you build a campaign and save the needful audience. LinkedIn has various characteristics that allow you to choose the audience as per your choice. One feature is a Matched Audience where you can customize the selection type for the target audience. Matched Audience includes retargeting, email contact targeting, and account-based targeting.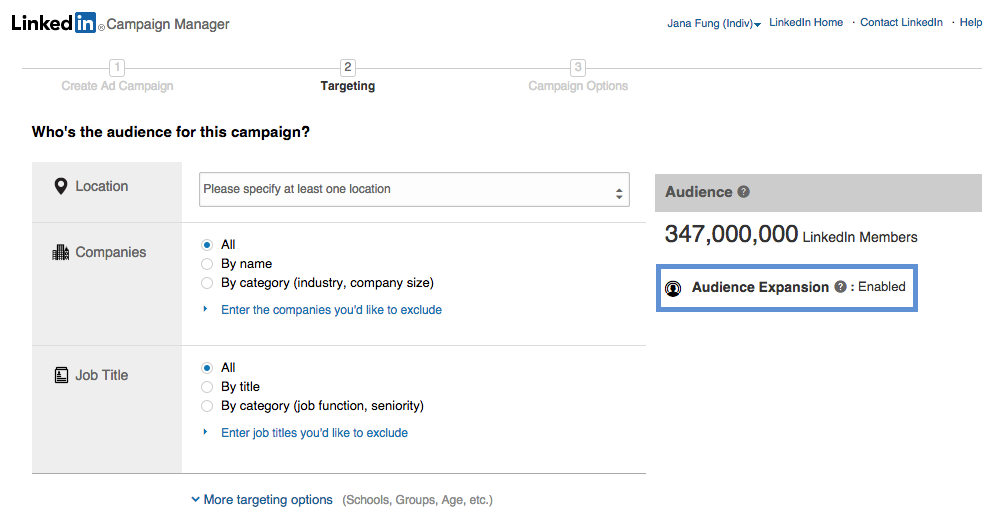 #4. Choice of Ad to Launch
Promote your company with LinkedIn through its powerful feature – ADS. LinkedIn generates 50 times higher click-through rates on recruitment ads than any other typical recruitment ads. An automated feature to distribute ads to the target audience while you relax and stay ahead of your competitors.

Text Ads
The most important part of LinkedIn which people use to drive new customers to their business is text ads. An easy way to create ads where you can choose a professional audience. LinkedIn opportune you to set your preferred budget without the risk of contracts or long-term budgets.
A component of text ads is conversion tracking – this feature tracks the number of leads you are generating through ads. It also measures the value you are receiving from the ads like the returns on the ad spend, cost per conversions, and conversion rate. 
Are you running 2-3 campaigns at a time, and want to check which leads appear from which campaign? No worries, conversion tracking optimizes the results.
Native Ads/ Video Ads
Videos are a great way to captivate your audience. LinkedIn offers this great way to build native video at every stage of the buyer's journey. Adding video content help in better engagement of business decision makers. Native videos will not only promote your brand identity but will also drive in some qualified leads.
Through this feature, you can generate demand for your business by giving a quick demo, webinar sneak peeks, or event preview for convincing the audience.
One of the complimenting parts is that you can easily understand the views of the audience about your videos through their responses. 
Carousel Ads
A creative form of displaying an ad of your product or business in an interactive story to inspire and draw professional to engage with your brand. This beguiling art is the best form to showcase multiple offerings of your business through a swipeable series of cards in a single ad. This form of broadcasting your brand story with an eye-catching visual is an appealing form to invite interaction on both desktop and mobile.
You can feature graphics, people, dynamic texts to gain the attention of the audience. 
 To get the optimized performance of the ad, monitor card performance & update the order of the featured card with the best performing first. 
Dynamic Ads 
These types of ads are simply as their name suggests that allows you to capture attention by personalizing it through featuring your own professional LinkedIn profile data like a photo, company name, job title, and many more. You can also expand the ratio of your audience reach through launching creative dynamic ads like:  
Through follower ad, you can promote your LinkedIn page and acquire followers seamlessly.

Using the spotlight ad, you can increase traffic to your landing page from showcasing your product, services, events, & more.

With the content ad, you can quickly captivate leads by featuring your piece of content (when it's downloaded). Find out how much leads tree trimming are worth here.
Display Ads 
These ads let you accelerate your performance with LinkedIn's First Party professional data to precisely target and engage the right decision makers in a premium context. With the help of highly visible ads, you can showcase your brand, boost your performance, and exceed your objective. Just with the fraction of cost you can scale your campaigns on a trusted and preferred platform programmatically like Demand-Side Platform, and ensure your brand safety by setting monitor frauds, restrict bots features. 
#5. Setting Up Your Budget
LinkedIn is popular because of its flexible budget options, no matter what size is your budget LinkedIn will help you to achieve your marketing goals easily. Still, you might have a question that, how much will it cost you to run an ad?
The amount you want to pay for your advertisement is up to you. You have the power to control your ad – you can start with a nominal budget and stop ad whenever you wish.  The only place where you will feel competition is the audience you are targeting is targeted by other businesses.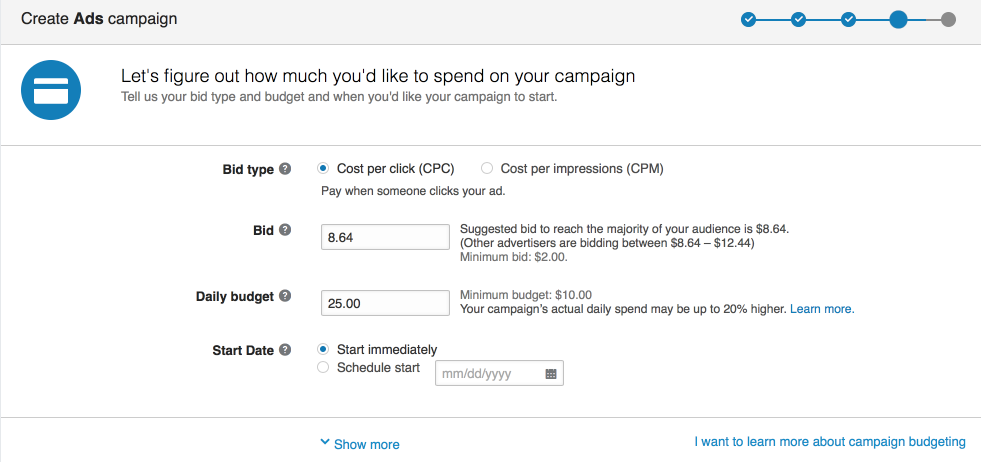 LinkedIn provides you with ways to control your advertising spend. The setting of the budget made easy by LinkedIn with these three ways – 
Daily budget –

This feature allows you to set a budget for a day which will let your campaign run on a continuation.

Setting bids –

This feature allows your budget to be spent only when your ad gets clicks, impressions, or delivered InMail's. You will not have to pay more than your bid price.

Total Budget –

This feature delivers results fast with the set sum. To gain quick results you can use this feature.
You can choose the type of activity, ad format, as well as pricing you want to pay to work for your marketing goals.
Cost-per-Click (CPC)

Cost-per-1000-impressions (CPM)

Cost-per-send (CPS)
#6. Set up Ad Creative
To achieve the set objective, LinkedIn has the following ad formats to follow –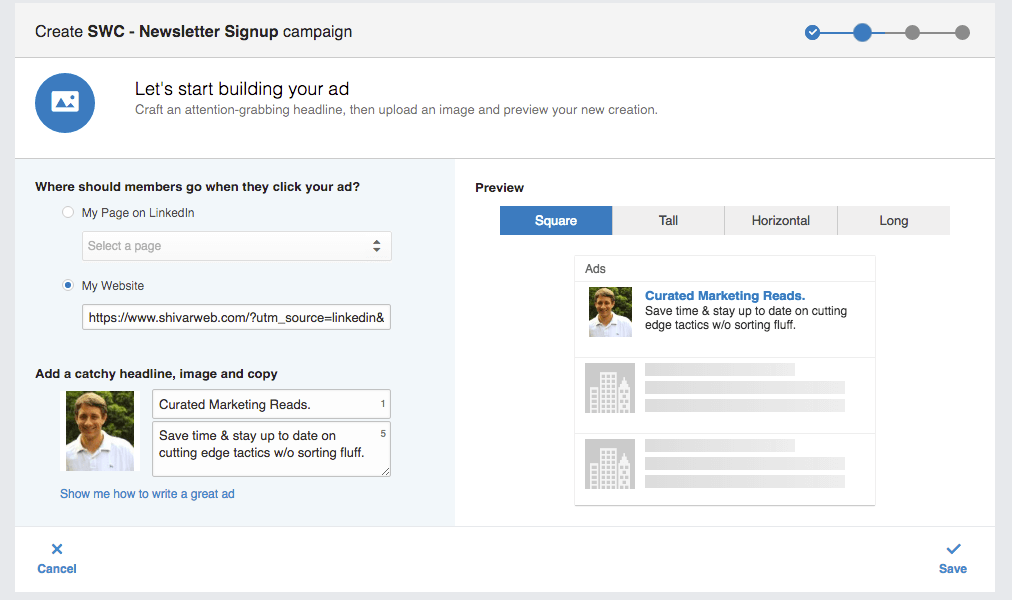 Sponsored InMail – With this product of LinkedIn, you can send personalized messages in the inbox of the people who matter the most to your business, its mobile-responsive design can fit on small screens easily with the CTA button visible both on mobile as well as desktop, so you can showcase your products, promote services, build in-person events or webinars. The best part of the Sponsored InMail is it only delivers you messages when the targeted person is active and make sure that the message gets noticed.  
Sponsored Content – This is another product of LinkedIn to Run Native ads in the LinkedIn feed across desktop and mobile. Similar feature as that of Sponsored InMail, Sponsored Content helps in the engagement of the audience, drive leads in, build brand awareness, and nurture relationships at every stage of the sales cycle targeting audience even beyond LinkedIn Audience Network. 
Note: If your objective is to showcase single image, display carousel or video ads in LinkedIn feeds than you can work on Sponsored Content formats whereas for message ads or text ads through LinkedIn messenger than the best platform is Sponsored InMail. 
#7. Add and update Your Billing Info
Before launching an ad campaign, it is important to set billing and payment details. LinkedIn takes its commitment seriously thus, to ensure high-quality experience it is important to follow the guidelines to avoid rejection.  LinkedIn guides you with two ways for billing and payments –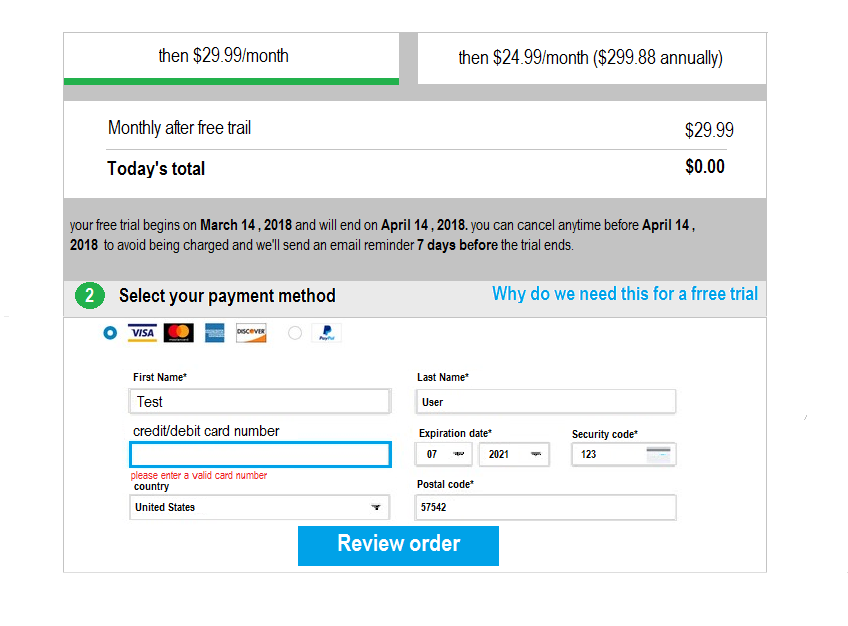 Self-Service Advertising – Billing process works only when your ads work when your campaigns through the LinkedIn account. Your billing information will be stored with the LinkedIn that you can update, remove, apply for advertising credits. 
International Currencies and Billing Policy – LinkedIn supports diverse currencies and applies a certain amount of VAT and Sales Tax on products as well as multiple payment options set for international customers as per its terms and policy. 
Over to You
Choose your audience as per your domain, set your objective to target, and build creative ad forms to build a presence in the market. Once you come into the limelight, leads will automatically be generated. Keep your goals high even if you have a limited budget, it's okay to start with it. Keep things simple and easy to understand yet captivating for the audience to know your business in order to engage with you.
Launch! You are now ready to compete with the market.
The following two tabs change content below.
Arpit Saxena
Arpit Saxena is a Digital marketing specialist and LinkedIn ads specialist at
MAAN Softwares INC
. He has been with this company for the past 2.5 years. He also has good experience and knowledge in writing articles on Marketing trends, mobile app development, web design, and technology trends. He finds covering the tech world an exciting and engaging experience, as each day brings new and groundbreaking technologies to explore and write about.
Latest posts by Arpit Saxena (see all)