"Facebook business page optimization… What does that even mean? I just fill out the details and I should be good to go, right?"
A lot of online business owners think about Facebook optimization. Indeed, it can seem that simply creating a page there – just like you do with your personal account – is enough for a decent web presence, but it's really not. Certainly not in early 2020.
Today, your business needs to optimize their presence on every online platform, be it a social media website or a business directory. Facebook has a special place here because of the wide popularity of the platform (your target customers are certainly using it).
In this article, you're going to learn how to optimize your Facebook business page for more sales by going beyond just "filling out the details."
#1. Get Facebook Page Name Right
"So how you can this wrong? Just type your business's name and you're done."
Again, that's how many business owners think about this. Just "typing the name of your business" is not optimization!
Let me explain.
Let's suppose that your name is Samantha Brown and you're a real estate agent working in Los Angeles (fancy!). At your Facebook business page, you just "typed your name," so its title doesn't really differ from your personal page.
That might be a good idea if at least everyone in the tri-state area knows you by name so they don't really need a lot of time to find you (they just look for your name on Google).
But what if you're not a well-known business?
In this case, limiting your Facebook Business page's name to your name is a really bad idea because people generally don't search for names when looking for realtors.
They look for realtors.
This means they use keywords like "a real estate agent in Los Angeles" to find a person that can help them with finding real estate in that city.
Long story short, your Facebook business page name should also contain keywords that describe your business and are used by your target customers to find you online regardless of the search engine.
Here's an example. Cindy Ambuehl, a real estate agent from Los Angeles, has the keyword "realtor" in the name as well as the hashtag needed to find her on Facebook or Messenger.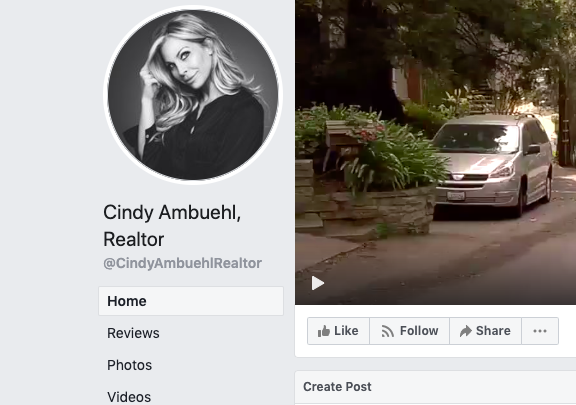 So the bottom line here is that you need to include a keyword or a keyword combination in your business page's name to increase the page's visibility and help your potential client find you easier. To quickly identify the right keywords as well as their search volumes, you'll need to use a free keyword research tool.
#2. Make the About Section Short, Sweet, and Detailed
Even though the About section is not as prominent as it used to be – you have to find it in the page menu – it still remains relevant because it describes your business to potential clients. To make sure that this section is properly optimized at your business's page, you have to do the following:
Complete all Fields
When someone discovers your page for the first time, they know nothing about you. That's why you should complete all fields in this section to be able to provide visitors with maximum information.
Include Relevant Keywords
"Find a way to write a description that features keywords in a natural way to avoid sounding like a robot," says Tierra Wauters, the head of content. "Have a list of keywords that works for your business to be able to attract as much traffic as you can but don't overdo it."
Indeed, keyword stuffing is an outdated technique that won't get you anything except a penalty from Google for keyword stuffing.
More on keywords in the next sections.
Be Short and Sweet
The main reason why you shouldn't write poems here is that the information can be picked up by search engines and converted into a preview. For example, here's how the folks at a Boston-based restaurant The Rudder at Rockyneck described their business in the About section by including keywords like "local New England seafood," "sushi," "Italian," "gluten-free options," and more.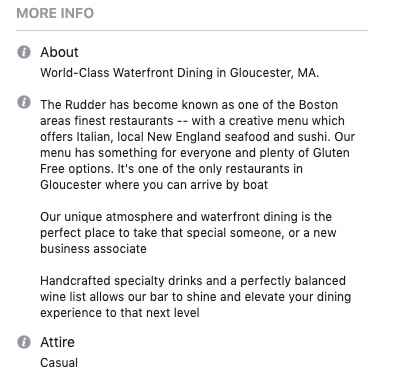 Search engines can easily pick this up and show it in the results. Here's how the above-mentioned description looks like a search result in Google.

To make the description concise and helpful, focus on describing the details that your potential customers could be interested in. For example, a restaurant can mention the following details:
Cuisines

Ambiance

Menu details (prominent dishes, etc.)

Location

Happy hours

Special offers

Lunch hours.
#3. Facebook Business Page Text Optimization
While we've already mentioned keyword optimization, this one deserves a separate section. Every word that you have on your Facebook business page can potentially be picked up by search engines, so make sure you base the content on long-tail keyword research.
Why long-tail keywords? Since they contain more words, they are more specific, therefore, the number of businesses competing for them is also lower. 
For example:
Long-tail keywords for a head keyword "restaurant in Boston:"
Boston seafood restaurants waterfront

Best seafood restaurants downtown Boston

Best lobster roll restaurant Boston

Best outdoor dining restaurant in Boston

Dog-friendly seafood restaurants Boston.

Lots more!
Naturally, not every restaurant in the targeted area serves seafood and is pet-friendly, so you have a good chance of standing out from the competition by including relevant keywords in the page's description.
Once you've identified a list of keywords, keep including them in the posts you share – video titles, image descriptions, textual descriptions, etc. – to make them work on your online visibility.
Mondovo's long-tail keyword research tool can be helpful to evaluate the competition and volumes for keywords you're considering for your business page.
For example, check out how the tool found more than 1000 long-tail keywords in less than a minute for a niche website.
#4. Add Calls to Action (CTAs)
A call to action is a message that describes the action you'd like your visitors to take. For example, you may want them to contact you in some way, visit your website, book an appointment, or shop your product range.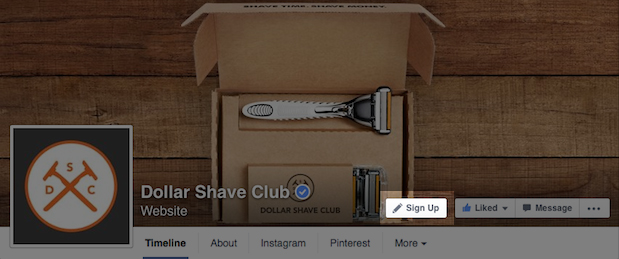 CTA buttons on Facebook are a way for businesses to interact with customers, and the platform allows selecting from a number of options, including the following:
Shop now

Book now

Find your match

Contact us

Find out more.
Using the right CTA button can help with boosting customer acquisition efforts. In fact, the above-mentioned Dollar Shave Club has been able to increase the conversation rate by 2.5 times thanks to the Sign-Up CTA button, according to this Facebook guide.
That's why different businesses use different CTAs. For example, Eileen Claffey, a professional photographer, chose to go with the "Send Message" CTA. This makes perfect sense as getting in contact with her potential clients is a major goal for Eileen.
That's why clicking on that CTA opens Messenger so you can write to her.

Pro Tip: Facebook has recently launched Messenger for Business to make communication between companies and customers easier, so make sure that your brand also provides this option.
Here's the official Facebook guide to using Messenger for Business to know more.
On the other hand, eCommerce stores like Best Buy use different CTAs. Since they need to redirect social media users to their website, "Shop Now" is a much better option for them. This is why Best Buy Canada's official Facebook page has this CTA.

Clicking on it, of course, takes to the official Canadian homepage of the company.
Here are some tips for you to choose an appropriate CTA for your business:
Choose Book Now if your business needs customers to make appointments

Go for Shop Now if you sell products that are readily available online

Select from the Get in Touch set of options in case you're available to answer messages quickly.
More Stuff to Keep in Mind
While everything we considered to this point is essential for Facebook optimization, there are many other things you can do to increase the ability of the page to help with sales.
Share content your potential clients are interested in. Sales announcements, product explainer videos, contests, giveaways, etc. are all great for eCommerce businesses

Invite people who liked your posts to like your Business Page

Invest in Facebook Ad campaigns. These can be effective in driving Facebook traffic to land pages on your website

If you're using WordPress, install a Facebook plugin to allow people to share your content on social media.
Now, after we've covered a lot of optimizations for your Facebook Business page, you can explain why "just filling out the details" on Facebook business pages is not going to cut it.
The last thing that you should know that Facebook regularly updates its algorithms so stays updated on what they're doing to be able to follow their guidelines to stay visible and discoverable.
The following two tabs change content below.
Daniela McVicker
Daniela McVicker is a blogger and a freelance writer who works closely with B2B and B2C businesses providing blog writing, copywriting, and ghostwriting services. Currently, she blogs for
TopWritersReview
. When Daniela isn't writing, she loves to travel, read romance and science fiction, and try new wines.
Latest posts by Daniela McVicker (see all)