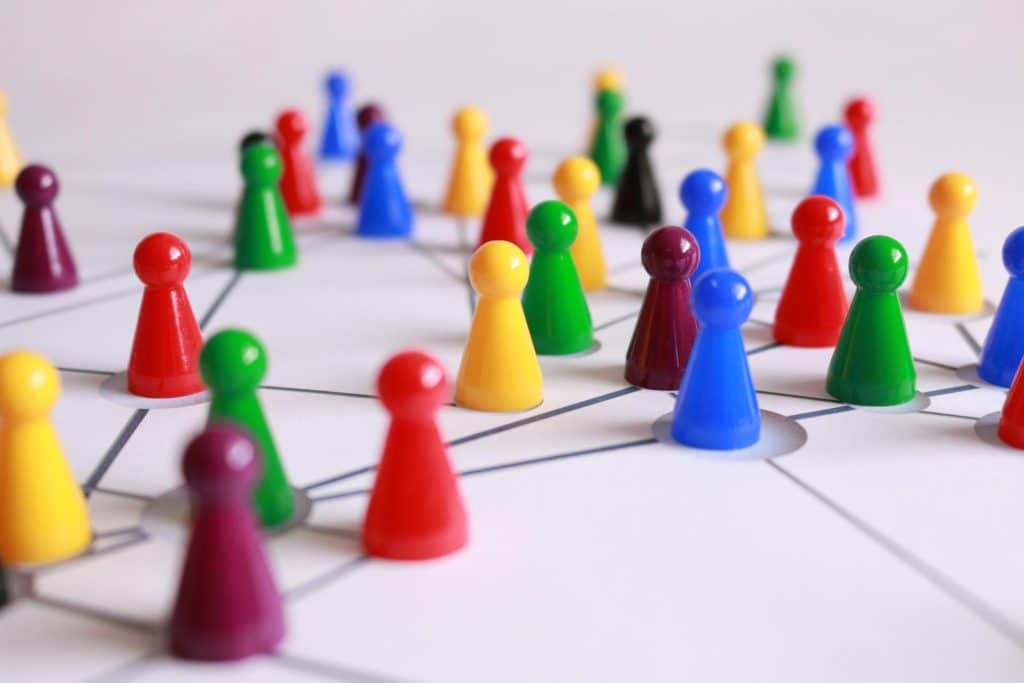 Online marketing is a constant race to come up with something that would help your business stand out. But as soon as you do and it works, your rivals copy you so you need to start all over again. Luckily, there still are techniques that have stood the test of time and proved to continuously work and bring results. One of such tactics is influencer marketing.
And right now we're living in its golden age. Brands in different domains cooperate with popular personalities to get access to their followers and it works like a charm. But the truth is that some products and services are much easier to promote this way. Often all you need to do is buy sponsored posts from a popular girl on Instagram and enjoy those leads coming in. But what if your target audience doesn't make buying decisions based on what a model on Instagram tells them?
Well, then you need an algorithm for finding the right influencers who will bring real value to you and your business. These days there are influencers in pretty much any business niche and they are eager to cooperate with entrepreneurs and marketers. So let me show you how to find and choose the ones that are likely to help you make money. But first…
Does Your Business Even Need Influencer Marketing?
There has been a ton of posts about the importance and amazing results of influencer marketing. But the truth is that it isn't a silver bullet. So before jumping in and investing in influencers, it's worth realistically evaluating if this tactic can really help you.
In some niches, influencers are too expensive to work with and some businesses are better off using other promotional channels. To decide if you need influencer marketing and to what extent you should implement it, here are the main reasons to do it in 2018: 
Access to a new engaged audience

Traffic boost from social media

Backlinks from content published on an influencer's website or elsewhere
I'd say that the latter point might be the most important. See, the news feeds are faster than ever now. So, a social media post mentioning your product will be buried under tons of new content in an instant. At the same time, if you get featured in content published on an influencer's website or they mention you in a guest post, you get permanent impressions, visitors and, most importantly, a link to your website increasing your domain rating.
Over the last years, influencer marketing has been popping up in all the marketing strategy discussions with new clients. And even people in conservative business domains like enterprise software development agree that it's worth testing out. So I'd recommend spending some time researching the influencers in your niche and see if any of the competitors are already using them. If you can afford it time- and money-wise, maybe try testing this technique for a couple of months. Unlike SEO, this time can be sufficient to see if it's working for you.
The Types of Influencers Discussed
There are many schools of thoughts when it comes to categorizing influencers. But on a basic level, you can separate them by audience size and engagement. And it might be your first instinct to try to cooperate with the ones who have the highest numbers, with the Kardashians of your business domain, but that might not be such a good idea. In my experience, it's best to target the so-called micro influencers.
Both research data and empirical experience show that people who are just starting to get popular, show superior audience engagement numbers, charge less and sometimes are even willing to cooperate in exchange for just your product or additional exposure (a share from your social media or a link from your site. 
Overall, micro influencers just tend to be less arrogant: they answer emails quickly and do their work more thoroughly to make a name for themselves. Of course, often you need to partner with many micro influencers to gain real traction, but if you look at pure ratios of impressions to likes/clicks/shares, you'll see that big stars in your niche often don't come close to such results.
I don't think you can put a number on where a regular person ends and a micro influencer begins. For niche markets, someone with a thousand followers might be the biggest star. In such cases, the small number of followers might be compensated by their quality and engagement.
Criteria for choosing influencers
When you're building a marketing plan for a new business, it's important to specify the criteria you'll be using when choosing influencers for cooperation. Here's a short list of criteria I tend to look at: 
Social media/website posts engagement (comments, likes, shares)

Quality of content they put out and how often they do it

Previous collaborations and their results if available

Website's domain rating (Ahrefs) and traffic estimates (Similar Web)

Is their personality in tune with the brand I need to promote
You might ask why is there no follower count on my list. The thing is that lately, this metric is so easy to skew that it doesn't give me that many insights. Sometimes a person with 1k followers can show far better results than someone with 20k, just because their followers are loyal, engaged and trustworthy. So you'll have to rely on your gut feeling and knowledge of your niche here. Yet if I had to come up with the rule of thumb here it would be to choose people who are considered an authority.
Tools to Use to Find the Right Influencers
All the tools I list below have free trials so you'll be able to do your research and move with your life before you need to pay.
BuzzSumo
Put topics related to your business domain into BuzzSumo and you'll see the most shared content mentioning your query.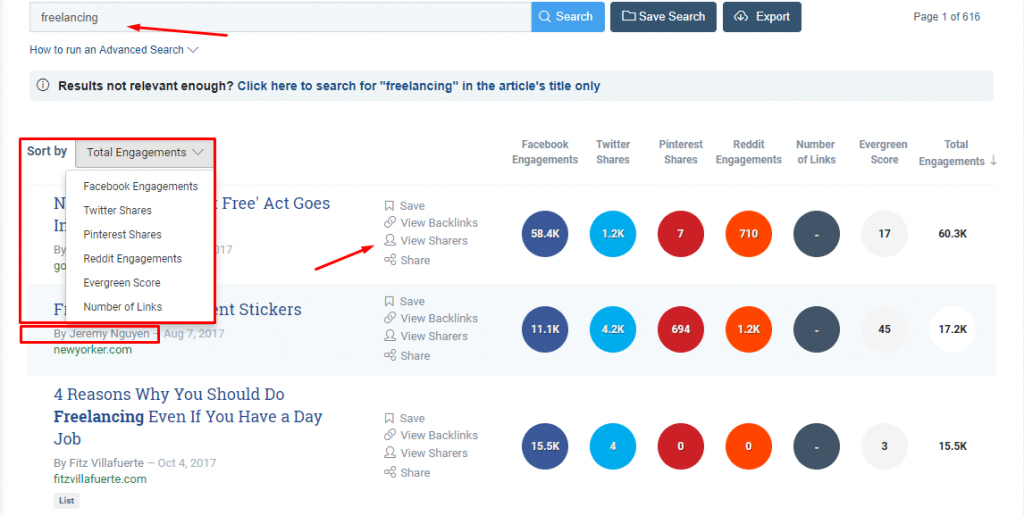 This gives you several things:
Filter results by social media where your target audience hangs out.

See the authors of the popular posts and consider reaching out to them (if they wrote a popular post once, chances are, they'll do it again. Wouldn't it be cool to get a mention in their future content?)

See everyone who shared a piece of content and pick the accounts that got the highest engagement on their posts.
TweetDeck
TweetDeck is handy not only for influencer research but overall for management of your corporate or personal Twitter. With all the information jammed on one screen, you run a far lower risk of procrastinating on Twitter. But let's focus on the functionality that'll help you find the right influencers.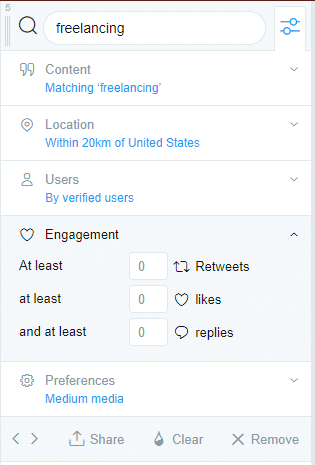 TweetDeck basically uses the Twitter search with a couple of added filters. In the search field, you want to press the "customize" button on the top right corner to set specific parameters for accounts and tweets you'd like to find. Probably the most useful feature here would be filtering by the number of retweets or likes. 
Followerwonk
Followerwonk has been around forever and the design of the tool shows it. Yet it does its work perfectly fine. Even for free, you can find a ton of people and filter them by any criteria that match your objectives.

Basic Research
Of course, you can always go the simplest route and just search for influential people by keywords on social media.

The platform-native tools often provide superior results. Naturally, since they have access to the fullest data about their users, so often you can find way more info on social media directly.
Competitor Mentions
This one is borderline simple link building, but I still strongly recommend using Google ("competitor name" -competitor_domain.com), Mention or Ahrefs Alerts to see when someone mentions your competition and not you. This way you know that the website owner/blogger/journalist/influencer is interested in your fiel, used your rivals and will probably be open to checking your your product or service.
Bonus: Outreach Template to Get in Touch with Any Influencer
Structure:
Greetings

Tell them where you know them from

Reference their past work to show that it's a custom email rather a mass spam letter

Ask if they know about your brand and if they don't maybe they'd like to check out your product

If you feel like it's appropriate, go straight for it and ask what kind of cooperation they are considering at the moment. Alternatively, save it for the second email.

Sign off
Example:
Hi, Name
I'm Eugene from X. I've been following and admiring your work for quite some time now, ever since your keynote at Y.
I was wondering if you had a chance to check out our tool? If yes, what did you think of it? Any comments or tips? If you haven't tried it, let me know and I'll be happy to send it to you for a test.
Look forward to hearing from you.
Cheers,
Eugene
Final Thoughts
Online influencers in 2018 are a lot different than they used to be 5 years ago. They know their worth perfectly well and aren't shying away from monetizing on their audience. As I was saying, free collaboration is still possible, but in order to spark interest, you should offer something in return. If you have a product, consider giving it to them for free to show that you value their opinion and insights. But if a monetary exchange isn't involved, don't assume that they will be obliged to post about your product or even like it.
As I was saying, micro influencers are the game these days. And even though you'll need to cooperate with multiple people, it's a good thing because influencers tend to grow and if you become buddies early on in their career, later on, you might be getting special treatment.
What I'm trying to say is that influencer marketing boils down to building a real and meaningful relationship with people who can help your brand. This means that it works best when you write each email tailoring it to the specific person, sincerely engage with influencer's content and overall help them grow so that they could help you.
The following two tabs change content below.
Evgen
An online marketer, Evgen helps his clients build and execute content marketing strategies. Other than working, he goes to the gym, eats well, sleeps enough and tries to be a good guy.