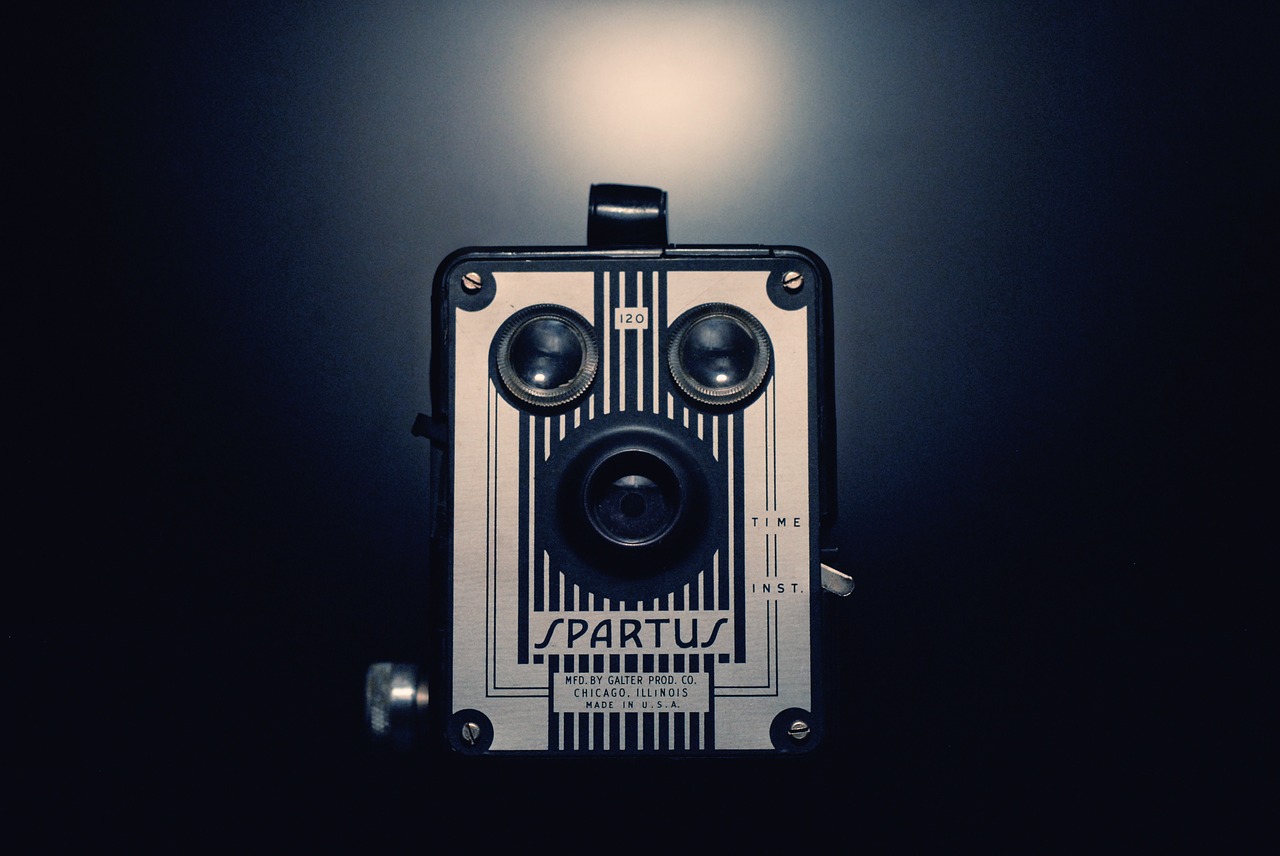 The days of Instagram being a photo-sharing app only are long gone; the video has very rapidly taken over the platform, with the number of videos created each day quadrupling since 2017. Not to mention, as many as 500 million Instagrammers use Stories every day – there's no denying the power of video, not only on Instagram but across all major social networks.
The question is, how should you leverage video on Instagram? What kinds of videos should you create? Should you try experimenting videos like turning minidv to mp4 then use it as part of your content?
Or, in fewer words, what should your Instagram video marketing strategy look like?
In this marketing guide, find out how to leverage video marketing on Instagram: from identifying your goals to tips on creating a video for Instagram and improving your results from the video.
Let's get started.
#1. Know Your Goals
So, you want to create more videos for Instagram – but why exactly? What will you use them for? Which key objectives will they help you reach?
It's important to have clear objectives in mind before starting to think of any video ideas: will you use video marketing to promote your products and make more sales? Or maybe you want to reach more people and improve brand awareness?
But what's more, you should also ensure that each of your videos has an objective; this way, you can craft your videos in such a way so as to help you reach the results you want.
Not to mention, it allows you to craft a call to action that will help you drive people to take action, whether it's visiting your website or blog, buying something from you or converting in some other way.
#2. Coming Up with Video Ideas
Once you know what you want to achieve with your videos, you also need to come up with the appropriate video ideas to help you reach your goals: videos that not only entertain your audience but also drive them to take action.
Here are some of the types of videos you can create and how they can help you:
Product videos

: in order to promote your products and drive more sales from Instagram, you can use video to put the spotlight on your products and show Instagrammers what your products can do, or rather, what it can help them achieve. For example, like

Gopro

often use video to promote their products or specific features:
Brand videos

: you could also put the focus on your brand, occasionally; for example, by showing behind the scenes shots with your team (at the office, at an event, at lunch, etc.), or a short video telling the story of your brand

Brand news and upcoming events

: is anything of note happening with your brand? Maybe you're preparing to launch a new product or maybe you're opening a new store; here's how

Shack Shack

uses video to let people know about their latest location in Atlanta:
Educational videos

: educational videos can provide a lot of value to the viewer; use this format to share useful tips with your audience – perfect for driving traffic to your blog and for building up trust

Listicles:

listicles are another great way to provide value to your audience in a very accessible format. Plus, you can look at your own business blog for inspiration on what kinds of listicle videos you should create
As for coming up with actual video titles/ideas, here are a few tips to help get you started:
Look at your blog content to get some inspiration: which of your posts performed best? There might just be a way to turn those same topics into short and sweet Instagram videos. You can use Lumen5, an online video maker, that turns text into social media videos in minutes. It does this automatically by analyzing the text through AI and putting the best music, video, and images together accordingly. It's perfect for re-purposing content in multiple formats, all while saving you a ton of time. 

Research popular content: tools like

Buzzsumo

allow you to look up popular content from your niche. While it won't pull up Instagram videos (rather, articles, blogs, news) it will allow you to see which topics interest your audience the most so that you can come up with Instagram video ideas accordingly.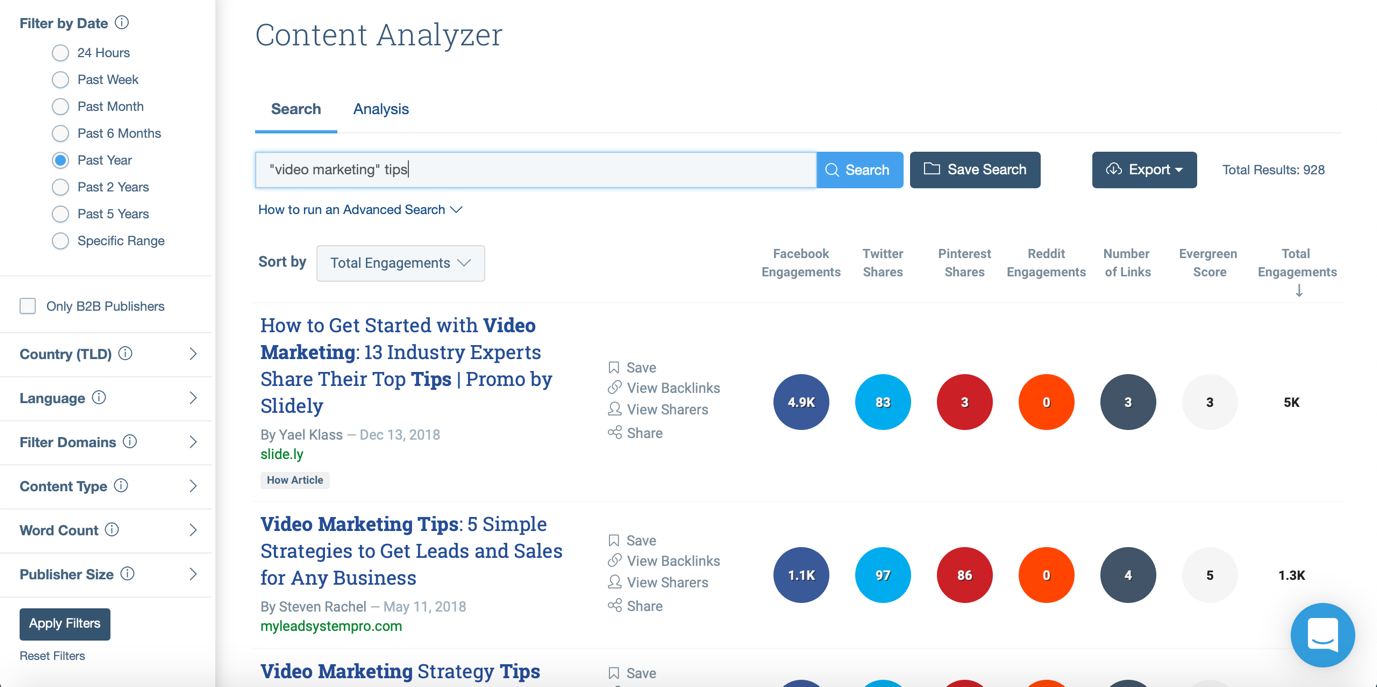 Follow competitors and similar accounts: stay up to date with what your competitors are up to + learn what types of content perform best for your target audience simply by researching your competitors/following top Instagrammers in your niche
#3. Build a Diverse Social Media Calendar
Because video generally takes longer to produce, it's a great idea to prep your calendar ahead of time; from coming up with ideas to producing the videos and to scheduling out your content to be published.
Here's what to consider:
What upcoming holidays are there that you should be aware of? Not just the big ones – Christmas and the like – but also any relevant novelty holidays that you can use to come up with more content ideas

What is coming up next for your business? If you have any new products coming out, new features being included and so on, then leverage video to promote them

What is your daily content mix? Try to post up a mix of different types of updates every day: a few images, some Stories and a video or 2. This will allow you to test different types of updates and see what works best for your audience and what gets you results
To help you build your social media calendar, you can use something like Agorapulse; as a social media management tool, you can use it to fully manage your Instagram accounts, but also to prep your social media calendar and schedule all of your Instagram updates, including your videos.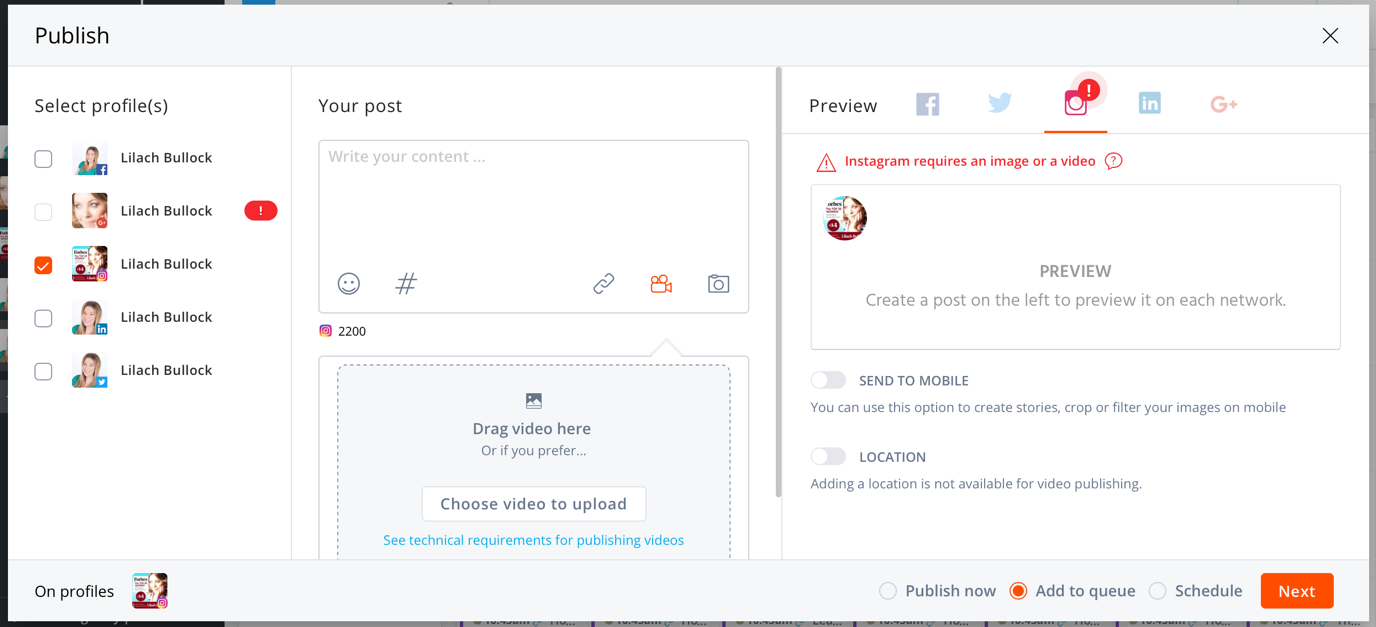 Plus, you can save groups of hashtags to use in your posts, geo-tag your updates and tag other users. And, of course, to manage your Instagram (and other) accounts, including managing and responding to comments and messages and monitoring your Instagram insights.
Another option is something like Later, which is all about Instagram and visual planning.
Use it to upload and manage all of your media and then use the visual planner to start planning and scheduling your upcoming updates. Since this is a tool built for Instagram, you also get some network-specific features like the ability to plan your Instagram feed – just drag and drop your updates in your feed to ensure they all work beautifully together.
#4. Monitor and Optimize Your Video Marketing Results
As you start creating and posting more videos on your Instagram channel, it's imperative that you monitor your insights closely in order to optimize your results. It will help you understand what types of videos work best and which videos get you closer and closer to reaching your goals, also it helps you to get quality followers:
Which videos performed best/worst in terms of engagement? (comments, views, likes – well,

as long as they're still around

)

Which videos performed best/worst in terms of helping you reach your marketing goals?
It's very important to remember your objectives when you're evaluating your results. Lots of views might look great on paper, for example, but if they're not getting you the results you need (i.e. people taking the actions that you want them to take, whether it's to visit your website, leave a comment or even buy something from you) as per your Instagram marketing objectives, then they're merely vanity metrics.
As you learn from these metrics and insights, you'll be able to create video content that is more likely to get you better results and help you reach your objectives faster.
Conclusion
There's no denying that video marketing is huge right now and that even on Instagram, a photo-sharing app, the video has rapidly grown in popularity and it's almost starting to take over photos and images.
Because of that, it's essential to use more video in your Instagram strategy; photos alone are no longer cutting it. Follow the tips in this article to help you come up with video ideas, plan your Instagram calendar and develop an Instagram marketing strategy that gets results.
Have you started creating videos for Instagram yet?
The following two tabs change content below.
Lilach Bullock
Highly regarded on the world speaker circuit,
Lilach
has graced Forbes and Number 10 Downing Street. She's a hugely connected and highly influential entrepreneur. She is listed in Forbes as one of the top 20 women social media power influencers, named one of 10 top digital marketers by
Brand24
and was crowned the Social Influencer of Europe by Oracle. She is listed as the number one Influencer in the UK by Career Experts and is a recipient for a Global Women Champions Award for her outstanding contribution and leadership in business.
Latest posts by Lilach Bullock (see all)