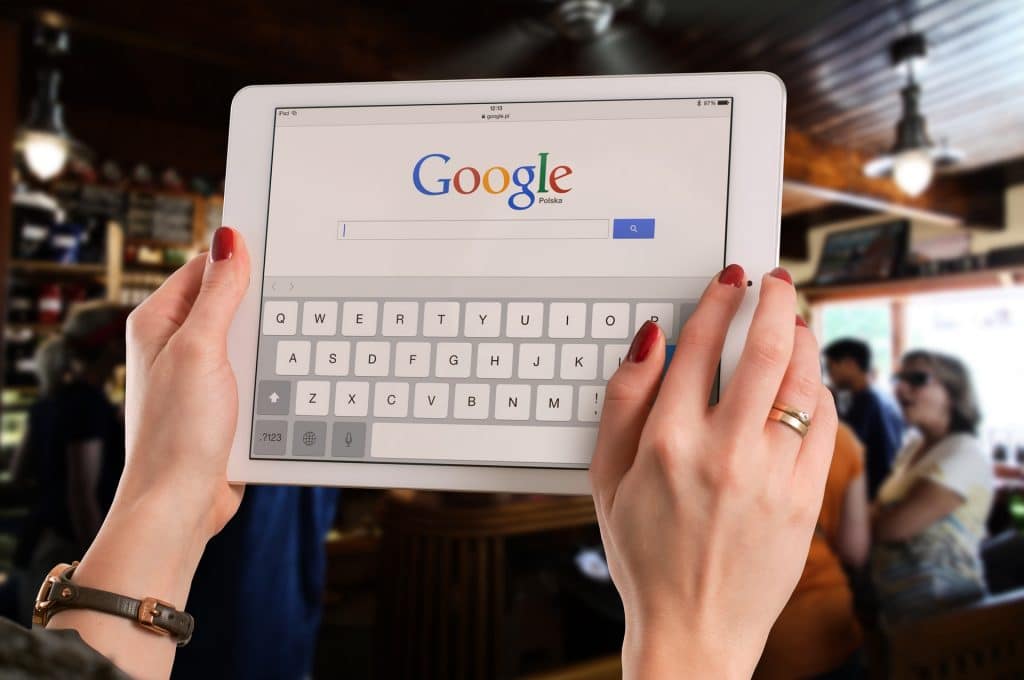 Featured snippets can increase organic traffic to a page by up to 516%, as found in a study by Search Engine Land. While many webmasters focus solely on ranking in the regular search results, featured snippets create a new opportunity to surpass the competition. 
Ahead, you are going to learn how to optimize your content and SEO to achieve featured snippets in Google, and ultimately generate more organic traffic.
What are Featured Snippets?
Every marketer aspires to achieve the #1 rank in Google, but how about position #0? This is what many are starting to call featured snippets, as they appear higher than other search results.  
Featured snippets are specially selected answers that are placed in a block below any ads but above the other organic results. You've most likely seen them before, and they look like this: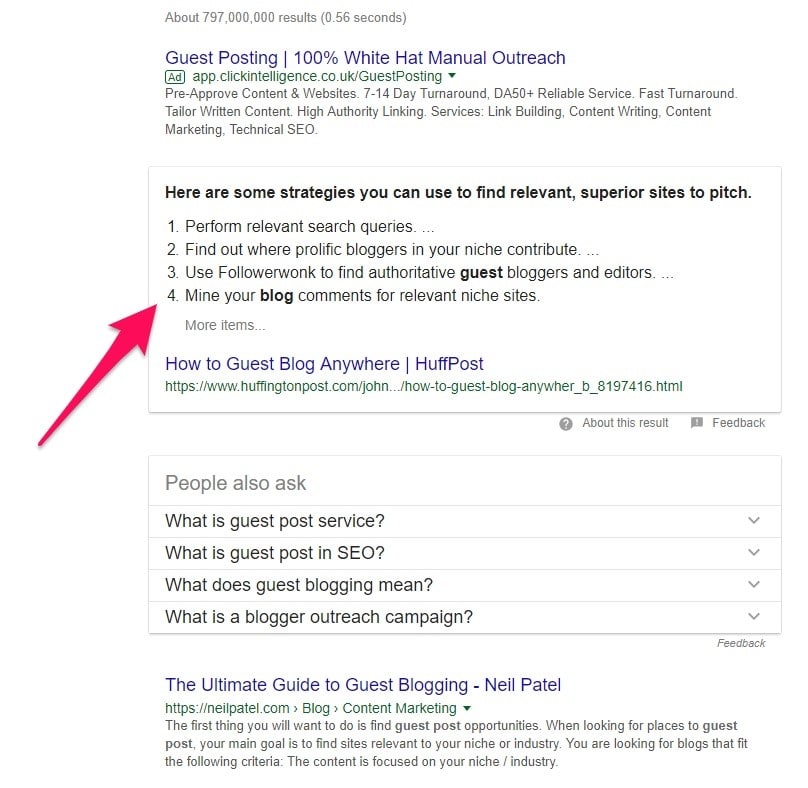 Google implemented this as a way to answer a user's question instantly. Remember, their goal as a search engine is to provide the most accurate and high-quality resources. This will play into how you optimize your website later. 
The Different Types of Featured Snippets
Featured snippets appear in several different forms, depending on the keyword, question, and the content that it extracts. These are the three different formats, which you should keep in mind for how you'd like to achieve your own snippets:
Paragraph
A featured snippet with a paragraph of text accompanied by an image is the most popular style. While it may answer most of the question users are searching for, it makes clicking through to your website effortless.
List
You can see an example of this from the Huffington Post snippet above. It lists a few strategies for guest posting and has a link to view more points, which takes the user to the actual page.
Table
Approximately 7% of featured snippets are tables, making up a very small portion of results. As you could presume, these display a table of data related to the search result. This isn't to say that tables are bad, they just aren't as present in Google. If it makes sense to add a detailed table to your website, feel free to do so.
How Does Google Choose Who Gets Featured Snippets?
Ahrefs performed a study and found that practically 100% of featured snippets were results that already rank on the first page of Google. If this applies to your website, then you have an advantage over competitors to begin with. According to Hostgator, about 70% of featured snippets come from websites ranked below #1 – and the snippets tend to siphon off clicks that would otherwise go to the site ranked #1 in organic results. 
So while it is not required that you rank #1 in order to earn a featured snippet, the same Ahrefs study found specific words tended to be favored more than others. These include:
"Best"

"Vs"

"Recipe"

"Can"

"Definition"



When you think about it, these would be related to questions a user has, and a featured snippet ends up being the perfect resource to help solve their problem. Video and shopping queries don't tend to have featured snippets, though.
Get Featured with the Right Keywords
Now that you know what featured snippets are and the forms they come in, let's get into how you can actually get rank #0. Like all things content related, it usually starts with good old keyword research.  
Since snippets typically revolve around questions, you'll want your selected keywords to be both long tail and question oriented. Use a tool like Google's Keyword Planner to find phrases you can implement into content and pages.  
You can access it through the Google Ads platform, which is completely free. Sign up for an account and choose "Keyword Planner" under the "Planner" section from the tools drop down menu. 
Enter in a question related to your niche or piece of content and it will display the following data.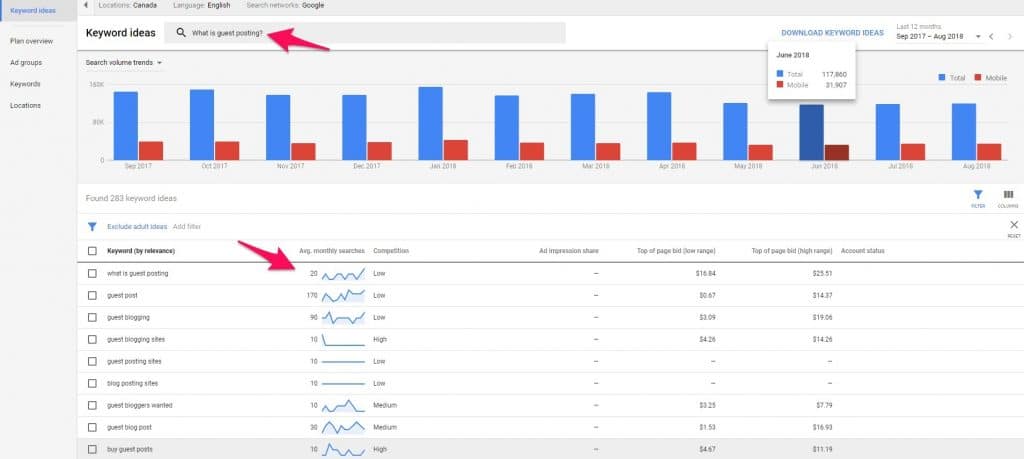 Pay attention to the search volume, as this reflects how many users are entering that keyword into Google every month. Lower search volume normally results in less competition, meaning that you can achieve a featured snippet even easier.  But, don't shy away from high competition keywords. If you can land a snippet, the traffic you would gain could be huge.  
Similarly, you can visit Google and enter one of these keywords, then scroll to the bottom to discover related searches.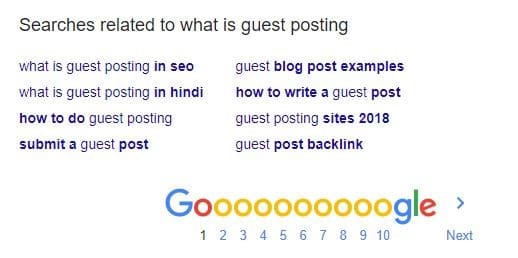 This allows you to get into the mind of your target audience to understand other questions they have and what they are thinking about. By searching "How to guest post", we can see that users are also interested in learning how to write guest blog posts and what it means for SEO. 
Record these into a spreadsheet or note file to keep handy for later when you'll learn how to actually implement them.
Grab the Low Hanging Fruit
If you already rank on the first page of Google for search terms, these are low hanging fruit you shouldn't miss out on. With some tweaks and optimization, you can increase the chance of them becoming featured snippets. 
First, visit Google's Search Console, formally called Webmaster Tools. Ensure that your website is connected and verified so Google can begin collecting data about your search performance.  
When you have completed this step, navigate to the "Search Analytics" tab under "Search Traffic". Here you will be able to view all of the searches that make up the organic traffic to your website.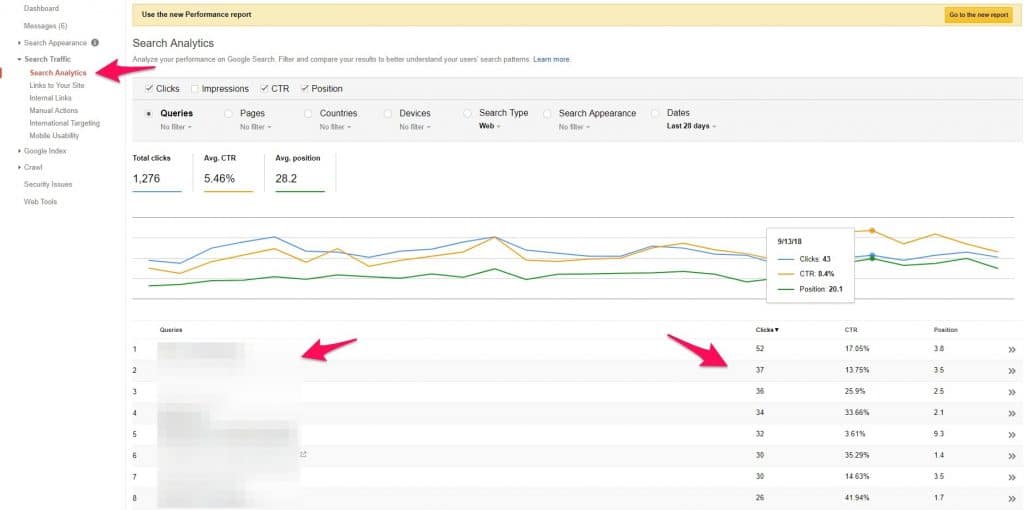 Enable the CTR and position options to determine what keywords not only drive the most traffic, but have the highest click through and rankings. Since Google's first page only displays 10 results, you want to pay attention to your positions that are 10 or lower. Just like with the new keywords you researched before, note your best performers down for the next section.
Get Your Web Pages in Good Shape
With a fresh list of keywords and your existing ones in hand, it's time to optimize your web pages to increase the chance of receiving a featured snippet. Here are some best practices that you can do quickly.
Clean up your URLs
Search engines prefer shorter URLs as they can better understand what the inner content is about. If you include the question users are asking as a keyword in the URL, it will boost your SEO and potential of getting a snippet. WordPress users can do this right from the edit page screen.

Use commas to separate words in a URL, too. Google doesn't recognize underscores or other symbols as separators and will make ranking your website more difficult. 
Similarly, the permalink structure is also important, as it affects readability. In WordPress, you can change permalinks right from the settings page.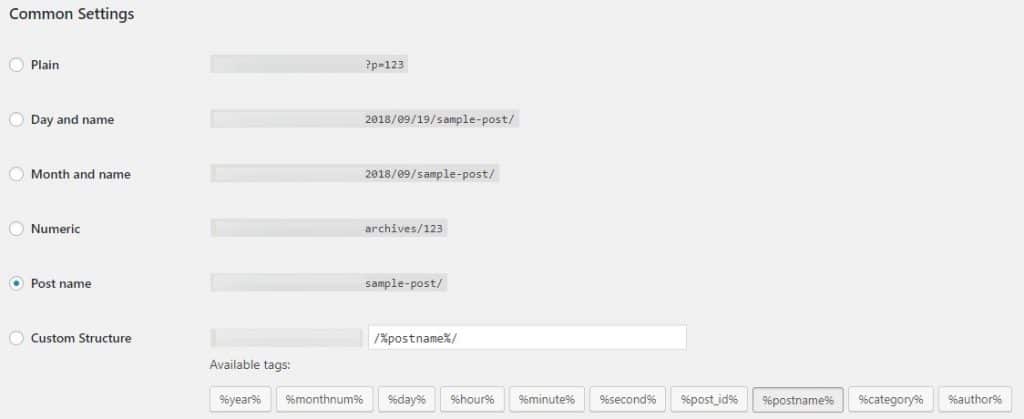 Sprinkle in Your Keywords
Keywords need to be used naturally, or you risk the chance of keyword stuffing. This is the practice of adding in an excess of keywords into pages or blog posts in hopes of it helping you rank. Google is getting smarter by the minute. They reward websites that offer the most value and because of this, you should avoid this risky SEO technique. 
But, you still need to use keywords — just in a way that makes sense and flows well. It will aid in ranking higher and helping get those featured snippets you're chasing after. Here are places you need to add in keywords:
The URLs of pages and posts

As the alt text and file name of images

In header tags

In title tags and meta descriptions

Throughout the body text



Remember the related searches at the bottom of Google you saw earlier? Answer those question within your content, too. Break these down into subheadings if needed.  
The more questions you can provide answers for, the more snippets you can be featured in. One article could potentially be featured several times because of this. Imagine the traffic you could generate and the type of revenue it could bring. 
Use Eye-Catching Images
Featured snippets normally include an image along with the information it displays. These photos are pulled from the article, so it's important that you use relevant and high-quality pictures when creating content.  
Websites like Unsplash and Pixabay are fantastic for finding commercial use photos. Add them as featured images and in relevant sections of blog posts. It's also wise to create graphs and charts to back up any claims you make.  
Canva is one free tool you can use to create infographics, visuals, charts, and the like. Choose a template, start designing, and then save it in any format you like. Upload it to WordPress or whichever other CMS you use.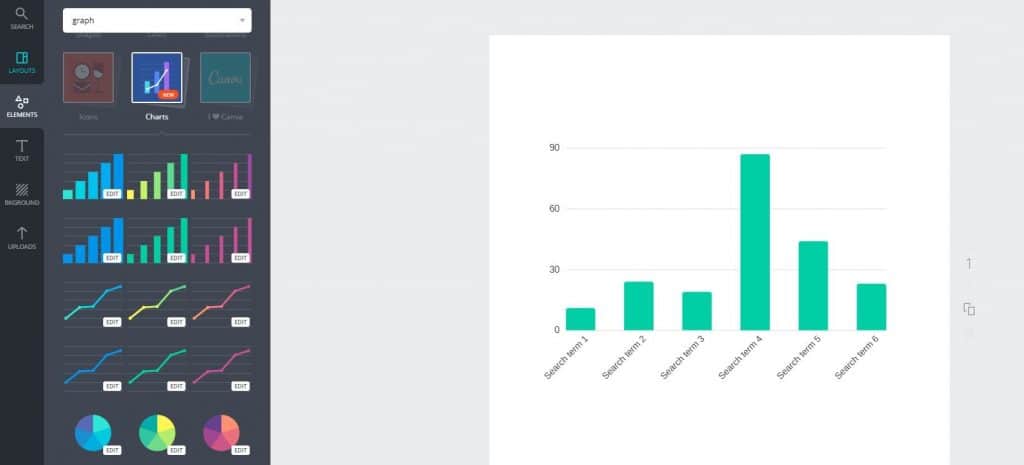 Conclusion
Featured snippets can help you drive more traffic to your website, and ultimately more revenue as a result. Google favors results that answer questions and you don't have to be in the first position to get a snippet. Begin by performing keyword research into questions that your target audience would be asking about various topics. You can also use the related searches at the bottom of the Google results page for ideas. 
After this, use Google's Search Console or other tools to discover which search terms you rank for on the first page. These are low hanging fruit you can target to acquire featured snippets even quicker. Begin optimizing URLs and the body content with the keywords you researched. Add in other relevant questions as well. Use free image websites or design tools to add in high-quality images.  
All of these practices together will help you get featured snippets for new and existing pieces of content. So, what are you waiting for? Try applying these ideas today and watch your rankings soar.
The following two tabs change content below.