Since 71% of social media users use hashtags, this social feature is a powerful tool that marketers can leverage in many different ways. The smartest hashtag marketing strategies will provide tremendous benefits for the business that implements them, the primary positive results being:
Improved brand awareness
Improved brand reputation
Improved content quality and value
Effective content segmentation and personalization
Obviously, the better the strategy the more potential results. Social media marketing is no longer a "should" but rather a "must" for every business, marketer, or entrepreneur who dreams for successful brand exposure and positioning.
If you're wondering how to succeed via hashtag marketing, you've landed on the right spot.
In today's post, I'm sharing essential hashtag marketing strategies and tips that'll help you stand out from the crowd and outperform the rest of your competitors.
Don't waste your time, or mine – implement what you learn here and take your hashtag marketing campaigns to the next level!
Understand the Three Main Types of Hashtags
Before we start discussing practical hashtagging strategies, I feel obliged to cover this important topic.
There are many entrepreneurs, marketers, and companies who are performing chaotic Instagram marketing campaigns, mostly because they don't organize their strategies around the three most important types of hashtags: branded, trending, and content hashtags.
Let's quickly have a look at each.
#1. Branded Hashtags
Every brand should develop one or more unique hashtags that are meant to serve as brand identifiers. A branded hashtag is a distinct, often original keyword or set of keywords that are highly associated with the name, culture, and value proposition of the brand that's using it.
Your own dedicated branded hashtag can help you position your brand in the niche marketplace.
You can use a branded hashtag throughout your social media posts, stories, events, videos, live videos, contests, and all the other marketing campaigns, and you'll eventually get people familiar with your brand's name and identity.
#2. Trending Hashtags
Trending hashtags have already gained popularity and traction, giving you a shortcut towards brand awareness. Trending hashtags have grown popular among millions of social media users, so they're a "proven opportunity".
Every trending hashtag incorporates a topic discussion. Before you use trending hashtags, ensure that your content brings sufficient value to the viewers. Unless you make your post remarkable, it'll be lost in the sea of unseen posts.
On the other hand, if you bring something really nice to the table, your content might get shared around by random users. That'll give you free yet important brand exposure.
#3. Content Hashtags
Content hashtags are related to your products, services, the area of expertise, and so on. When you use industry keywords as hashtags, you're basically posting content hashtags that are closely connected to your brand's value proposition.
Let me give you a simple example. If you run a digital marketing agency and want to improve the reach of your services through hashtags, you can use hashtags like #digitalmarketing, #SEO, #SocialMediaOptimization, #internetmarketing, #smallbusinessmarketing, and so on.
As I'll advise you later in the post, you should consistently track and measure the performance of your hashtags, just to ensure that your campaign is on the right track.
You can easily do that by leveraging digital marketing tools that offer specific hashtag marketing solutions. Here's a useful list that covers a handful of applications and automation features.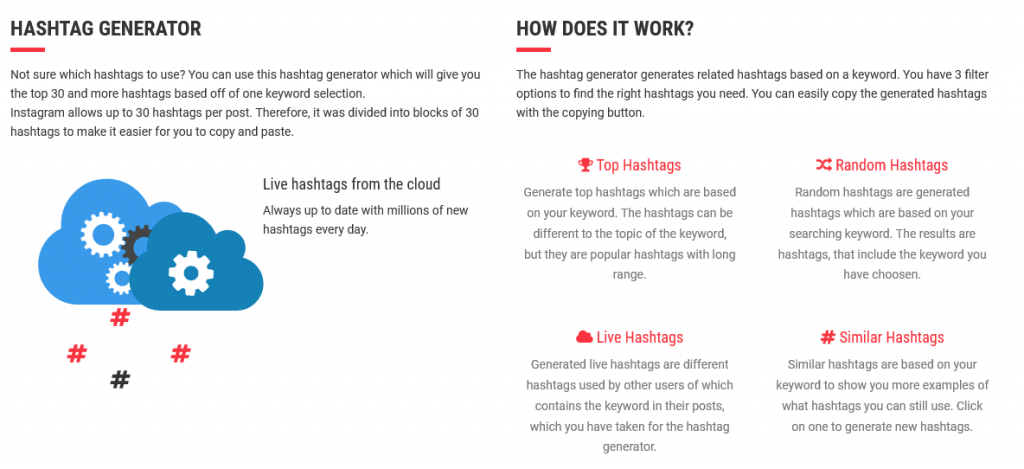 Use a Different Hashtag Strategy for Every Social Network
When it comes to the ideal hashtag strategy, you should be aware that every social media network has its own rules or "good practices".
Quite obviously, you'll need to adapt your hashtagging strategies according to each network. If time is a problem, outsourcing professional content writers could be an effective solution. Let's have a look at the basic hashtagging principles of each popular social media channel:
#1. Instagram
Instagram is king when it comes to hashtags, mainly because Instagram users use and search for a lot of hashtags.
You can include up to 30 hashtags per post, so that gives you plenty of space to test new strategies.
Before you start developing a strategy from scratch, there's an amazing strategy to improve your Instagram content's reach through hashtags that you should check out.
#2. Facebook
Hashtags aren't so important on Facebook as they are on Instagram and Twitter. When posting on Facebook, keep your hashtags short, relevant, and limited. Ideally, one or two hashtags per post. Nevertheless, using branded hashtags can't hurt!
#3. Twitter
Twitter is a social network that favors hashtags as long as they've done with moderation. As long as you don't go overboard, hashtagging on Twitter can significantly improve your brand's and content's exposure.
Same as on Facebook, you shouldn't use too many hashtags per post. Again, one or two should be enough. The mindset is quality over quantity. You can ask your followers to retweet your posts in the same post description, so your hashtags' effect will be doubled.
There are many people on Twitter who use the search feature to discover and explore new topics, through hashtags.
#4. LinkedIn
LinkedIn works similarly to Facebook. The hashtags you use won't bring a lot of outcomes, but they can still be used with moderation. A few hashtags per post should be just enough.
#5. Pinterest
Pinterest's official guidelines advised users to use no more than 20 hashtags per pin. You can only add them in your pin's description, and you shouldn't worry about how many you post. Generally, the more the better. As long as the quality of the content is good, the performance of your hashtags should be steady.
Basic Tips to Improve the Quality & Effectiveness of Your Hashtags
Let's discuss some basic and practical tips to improve your hashtagging use across all social networks:
Focus on developing short, concise, relevant, unique, and memorable hashtags.
Aim for simplicity rather than complexity. Use simple language and keywords.
Avoid being "too clever" or "too controversial". It won't benefit your brand.
Always think in terms of quality over quantity. Don't add hashtags unless they're highly related to your content. Otherwise, you're bringing untargeted traffic.
Specific hashtags are way more powerful than broad ones.
It shouldn't be a rule to post hashtags on every post. Do it with moderation.
You can leverage hashtags to get important insights and statistics on your competitors' strategies.
Leverage hashtag tools to find hashtag ideas, trending hashtags, and your competitors' hashtags.
Use hashtags strategically – create a balance of branded, content, and trending hashtags in your posts' descriptions.
Track, Measure, and Improve Your Campaign Using Hashtag Tools
Every marketing campaign needs to be tracked and measured in order for it to remain profitable. When you make decisions, you take risks.
When it comes to choosing and implementing hashtags in your campaign, you can use the data you've gathered through analytics tools to make choices, you can use your intuition, or you can use a combination of both.
Either way, the process of tracking and measuring the impact of each new hashtag, of each new approach, and of each new strategy is essential to your campaign's wellbeing.
Here is a list of free digital analytics tools for your hashtag marketing campaigns.
Evoke Emotional Reactions
A hashtag can be mediocre, average, or outstanding. If you aim to deliver outstanding experiences, you need to inflict emotions in your hashtags.
Human beings are definitely emotional beings, so their attention and care can be triggered by emotional triggers.
Emotional words, accompanied by an emotional image and a few emotional hashtags can not only attract the attention of social media users but also inspire and motivate them to share your content with their friends.
The emotion you evoke should be strong, so the hashtags should evoke happiness, motivation, inspiration, anger, disgust, sadness, melancholy, compassion, truth, and all the other powerful feelings that tend to impact us on an almost daily basis.
Use Cleverness or Humor
Another way to stand out from the crowd and make your content remarkable among social media users is to use humor and cleverness in your hashtagging choices. If you want to find clever and humorous people, talk to writers. For example, you can use tools like EssayWritingLand to find creative professionals that can produce clever and funny content.
Hashtags spread very quickly, and many become viral. Of course, viral content is always clever, funny, inspiring, or catchy, so you should aim for these qualities whenever sharing extravagant hashtags.
Celebrate Various Special Days
There are thousands of themed hashtags that surround specific seasons and holidays. For example, #HolidayFood is a themed hashtag that people usually search for during holidays.
Now think about Christmas. Take this word and search for semantic keywords: Santa, gifts, Rudolf, family, Christmas tree, holiday, and so on.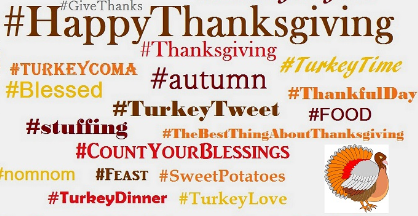 By leveraging themed hashtags, you can gain additional traffic and exposure, thus improving your brand's awareness and reputation. These are basically free opportunities that are worth seizing, even if they only improve your overall performance with just a bit!
Leverage Listening Tools to Understand Your Audience
You can take your hashtag marketing performance to the next level by understanding your target audience's needs, problems, interests, behavior, and mindset. You should also understand their dreams, their fears, and their deepest life struggles.
You can leverage hashtag listening tools to understand more things about your target audience. Simply put, you can identify trending and non-trending hashtags that people use to search for topics.
Social listening is a great technique to gather real-time intelligence about your target demographic. This data will help you improve the power and effect of your future hashtags, as you'll choose them better every time!
Takeaways
A well-designed hashtagging campaign is one of the most effective social media promotion strategies that you can implement, regardless of your business type and size. Think and act in terms of value, relevancy, and trust. The more relevant you are as a brand, meaning the more effectively you communicate your value proposition, the faster your brand will flourish.
The following two tabs change content below.
Alexandra Reay
Alexandra Reay is an editor and regular contributor to the
UK Careers Booster
project. She is also a professional content writer who prefers to do research on the following topics - self-improvement, technology innovations, global education development etc. Meet her on Twitter.
Latest posts by Alexandra Reay (see all)