It's easy to lose track of time and projects when you are managing your content marketing projects or any project as such. But with a project management tool, things become somewhat easier. You need to access to project management tools to keep your projects on track, but before we get to what are the best tools and how tools can be helpful, let's first have a look at content marketing in general.  
As we approach the end of the year, here are the content marketing trends that will continue to stay always:
Keep your content ready for voice search

Content marketing and artificial intelligence

Collaborating with influencers for content marketing



While content remains relevant to marketing, we need to take care of how content is created and distributed. Marketers need to take care of their content marketing strategy. Think about it: creating a blog post that grabs organic traffic and has links to your product or services will always help in generating leads with time.  
Creating content should probably interest your audience to read. There may be many content marketing challenges and from my experience, some of the biggest reasons why content marketing projects fail include: 
No content in the pipeline

Tracking deadlines

Coordinating workflows

Managing resources

Bottlenecks in the content creation process

Communicating with team members and stakeholders



Pertaining to the reasons behind the failure of content marketing projects, adding a project management tool to your content marketing efforts can solve a lot of these. And you should also consider using a top-quality work management platform for your business, as that helps hugely.
According to the Content Marketing Institute's recent report, 90% of B2C marketers were using content marketing in 2013. Despite using this approach, only 34% of B2C organizations and 42 percent of B2B companies believe they are effective at content marketing. 
Despite the need to meet increased demand, just 9% of marketers have acquired a systematic content management process, from production to distribution.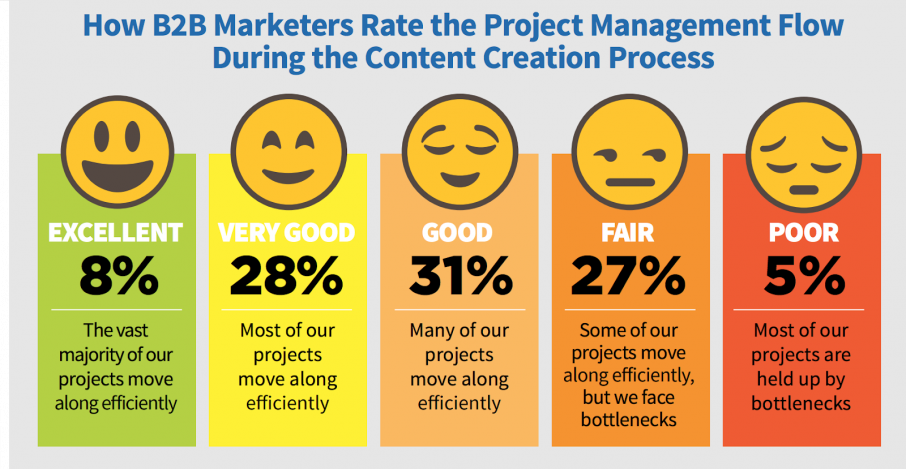 How Project Management Tool Fits Into Content Marketing
Whether you're just starting with content marketing or you've been doing it for long, you should make sure that your content strategy plan is up-to-date and innovative. The first step is to have a project management tool to help your content marketing plan.  
Here's why a project management tool could be the most important asset for content marketers. In this post, you'll learn how project management tools like Basecamp, ProofHub, Wrike, and many more can help content marketers to manage the whole process from content creation to distribution.  
Create a Workflow for All the Processes


At every stage of the content marketing process, each team member should know what they have to work and when they are expected to deliver. When you create a task on a project management tool, you can set a due date for the task, visualize a breakdown of tasks, identify at what stage everything needs to be completed, and know who is working on each task.  
In Progress:

Articles/blogs that are to be written.

Review:

To check if the article is on point and covers all the important information.

Editing:

This is the stage to check on grammar and formatting.

Design:

Images, graphs, infographics are being created and being formatted in WordPress.

Publish

: Be ready to publish after all the editing.

Outreach:

After the post is published, promote the content.
To keep everything manageable, teams employ project management software to better handle the production line that is content marketing. That's where a project management tool comes in. Kanban-style board in most of the tools lets tasks to be represented in stages. By using similar tools, content marketers can visualize their workflow to streamline their content production process effectively.  
Establishing Milestones and Timelines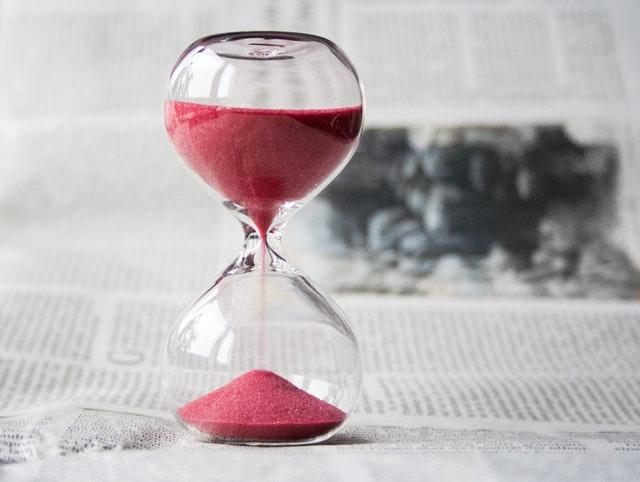 In the hustle and bustle to keep up with the digital world, content marketers struggle to find time to document project milestones. After defining the project workflow, you can bring together the milestones and timeline easily on a project management tool.  
Without a schedule, the project may suffer setbacks. Depending on your project, you can divide the list of tasks into smaller groups. As you've decided on milestones, start listing out the tasks that are in accordance with each milestone. Mainly, setting milestones on content marketing projects addresses five main areas:
What to complete?

What was completed?

When was it completed?

When will it be completed?

What is the sense of urgency?



When establishing milestones and timelines, tracking time is essential. Tracking time involves using a reliable tool, such as a mobile timesheet app, to ensure you don't miss anything, allowing you to track people and project goals properly. Get real-time updates on who handles the project, the number of hours to finish tasks, and its progress. That way, you can complete your projects on time with positive outcomes.
Finding Bottlenecks


A project experiences a bottleneck or point of congestion at some point, which causes workflow delays. Project management bottlenecks reduce the project's pace because of limited capacity. When it comes to project management bottlenecks, the two types are performer-based and systems-based bottlenecks. 
In performance-based bottlenecks, the team members or the entire team don't reach the expected performance level. The solution includes outsourcing simple tasks or hiring additional help. On the other hand, system-based bottlenecks involve slow or outdated systems that can slow down workflows, such as content marketing task assignment, publishing, and metric monitoring.
Your content projects will probably need approvals before it gets published. This is an important part of content marketing success. So using a project management tool for content marketing will make it quick to determine who's contributed to what part of the project and identify bottlenecks to stay on top of the project's progress.
Certain project management solutions will be able to highlight the dependencies to tasks, helping managers determine where a decline in productivity is occurring or will occur soon. If used perfectly, Gantt charts can help to predict risks regarding the deadlines and the milestones set.  
Having Open Lines of Communication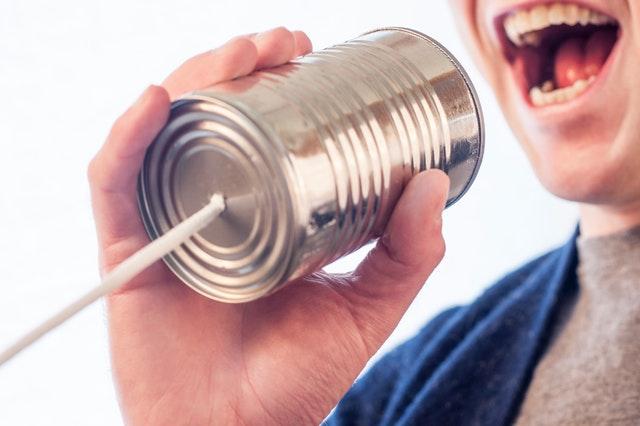 For some teams, Slack is not the right solution for communication. Of course, no one-size-fits-all solution exists. So, people looking for Slack alternatives can use a project management tool to continually discuss content requirements and issues throughout the project. And sometimes, even the traditional method of email can be frustrating because it is difficult to go back-and-forth the long messy email threads.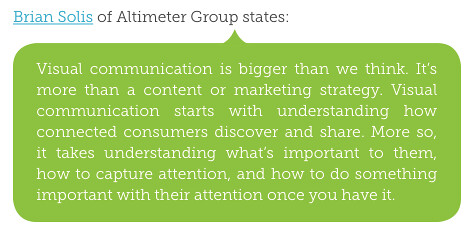 You'll have a dedicated space using a project management tool for content marketing to consult with your people and absorb the feedback. Figure out what works best for your project! 
Hitting Deadlines with Integrated Calendars

Deadlines have a life-and-death consequence on content marketers. It relates to finishing content on time, publishing it by due dates and more, and doing all this on a calendar that is a part of your project management tool is simply amazing.  
Integrated calendars allow teams to add events for each task, milestone, and deadline. It also makes it easier than ever to recognize scheduling struggles. In case of a shift in deadlines, changes can be made directly and updated in the calendar. Teams when using a calendar can also share with other departments for easy collaboration and coordination.
Juggling Requests from Across the Globe


Be it a new project or a quick favour for someone, a variety of requests flowing in may get overwhelming. If you don't have a clear and consistent way to take requests and achieve them, things can go messy. Request forms in project management tools help to take work requests as they come in. It is a formal process of asking for things with all the details to get started.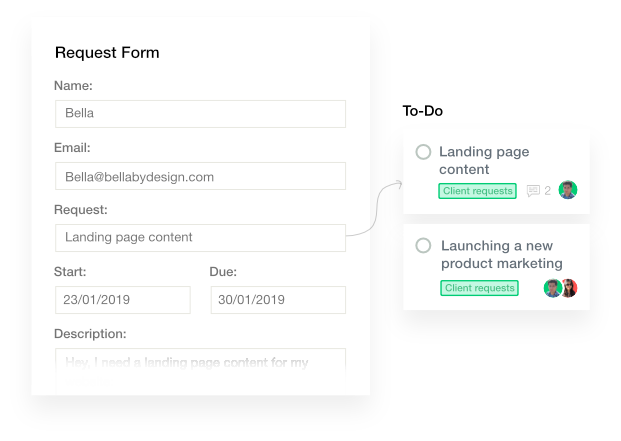 Having a content request with everything you need from the start, you can save yourself time. Thus, you can avoid requests for work getting cluttered in your inbox.
You can create a request form using an online form builder. Get the shareable link and attach it to your team communication platform and project management software for easy access. That way, your content marketing team and other parties involved in the project can submit requests quickly for straightforward content development and content marketing workflows.
Howsoever you manage the work, content marketers will struggle with staying on tasks, deadlines, and content. Thankfully, there are project management tools for content marketing to save them from the mess. It's just a matter of finding the best tool. So I've curated a list of the best tools that work best for content marketers.  
#1.
ProofHub
Content creators are using ProofHub and they love it for some particular reasons. The software helps writers and managers plan, organize and deliver projects without a hitch. On top of that, teams can visualize their workflow, who is doing what, when are the tasks completed, and what is the due date. There are Gantt charts that let you plan your content at each step and how the work is progressing. The best part is you don't need more tools when you are using ProofHub. And, what else: 
Request Forms

Kanban Boards

Discussions

Proofing

Calendar



#2. CoSchedule
CoSchedule coordinates the publication of your content by keeping everything in one place – every note, file for every task. The CoSchedule content organizer is the top choice for a content marketing platform. Here's what it includes: 
Content Organizer

Social Organizer

Work Organizer

Marketing Calendar
#3. Asana
Asana is a work management platform used by teams to work together effortlessly. Setting up a system on Asana will make your life easier and content marketing process effective. From the idea to publish, you can have everything here for your content plan. Using Asana for creative content marketing teams is an end-to-end solution for teams to manage the entire process from start to finish. Features of Asana for content marketers:
Forms

Proofing

Approvals

Portfolio
#4. Workfront
Workfront is a robust work management solution for teams to manage projects and collaborate on the content so they can do their best work. It integrates with a number of different software platforms. Here's is what you get when using Workfront:
Real-time Insights

Prioritize Requests

Collaboration

Proofing

Automate Approvals
#5. Trello
Trello is an easy-to-use project management solution and intuitive to understand. It gives a simple way to track progress and individual action items for content managers. The software allows managers to create multiple boards for different projects. Trello boards, lists, and cards help to prioritize work in a fun and organized way.  
#6. Mondovo
Mondovo is not a project management tool but is an important part of content marketing as you'll need tracking, researching, and reporting for SEO authority for your clients. You can research everything here: 
Keywords and Backlinks

Site Pages

Content Performance

Social Presence

Bulk Search Volume

Conclusion
SEO is all about content marketing. Having a well-defined content marketing strategy will complement your SEO. Managing content projects is an ongoing process and it takes time to grow a successful content marketing strategy but using project management tools can make great content. It will never be a hassle if you have one.  
How do you manage content projects? Share some insight in the comments.
The following two tabs change content below.
Vartika Kashyap
Vartika Kashyap is the Marketing Manager at
ProofHub
and has been one of the LinkedIn Top Voices in 2017. Her articles are inspired by office situations and work-related events. She likes to write about productivity, team building, work culture, leadership, entrepreneurship among others and contributing to a better workplace is what makes her click.
Latest posts by Vartika Kashyap (see all)