Today, it's a common practice for a business, no matter how big or small, to be actively present on social media. Some businesses even have several social media accounts to maximize their social media presence and exposure by posting brand content. 
A Quick Intro to Brand Content
Brand content is content linked to a brand and represents a brand's values, core message, and has the following characteristics:
Focus on the brand's values. Rather than putting a product first, brand content is mainly focused on what a brand represents. This is one of the aspects that make brand content so memorable.
The main goal is to generate conversion. Since brand content seeks to have an impact on the target audience, it aims at increasing conversion rates as a result.
Added value for the audience. Another goal of the brand content is not just to represent the values of a brand but to bring value to the target audience as well.
It is important to remember that brand content is NOT product-oriented and NOT invasive. The purpose of creating brand content is for the target audience to consume it voluntarily and to help a brand stay recognizable and competitive in an increasingly saturated market.
Brand Content: Crunching the Numbers
Besides using brand content to stand out from the competitors, businesses invest in brand content for a number of important reasons:
branded content is 22 times more engaging than display ads
investing in brand content results in 86% brand recall
consumers are 14% more likely to check out a brand that has brand content
brand content is crucial for social media campaigns, with 74% of brands supporting this claim
It all sounds very easy appealing until you start writing your brand content, which is the most challenging part. There are a lot of temptations, including over-advertising your product or putting your ambitions before
So, to make the process of writing brand content more planned and organized, let's take a look at our step-by-step guide. 
#1. Audience Over Products
It may sound redundant, as we've already mentioned it, but the key to creating successful brand content is by putting the audience first and then concentrating on the product.
Let's take a look at the successful application of this rule.
When they were a young company, Nike's initial marketing efforts were targeted at engaging their audience rather than selling a product. According to Nike, any idea should be tested out with your audience in mind. Without this approach, a product is unlikely to find its end buyer.
The same with brand content – if you promote a product without your target audience in mind, your content will most likely go unnoticed.
#2. Know Your Audience
The next step would be asking yourself, how well you know your audience. Any marketing campaign, including social media marketing, heavily relies on the target audience personas. These personas may differ from one campaign to another, or a brand may want to target a more niche audience. However, the more details you put into your target audience persona, the more targeted your brand content will be.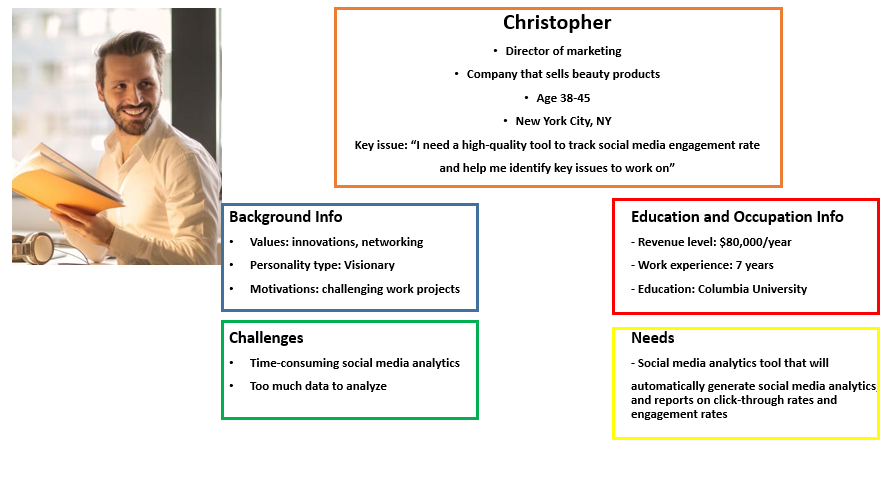 An example of a target audience persona/a buyer persona for a social media analytics tool.
When it comes to launching a marketing campaign, it is recommended to focus on a niche audience. To help you with that, you can study your current social media audience, gender, age, location, language, content preferences, etc.
Here's how this information looks on Facebook Analytics: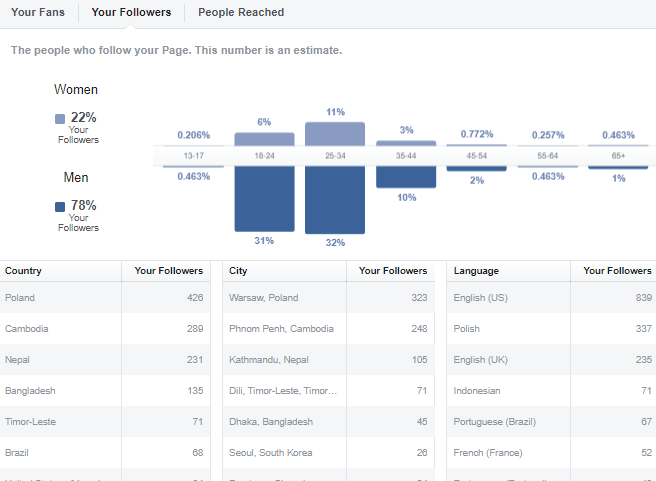 By having a detailed target audience persona and by collecting all social data from your social profiles, you'll be able to create more targeted brand content.
#3. Never Stop Experimenting 
No matter what your company does and what products it offers, you can always present it in an unusual engaging way. Banquet, a financial education resource, is a good example of experimenting with brand content. Apart from hand-outs, graphs, and case studies, they offer their users different interactive videos to help them enhance their knowledge:
There's one important lesson here: when experimenting with brand content, make sure that it brings value to your target audience, regardless of the format. This is an important prerequisite if you want your brand content to help you increase engagement rates.
#4. Find Your Unique Style
Finding your unique content style is crucial for your brand, as it will help your brand stand out. Content style is a set of standards for writing and formatting brand content, which will guide and help enhance the brand's presence, both offline and online.
Content style is what you think about when the name of a brand comes to mind. For instance, if you think about Nike, you immediately remember their famous slogan and their motivating Instagram and YouTube videos.
To discover the style of your brand content, you can do a competitor analysis and even took the experience of your competitors as an inspiration for your own content. It's common for brands to use the same idea but bring it to life from the perspective of their values. You can see it in an example of how McDonalds and KFC approached the ALC ice bucket challenge some time ago:
Developing your content style requires a lot of research and practice. It will definitely take some time before you determine all the standards you will follow when creating brand content.
#5. Use Breathtaking Visuals 
With brand content, you want to create a lasting impression. "78% of consumers memorize the brands according to the experience they had with them", says Patricia Hendricks, a marketing specialist at Studicus.
Customer experience isn't always about being satisfied with a purchase. A great part of positive customer experience is the influence that your brand content makes on your customers.
To leave that lasting positive impression that will contribute a positive customer experience, try employing high-quality engaging visuals in your social media marketing strategy. It's not just about your logo and header images: invest in high-quality visual content for all your social media posts but remember that they should have all the signature features of your brand.
#6. Always Be Caring
When working on the brand content, remember that you can and should take a stand regarding important social issues from time to time. A study called "Championing Change in the Age of Social Media" has found that 2/3 of consumers don't want brands to stay silent on social media when it comes to serious social issues.
Solidarity with your customers is a great way to stand out. P&G is one of the brands that create social media content in support of social issues such as equality and battle against sexism and racism: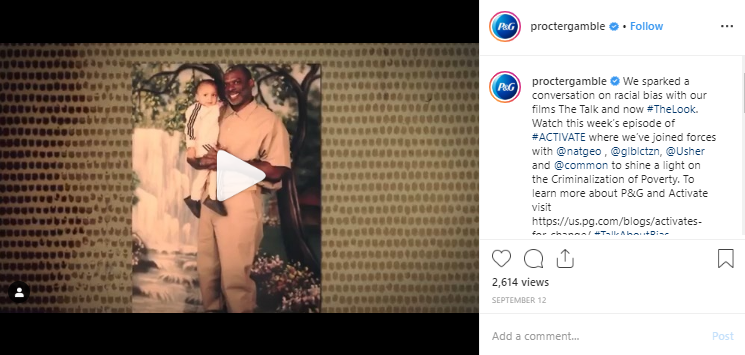 As a brand, you already have more influence than others. It's your responsibility to use this influence to support important social issues. You can pick the causes that correspond to the values of your brand and create content that will both benefit your company and shed light on important social issues.
#7. Establish a Connection 
Creating content that involved your brand in important social issues is already a good way to establish a connection with your target audience. However, to diversify your content strategy, you can collaborate with your followers to create user-generated content.
To build the bond with your target audience, you can hold various competitions and contests, employing user-generated content. For instance, in 2014, Starbucks launched its #WhiteCupContest, encouraging their followers to draw on white cups, awarding the best cup design at the end of the competition: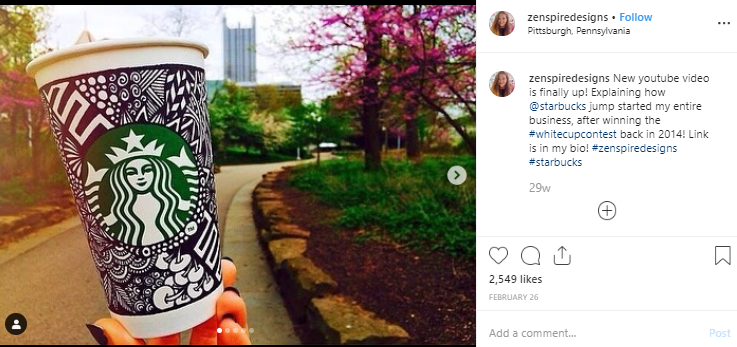 This competition helped many Starbucks followers, including the winner of this competition, to jump-start their careers in design. So, this was a win-win situation, as Starbucks followers got the chance to be featured on the brand's social media pages, and Starbucks got millions of brand content submissions.
#8. Stay Relevant 
You may have many content marketing ideas for your brand, but are you sure that they are all relevant? Remaining relevant to social media is the biggest challenge for brands. The landscape of social media changes so fast that it can be hard to keep up. You should be ready for the fact that you'll have to adjust your brand content to every change in the world of social media to remain relevant.
Current social media trends, which you must follow to remain relevant, include:
Influencer marketing. This marketing phenomenon isn't going anywhere for sure. People trust influencers and what they recommend. With influencer marketing, you can target a niche audience and get representation for your brand from a different perspective.
Video marketing. Among all content types, videos have proven to be the most engaging. Videos that represent your brand and bring value to the consumer are the best brand content you can possibly produce.
This is one of the most adored content strategies. Consumers love raw content that doesn't look too polished and fake. Besides, it's nice to give them a little sneak peek once in a while. This helps them understand your brand better.
There's no point in having social media accounts for your brand if you're not following the current social media trends. Besides, the fact that social media platforms don't stand still gives you so many new ideas for brand content.
#9. Start with a Great Headline 
You want your brand content to be catchy. You want it to capture the attention of your target audience from the very first words. Writing engaging headlines is an art on its own, and it can be very intimidating. However, there are a few tricks you can equip yourself to create eye-catching headlines:
Use numbers. Numbers are compelling evidence, a fact, something that your followers will believe. Adding numbers will make headlines more digestible.
Invite to learn. Words like reasons, secrets, tricks, lessons, give a reader a feeling that you're about to share very important knowledge with them.
Ask a question. Start some of your headlines with Why, What, When and other trigger words to invite a reader to answer a question.
When writing a headline and your brand content in general, mistakes are impermissible. In writing, proofreading is a must, but you can automate it, using the services from online resources like TrustMyPaper, GrabMyEssay or Grammarly. These tools can also help you check the style of your writing, making sure that it's engaging.
#10 Determine What Works and Use It 
When working on the brand content, always look back and check, how your previous content performed. You can do it by going to the reports on your social media pages, where you can check post reach and engagement stats: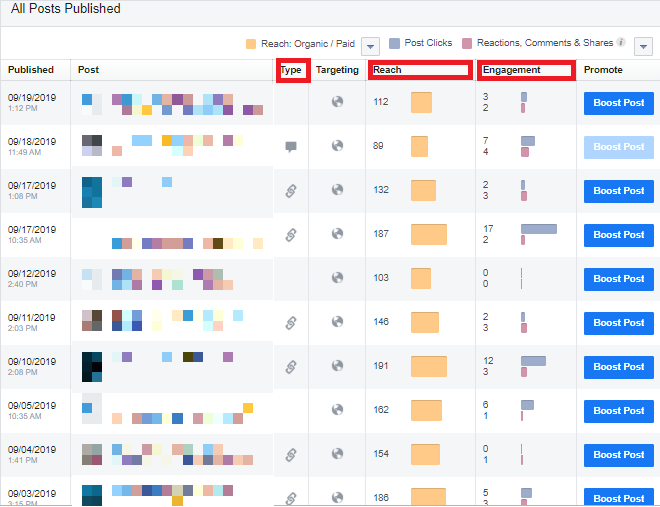 This social data provides you with valuable insights on the content that your audience wants to see more, giving you an idea of what brand content to work on next.
#11. Make Data Interesting
If you decide to share some statistics and data as a part of your brand content, you can make it more engaging by going interactive. Sharing numbers can be very boring in terms of content ideas. Flatfy, an international real estate company, took real estate stats and graphs to another level, sharing them in an interactive form on their website: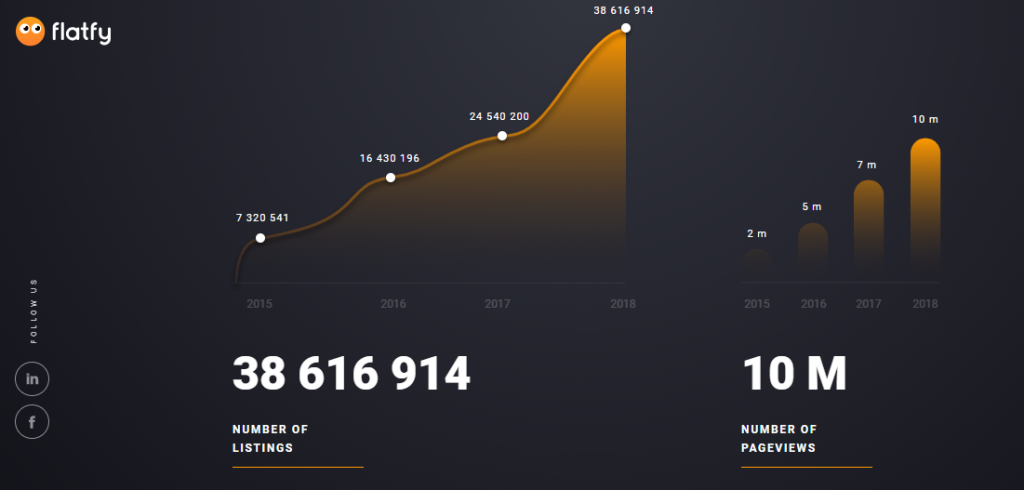 All the data that this company shares on its website, including infographics, comes in an interactive form, making it for the visitors to understand and perceive the numbers better.
#12. Provide Ways for Sharing It
Make sure that more people learn about your brand by encouraging your target audience to share your brand content. All social media platforms already have all the tools to help people share content, but it doesn't guarantee that more people will see your content.
To increase the chances of more people paying attention to your brand, start a hashtag campaign. Using a branded hashtag together with the most popular hashtags will increase your chances to get noticed.
Final Thoughts
Writing brand content isn't an easy task to do. Although there's an abundance of tools to create brand content and a lot of ideas, it's easy to get confused and lose focus. Hopefully, our tips will guide you through this process, inspiring you to create brand content that will leave a lasting impression on your target audience.
The following two tabs change content below.
Angela Baker
Angela Baker is a self-driven specialist who is currently working as a freelance writer at
TrustMyPaper
writing services and is trying to improve herself and her blogging career. She is always seeking to discover new ways for personal and professional growth and is convinced that it's always important to broaden horizons. That's why Angela develops and improves her skills throughout the writing process to help to inspire people. Also, she writes for LiveInspiredMagazine, rounding out her professional writing career.
Latest posts by Angela Baker (see all)