In today's digital era, having an excellent product or service isn't enough to get you maximum website conversion rates. You need to think out of the box to align customers' actions with your goals. Successful marketing strategies are designed to help you learn about your users and gain their trust in your brand, so you can reach your optimization goals in a shorter period of time.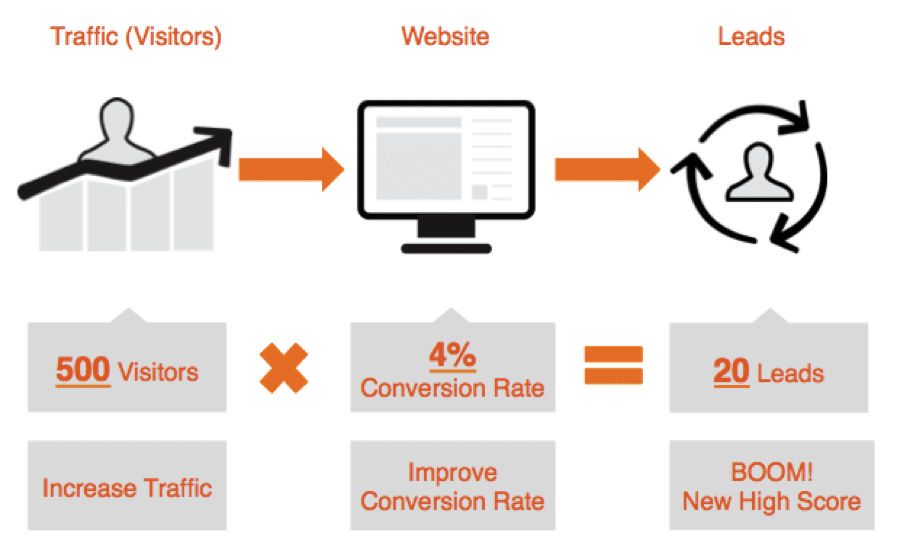 If done right, conversion rate optimization (CRO) is one of the most impactful marketing techniques. According to a survey by Salesforce, 47% marketers all over the world stated that their most important priority was to increase conversion rates.
But, it can get overwhelming to accomplish your conversion goals without proper assistance. Here are some of the best conversion optimization tools that enable you to skyrocket your website's conversion rate and ultimately increase your sales.
1- Usertesting
As the name suggests, Usertesting is a tool that checks the functionality of products or features. You may think that your product is really easy to use or the app you launched is a breeze to download, but it may not be so in reality. Visitors may be facing some sort of issue, hence the dropped user traffic. Usertesting is a testing tool that informs you about the various aspects of your product through behavioural metrics and video sessions, giving you unmatched insight within a few hours.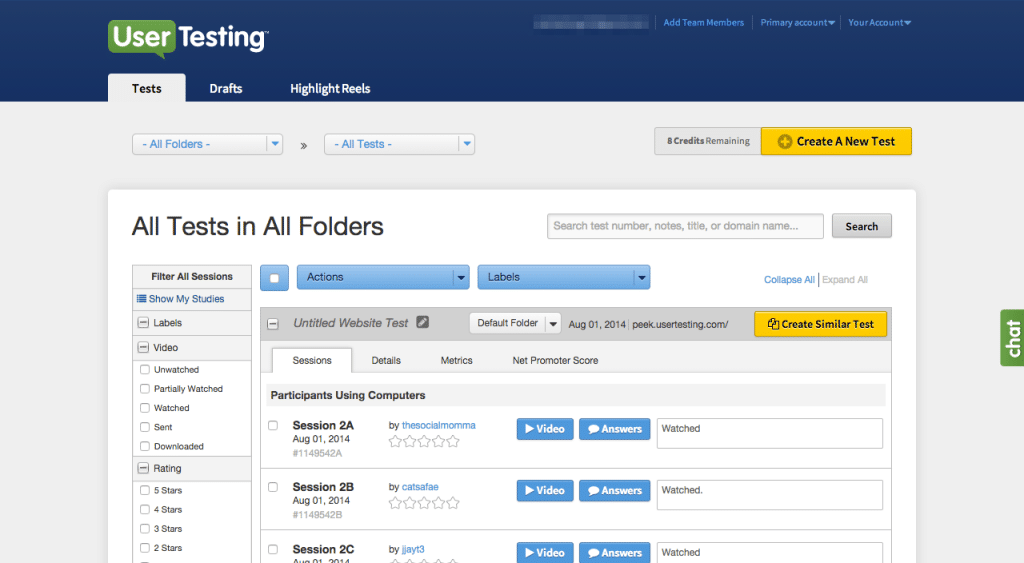 Adobe, a popular software developer, added a content extraction tool to Photoshop. But they didn't get the response they were expecting. Most users were stumped on how to use the tool effectively. This is when Adobe teamed up with Usertesting to find the loopholes in their new feature. Once Adobe received real-time feedback from users, they redesigned the feature accordingly.
The point is, a brand can evolve to great heights if it learns from its mistakes and improves on them. And Usertesting allows you to do just that.
2- CrazyEgg
A good marketing strategy is based on solid figures and in-depth research about user behavioural metrics. A visitor on your website does a lot more than transactions, and their passive activities can help you improve your website's layout, content placement and outreach tools to grab and retain users' attention for longer spans of time.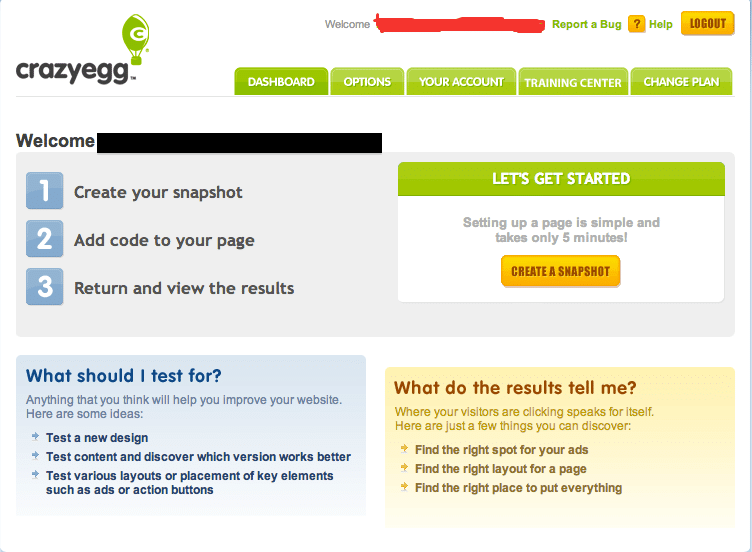 Crazy Egg is one such tool that can analyze each and every element of the user's activity in detail. It takes note of every scroll and click and informs you how a user reached your website. All this data is presented in the form of visual images which makes it easier to absorb user activity information.
It is a great user analytic tool that will definitely make it easier for you to improve your marketing strategies and increase your website's conversion rates.
3- Visual Website Optimizer
A/B testing plays an important role in increasing conversion rates, as it ensures that your visitors are getting the best possible experience on your website. Visual Website Optimizer does just that by overseeing A/B testing.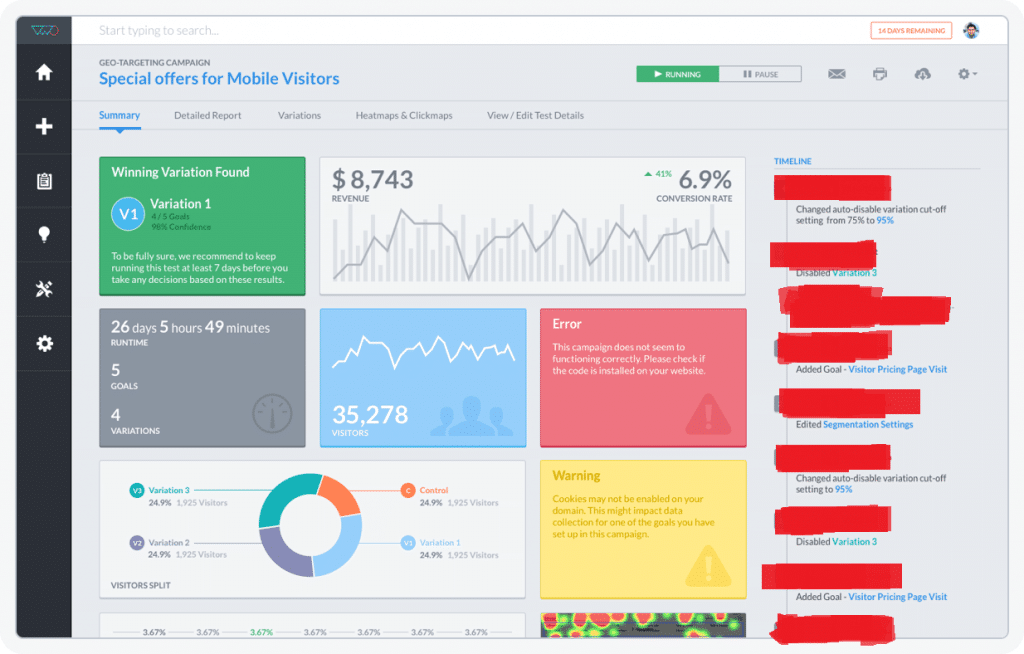 It divides the user traffic between different variations of the website to highlight the elements that produce the highest conversion rates. A/B testing can help you identify which elements are driving traffic away, whether it is a poorly designed landing page or a barely readable font.
4- Google Analytics
Google Analytics is one tool that most websites can't survive without. It helps you deal with unseen customers and is a blessing for businesses that reach out to a wide range of demographics. Google Analytics informs you about customer bbehaviour sales trends and conversion success rate all from a single platform.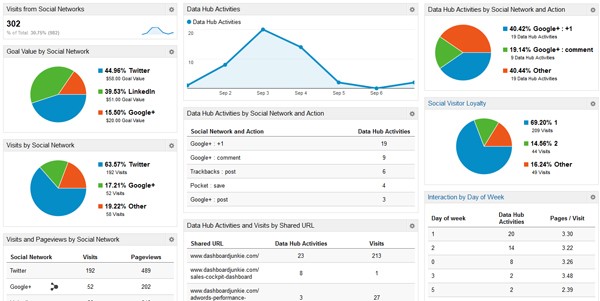 If you implement the suggested changes immediately, you can increase your conversion and retention rates drastically. Real-time reporting is the key here. Many businesses have used Google Analytics to identify customer behavior and evolve accordingly.
5- Mixpanel
Gone are the days when page views were indicators of how well your products were doing. Page views do not provide complete information, as they don't give you important details such as who visited your website, which pages caught their attention, which elements failed to have the desired effect and so on. All these details are very important to design a conversion-optimized website. Mixpanel helps you with "point and click" analytics that are easy to master for non-technical people too.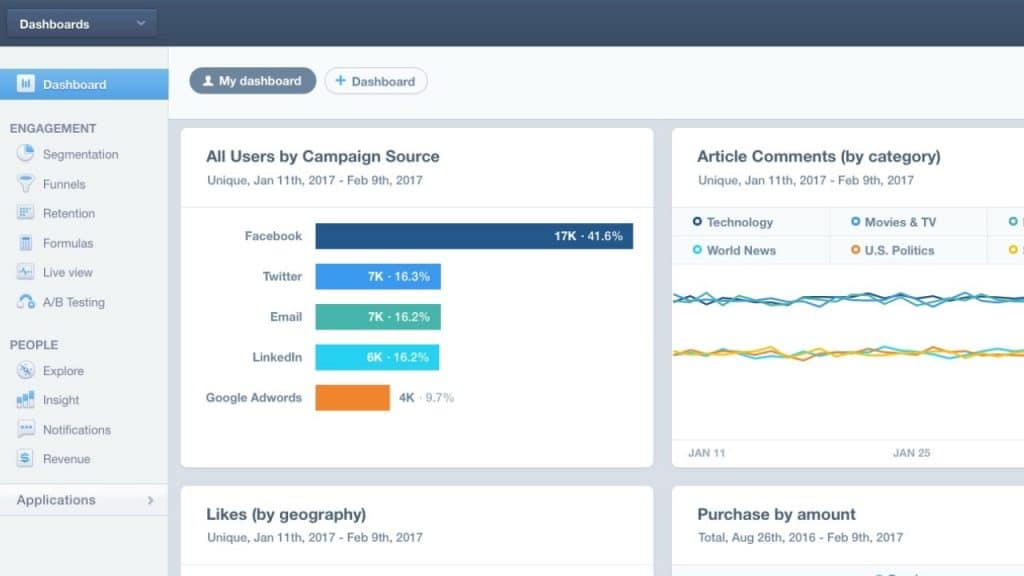 This tool helps you with refined segmentation, so you can study the subtle behaviours of customers and nudge them in the direction you want. Personalized user experiences and spotlighting every step of the retention funnel can open up unexpected doors for your business.
6- Qualaroo
Customers rarely give a business a second chance if they are constantly facing obstacles when using its product and services. In the end, they abandon the website and make purchases from competitor brands. According to a research, all it takes is 50 milliseconds for a customer to form an opinion about your website.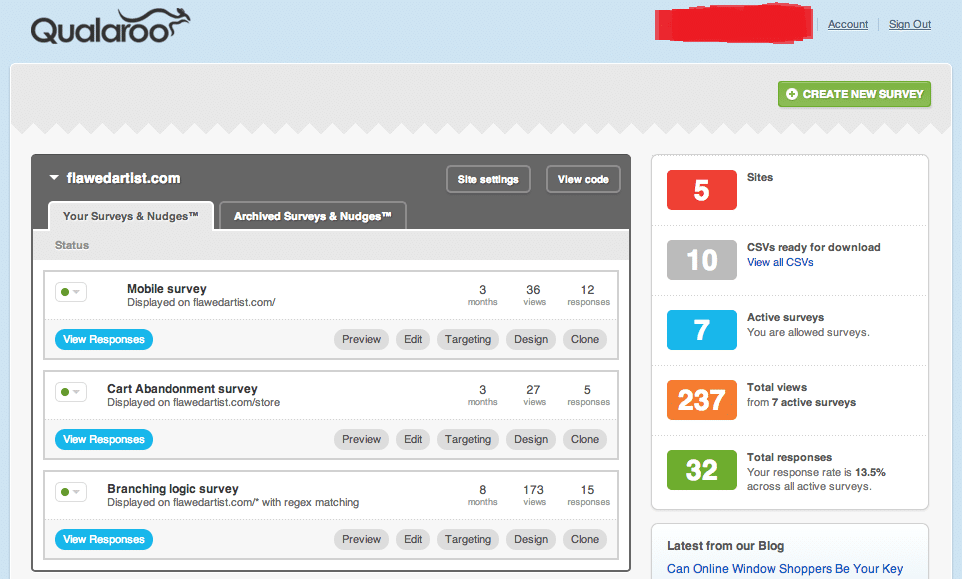 Yet, the chances of errors increase every time you make changes to your website. This is when qualitative user data comes handy to track down unforeseen glitches. Qualaroo is one such targeted survey platform that combines with your existing CRM tool, enabling you to access customer feedback and immediately fixing those errors. This app also has a list of ready to use FAQs that can be referred to investigate common sources of errors.
7- Unbounce
Every business owner faces the challenge of getting stuck somewhere unnecessarily – be it the web design phase or spending your lean budget on updates that don't bring in expected conversion rates. Unbounce is a great tool that can help you save time and money by optimizing your marketing efforts and testing your landing page impact.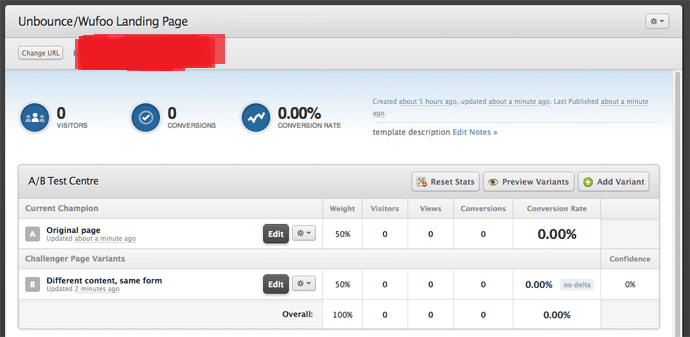 It is a customizable and responsive tool that can help you design the ideal landing page. Just construct, publish and test your website's landing page impact. It can be used easily by everyone and you don't need to be tech savvy to utilize the tool effectively.
There are landing page templates in Unbounce that are easily mergeable with all other apps like MailChimp, Constant Contact, Google Analytics and Salesforce. There is an exciting feature in it that replaces landing page keywords to unique user searches, making it a great choice for pay-per-click campaigns.
8- BuzzSumo
The only way to increase traffic to your website is to create viral content. By using BuzzSumo, you can gain insights into the most shared content according to particular topics.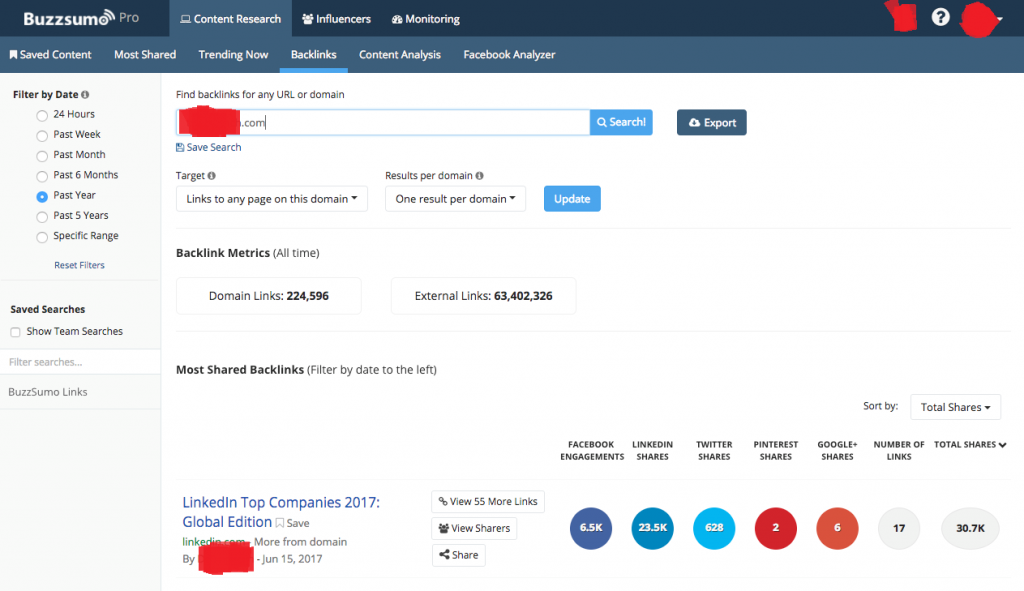 Just enter a keyword in BuzzSumo and it will gather the most shared and linked content from sources up to a year old. Basically, it is a content research tool that works in the following way:
Finds content that has been shared virally on all social media channels, according to the topics you enter.

Helps in finding influencers related to that particular topic.

Gives alerts that are based on keywords, brand, links, author name or domain.

Tracks competitors and performs an analysis on their content.
In short, BuzzSumo is a great tool to help you optimize your landing page according to the ongoing trends. Now you can research the best articles, videos and other resources related to your topic and identify the elements that made them popular, so you can incorporate them in your website content. There is no way you can go wrong after using this content creation tool.
Conclusion
Creating an effective marketing strategy takes up a lot of time and funds. This is why, you should be sure that it will bring a significant increase in conversions, and won't be all for nothing. With the tough online competition, it is important to take help from these tools to increase your website conversion rates and strengthen the communication between your business and consumer.
Hopefully, with these tools, you'll be armed and ready to take on the world with an improved outlook and better marketing efforts. Some of these tools are free and range for beginners to slightly more advanced ones. Try them out and decide which ones work for you. Soon, you'll see yourself upgrading to more complex tools once you have mastered the basics.
If you're running a small firm, chances are you may not have the time to create diligent marketing strategies for your business while working on launching your products or services. In such a case, it's best to let the experts take care of the marketing while you focus on what's important.
The following two tabs change content below.
Alycia Gordan
Alycia Gordan is a freelance writer who loves to read and write articles on healthcare technology, fitness and lifestyle. She is a tech junkie and divides her time between travel and writing.
Latest posts by Alycia Gordan (see all)