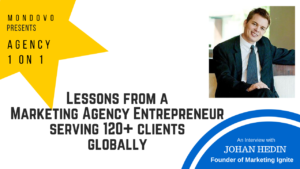 It's no easy task running a successful marketing agency and doing so for 18+ years can take some genius.We spoke to Johan Hedin, the Founder of Marketing Ignite who has been a successful agency entrepreneur from 1998. He shares his perspective on marketing to clients & how to understand and deal with customers.
Have a listen to the podcast interview by clicking "Play" below.
Given below is an edited version of the original interview with Johan. It has been summarized in a Q&A format.
Hello Johan. Welcome to the show. Please tell us about yourself.
Hello hi. My name is Johan and I'm 41 years old and the founder of Marketing Ignite. I have been into business since 1998. Originally we started in Hawaii and then moved to Los Angeles and now here in Bangkok. I started making my own website back then and got early into SEO. It's been a long journey and lot of changes have come along the road and I bumped all the changes and updates since then.
Yes, there are many more competitors in this space today than when we started. In the beginning very few companies used to know and understand what we were doing but now the scenario is different, everyone knows about the market and how it works and all are getting smart about it.
How many clients do you have now and how many people are employed in all your locations?
Around 120 Clients. Mostly from US and Europe and SouthEast Asia. It's kind of a mix from other places. We are a total of 30 people from both the offices.
Its is not like we are big company. Honestly, we turn down quite a bit of projects, We are very choosy when it come to taking new projects. If we don't see the synergy in client and their project we don't take them along.  We could be losing the chance of making more money but at the same time we will not want to ruin our brand. It is not the way we want to go. We basically want to take any client into a situation for success in long term.
How do you differentiate yourself from other agency services?
We have been in the industry for a long time. We have spent a lot of time drafting campaigns for multiple clients and with our experience, it's easier to understand the business needs of prospective clients quicker and to know what they are looking for exactly. We don't have any one-size-fits-all package, our SEO strategies are customized to clients needs.
When we get a client, we first look for a way to solve the problems they face right now. We then look into their competitors, markets, industry, who they are, what have they done in terms of SEO and take it up from there. Looking at all these details takes a lot of time. But we set the expectations and this allows to get started in the right direction. That's why clients stay with us for a long time and many have been with us for at least 5 years or so now. A lot still don't have in-house or dont even bother trying somebody new because they're happy with us.
How do you generate new leads and business for your agency business?
Everything we try do has quality in it. We are not looking for money all the time. It is more about enjoying the work and doing quality stuff that we are proud of and so the clients are happy with us. When clients are happy, that's where your sales begin. Even today we don't have a sales representative or a tele-marketers to close leads for us. Most come through referrals and many find us on Google.
What is your sales closing rate and lead conversion time?
If it is a referral it is almost 100%. Otherwise, I would say we close about 30% and it also depends on their qualification rate. Usually, the lead Conversion time is within a Month.
Was there any customer who came to you with a real problem and you helped them succeed with their goals? Can you share that story with us?
Yes, it was with a client who does local translation services. They were focusing on their conversions when they came to us. They said, they were good in their SEO, they rank for the right words but the conversion rate was really poor.
We looked into their core business to understand their issues and their conversion was below 0.2%. What they were doing as business service was translating copies to local language. Not simple online translation or one page documentation translations but core B2B document translation like eBooks, publications and those sort of things for big companies which are charged from anywhere betwee $10K to $100K.
The problem was, the keywords they were ranking for was for a wrong target audience. For Example, if you search for "Translate English to Thai", you get a lot of sites which translates one word to one document. They were ranking among them and in that target market, but none from that market had a e-doc nor anybody wanted to pay for the services they were offering. This was a clear problem. They were targeting the wrong market. Therefore they wasted a lot of money in SEO, targeting the wrong market all this while.
The solution was to come up with a strategy to identify the right market and right audience first. This involved doing a lot of research in understanding the latent semantics behind the terms of their target market and what they were looking for. Eventually we found long tail keywords that would work for them. We created landing pages with right keywords using LSI and made it user friendly so their audience find it appealing and enquire further.
We started seeing the results. The data from SEO showed that the traffic went up and the conversion came up to 4-5%. This may not sound much but the clients were really happy. Because not just the conversion went up, but also the quality of leads. We tracked all the information and created a log file on how to work on them further. Later we came up with various blog posts which said something like 'How do you translate documents that are 20 minutes long to read' and things similar to it. They all started bringing in traffic from then on.
Do you have any failure stories that you would like to share?
We had worked with a Jewellery company in the past and this company was tied up with another company and they were selling their products across the globe. Basically they were into the B2B side of the business. US market was a major focus when they came to us.
SEO was working fine and all the things were good. As we started, we quickly realized that the localized jewellery products he was trying to sell was not that well received by his target market in the US as they seemed to have different tastes from what they were trying to sell. Nobody was buying it. What they should have done was to set up an office in US and target this market with custom products but they didn't and it failed.
This was a major learning for us. Sometimes if the product sucks, nobody will buy it, no matter how much SEO or marketing you do. At the end of the day, we are blamed for the products not being sold.
It is not that the agency has all the responsibilities. Yes, we will do our job but clients would have to do theirs too. They have to be in charge of the product and stay up-to date with their product line and ensure everything is right to get good feedback and so on. Otherwise it kind of gets really hard to compete in this space and the job becomes difficult for both of us.
What criteria and preferences you have for your agency when it comes to choosing a client?
Choosing a client depends on various things. It depends on the Industry they are coming from and so on. If it is functional business and been around for many years then it is a good sign. Since it has the brand already, it helps us to set off with SEO quickly. Of course, anybody will love those types of clients because if makes our job easier.
That doesn't mean that we don't take start-ups, we take lots of start-ups too. But you see some of the start-ups have no idea where they are going and don't know what they are even talking about. Sometimes we do get clients who wants to compete in a market that is already too saturated. They want quick results so they can start making money faster. Those never get qualified with us ever. We look for companies which have clear expectations and that helps us to come up with a plan. Especially, if they are into the e-commerce retail industry, we let them know how it is going to be and set right expectations or try to lower their expectations. If it dosen't work out, we kind of recommend them to somebody else.
How do you manage reporting with your clients?
We have developed our own custom cloud platform called MyConversionBrain for our clients. This gives more in-depth analysis than Google Analytics and Google Adwords. Google Analytics though is good in telling how many goals have been converted and what is happening around, it doesn't tell you about the person who is behind it. So what the platform does is, it extracts data from various sources and cracks the person behind the leads. It tells you everything, the person, where he came from, like organic or adwords and what keyword he used to come through adwords. So you can see an overall view behind what is happening and what platform really works for your business. Reports like these are very valuable and we send these reports to clients and even clients could use it also by themselves.
What is your billing and revenue model?
I wouldn't say we are the most expensive but we are not the cheapest either. We are at an avg. pricing there. Our basic plan starts at $800 per month and we work on retainer model mostly. But yes, we give flexibility to clients to change the plans as per the campaign needs.
What is your annual revenue. (or, give us a range)
I'd like to keep that confidential. Its somewhere between 6 to 7 figures.
About Johan Hedin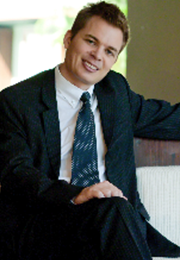 Johan Hedin is a passionate internet marketing entrepreneur since 1998 dedicated to helping clients succeed online.
In his early days, he started making websites from his living room and doing SEO for the big players who at that time were Altavista, Webcrawler, Excite, Ask Jeeves etc.
The following two tabs change content below.
Accomplished sales expert and a creative digital marketing strategist with a proven record of success in design and product development/lifecycle, from conception to end-user.
Latest posts by Bala Ayya (see all)