In the early 2000's the market for portable music players was virtually untapped. People, me included, were quite content with early versions of 'MP3' players and quite frankly we didn't give an alternative much thought. Not surprisingly, we, I, the world were just not ready for the bombshell that was October 23, 2001 which was when Apple launched the first generation of its music Goliath – the Ipod.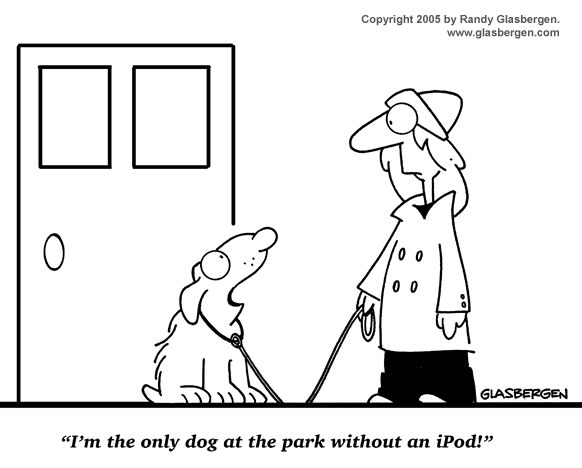 Since then, Apple has launched over 20 versions of the Ipod in varying degrees of memory capacity, colors and user interactions. What this tells us is that Apple clearly knew back then, as we do now, that there is no guaranteed formula for product success – you need to constantly innovate, tweak and critique.
Although I cringe at calling our most recent update Mondovo 2.0 (oh the cliches), it is as apt as it is significant because it puts even greater emphasis on time being spent on analyzing the data vs merely collecting.
We achieved this by turning the campaign set up on its head and really taking a good long look at the user experience. Hard questions were asked and hard answers given; is this step really necessary? Can we make the overall process simpler? The result of our efforts is the new campaign setup process that's in place today. Here are the reports that can be generated within 10 minutes of Signing up for Mondovo through the new campaign set up process:
Site Audit Report, Comprehensive Competitor Back-Link Analysis, Keyword Research, Ranking Monitor, Overall Metrics Comparison (You vs Competitors), and comparison of Social Accounts Performance on Facebook and Twitter
In this blog article, we'll outline the new process and clarify any doubts that might exist.
Lets get started. You can login to your account here if you would like to follow along:

If you're a new user or an existing user looking at setting up a new campaign, here is the first screen that you will encounter. Winston Churchill once said "You will never reach your destination if you stop and throw stones at every dog that barks" – valid point. We have a similar approach and ask users to focus on their most critical requirement first – Improve Rankings or Manage Social Media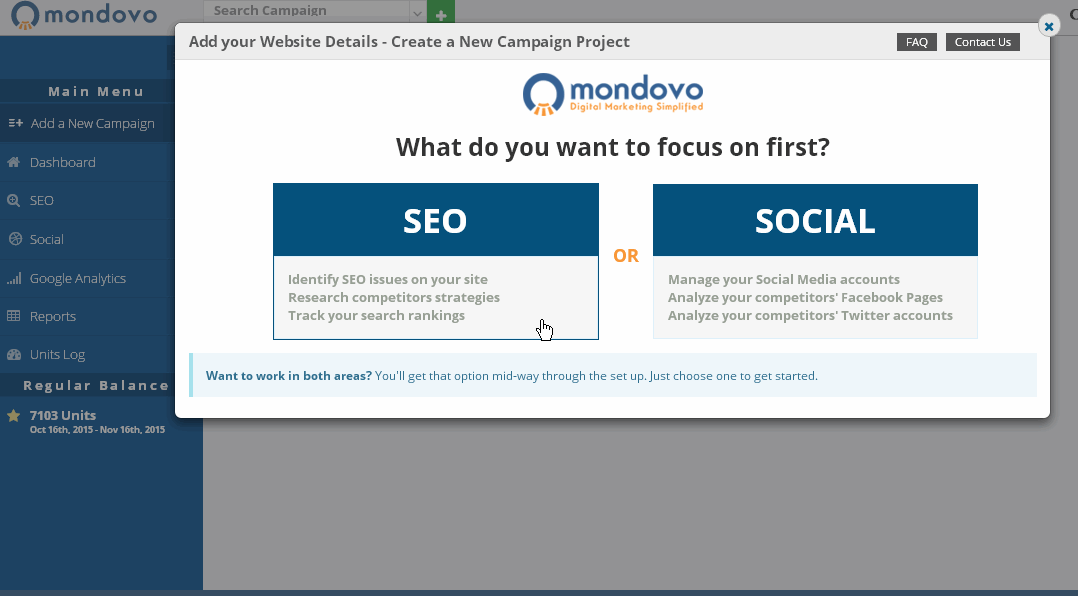 Assuming you choose SEO first, the next step in the set up process is instantly familiar for users already accustomed to our earlier versions or even other SEO tools. URL details, Campaign Name filled from URL details automatically (awesome), Primary Target Country & Language allow Mondovo to begin generating reports instantly (although you have the option of un-checking the boxes and skipping these reports for now). By the time the set up process is complete in 10 minutes or so, you have reports – Link Research & Website Audit – ready to be analysed
Mondovo Tip: Click on the + signs to tweak your data depth
Mondovo Tip: When in doubt, Reach out. FAQ's and Contact Us buttons are always available
Points worth noting: 
URL relates to the home page (either your own site or your competitors).
Campaign name can be changed manually either on this window or from the 'Manage Campaigns' link later, but why ruin a good auto fill option?
Primary Target Country is just used as a default selection but something that you can change for each report you run after the campaign has been set up.
If you just want a campaign for general research and it's not specific to a website, click on the 'Non URL Based Campaign' button . Some tools won't work if this option is selected but you will still be able to generate key SEO, Social and Analytical reports.
Once all the details have been entered, click on 'Save & Continue' and move on.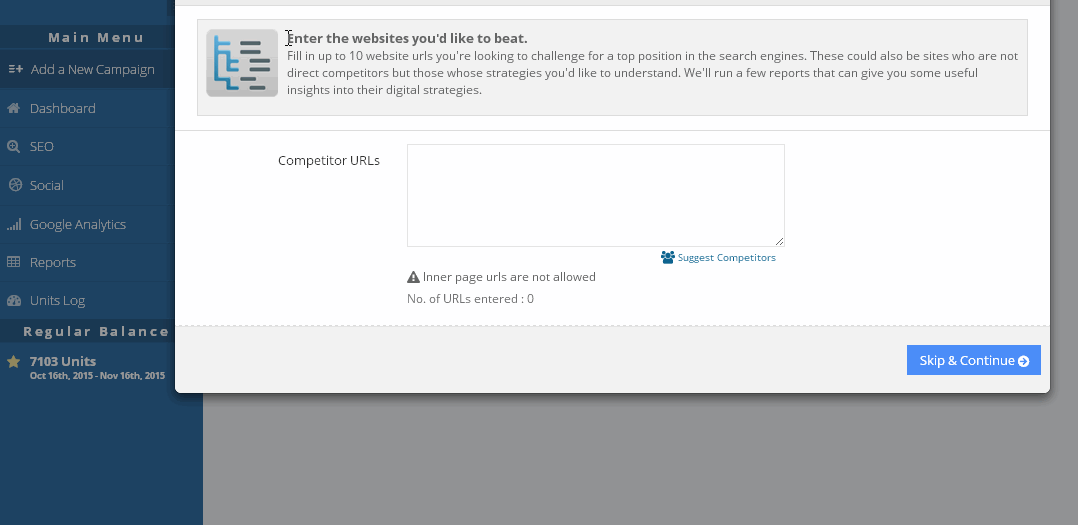 Here's where we ask you who your main competitors are and what their URLs are. It's always a good idea to keep tabs on your competition and find out whats working for them. You have the option of adding up to 10 of your rivals URL's. However its worth mentioning again that only the home page URLs are to be entered and not the inner pages.
If you're like us and your product really is unique then maybe you don't know who your competitors are. Well, we're here to help.
If you click on the 'Suggest Competitors' link, you can search for them via association to a URL that you specify or based on rankings for a particular keyword (very nifty and real easy to do)
Before you save and move on, you will get the following 4 check boxes:
Compare the metrics of my site with these competitors
Run a backlink analysis on each of these sites
Run a site audit on each site
Find the top keywords each of these sites are ranking for
Mondovo Tip: Click on the + signs to tweak your data depth and get the following:
Compare the metrics of my site with these competitors: Clicking '+' gives you the option to run a bulk metrics report for your websites Vs. the URLs entered above.
Run a backlink analysis on each of these sites: Clicking '+' gives you a choice on the number of URL's that link back to either all of the 10 pages or one or two or three.
Run a site audit on each site: Clicking '+' gives you the option to specify the number of pages to be scanned for all the 10 competitors or even 1 competitor or 2 or even 3.
Find the top keywords each of these sites are ranking for. Clicking '+' gives you the top ranking keywords for all the 10 URLs or even one or two or three URLs in the country that you specify.
Click on 'Save & Continue' to move on.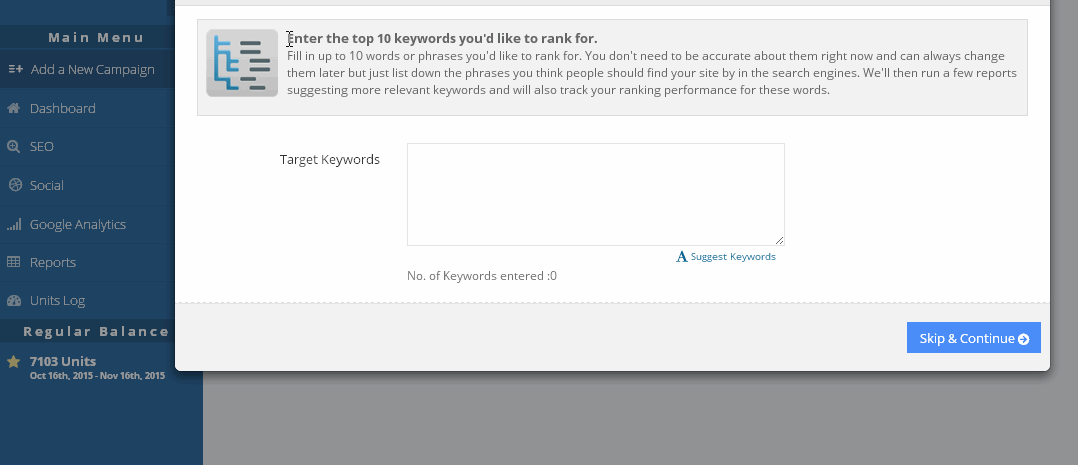 We enter your target keywords in this screen. This is a real critical step as it defines how and what the software is going to measure and track.
Mondovo Tip: We stress on having an understanding of the keywords that your industry / competitors are ranking for – before finalizing on your own. That way you're sure to turn up in search queries performed by your target audience. To do this,
Click on the 'Suggest Keywords' link, you can search for them via 'Retrieving the top ranking keywords for a specific website, or
'Find related keywords' – This will display a list of 10 of the most popular related search terms for the keyword that you specify

The final step in the SEO Setup process is where you authorize your Google Analytics account, Facebook Page and your Twitter account. You can authorize all the 3 at once or Skip & Continue to finish the setup process. It would be extremely useful and insightful to you if you connect at least Google Analytics, if not all 3.
If you're seeing this screen now:

CONGRATULATIONS! You're SEO monitors are all set up and you're on your way to dominating and outperforming your peers.
But wait. What about Social? Setting it up is as easy as pie and is a 2 min process.
Facebook: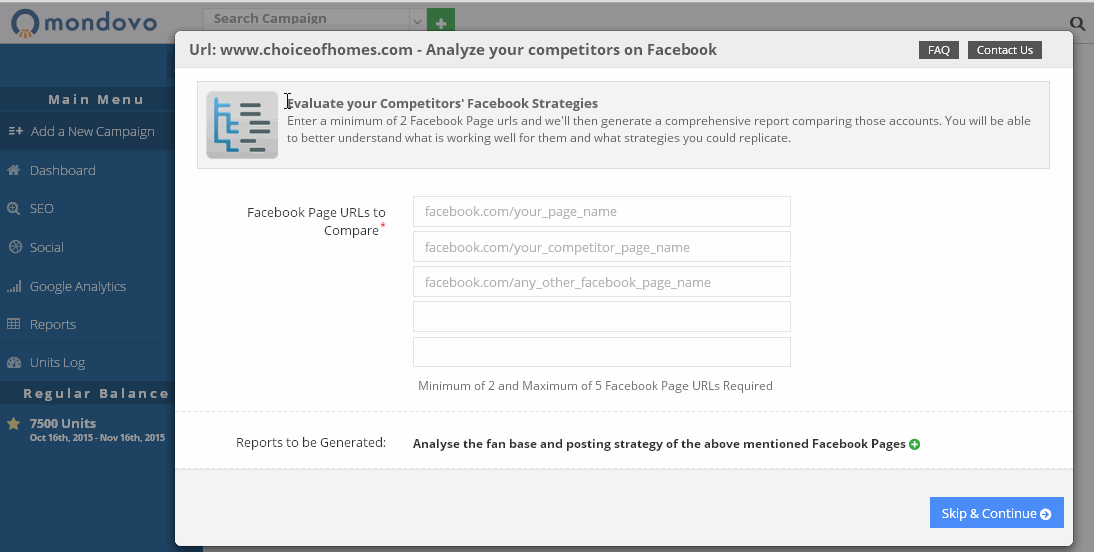 Twitter:
Mondovo Tip: If you decide to set up Social later and head directly to your dashboard for now, you can always close the setup window and run these reports later through either of these methods:
Clicking on the 'Social' links on your Dashboard
Clicking on the 'Social' links on the sidebar
We hope this new campaign setup process will make things easier for you, however in case of any suggestions or feedback, please use the comments sections below or e-mail us your queries.
The following two tabs change content below.
Latest posts by Sameer Panjwani (see all)