When we launched Pay-As-You-Go back in September 2016, we were convinced that greater value was the need of the hour. Having spent over 11 years in this industry, we've tried and used nearly every tool set from every company there is. The one takeaway that we most commonly got was the lack of flexibility. That's where Mondovo's pay-as-you-go model came in. We gave our users the flexibility to pay for just the reports they needed when they needed them.
Post launch, for the most part, we were successful. Mondovo gained more traction in a few months than it did in the entire year or so preceding it. However, what became clear was the business model was not sustainable because revenues were not predictable.
We do still want to offer the same value proposition that we've offered thus far and yet do it in a manner that's sustainable in the long-run. We can only continue to give you better data and tools if we're growing ourselves. Hence the impending change of moving over to a subscription based model BUT based on the same pay-as-you-go concept.
So, if you've been a user of our tool, everything would work in the same way, with the sole difference being that there will be a minimum monthly fee.
We are still going to be the most affordable toolset available. Our pricing and feature set remain unmatched.

When does the new pricing take effect?
The pricing will take effect from the 3rd of October, 2017.
Other FAQs
What pricing plans are available?
Once the new pricing goes live, 3 pricing plans will be available. Here are the pricing plans for your reference: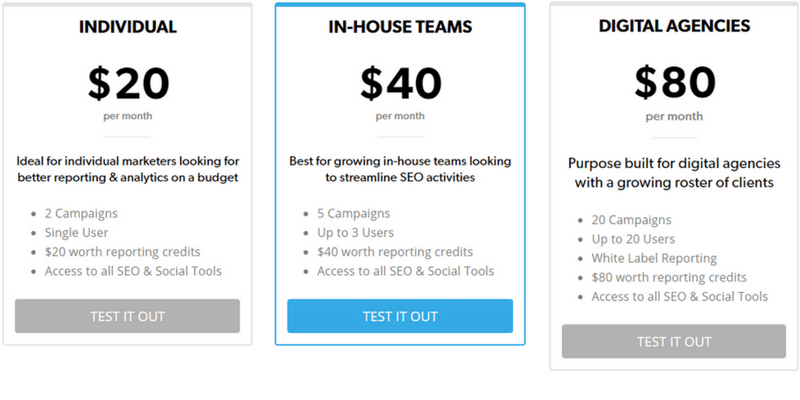 How does the Pay-As-You-Go system work with a Monthly Subscription?
The Pay-As-You-Go system lets you top up your account with funds if you've already used a lot of your account balance to run reports. Rather than waiting for the next billing cycle, you can easily just buy the reports you need and keep going.
Do the funds in my account expire?
Yes. At the end of every billing cycle, any funds that remain unutilized in your account will expire and will be replenished at the start of the next billing cycle – including the funds added through Top-Up.
What are the main differences between the plans?
Please refer table below:

Is there anything else being changed?
Nothing else is changing in Mondovo. All the same features, the easy to use interface, the amazing customer support, all of it is staying as is. We're only pivoting the pricing model to make our business viable in the long term.
What happens to my existing Mondovo Account?
Over the next few weeks, we will be migrating all user accounts to a specific monthly plan based on the number of campaigns in your account. For example, if you have 5 campaigns in your account right now, your account will be transitioned to the $40 per month plan.
What about my current balance?
Any outstanding credit balance in your account will be carried forward in the new plan. These credits will then expire on the 3rd of November, 2017. If you have any excess balance beyond the plan cost and you're sure you will not be utilizing the entire amount, then contact us and we can adjust those balances against future payments for the monthly plan.
What if you have more campaigns or users at present than a plan would allow for?
If you have more campaigns than any of the plans allow for, we would be more than happy to accommodate you into one of the available plans with some customizations. These would be available to all legacy customers. Do discuss the options available with us over email.
How do I cancel my Mondovo account?
Just email us on [email protected] and we'd do the needful.
The following two tabs change content below.
Latest posts by Sameer Panjwani (see all)