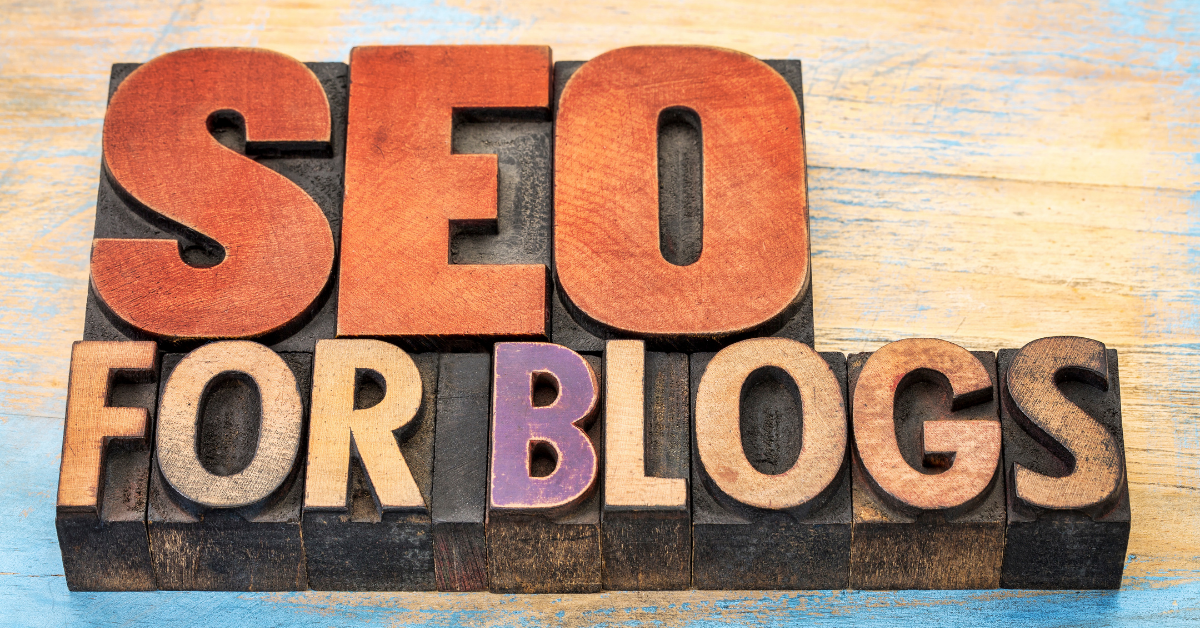 Search engines are a popular medium through which people discover content on the internet. If you optimize your blog posts for search engines, you make it easier for people to find your content.
Enhancing your blog posts for search engines will not only help you rank higher on Google, but also increase traffic to your site, as well as increase your brand awareness.
Optimizing your blog posts for search engines is not complicated, but it does take some time and effort.
Here are some simple steps to help you get started…
Find high volume low competition keywords
Every blog post you write should be optimized to rank for a specific keyword. The best way to find keywords that you can rank for is by looking for low competition keywords that have high search volume. There are many ways to identify these keywords: through your own research, by using Google Keyword Planner, or by using keyword research tools like SemRush or Ahrefs.
Add keywords in the right places
Just adding keywords anywhere in the post won't help you rank higher on Google.
When you are writing your blog post, it is important to add your valuable keywords in the right places so that your blog post can be found by readers who are searching for content on specific topics. You can use keywords in the title, the introduction, and the conclusion.
You should also include keywords in the body of your content and your subheadings. Remember to incorporate the keywords at least 3-4 times throughout the text so that search engines get a better understanding of your blog and eventually your blog will be ranked higher. For example, if you're trying to build an online community with the help of podcasts, you need to focus on keywords related to the guest and the topic.
Another type of keyword you should add to your posts is LSI keywords. There are some tools like Clearscope that will help you find these easily.
Build high-Quality links
Every blogger needs to build high-quality links to their blog posts.
Links are still one of the most important factors in ranking a site on Google. There are many ways to get quality backlinks for your site, but not all of them are ethical and white hat. So it's important to be careful while building links for your blog posts so that you don't get penalized by Google or other search engines.
In order to build high-quality links, you should share your content on social media platforms like Twitter and Facebook. This doesn't have a direct impact on your SEO, but it improves social proof. This will make your content look credible and more people will want to link to you.
Make sure you thoroughly assess the websites you build links from. They need to be of a higher authority and relevant. You can use metrics such as Moz's DA or Ahrefs DR to quickly determine authority. You might also want to look at the website's traffic levels from search engines. As more traffic means that the site isn't a PBN (private blogging network).
You can use Ahrefs to assess sites, but to find people to contact, you can use an email finder or message them on platforms like LinkedIn. Here's a great LinkedIn Sales Navigator tutorial that will help you find email addresses.
Internal linking
Internal linking is a way of connecting your content with each other by linking to pages and posts on your blog. It is important for SEO as it improves the flow of information on your blog and it also helps you to define the scope of your content. These can have the same effect as backlinks from external websites.
Here are some tips for internal linking:
– Use keywords in anchor text
– Link to related pages
– Link to pages that have similar topics or keywords
Optimize Metadata
Meta title and meta description are two of the most important elements of a blog post. They are what search engines use to determine what your content is about and how it should be ranked in search results.
A good meta title should be relevant to the blog post's content, catchy, and concise. The meta description should be similar to the meta title but also include keywords that will help increase your rank in search results. Also, make the meta description very persuasive as a higher click-through rate (CTR) will improve rankings further.
Improve Readability Score
A good readability score helps keep your audience engaged and increases dwell time, which is a major factor that Google cares about. Dwell time is the average time a user spends on your blog. If a user is not spending enough time reading your blog then google considers that blog unimportant and drops the ranking. That is why having a high readability score and dwell time can help you rank higher in Google search results because these two factors are linked with user experience.
Add visuals
A picture can be worth a thousand words, and that's why visuals are important in blog posts for SEO. Visuals are a great way to break up the text and make the post more interesting for readers. They also help people who are reading to understand what you are talking about in your post.
Moreover, When you use visuals, your blog post is more likely to be shared on social media or picked up by Google News. Also, search engine crawlers are much more likely to index an image than text alone.
Visuals can be anything from an image or video to infographics or graphs but make sure whatever visual you are using is original and not copyrighted.
Images can also rank on Google Images and Pinterest and help you generate some extra traffic.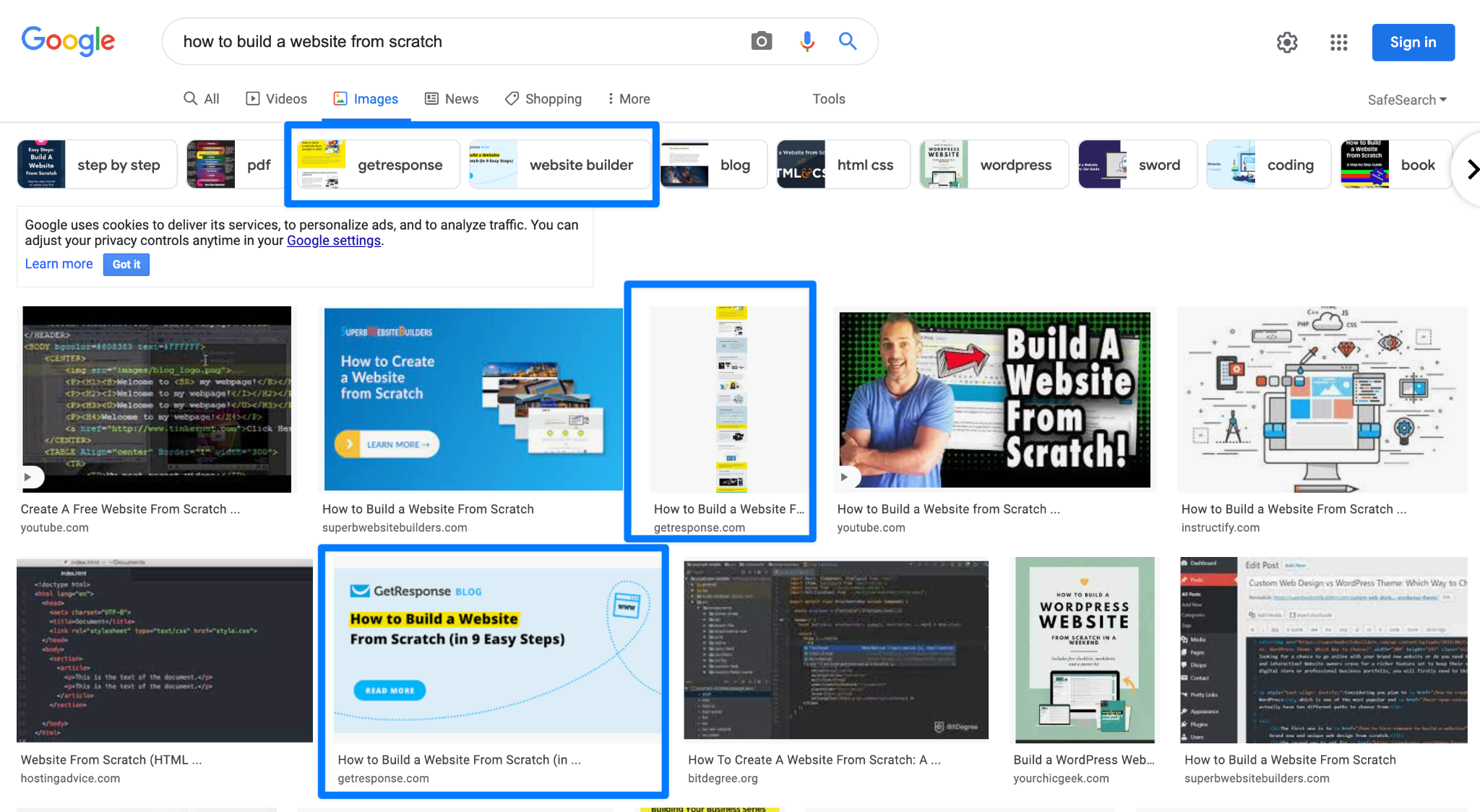 Here's an example of images ranking on Google images from the GetResponse article on how to build a website from scratch.
Improve loading speed
Users are impatient and want to see results quickly. If a blog post is loading slowly, they will leave the page. Google has already started to penalize slow loading pages in its search engine results pages. This means that if your blog posts are not optimized for speed, you are missing out on traffic from Google.
There are some strategies that can be used to improve the loading speed of blog posts such as:
– Using images sparingly
– Avoiding code like Java Scripts, Flash, and YouTube videos
– Keeping the number of plug-ins to a minimum
Conclusion
It is not necessary to immediately implement each of these SEO recommended practices into your blog posts. However, as your website expands, so should your search engine optimization aims. You'll be on track to create relevant content that will climb the SERP ranks once you've identified the goals and purpose of your target readers.
The following two tabs change content below.
Latest posts by Sameer Panjwani (see all)