Have you ever searched for a specific type of business on your smartphone when you're out with your family or friends? With growing mobile usage, the chances are that you've! 
In fact, to be more accurate, you have conducted a hyperlocal search.
Hyperlocal SEO is crucial for any business be it online or offline. You simply can't ignore it while setting up your business at a specific location or choosing your local target audience. 
With Google's Pigeon update, the focus has moved to hyperlocal search by reducing the search radius for local queries. Hyperlocal SEO helps local businesses rank higher in search results and improve the number of loyal local customers. 
Therefore, with the recent updates in Google Algorithm and fast-changing trends in SEO, we cannot ignore the importance of hyperlocal SEO. 
Let us understand in detail what exactly hyperlocal SEO means and how you can gain local customers by teaming it up with micro-moments.
What is Hyperlocal SEO?
Hyperlocal SEO refers to optimizing the search with the intention of targeting local customers in a highly specific and geographically restricted area, as narrow as few blocks, neighborhoods, towns, and streets.
It focuses on "near me", "open now" searches that are conducted by people on their devices.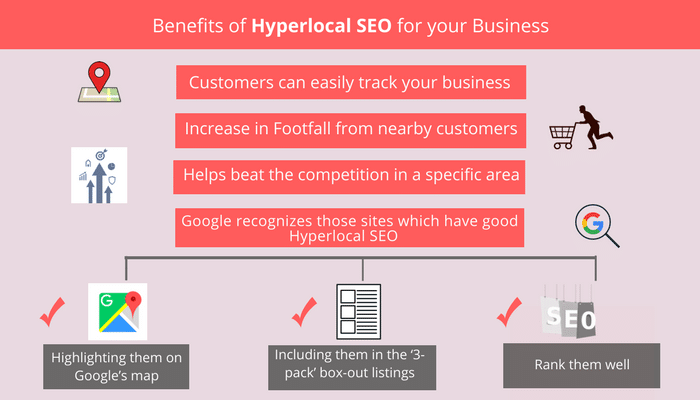 How is Hyperlocal SEO different from Local SEO?
In many instances, hyperlocal SEO seems similar to local SEO. However, if we look at it closely, both terms are different in the area concerned with the search. 
Local SEO

 Hyperlocal SEO

It covers a wider radius.

It includes a smaller radius.

Local SEO focuses on a broader area such as city, state, etc.

Hyperlocal SEO focuses on highly specific areas such as streets, blocks neighborhood, backyards etc.

The relevancy of results is lower as compared to hyperlocal SEO.

 

 

The relevancy of results is higher in hyperlocal as it is closely related to a query.

 

Local search helps in improving conversion rate, and higher conversions lead to better SEO. But, if we compare it with hyperlocal search, the conversion here is less.

 

The chances of conversions are more in hyperlocal search as it becomes easier for search engines to efficiently gather all the signals pointing to the business website in the nearest location of the user.
Now that we have established a clarity on hyperlocal searches, let us find out how it can be paired with micro-moments to provide the best search experience for your customers and help you increase revenue.
What are Micro-Moments?
Micro-Moments are critical touch points when people turn to a device like a smartphone to take immediate action or on-the-spot decisions to know something, to go somewhere, to do something, or to buy something. 
These 4 intent rich moments discussed below help people shape their preferences and also influence their buying decisions.
I-Want-to-Know Moments

– Here the consumer wants to know, explore, research and collect all the useful information about a product or service. The customer is not yet in the purchase mindset.
I-Want-to-Go Moments

– Here, the consumer does the "near me" or "closest" searches to buy something that has been pre-decided and he is ready to buy it at that very moment from a nearby store.

 
I-Want-to-Do Moments

– This moment can come before or after making a purchase. In this consumer focuses on "How-to" searches to get some help while trying something new or to get something done.
I-Want-to-Buy Moments

– Here, the consumer is ready to purchase something but needs help on how to buy and where to buy it from.
For example, 
The "Makeup Genius", a personalized mobile app created by L'Oreal helps you choose and buy makeup through your phone. It provides micro-moments to the customers throughout their journey.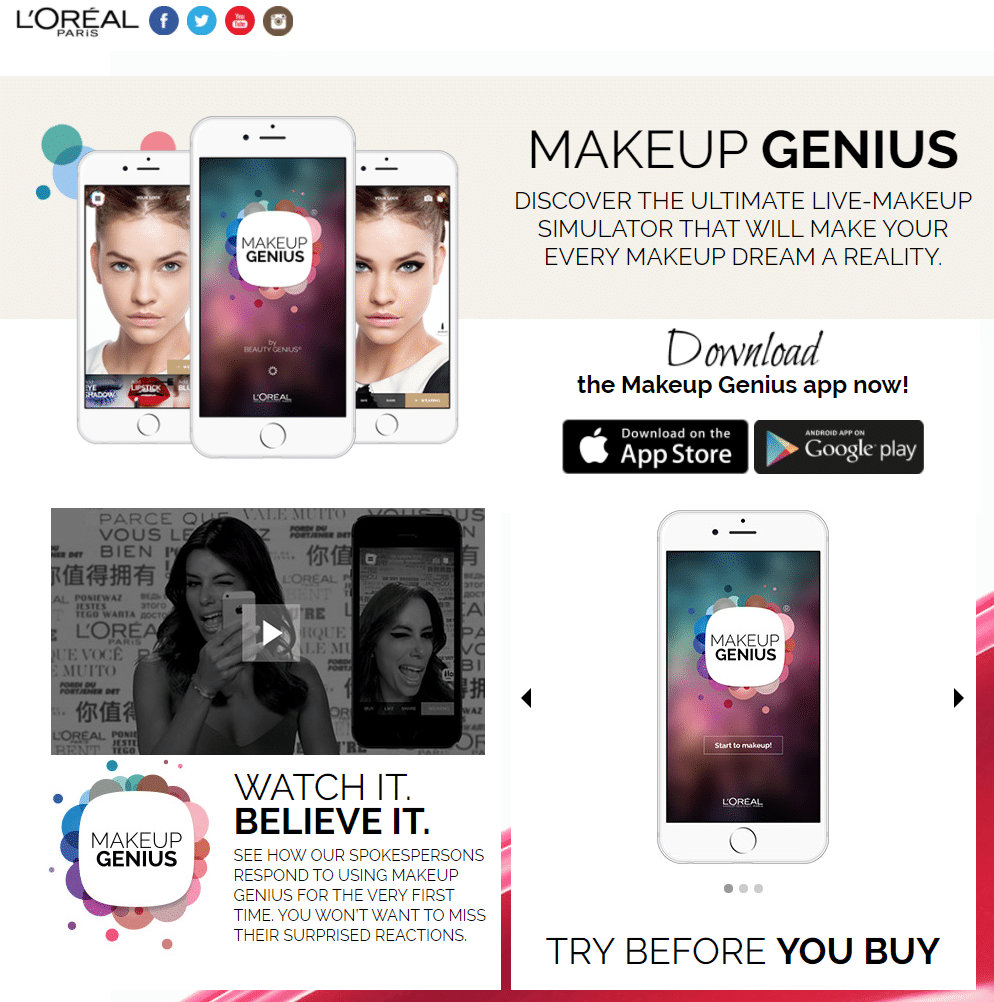 You are searching for smudge-free eyeliner (I-Want-to-Know Moments).

You use Makeup Genius app to find the right eyeliner for yourself (I-Want-to-do Moments). The app lets you take pictures of your face to find the right fit.

Once you click pictures, the app detects your face and figures out the right eyeliner recommendations for you. You choose the eyeliner which you find the best and buy it through your smartphone (I-Want-to-Buy Moments).
So you saw how these micro-moments prompted the customers into buying the product by providing the right assistance at the right time.
Isn't this a fantastic way for brands to position themselves and create brand value when the customer himself intents to make a purchase? 
Now let's see what role micro-moments play in hyperlocal search.
The Significance of Micro-Moments in Hyperlocal Search
In today's scenario consumers have become impulsive and their expectations have skyrocketed. They take faster decisions and immediate actions. The quality, relevance, and availability of useful information have become more critical than ever.
Statistics show that 72% of consumers who did a local search visited a store within five miles. 
The focus lies in providing intent rich moments to nearby customers which will lead to a better user experience and loyal customers. Therefore, by combining micro-moments with hyperlocal, you can expect to rank higher in search results. 
Hence, the businesses need to evolve themselves with the changing trends and benefit by optimizing hyperlocal search with micro-moments.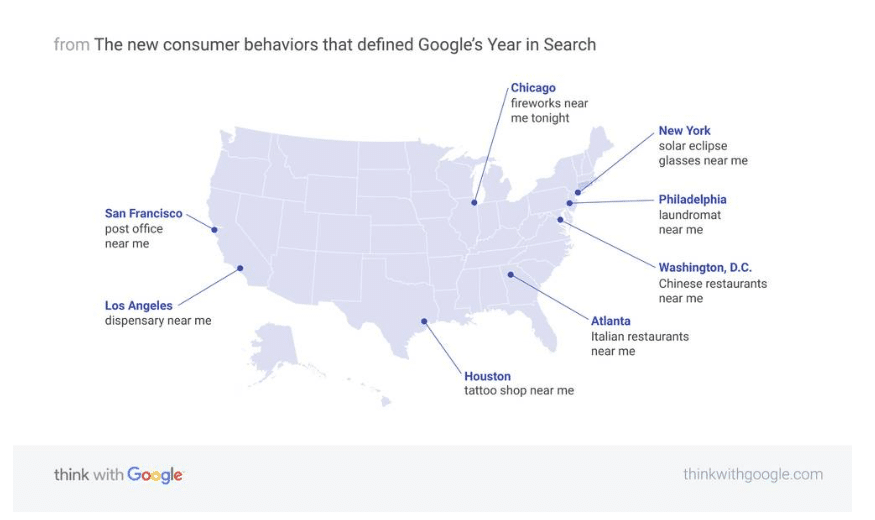 Tips on Optimizing Hyperlocal Micro-Moments
Combining micro-moments with hyperlocal SEO helps in providing a better user experience and optimizing search engine results. Here are some ways on how you can achieve that:
#1. Going Hyperlocal with Mobile First Approach
Due to a massive shift in consumer behavior from desktop to mobile devices, people are making decisions based on mobile content that is easily accessible and serves the right purpose at the right moment. 
Google studies show that mobile searches for "best" have grown over 80% in the past 2 years.
As consumers are turning to mobile devices to fulfill their immediate needs and take on-the-spot action it has become vital for local businesses to: 
Keep in mind the screen size of mobile devices, place the contact information on all the pages of your service website such that they are identifiable and visible.

Re-calibrate mobile SEO strategies according to micro-moments. Incorporate a 'call button' on the websites to facilitate consumers to take on the spot action.
#2. Hyperlocal Listing
Hyperlocal search results provide information about the specific area searched rather than focusing everywhere. It is crucial to provide NAP i.e. Business Name, Address (narrowed down to the street name, neighborhood, landmarks etc.) and Phone number.
For example, you can optimize hyperlocal searches with the help of verified local listing on Google's local search results. It is specifically created to provide information about micro-moment searches in your niche or close by areas. 
Some of the popular and relevant local directories you can count on are Google My Business, Bing Places, Yahoo Local Listing, Yelp etc.
For example, if a person is searching on Google for restaurants by typing "restaurants near me", or "restaurants open now". The following data would appear. Now based on how rich the information is provided in the individual restaurants, the person would make a decision.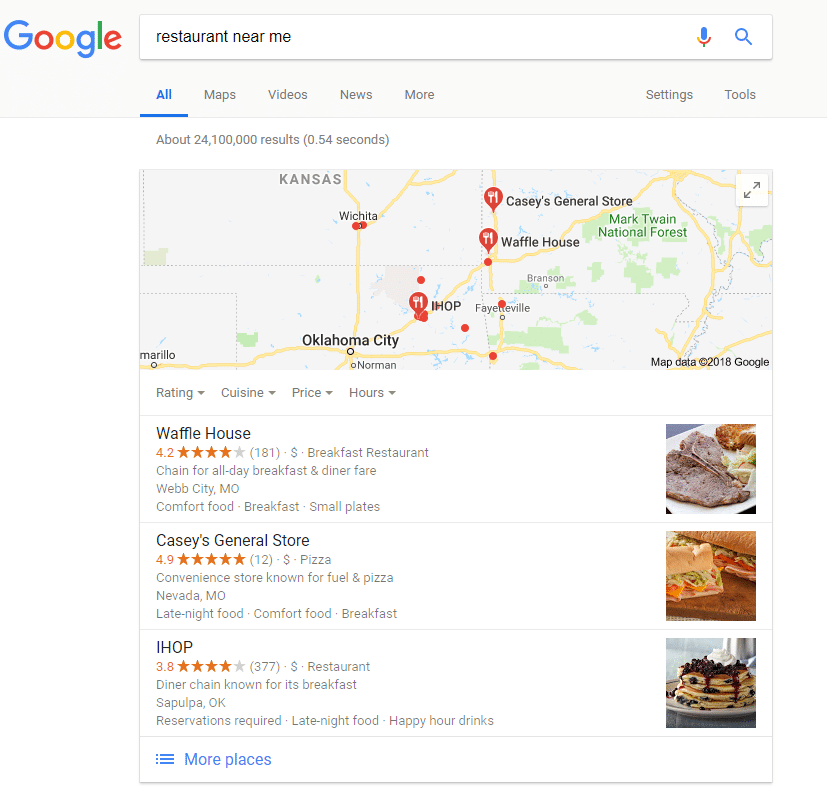 To make his decision-making process easy, include one or more of the following in your description: 
Name of the restaurant

Address – Street name, landmarks

Contact details

Reviews

Pictures

Ratings

Costing for two

Cuisine

Reservation

Ongoing special offers etc.
The richer and more updated the information is, the more are the chances of the customers choosing you spontaneously. 
Therefore, with just optimizing your Google profile or updating your local directory listing you can boost your local business and increase your local SEO visibility by focusing on food lovers (people) in your nearby areas rather than concentrating on people everywhere. 
#3. Optimizing Content as Per Hyperlocal
You must focus on making a localized website content that can grab the attention of people near your area.
Use exact location based keywords on your website that people usually type to find a local business. For e.g. use keywords like "near me", "near to", "nearest" etc. or call-to-action (CTA) like "right now", "buy now", "open now" etc. 
Track keyword rankings at your desired location (the location that is nearest to your business). The closer the keywords to your business location, the more beneficial this result will be for you.
You can also use this information to analyze the online search experience of your target audience. 
You can also develop onsite content based on hyperlocal points of interest which can boost your geolocation targeting and appeal to people who are looking around a particular area, such as mentioning specific landmarks and nearby destinations in your content.
#4. Create Hyper Localized Landing Pages
Once you start optimizing your content for hyperlocal targeting, create location-specific landing pages for each of your target locations to maximize your visibility in search results.
You can optimize your hyperlocal landing pages for the following keywords that will bring in more traffic:
Address

Name of city

Zip Code

Neighborhoods

Landmarks
Don't forget to track your progress and analyze the local competition by studying their landing pages and finding out how you can help your target audience better.
You can also increase your site's engagement by mentioning the local slang, i.e. the specific area you are targeting in your titles, descriptions, body text, alt. text of images etc. so that when Google crawls this content and when potential customers read it, both can quickly identify your business location.
#5. Use Structured Data to Influence Your Hyperlocal Search Results
Use schema markup to make your hyperlocal search results relevant by displaying the necessary information related to your business. 
Add markup to the content pages on your site as well as on Google My Business. When your data is structured correctly, it becomes easier for your business to appear in relevant search results. 
Google display schema markups for the following information in its search results: 
Hours of operation

Location: You can even include latitude and longitude

Business-related specific details such as address, contact details, reviews, photos, link to the website, call-to-actions etc.
Check out how Starbucks provides its customers with the best search experience by using structured markup.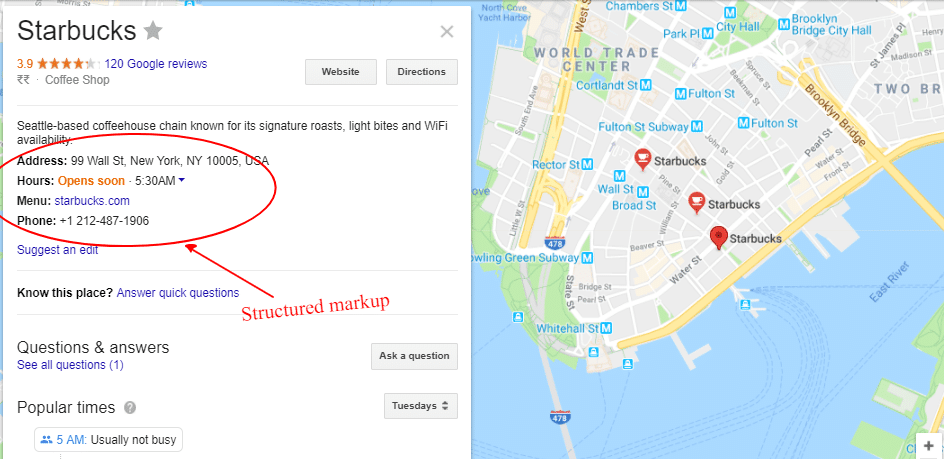 Summing Up
Understanding the rise of hyperlocal marketing is vital to a business' success. Since the focus has shifted to mobile first technology, there has been a significant surge in consumers performing searches with hyperlocal intent.
These tips will help your business in building an online presence, brand reputation, and visibility to attract and engage local customers and give your business an edge over your competitors.
The following two tabs change content below.
Uzair
Uzair is the VP, Sales & Marketing at
Enterprise Monkey
; an Australia based website and app development company which helps Small-to-Medium Enterprises, Large Enterprises, and Startups to increase their productivity, efficiency and ultimately profitability. Uzair possesses a comprehensive experience in B2B and B2C marketing. Pursuing his vision to help Small and Medium Enterprises, he has successfully helped many such organizations to increase their productivity and revenue.