You know when you start to hear your parents calling for Siri, Alexa or Cortana, that voice searches must be on the rise. In fact, 20% of all searches from a mobile device are by voice.
Is your business prepared to capitalize on this trend?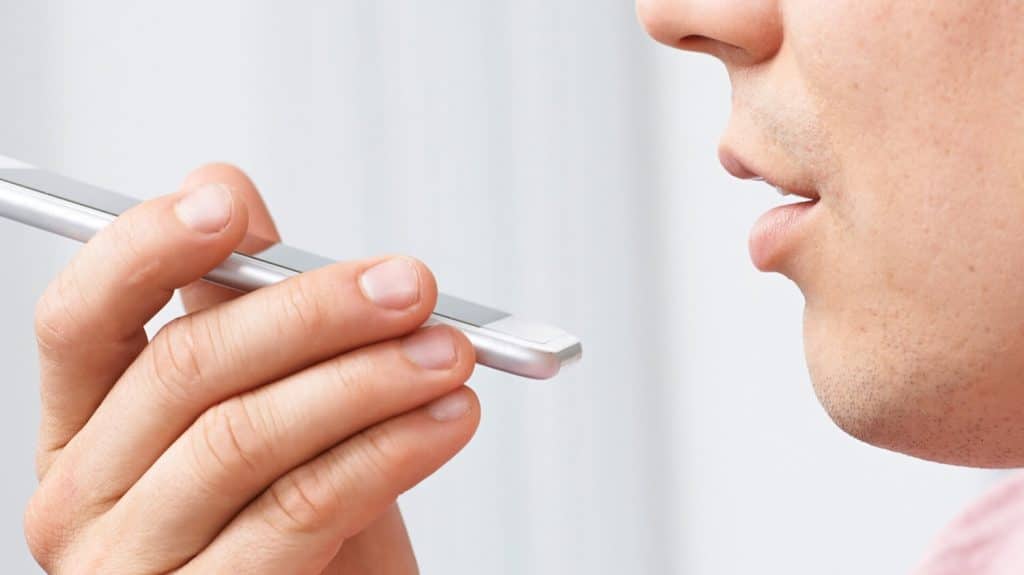 It's All About Long Tail Searches
Imagine you're getting sushi with your significant other when they start talking about how they've always wanted to go to the source and eat sushi in Japan.
As they dream about the trip, you pull out your phone and ask your intelligent personal assistant of choice for flight deals to Tokyo all while sipping on some saki. Before your omakase meal comes to an end, you've already determined the trip is possible and asked your phone to book you a hotel.
It's like the best third wheel on a date night ever!
The point being, the key to maximizing your voice search potential is understanding that people will use voice search the same way they'd talk to their partner or a friend. If you want to boost the growth of your business that a lot more people would know about it, you can try implementing tactics like the use of a commercial phone system, particularly VOIP systems. If you're in need of reliable telecom solution specialists, that provide expert voice and data cabling, state-of-the-art telephone equipment, and on-demand service for optimized performance, then you can check out this Structured cabling services here for more info!

Keywords and search algorithms will always exist, but the natural human language is only going to grow in importance. Instead of focusing on short-tail keywords such as "iPhone X," you should consider how a potential customer might ask a question related to your goods or service. For example, "Will I have to sell a kidney to afford an iPhone X?"
It has always been important to consider long tail keywords. They can be your secret weapon in defeating your competition. You can really make them eat your dust with a renewed focus on optimizing long tail keywords and understanding it's in large part about how we talk.
The more questions you aim for related to a specific keyword, the better you'll do. We speak in long tail keywords in real life and it's increasingly how we search the web.
Try to Rank On Featured Snippets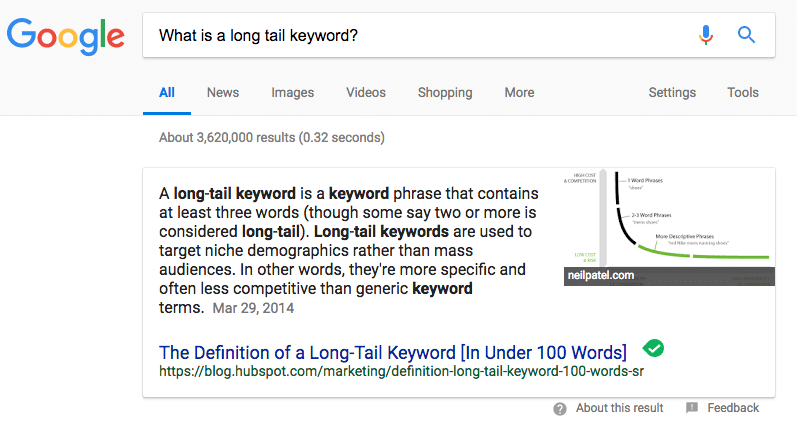 Not every search result will include a featured snippet. However, of the nearly one and a half million searches tested by Google, 30% of results did.
Featured snippets are an essential part of SEO, being as they display at the top of SERPs. With the increase in voice search, featured snippets will only grow in importance. Think about it: when you ask your phone's personal assistant a question, it always reads the top search result. If there is a featured snippet, that is what Siri or Cortana is going to read to you.
The trick to ranking with featured snippets is to answer questions your customers or leads may be asking about your goods and services with in-depth answers.
Here are some example questions:
What is a long tail keyword?

How can I rank in featured snippets?

What should I look for when hiring an SEO expert?
These are long tail keyword phrases that individuals may be voice searching on their mobile devices. It's your job to answer those questions while including the conversational keyword phrase, while also answering it with well written, in-depth content with which the reader will find value. When your content delivers value, the better your chance of ranking with a featured snippet.
For your best shot at ranking on featured snippets, try to include the long tail keyword phrase near the beginning of your blog post, in the URL and in the article's title.
Use Longer Titles and Descriptions
Recently, Google has increased the width of search results, in a move that almost certainly is aimed at anticipating an increase in voice search.
Previously, title lengths were limited to 60 characters and description length was about 80. Now, Google gives you 70 for the title and 100 characters per line for the description.
This gives you a bit more wiggle room to put long tail keywords to use in your title tags and meta descriptions. Take advantage of it, knowing that more and more people will be using voice search.
Think Local … Search Results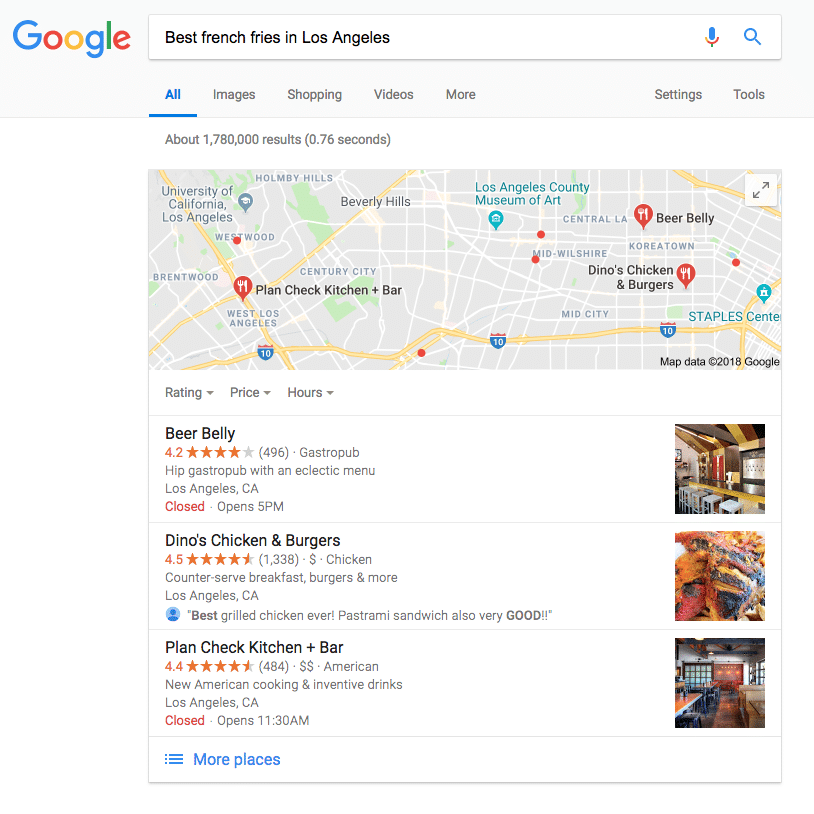 Nearly 9 out of 10 smartphone users search for a local business at least once per week. 
When it's time to decide what's for dinner with your significant other and you're sick of all the usual places, you may peruse Google to find a new option. You may even find your new favorite place! It's that easy for a hungry potential customer, but are you making it that easy for a new customer to discover your business?
Capitalize on conversational long tail keyword searches by thinking about location-based questions your future customers may be asking.
Here are a few examples:
Best French fries in Los Angeles

Craft breweries in Chicago

Most Instagrammable desserts in New York
Keep in mind to try and write like you speak and to include both your location and the wording of phrases your customers may be using in their searches.
It is difficult to predict exactly what your potential customers are looking for via voice search. That's why an FAQ section is worth your while. There, you can hit on any number of conversational long tail keywords, all while delivering the content for which your future customers are searching. With this tactic, you'll increase the odds of ranking for long tail keyword searches all while improving your semantic core.
Recognize User Intent

Did you know Google considers intent in regards to an individual's search queries?
If you can look beyond the question a person is asking and determine why they are asking it, you can build a content strategy around that. One which Google is more likely to consider you an authority on and improve your search ranking. By doing this, even if you don't hit on an exact keyword phrase, but your content provides value and is related to the phrase, your site will likely flourish.
When it comes to voice search, if you're able to gain an understanding of the individual asking the questions and why they're asking them, you'll be setting yourself up for success.
With a better understanding of voice search and user intent, you can create great content that both delivers value and is rich in keywords.
To gain a better understanding of user intent, turn to the related searches at the bottom of the search results for a specific question. This will provide insight on the people asking those questions and for what they are truly looking.
Google's ultimate goal is to match a user with the best possible content results. Your SEO will always be important, but gaining an understanding of the Google user is more so.
Create a Google My Business Account

One pro tip SEO experts give is to use "near me" in your content. After all, that's how potential customers will be making their search queries.
For example, "what is the best deep dish pizza near me?"
If your company is set up with Google My Business, it can show up at the top of the "near me" search results.
You won't be the only one trying to take advantage of "near me" searches. However, mobile searches take your location into account. If you're listed in Google My Business, you should rank near the top of the results for a given query.
It doesn't take long at all to submit your site to Google My Business. You may also want to consider Bing Places For Business and other online directories. You'll want to go as niche as possible, which will increase your chances of showing up in search results for specific topics.
An Eye Towards the Future
It may seem odd, but as Google is changing more than ever, they even appear to be moving away from Search in favor of making it easier for web users to find the information for which they are searching.
One cause of this has been Facebook's major influence on web traffic. As a result, Google has been forced to adapt. The traditional ways of driving traffic and data are being replaced. Simply put, search traffic isn't the ruler it used to be as seen in the below interview of Google's Chairman – Eric Schmidt.
Google has increased its use of Artificial Intelligence (AI). Voice search may become a major factor for AI, as it can help users find the best possible results for their queries.
Combine that with the fact that increasingly more sales are taking place on a mobile device, it's obvious that the role of voice search will only grow. It's time for you to take note.
Hopefully, this article will help you to consider voice search. Have a tip for optimizing voice search? Share in the comments below!
The following two tabs change content below.
Jamie FitzHenry
Jamie FitzHenry is the founder of
Grizzly
, an SEO Agency based in Bristol, UK.
Latest posts by Jamie FitzHenry (see all)