In 1995, less than 1% of the world population had an internet connection. Today, over 3.6 billion people use the internet. That's more than 40% of the world population.
A huge chunk of this online population search for and find restaurants online. They look up menus, compare prices, go through reviews before going over to a restaurant or ordering food from there.
As per a 2016 Adweek survey, 25% of people have at least one restaurant app on their phone. As per another survey, 85% of those who search for food on their mobile phones go on to complete a purchase.
But they don't stop at merely having discovered a restaurant that they might like, or after making a purchase.
Modern, tech-empowered consumers click pictures of the food that they have been served, go online to post their reviews, and share their experiences on social media—which in turn could enhance footfalls at your restaurants or dissuade people from further visiting your establishment.
The thing is whether you are online or not, your customers are. Talks veer around your restaurant, its ambiance, the food you serve, the service you offer, and more.
Look at the infographic below, these stats have been compiled from Toast's Industry Report and Restaurant.org's data: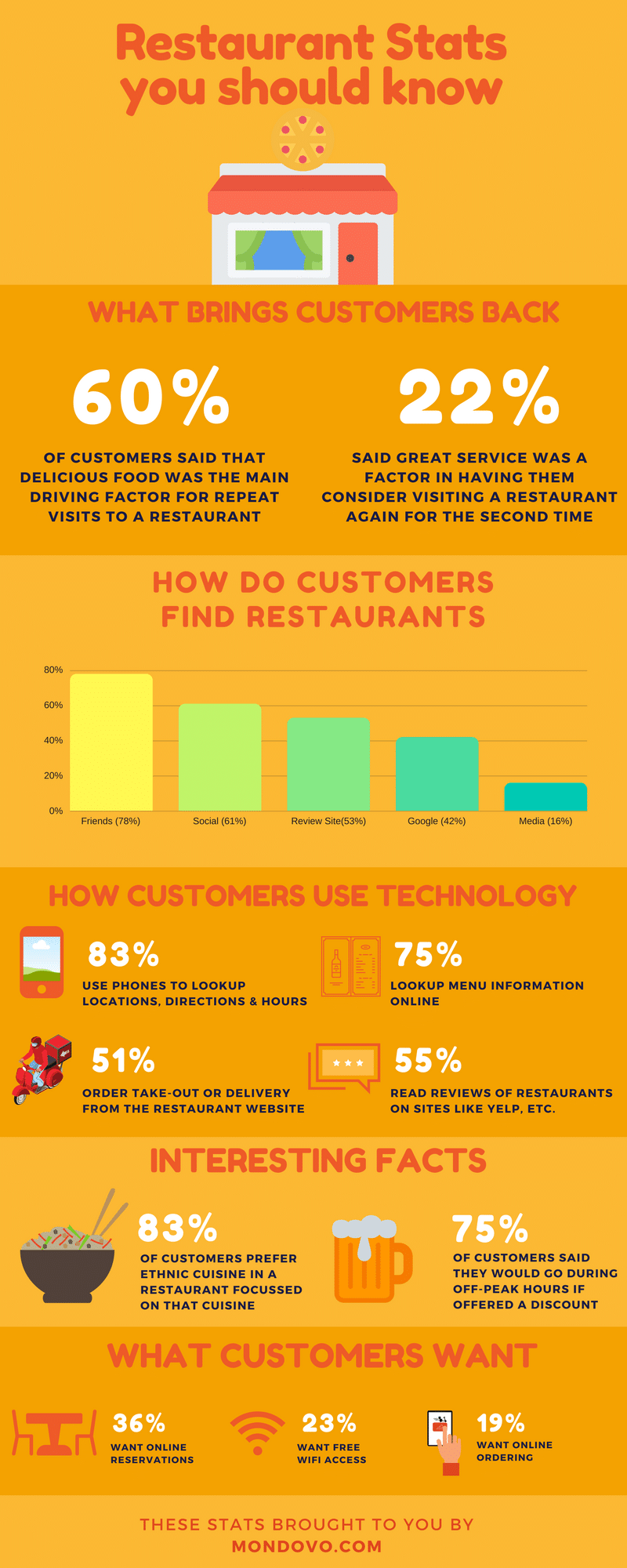 As can be observed from the graphic above, with many customers choosing to use some form of technology when it comes to dining, creating an online presence and engaging in restaurant digital marketing is no more a matter of choice; it's now a necessity.
To survive and flourish in today's restaurant market, you need a comprehensive online marketing strategy—that will let you build a brand identity, amplify your reach, create awareness, drive customer engagement, and attract a globally spread audience.
So, here we outline some restaurant marketing ideas and strategies that will help you come up with a restaurant marketing plan that will lead to a higher chance of success.
The Marketing Plan
#1 – Get listed on restaurant discovery platforms
Restaurant search and discovery sites and review portals like Yelp and Zomato are widely used to search and find restaurants—including the fine dining ones.
In fact, over the years, they have become the go-to place for online users looking to find restaurants.
Fact: There are between 30 to 50 such restaurant discovery platforms in each major country. You can get listed on most of them for free! The exposure could be immense and is definitely worth the one-time effort to get listed. We've compiled a list of all such restaurant discovery platforms for some of the major countries. You may download the list here.
From Gary Danko in San Francisco to L'Epicure, Paris to El Club Allard, Madrid – all types of restaurants are listed on one or the other of the restaurant discovery and search portals and apps.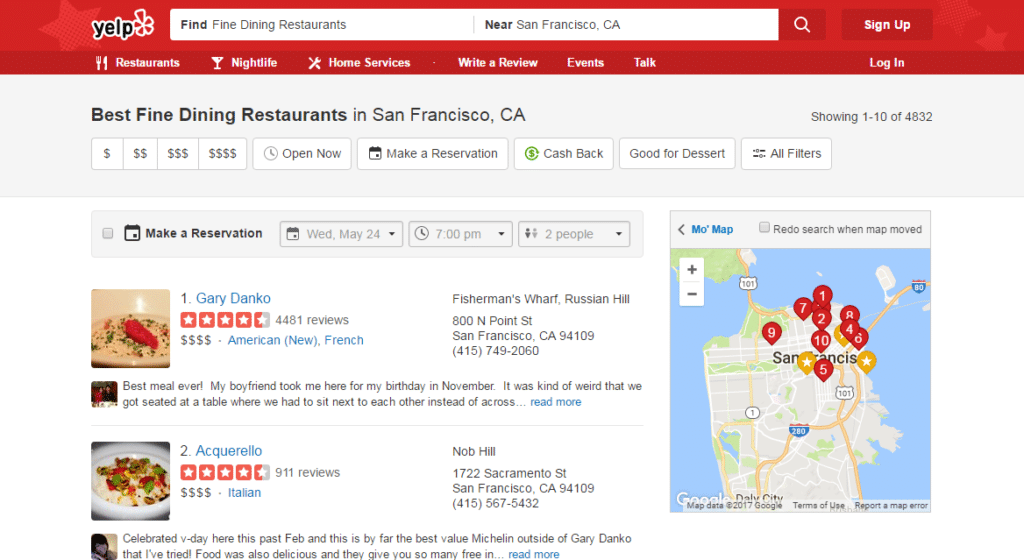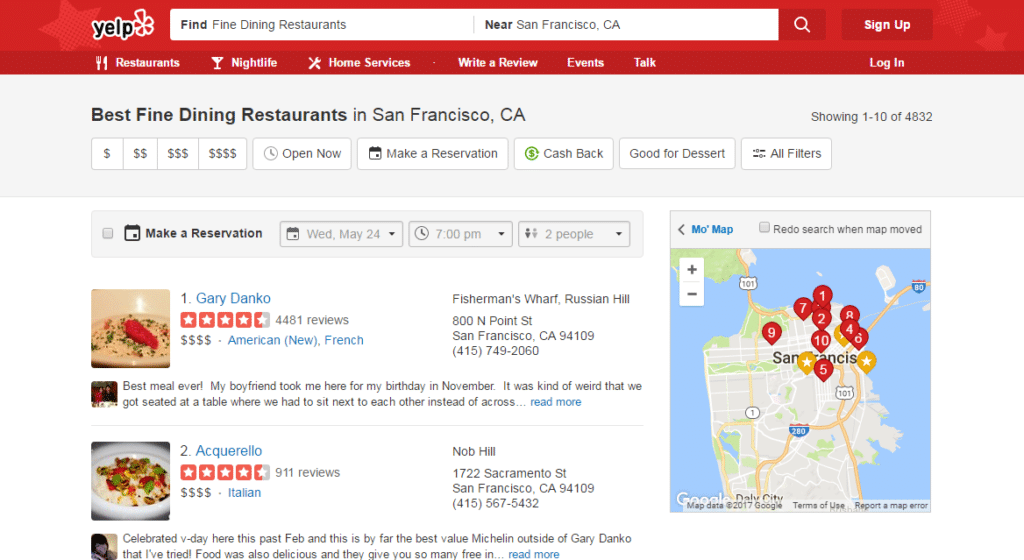 Yelp, on average, gets 26 million monthly mobile app unique users, 73 million monthly mobile web unique visitors, and 84 million monthly desktop unique visitors.
With stats of these sorts, is it not hard to ignore these restaurant search and discovery portals?
The idea is to appear before your target audience where they are looking for you. If your restaurant isn't listed on one of these portals or apps, someone else's will be. So, it's definitely a good idea to list your restaurant on as many of these platforms as possible.

#2 – The SEO Essentials
SEO is definitely a marketing idea worth considering for your restaurant. The keyword 'restaurants near me' has 7,480,000 monthly searches on Google. This fact alone should convince you to get your restaurant business listed on major search engines like Google and Bing. 
Try running a search for the keyword 'restaurants near me' and see what you get.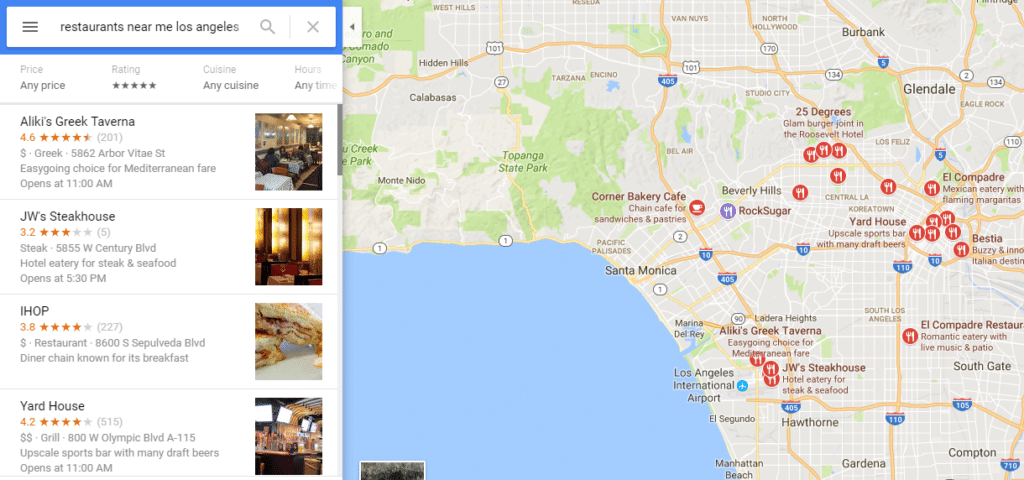 Now, you've got to admit, SEO can be hard for restaurants because of the many aggregator sites like Yelp, TripAdvisor & Zomato that dominate the search results.
However, you should still be able to dominate for searches with your brand name and for searches in your location.
It's important to be realistic with your SEO expectations for a restaurant. Your primary traffic drivers will still be aggregator sites, word of mouth and direct brand searches. The key is to be visible for your brand and location based searches. It might not make sense to go after a term like 'Restaurant New York'. The ROI of such an effort may not pay off.
There are 6 really simple things that you should do for the SEO of your restaurant website.
Ensure the title of your homepage has your brand name + your location and zip code, e.g. "Smoke House Grill – Metairie, LA 70005"
Get listed on Google My Business. In fact, it's recommended to get listed on as many local directories, you could use a local citation service from Directory Maximizer to get this done.
Ensure the address on your website matches exactly the information you submitted to Google and the aggregator sites. The address should be visible on your site. It could be in the footer. The presence of address information could help with local searches.
Put up your menu items on a dedicated page. Don't just include a PDF. While the chance of someone searching by your dish is rare, if the name of your dish is unique enough or is a signature dish, there is a chance it might show up if you have a dedicated menu page.
It might be worth considering having dedicated pages for certain, if not all, food items on your menu. You could describe the item, its' ingredients, typical customer experiences, etc. These pages could target the long-tail rare searches. It could also be interesting to read.
If you know of any websites that serve your location and community, try to get a link from those sites. Any link from contextually relevant sites can go a long way in helping you rank for your local searches. You can even spot backlink opportunities from your competitors' backlinks.
While there's a lot more you could do from an SEO perspective, like having a blog and regularly publishing interesting content but those efforts may not justify the ROI of the effort put in. Hence, for most restaurants, just keeping the above 6 points in mind should be good enough.
#3 – Deal with, rather than avoid, customer reviews
When you have 92% of consumers reading online reviews, and more than half of the population in the age bracket 18-34 giving priority to online reviews over the opinions of friends and family, the importance of online reviews cannot be overstated.
Also, most times, people tend to air their bad experiences in a restaurant than their good ones.

More the reason why you need to be proactive and request your customers to rate your restaurant and leave you their honest reviews.
Popular surveys claim that, when you ask, 70% of consumers will leave a review for your business. So, the idea is to ask!
Don't take chances with your restaurant's online reputation from being diluted by bad reviews.
Moreover, having higher positive online reviews help your restaurant rank over others on platforms like Yelp, Zomato, Google, and Bing.
Besides gathering reviews, you must engage with each one of them. Reply particularly to the negative ones. This adds to your credibility and your intent on addressing any shortcomings on your part.
Customer reviews give you an insight into your customers' pain points, which are basically the factors inhibiting the growth of your restaurant.
Look upon them as rooms where you can still improve.
Take a cue from Chicago-based fine dining restaurant, Maple & Ash that engages with both positive and negative reviews:

If you wish to take control of and manage your online reputation, check out these review response templates. These templates will help you respond to online reviews—both positive and negative. Feel free to use them or at least check them out, they might give you a few ideas of your own.

#4 – Get a website to reflect your brand, your culture
While listing and review sites like Yelp, GrubHub, and Zomato make it easy for the customer to find restaurants online, they present you with a very few means to reflect and portray the personality of your restaurant brand.
In addition, there are charges and commissions involved for some of the services that these platforms provide, and the focus is not solely restricted to your brand. Plus, there's the issue of the undeserved one-star ratings that begrudged customers sometimes hand you.
A website, on the other hand, give you the freedom to craft your identity the way you want. It gives you more control over how you want to interact with your customer. Having a website makes you look more professional, and this is something that your audience expects from you.
But don't just have a website for the sake of having one. Remember, your website serves a purpose.
The idea is to have a website that is not only tastefully designed but help your customers find the information that they are looking for. Also, it should have a responsive design, i.e. it should automatically adjust to different screen sizes.
For inspiration, take a look at Quay's website.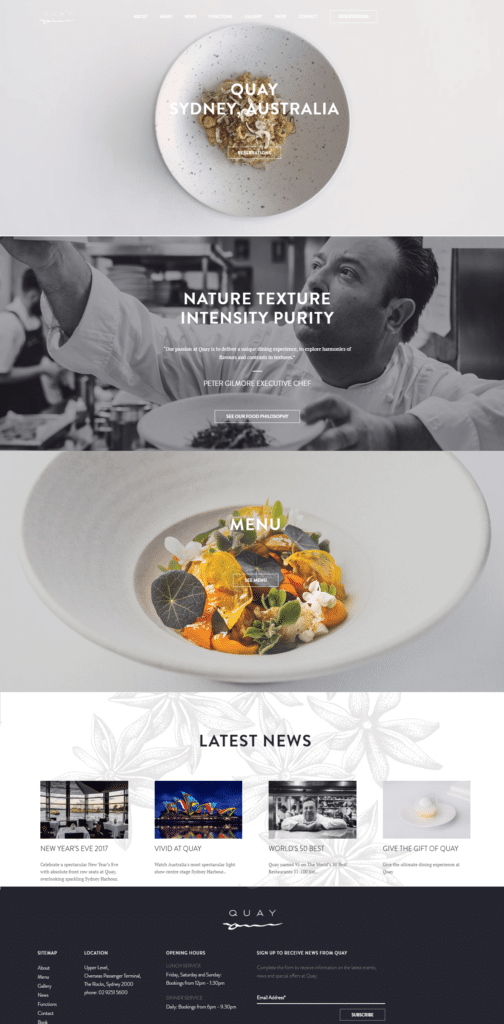 The sleek and polished website of this Sydney Harbour restaurant conveys a union of luxury and superior experience while exuding a vibe of refinement.
On a more practical note, information discovery is easy on the site. There are separate pages dedicated to the restaurant's team, menu, reservation, functions, etc. More importantly, the site is optimized for different screen sizes.
Green Label is one more example of a restaurant that has done wonderfully well with its website.


Why did we like it? Sharp imagery, crisp messaging, great look and feel.
If you are wondering how to design your restaurant website, check out some of these ready-made restaurant website themes that you could use for your site. You could also check out these 20 Cool Website Design Ideas.
Besides having a user-friendly website, it's also important that you track user behavior on your website — the pages your site visitors go to, the amount of time they spend, the terms they use to find your restaurant, where they come from, their demography, etc. Tracking these stats will help you better optimize your website in the future.
To track user behavior, you can use effective marketing tools like Google Analytics and Mondovo.
#5 – Rock it on Social Media
Not that I need to spell it out but social media presents an excellent opportunity for you to connect with your potential customers and get noticed. As observed in the infographic above, 61% of customers find restaurants from various social channels.
Social media marketing, over the years, has become an inalienable part of marketing exercises of restaurants—big and small.
So, how do you kill it on social media?
Identify the social media channels your target audience frequent
Each of the social media channels is different in its own way.
They have different audience sets, with whom you must interact differently.
Therefore, it's imperative that you first know who your target audience is, and then identify the social media channels that they frequent the most.
This will let you focus your effort and utilize your resources better.
Instagram, for instance, has more than 225 million public posts hashtagged 'food' and more than 1.4 million public pics hashtagged 'finedining', which makes the social media channel hard to ignore.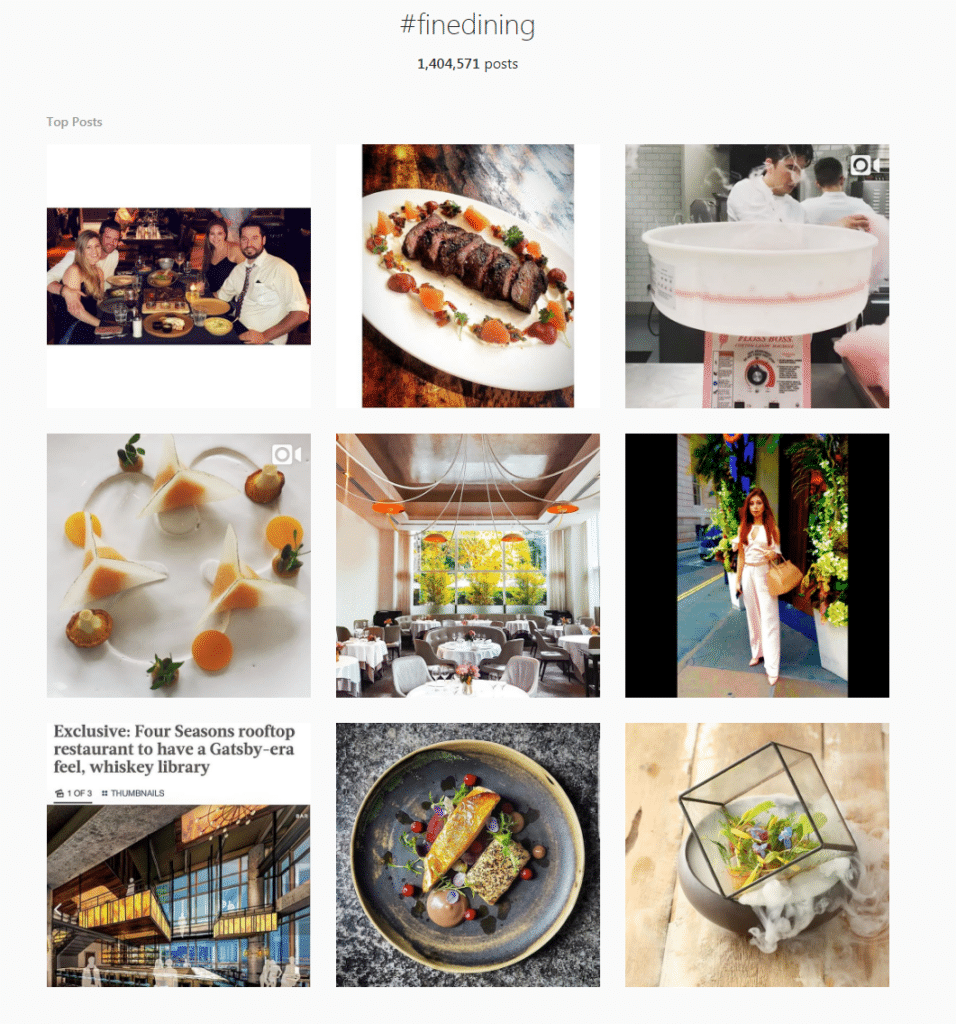 Likewise, every minute, hundreds of posts tagged 'food' appear on Facebook, Twitter, and Pinterest.
To make your social media marketing ideas impactful, survey your customers—know which social media channels they prefer and how do they absorb online information.
Research their online behavior. Also, keep a close eye on who your competitors are targeting.
Want to know how you can ace your Instagram stories? Check this article.
Be Genuine, Be Human—Share stories that touch a nerve
Irrespective of which social media channels you target, it is essential that you remain genuine and bring out your human side.
For, technology may be the enabler, but the persons interacting with you at the other end are real human beings.
Share stories that will engage your audience. Let your passion pour out. Make them a part of your journey.
See how Royal Ascot has recounted the journey of a fine dining dish from the spring-fed chalk streams of River Test in Hampshire:
From the clear waters of Hampshire to a Fine Dining dish

Fresh ingredients add extra flavour to #RoyalAscot: https://t.co/W5uENzDAlR pic.twitter.com/SygKHjWr3z

— Ascot Racecourse (@Ascot) May 26, 2017
Make Your Social Profiles Informative; Cross Promote for More Gain
Online marketing for restaurants is all about making maximum information available for your audience and help them make easy decisions.
Therefore, it's important that you fill out all the fields with relevant information in the 'About Us' section of your social media channels.
Make it as easy as possible for your target customers to gain useful information like hours of operation, contact info, price range, etc.
The About Us section of Hotel Le Bristol Paris' Facebook page serves as a fine example: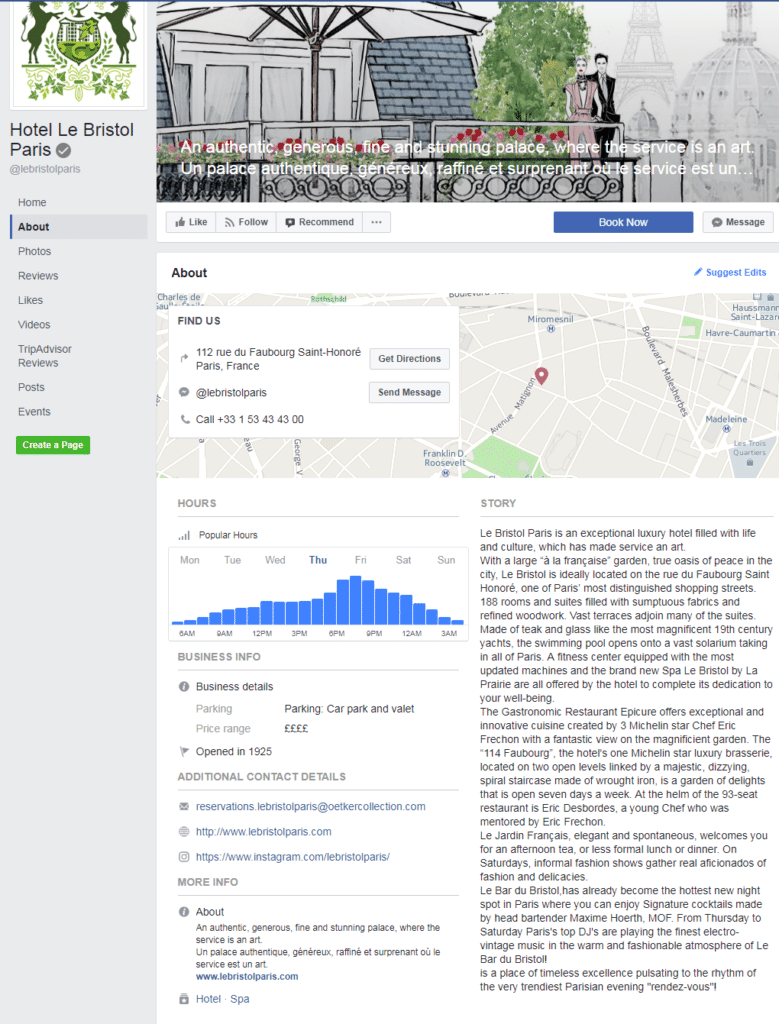 Besides providing relevant info, cross-promote your different social media channels.
For instance, you could include your Twitter link in your Facebook bio, or have your Instagram handle mentioned in your Twitter bio.
Your customers are on multiple social media channels and you would want them to connect with you on as many channels as possible.
Time Your Posts Perfectly to Drive Engagement
What's the use of creating cleverly thought out posts, sharing HD images, crafting fancy infographics, and funny GIFs if they go unseen and unnoticed?
Analyze your traffic and work out a schedule that guarantees maximum post visibility.
It is important that you understand your audience and know when they are most likely to be online—schedule your post timings accordingly.
And if creating fresh content each time is a headache for you, repurpose your content, or post the same content multiple times on a single day, over a week, a month or even after a year (if it had been particularly well received when it was first posted).
Above all, Don't be I-I-I, Me-Me-Me, Buy-Buy-Buy
In other words, don't be too promotional.
Posting too many promotional posts annoy your customers.
Also, your promotional posts need not always be boring.
The best way to do social media marketing is carving a space for your brand in your customers' hearts by engaging them.
To engage them, maybe you can ask them a question, take suggestions, seek opinions, interact with them and share their views and opinions with others.
This could include liking their posts, replying, sharing and retweeting their replies and images, etc.
Go through these examples: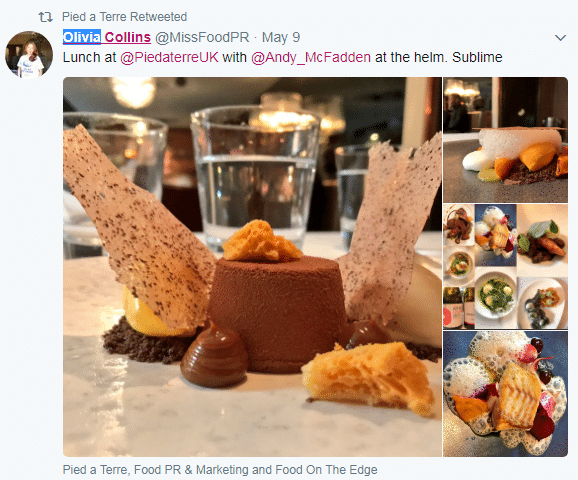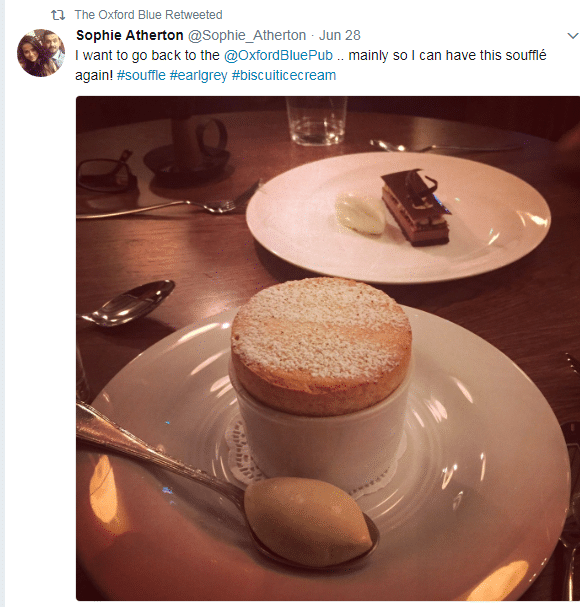 Customer-generated content not only provide you with a stream of cool content but they allow you to create social proof for your restaurant—this, in turn, inspires trust and confidence.
#6 – Leverage the power of visual content on image-driven sites like Instagram and Pinterest
Although Instagram and Pinterest come under the ambit of social media marketing, I still felt the need to mention them in a separate point because when it comes to the food business, a lot depends on what the eye finds enticing.
Human beings can dismiss most other sensations, but not the evidence of their own eyes. This is something that magicians and marketers alike have relied on for ages now.
To entice customers to your restaurant, it is imperative that you share visually captivating pictures of your mouth-watering dishes on sites like Instagram and Pinterest.
Take a cue from Ava Gene's Instagram Account. Not only are their Instagram pics enticingly captured, they radiate the kind of warmth that helps fine dining restaurants connect with their target audience.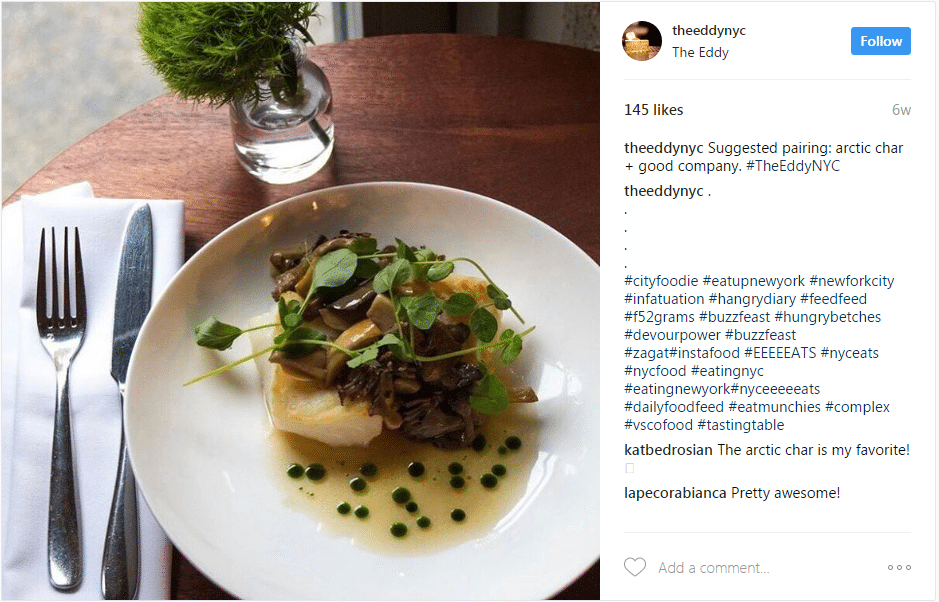 Besides posting pictures of your flavorsome delicacies, there's a whole lot that you can do on Instagram and Pinterest—like celebrating your staff.
Make them a part of your restaurant social media marketing adventure. It lends your brand a human touch and helps your patrons connect with the faces that make your menu possible.
Offering Free Desserts with Instagram Hashtags

As somebody who's done marketing for both restaurants and a POS startup, I can say from experience that Instagram should be every restaurant owner's best friend. 

Have a sign in the front of the restaurant that reads, "Put a picture of your dish on Instagram with the #myrestaurant and we'll give you a free desert from our Instagram menu!" You'll be able to drum up significant buzz this way.
#7 – Run Restaurant Promotions & Contests
From boosting sales to driving engagement to generating leads, there's much that contests can do for your restaurant. Contests build brand awareness and incite audience participation through lucrative rewards.

You can celebrate your fan of the month/week, seek decor ideas and suggestions, offer exclusive and much sought-after tickets to an upcoming thriller in exchange for likes and shares, etc.
When it comes to generating restaurant contest ideas, there's so much you can play around with—the world literally is your oyster.
Coming up with an excellent contest idea is only one part of the job. The second and the more important bit is, promoting your contest.
Go bonkers on social media. Create your own hashtag and encourage participants to use it with their posts, change your cover images, customize your profile pics, share reward information, and keep engaging your participants throughout the contest period.
Besides promoting on social media, do not forget to email your list, submit your contest on directories like Rediff, create a blog post with information pertaining to the contest, and publish a press release.
#8 – Get Influencers—sites or individuals—to talk about your restaurant
There are certain sites and individuals who owing to their expertise in all matters food, restaurant, and hospitality, have sufficient sway over your niche target audience.
The delights of tasting lunch @Benaresofficial review and interview with chef @atulkochhar to follow pic.twitter.com/9YEk2RQisG

— fine dining guide (@finediningguide) May 18, 2017
It would definitely be a great idea for you to identify these sites and individuals, and contact them to feature your restaurant on their blog and social media posts.
On second thoughts, the influencer need not even be a gastronome and could be anyone with a big social media following.
Tip: Start with local influencers. Search instagram in your location with hashtags like #foodie, #food, etc. and contact people who seem to have a reasonable number of followers.
Invite your influencers and delight them with the best of your food, service, and ambiance to an extent that they consider mentioning about your restaurant in their blogs and social media posts.
There are tons of other imaginative ways of collaborating with your influencers that you can think of and experiment with.
Here are 10 Low-Cost Tools for Scaling a Micro Influencer Marketing Campaign.
#9 – Spill your beans on YouTube… Or, Go Live from your kitchen
YouTube should definitely be a part of your restaurant's social media marketing plans. It is a great medium not only to reach out to your target audience and market your restaurant but also to create a sense of domain expertise.
All you got to do is share some wonderful recipes that would tickle and titillate the taste buds of your would-be customers.
Several successful chefs including Jamie Oliver, Laura Vitale, Alton Brown and Gordon Ramsey are doing it.

And while you are still on YouTube, you can perhaps show off some amazing and bizarre skills of your staff.
Can your staff more than just cook and serve?
Can they twirl their pizza dough like this guy does?
Or, can they bake a blueberry cake in record time?
Alright! Not every restaurant will have one such specimen in its kitchen.
But when you do have someone that fits the bill, make a Youtube video and let the world feast on the hidden talent and the secret powers of your super staff.
Besides sharing videos on your YouTube channel, you can even go live on Facebook or Periscope.
You can talk about special events, new promotions, answer questions, solicit opinions, or simply give people a background tour of your kitchen.
Lastly, don't forget to take a look at these simple and effective video marketing ideas for restaurants and bars.
#10 – Geo-Targeted Facebook and Google Ads
Yes! Facebook and Google Ads.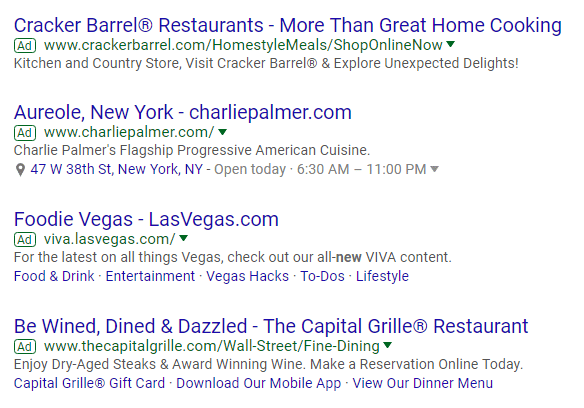 Granted you got to spend some dough on your restaurant advertising campaigns, but the returns could be excellent.
You see, your online restaurant ads let you target a very specific audience—you can filter your focus audience by age, gender, and location.
Just get your audience demographic right and you could literally keep your cash counters ringing.
Tip: You might want to focus more on restaurant ads targeted towards mobile devices. Customers on the lookout for restaurants usually run such searches from their phones.
You can be also flexible with your budgets and ad display timings.
What more, with Google Ads, you can even rank for keywords that contain your competitors' names.
Need help setting up your Google and Facebook Ads? Get in touch!
#11 – Tapping on third party reservation sites

After all the effort you took to get your restaurant in shape, you cannot possibly afford to not have diners visiting you. This is where you can tap on third-party reservation sites like Open Table, BookaTable, etc.
For a nominal fee, these third-party reservation sites can direct diners to your restaurant, and thus ensure, empty spots don't stay empty for long.
These third-party reservation sites not only help you fill your restaurant but also help you with information that lets you manage your customers better.
#12 – Partner with other Businesses
You could do well by tying up with businesses in the area and perhaps offering discounts to one another's customers. For example, there was a restaurant that attracted a number of customers who biked to the restaurant. The restaurant then tied up with the bike shop so that any customer of the bike shop would get a discount in his restaurant. An easy way to get customers and it was a win-win for both.
There are also a number of companies who might want to give out exclusive discounts to their employees as a perk. You might consider contacting and tying up with some of them.
#13 – Collect Emails & Send Out Newsletters
As a part of your regular restaurant promotion routine, it would be great if you figured a way to capture your customers' email address. This could be through the reservations they make or through the post-dining feedback cards. Collecting these emails can be handy. It's good to be able to remind your customers of your presence through interesting newsletters once in a while.
#14 – Partner up with Delivery Services
There are a number of delivery apps these days. Many restaurants are surviving purely based on delivery revenues. So, it might be worth considering tying up with as many of these services.
The revenues from these tie-ups can be substantial and it's definitely worth considering. Here is a list of some delivery companies.
#15 – Host an Event
People love having a reason to go out. You could have a popular band come over and perform. You could invite a popular comedian. Or you could conduct a specially themed food festival.
There are n number of event-related restaurant promotion ideas that you can come up with. Be sure to publicize them on Facebook & Instagram to make the best of it.
#16 – Consider Mailers, Paper Ads & Radio
You might want to consider some amount of local advertising for your restaurant. This depends on where you're located and the demographic. Sometimes the age-old tactics of advertising can still work wonders!
#Bonus Tip – Explore Wi-Fi Marketing
Wi-Fi marketing uses a physical location's guest Wi-Fi landing pages and access points to collect customer names, contact info, demographics while also measuring their behaviour data at the location. This data is then used to create targeted automatically triggered re-marketing campaigns that influence customers.
Wi-Fi marketing helps you gain a competitive edge over your competitors and ultimately increases your profits by leveraging the power of digital.
---
So there you have it—a list of 16 marketing strategies and a bonus tip for your restaurant.
However, we're not done just yet!
There are some more interesting data that I thought you should know about what customers expect from you in your restaurant.
These are some findings from Toast's restaurant technology guide.
5 Interesting Restaurant Technologies that Diners Want
Progress bar for meals – A progress bar to show the estimated time for your food to be ready while you're waiting in a restaurant, especially on busy nights.
Menu information – Guests want an easier way to get information about the food items they're ordering. The information they're looking for pertains to calories counts, nutrition information, sourcing, flavor profiles, and whether options are vegan, gluten-free, or dairy-free.
A server "call" button – In crowded restaurants, it can sometimes get tough to invite the attention of the server. Diners want the ability to "call" their servers with the help of a button, similar to what you find in an airplane so that they could ask for refills or their check.
Splitting the bill – In large groups, there are many a times when guests want to split their bills but the restaurants don't make it very easy to do so. They want an easier way to split the bill when everyone wants to pay with a different card.
Identify "regulars" and their favorite dishes – Guests would love if the restaurants could identify them as regulars and recognize their top ordered dishes. Any special treatment they get as regulars would also be nice. Many people go back to a restaurant to order a single favorite dish and they want the restaurant to be able to recognize that.
While some of the suggestions above might be a bit "out there" but if you could do anything extra to please your customer, you should think about it.
Having covered quite a few ideas above, I still think it's necessary to point out that planning your restaurant marketing activities should only come second after you've got your basics sorted.
Here's a simple infographic outlining what I think are the basic essentials you should have covered already with your restaurant before thinking about planning your restaurant marketing activities.
The 5 Key Factors to a Successful Restaurant Business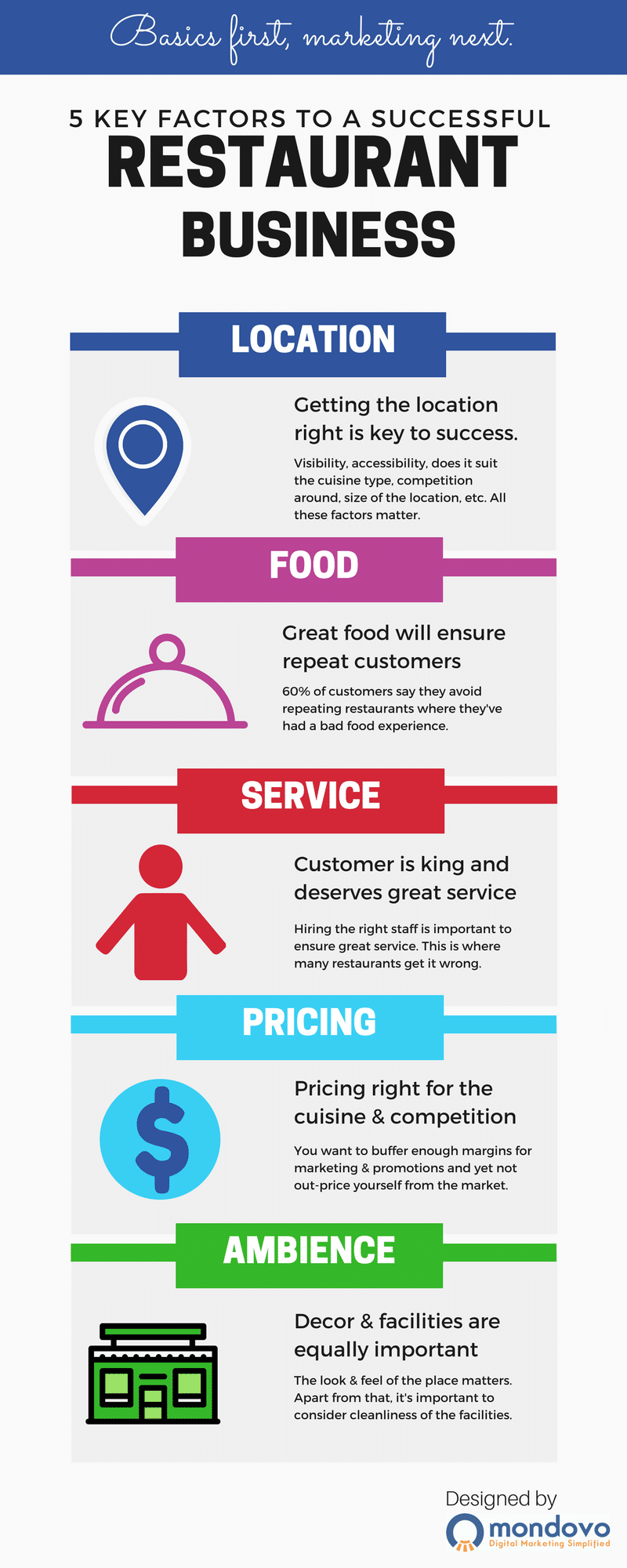 If you have any other restaurant marketing ideas, tips or experiences to share, please do mention them in the comments below! Also, do make it a point to take a look at this exhaustive list of top restaurants keywords in case you're planning an advertising campaign for your restaurant.
The following two tabs change content below.
Latest posts by Sameer Panjwani (see all)