If you want to hear the podcast version, please click here.
A Brief intro
Andreea is the founder of the School of Content.

She has been in the content writing business for more than 8 years now and started off as a freelancer.

Has started a Content Marketing Agency focusing just on Romanian clients
Figuring out the right content strategy with each client
Understand needs and expectations of the clients clearly and evaluate whether the content is to be written for the purpose of branding, traffic, leads, sales, etc.

Do a thorough audit of all existing content assets and identify any content opportunities & gaps.

Research the market to see how competitors in the same or similar industries are going about their content marketing. Pick & learn from the best. 
Formula to remember:
Quality = Value
As opposed to focusing on generating as many pieces of content as possible, it's better to focus on developing fewer pieces of content that deliver value to the reader.
Consistency = Success
It's also important to be consistent, both in terms of quality as well as frequency of putting up content. Putting up one great piece a year isn't going to get you regular traffic, you need to put up content with more consistent frequency, while ensuring the quality of the content continues to deliver value.
Checklist for success
Don't measure just traffic, measure conversions from your content as well.

Every piece of content should have some CTA that links to an end goal you have in  mind. You could either have your readers sign up for your newsletter or visit your site to check out your product. Or even promoting other articles you've written would be a great idea.

Be disciplined and organized. Have a routine and prepare a content calendar, outlining:

What articles needs to be written

When the articles be written and published

How the published article will be promoted.

Measure the results
Email is still a very important tool to reach out to your readers, so it's important to try and convert users into newsletter subscribers at every opportunity

She personally doesn't like newsletters with too many links in them, have a simple design and just talk about one important article, have just one CTA.
Pick your clients carefully
Ensure you have the interest and the expertise required for the client's industry and target audience

Research your clients on their Facebook Pages, Glassdoor profiles, etc. Avoid clients with bad reviews.
Creative Process
Build a Buyer's Persona

Research of forums on what those people talk about. How they talk. What are their questions?

Check out the competition. See what works for them, understand what content engages better with your target personas.

Check their website and what is already published and what is missing.

Put all of this info together and you will know where to start and how to start.
Advice for Freelancers to start their own Agency:
Get associated with an Agency first to expand your horizon on how things are done.

The day you feel that there isn't any growth opportunity for you in the agency, start your own.
[You may think you are not good enough but trust me you have enough experience and you can start one on your own.]
Challenges faced when starting an Agency:
Challenge: No Portfolio, no testimonials, so no client trust.
Solution: Earn their trust and confidence:
Educate the customer on best practices

Offer a money-back guarantee if they're not satisfied

Understand where the need is.

Look for companies who recruit freelancer content marketers.

Approach them with a specific proposal for collaboration.

Share your prices and terms upfront
Remarkable Achievements:
An eBook written for a client 3 years back still and constantly bringing new subscribers.
"While I cannot share the link to the book, I can give you some details: the company produces fitness equipment and the book is about the benefits of a specific type of training, so it's a narrow and very focused niche. The content is evergreen and is exactly what prospects who are already interested in improving their health and fitness want to know: how that specific form of physical activity can help them build lean muscle, improve their fitness performance, get more toned, boost weight loss, improve circulation and so on.
The book is structured in chapters that address each of them, a different health or fitness goal, so it's very unlikely for one to not find the information they need in the book. Another thing that makes that book so effective in generating leads is that is has evergreen content, provides a lot of scientific proof, and also some sample exercises that can be done on those fitness devices."
Lessons learned from this Success
To create a lead magnet that drives traffic and generates leads in the long run,
Put yourself in your client's shoes and find out exactly what they expect from your products, and what's their internal motivation.

It's well known that people buy benefits, not features, so don't write your content around product features.

Identify the main benefits, then structure the information in chapters with a clear message, and use trustful sources.

If you have testimonials, use them.

And don't tell your clients only what to do, show them how to do it.
Which social medium disappointed you?
Google+ was a major let down
Which are the new social medium people should explore?
Quora, Reddit, and Inbound.org.
"Recently, an article on Reddit was creating a real sensation. It already has 7 parts published and the 8th part will be published today as well. After the 7th part, someone mentioned in the comments section the name of a company that deals with identity theft. If this story proves to be a marketing material for that company, it's one of the most brilliant marketing campaigns I've ever heard of."
Think outside the box and explore other mediums where you may find your target customers.

Facebook was good a couple of years back but it is a paid medium today to reach your audience. Go beyond that and check out other options.
Do you believe in any quick Growth Hacks that can help achieve quick results?
No. If you believe that you can do just  one thing today and get results in long-term, it won't work and not a sustainable process.

To grow, you need to pay attention to your customer's needs and be consistent with the quality of your output. Consistency will pay off better than any short-term growth hack.
How would you rate the following Inbound Marketing Techniques in your opinion of importance?
(Scale of 1 – 5 where 5 is very important)
SEO 3.5

Content marketing 5

Social Media Marketing 2.5

Email Marketing 3.5

Paid Advertisement 1.5
Watch the video or listen to the podcast for a complete in-depth discussion where Andreea talks about why she choose her career as a Content Marketer and other various tips on how to gain clients trust and many more.
About Andreea Macoveiciuc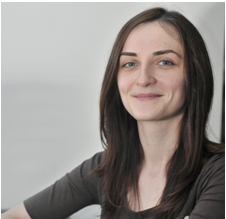 Andreea is a freelance content writer and a content strategist and marketer at School of Content, digital agency offering web content services.
She's passionate about e-commerce, health and fitness, and loves to develop content strategies for small and medium-sized businesses.
The following two tabs change content below.
Accomplished sales expert and a creative digital marketing strategist with a proven record of success in design and product development/lifecycle, from conception to end-user.
Latest posts by Bala Ayya (see all)