Real people are having a profound impact on the way your brand is viewed online. While businesses can find ways to elegantly and seamlessly manage the message, authentic reviews of products or services prove to be well trusted and more engaging than traditional advertising.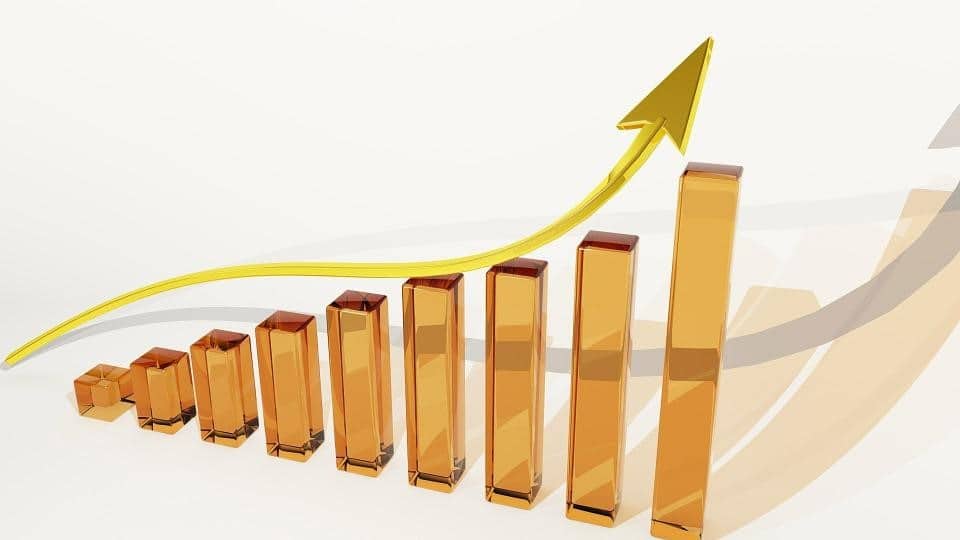 Who predicted that the digital age would scale word of mouth marketing? Micro-influencers may not have seen it coming, but they're capitalizing on the marketing trend to sell your products for you.
What Is a Micro-Influencer?
Micro-influencers typically have 100,000 followers or less on their blog and/or across social media accounts. These mini Internet celebrities have amassed a loyal fan base, and some even consider their recommendations as impactful as the ones we get from a best friend.
However, to scale a marketing campaign, businesses need hundreds or thousands of micro-influencers on their team, which is no simple feat. This intrinsically leads to several challenges such as:
Finding and contacting influencers

Developing and distributing the content

Issuing payments

Tracking campaign results

Maintaining the relationship

And more!
Based on your goals, finding an influencer marketing tool that targets your desired platforms can unravel some of these challenges as your campaigns and influencer networks grow. Based on what's available on the market, businesses have a few options to choose from.
The right tool can help make all the difference when it comes to helping you build and manage your influencer database and outreach. Whatever your needs, from outreach to management; influencer marketing tools make the process manageable.
Sure, there are dozens of influencer marketing platforms out there, right? Finding the one that's right for you can be a challenge. Well, sit back and relax because we've done the legwork for you.
If you're looking to scale your influencer marketing without breaking the bank, we've got you covered. Consider one of these low-cost micro-influencer platforms to keep costs down and kick your marketing up.
Tomoson is a full-service platform for brands to build a promotion around their product and find influencers that fit their marketing goals. Their influencer database features over 80,000 bloggers and influencers on Facebook, Instagram, Twitter, and YouTube.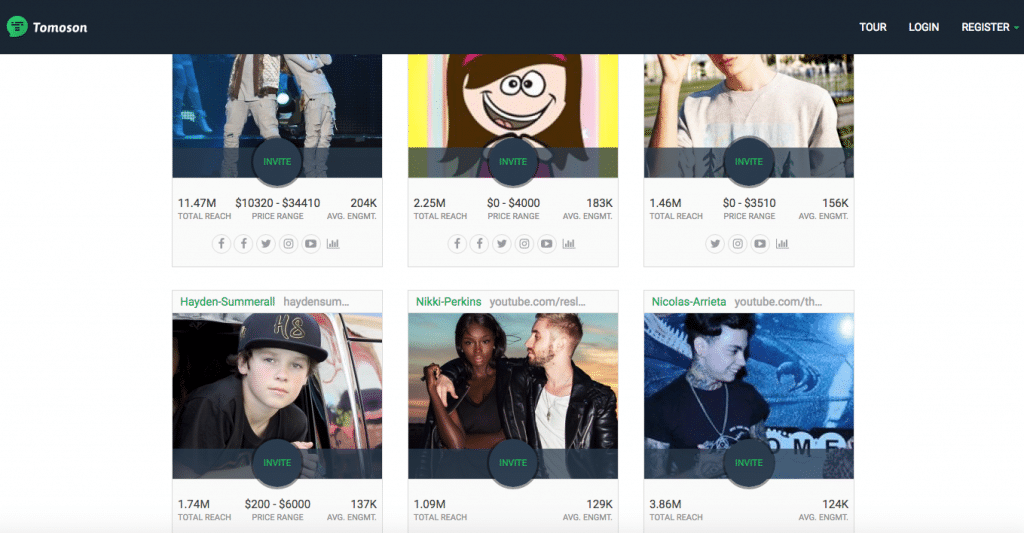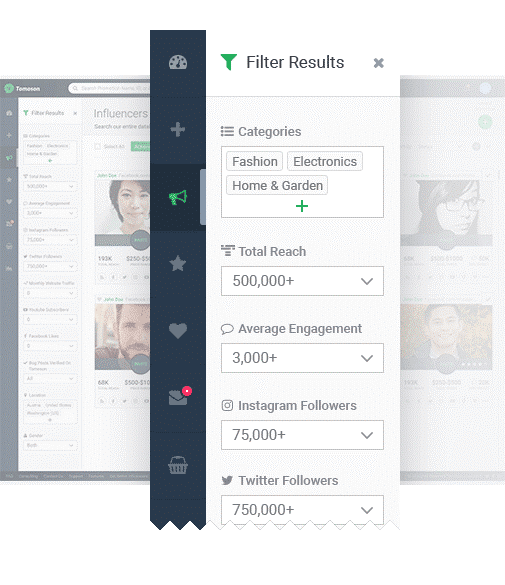 How It Works?
Marketers seamlessly manage many pieces of an influencer marketing campaign. You can hire influencers and negotiate the terms, communicate with influencers about the campaign, and track distributed product samples or coupon codes. It also features campaign analytics detailing clicks, engagement, and conversions.
How it Helps You Scale Your Influencer Marketing Campaign?
Tomoson's services range from $49 – $599 per month. This means it can get a bit pricey if you're really looking to supercharge your influencer marketing campaign. However, there are 5 tiered pricing levels to choose from, each with their own attributes.
The main difference in each plan is the number of active campaigns and individual influencers you can have during a given time. As you start scaling your efforts, you can choose the package that works best for your influencer marketing campaign. This way you don't have to pay for campaigns you aren't using yet.
Scrunch
Scrunch is another full-service platform for marketers to find influencers, manage outreach, and execute influencer marketing campaigns. Here, you can gain access to over 20 million influencer profiles with blogs and fans on Facebook, Twitter, YouTube, and Instagram.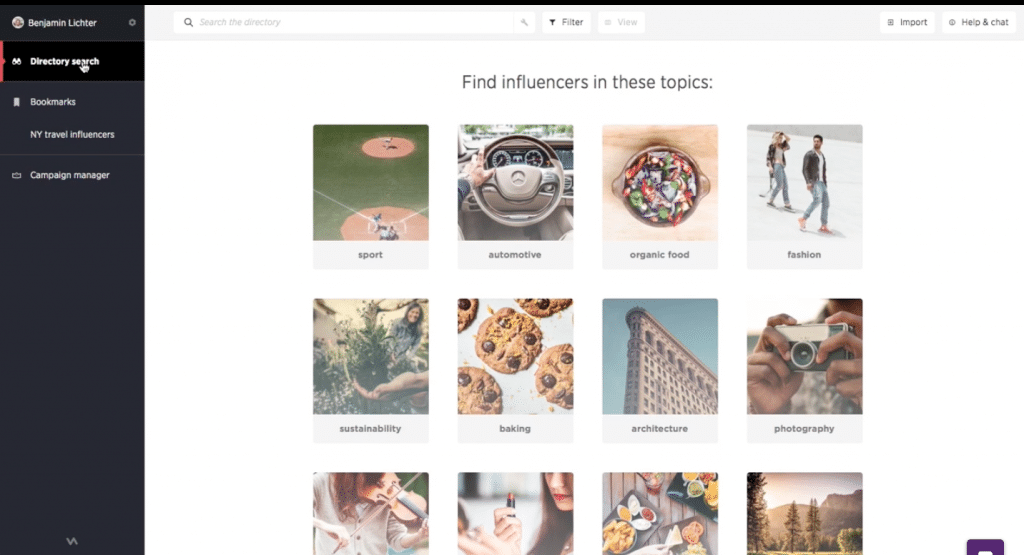 How It Works?
Scrunch makes it easy to filter influencers based on your niche. Once you've engaged an influencer as part of your influencer marketing campaign, you can track their performance in the Scrunch dashboard. Influencers' social networks are connected to the analytics feature for instant, streamlined data.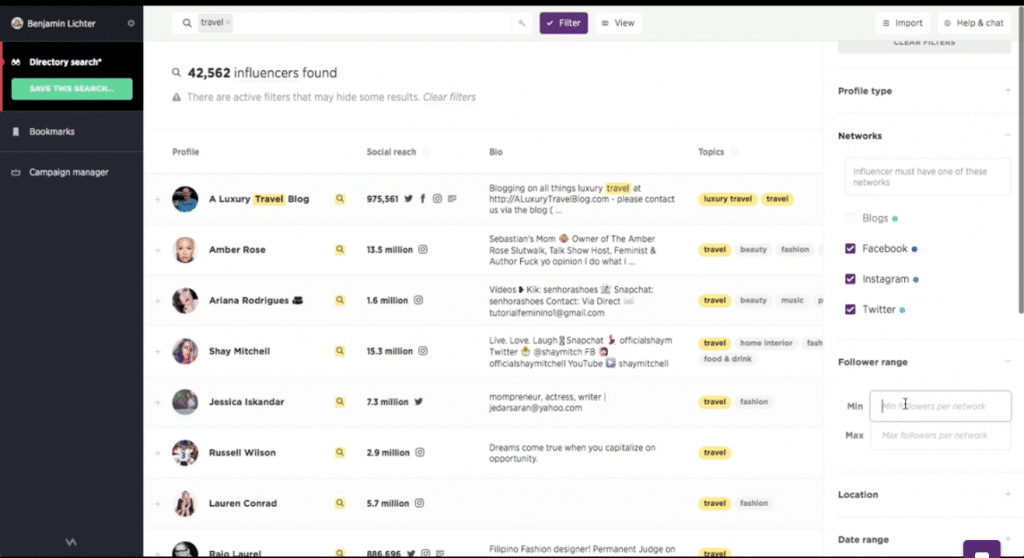 How it Helps You Scale 
Your Influencer Marketing Campaign?
For the budget-conscious, Scrunch offers a free starter package for one influencer marketing campaign. The pro version runs $99 per month. For those looking to scale, you can "try before you buy," and get a feel for the service. After that, literally, a world of influencers is at your fingertips.
The $99 pro plan allows you to create and manage unlimited influencer marketing campaigns at a very attractive price point. If you need a little extra boost, custom-plans are available as well so you can create a plan specific to your needs.
Tribe Group
Tribe Group takes a straightforward approach to finding influencers. Brands briefly outline a campaign and invite influencers to participate. If influencers can contribute, they submit a post for approval. If brands like it, they buy it.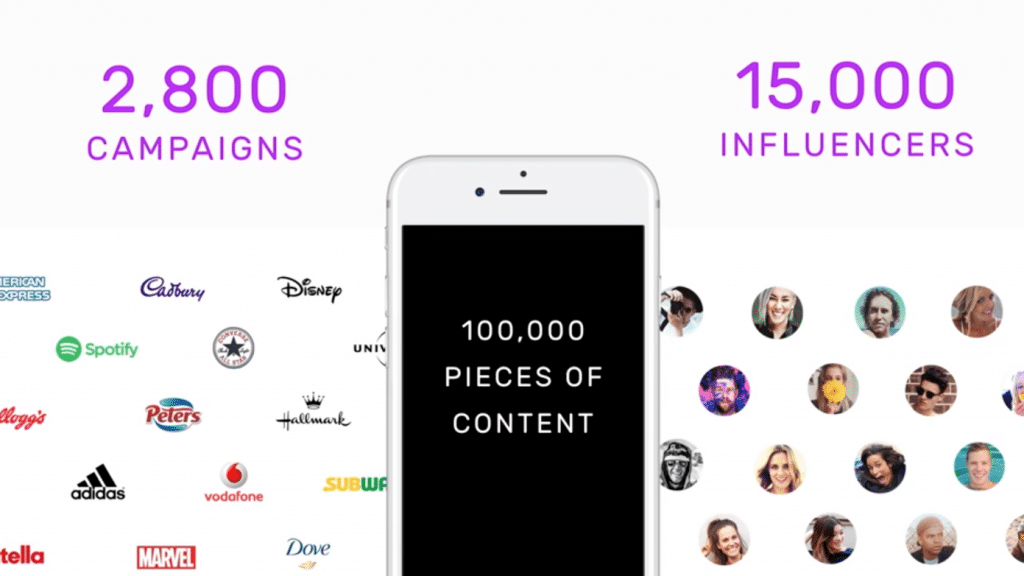 How It Works?
After influencers submit a post, brands take charge of assessing influencers' social profiles, ensuring they have the desired target audience and engagement levels. Only influencers can create content for their Facebook, Twitter, and Instagram accounts.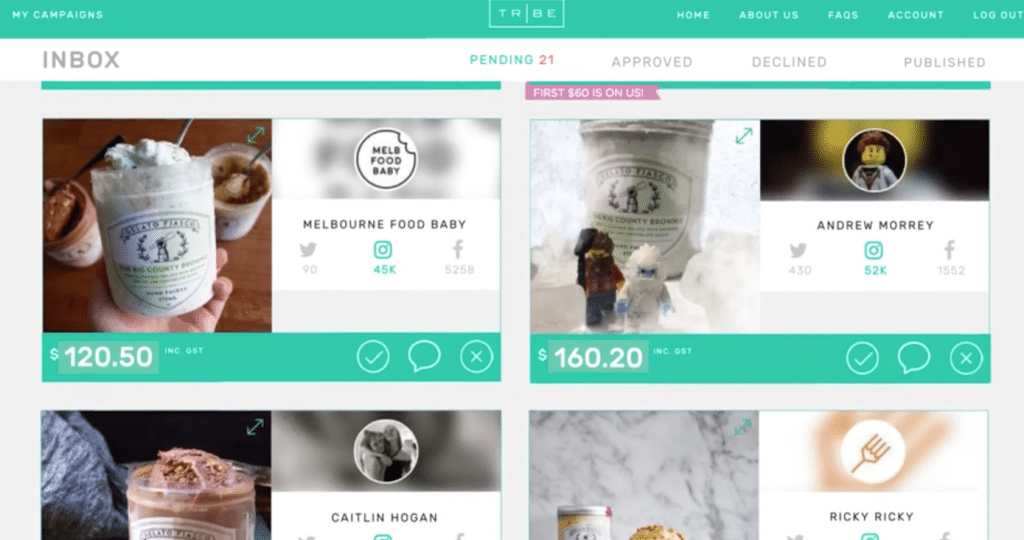 How It Helps You Scale 
Your Influencer Marketing Campaign?
There are no fees to use Tribe Group. Brands only get charged when they purchase a post, which averages $300 – $600 for influencers with 20,000 – 100,000 followers. This may be a bit pricey, however, it's nowhere near as expensive as other tools. 
For scaling purposes, Tribe Group is beneficial because you're allowing influencers to come to you with their posts for evaluation. You can source through and find the content that appeals to you and resonates with your influencer marketing campaign without having to pay for a lot of other fluff that doesn't.
This allows you to focus your influencer efforts and only pay for the content you feel will be most beneficial.
Ifluenz
Ifluenz is a single-platform influencer marketing tool that connects brands to Instagram influencers. Combined, Ifluenz users have around 500 million followers. Influencers' followers and engagement metrics are pre-verified to save marketers time.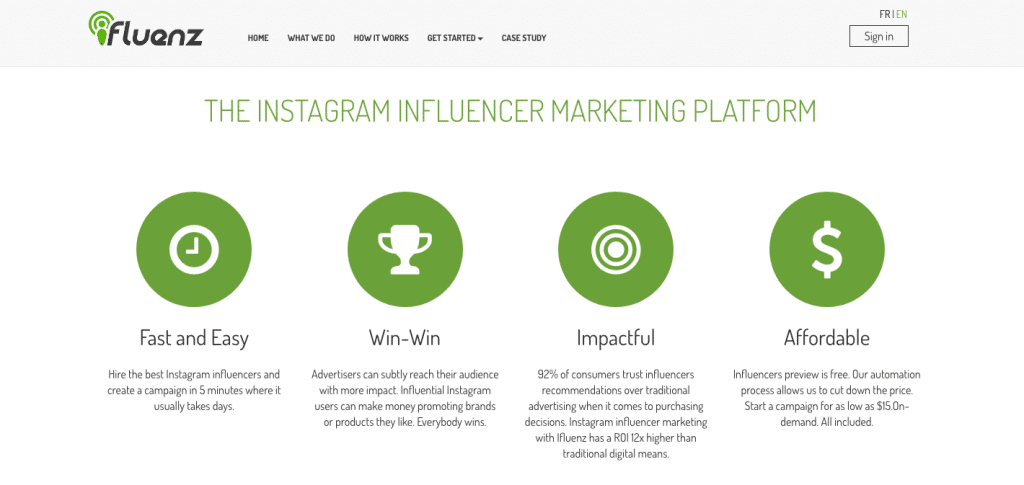 How It Works?
On Ifluenz, marketers build campaigns around their products and pre-select influencers after the platform matches users to the campaign based on engagement, interests, and other demographic factors. Influencers choose which brands to promote on their Instagram account and post a positive, branded message within two days.
How It Helps You Scale 
Your Influencer Marketing Campaign?
Marketers can review available Instagram influencers for free and start an influencer marketing campaign for as little as $15. There is no up-front fee or monthly charge so you only pay for what you want.
Intellifluence
Intellifluence influencers are active across all social networks, including Snapchat, Vine, and Amazon. It's an outreach platform specializing in helping brands contact micro-influencers, or what they call peer-level influencers, and manage the ensuing interactions.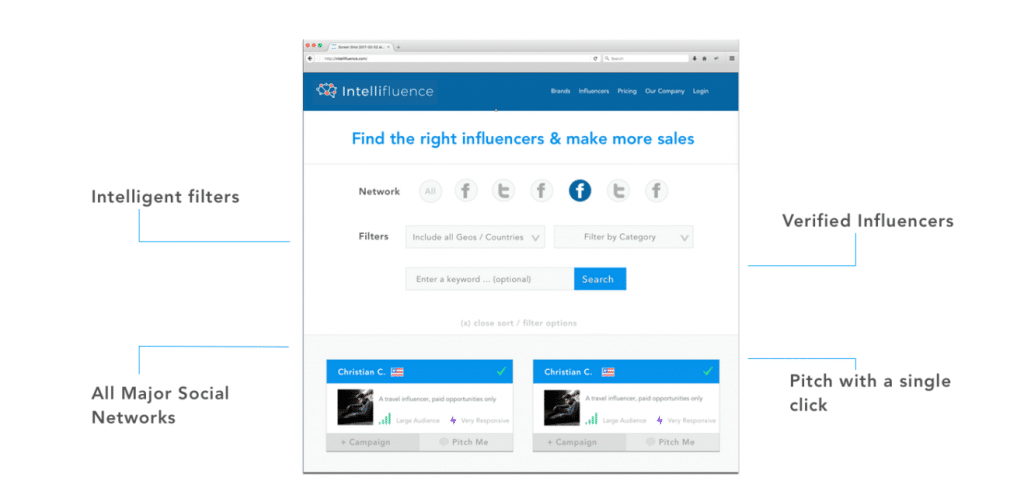 How It Works?
Marketers can use the Discover feature to view all influencers, their interests, and audience details. It's easy to email offers to selected influencers right inside the tool and build message templates to efficiently contact multiple influencers at once. Building out an influencer marketing campaign in the dashboard helps monitor real-time progress and track influencer responses and transactions over time.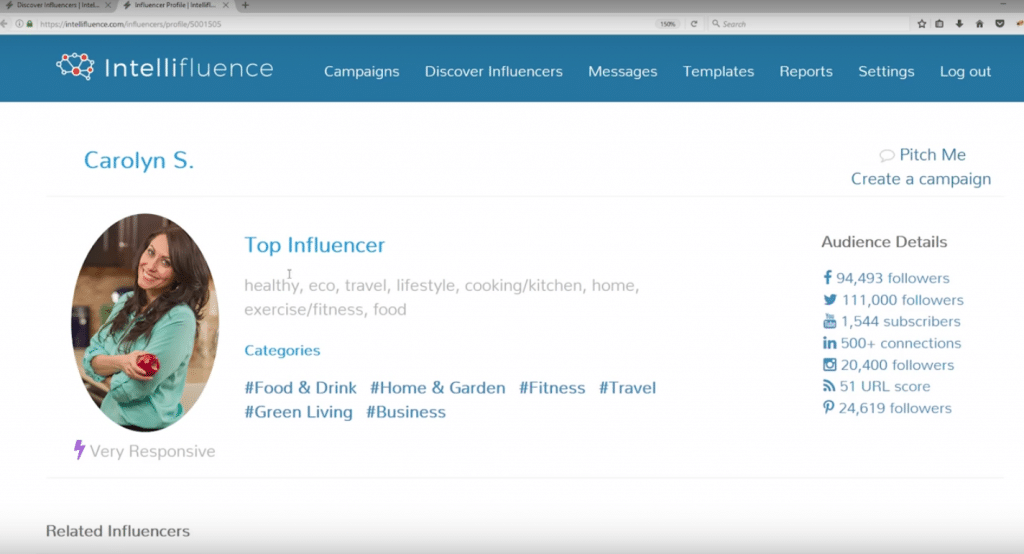 How It Helps You Scale 
Your Influencer Marketing Campaign?
It's clear Intellifluence focuses on being the price leader in the industry. New customers get a free 14-day trial and monthly packages start at $39 per month and range up to $129 per month.
As expected, each tier has its added benefits, but the Intro package ($39) includes unlimited usage and access, while the Standard Plan ($59) adds multi-campaign management. All very affordable while you increase your efforts and broaden your reach.
Webfluential
There are over 15,000 micro-influencers on Webfluential with a reach of over 400 million people. The tool is widely popular because of its focus on helping influencers build their careers and extend their reach. Webfluential users are active on Facebook, Twitter, Instagram, YouTube, and blogs.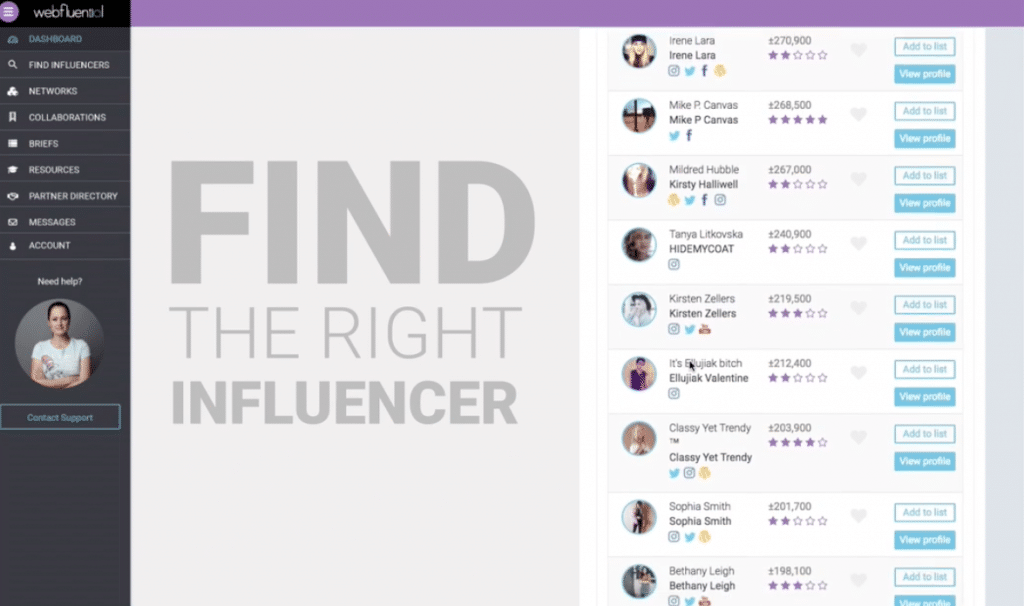 How It Works?
Marketers input campaign criteria into the search feature, including budget, demographics, and location. Viewing media kits for relevant micro-influencers reveals details about their audience, career highlights, and featured content.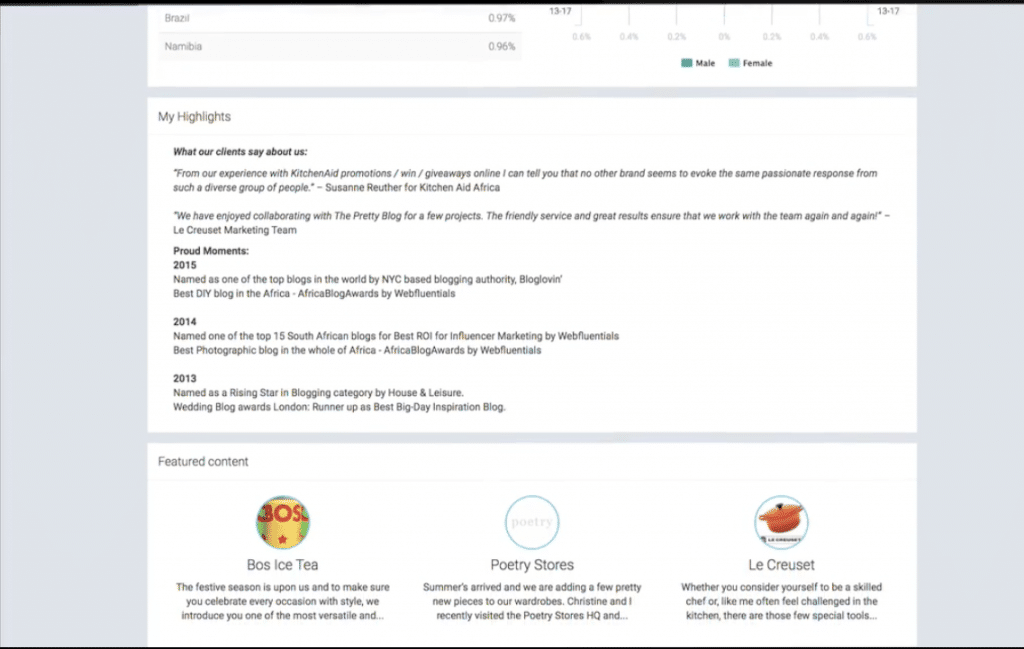 From there, marketers can message influencers about collaborating and begin to build a relationship. Webfluential even features a matchmaking tool that takes the guesswork out of influencer discovery. 
How It Helps You Scale 
Your Influencer Marketing Campaign?
Webfluential offers a seven-day free trial to get you started. After that, packages start at $50 per month but include unlimited collaborations. This means you can keep your monthly costs low and focus on building relationships with influencers who can help you achieve your goals. 
FameBit
FameBit is a prevalent platform for YouTube influencers. The Google-owned tool has over 70,000 influencers in its marketplace who view themselves as brand storytellers.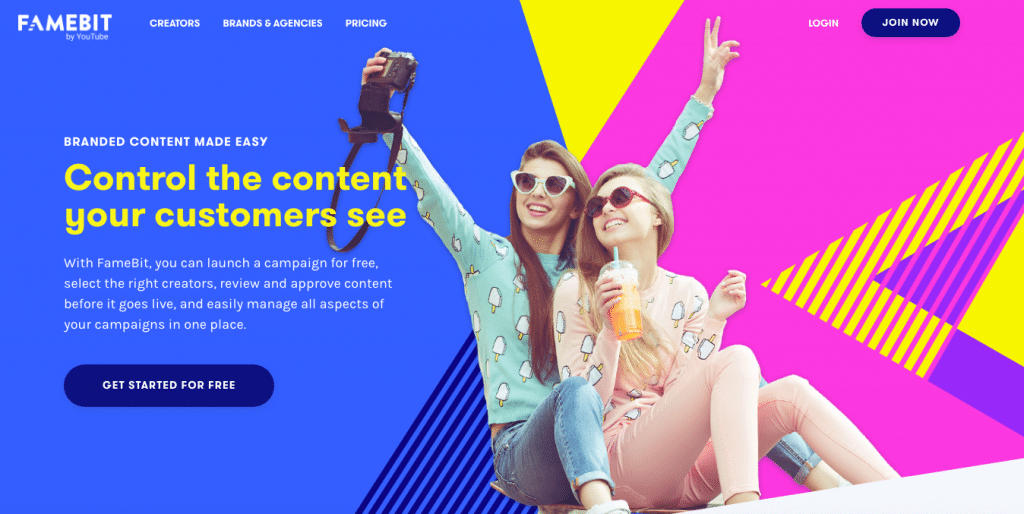 How It Works?
On FameBit, marketers build out a campaign with a product overview and budget and then make it available to targeted micro-influencers. Interested influencers submit proposals complete with engagement metrics and audience demographics. Influencers are responsible for creating and promoting the content.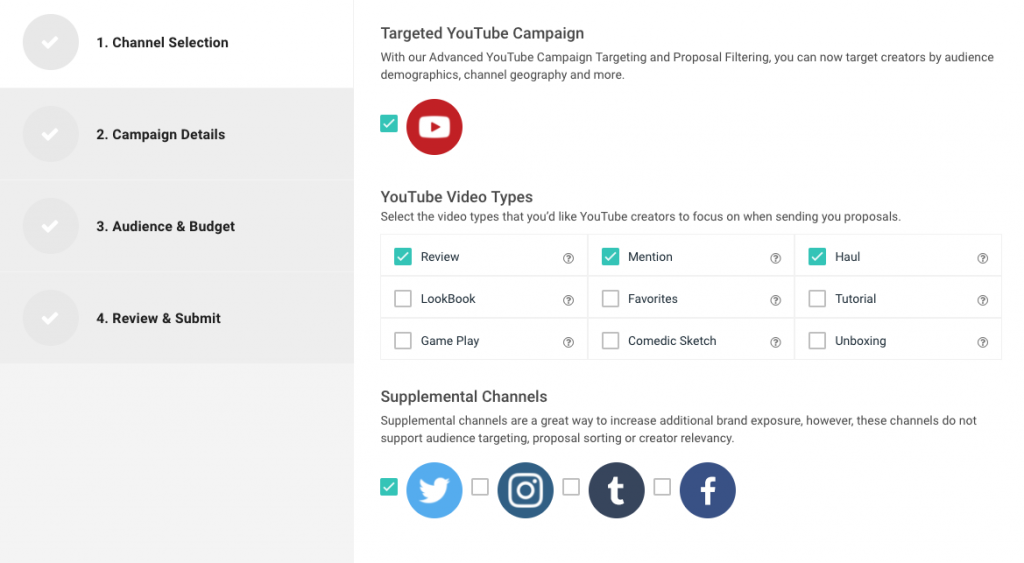 How It Helps You Scale 
Your Influencer Marketing Campaign?
It's free to build campaigns on FameBit, and there is no up-front or recurring cost. You can set your own budget and campaign attribute and work with the influencers you want to work with. FameBit will take a 10% service fee for successful influencer marketing campaigns.
Another YouTube marketplace, Octoly specializes in the fashion, beauty, and lifestyle verticals. Though not exclusive to these areas, consumer products make up the vast majority of brands represented.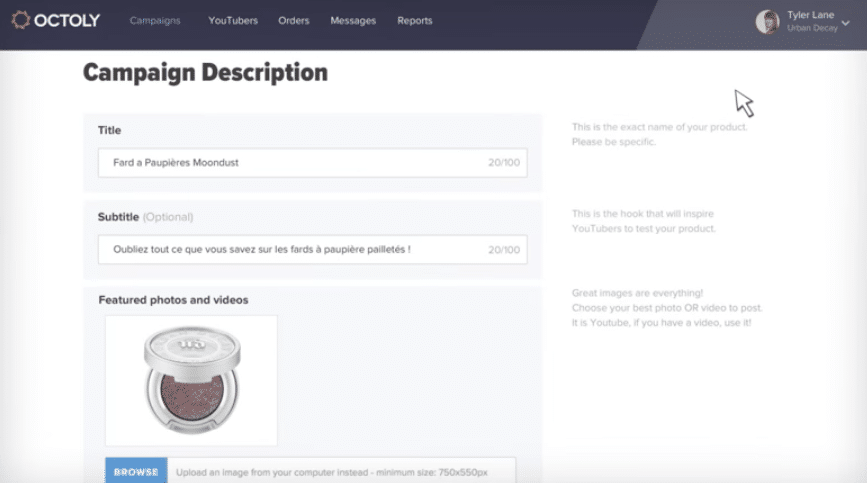 How It Works?
Brands can list their products or campaigns in the marketplace and let applications roll in or target preferred micro-influencers with an invitation to sample the product. YouTubers are encouraged to review products they'd actually use to enhance authenticity.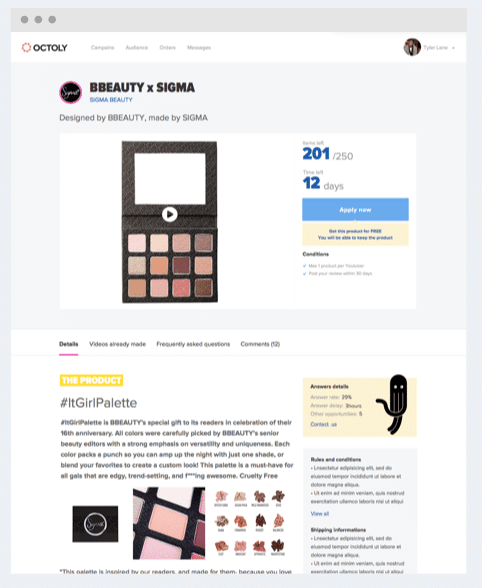 How It Helps You Scale 
Your Influencer Marketing Campaign?
Octoly is unique because they require free product exchange instead of monetary compensation, so brands don't pay extra fees for a review. Octoly manages all the product distribution, too, keeping it manageable for marketers.
Access to Octoly is subscription-based, but they're pretty tight-lipped on what those actual costs are. However, you still are able to gather feedback and user reviews in exchange for products rather than compensation. This makes Octoly a niche market, but a high-risk/low-reward one. 
Shoutcart
Get Instagram shoutouts with Shoutcart, one of the largest Instagram-specific influencer marketing tools. Shoutcart scales with your efforts. Marketers can run small campaigns from a few dollars to larger ones with a spend of $10,000 or greater.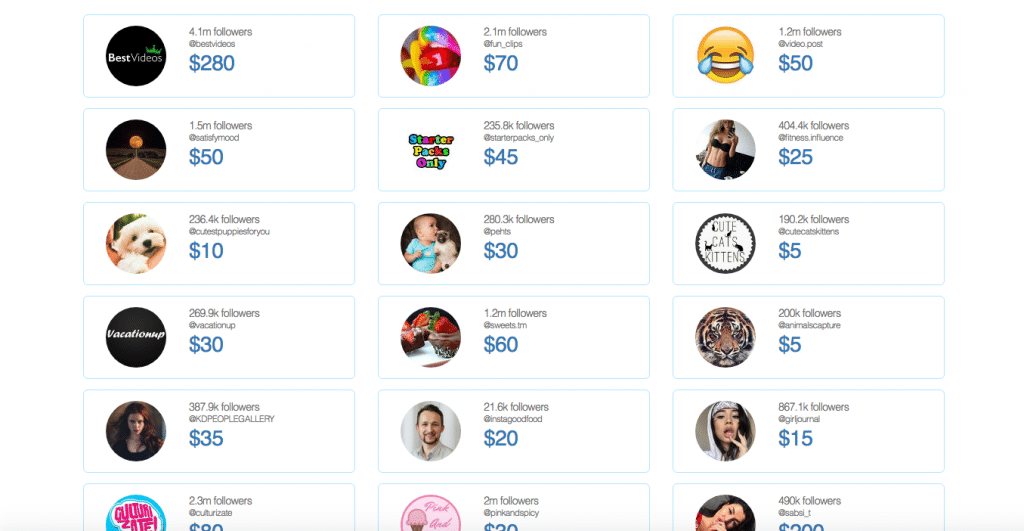 How It Works?
Shoutcart takes an e-commerce approach to discovering and selecting micro-influencers. Marketers browse through the directory by category, audience, or keyword and add their influencers to their shopping cart. Influencers create the shout out and tag the brand on Instagram and Shoutcart provides the traffic data for each post.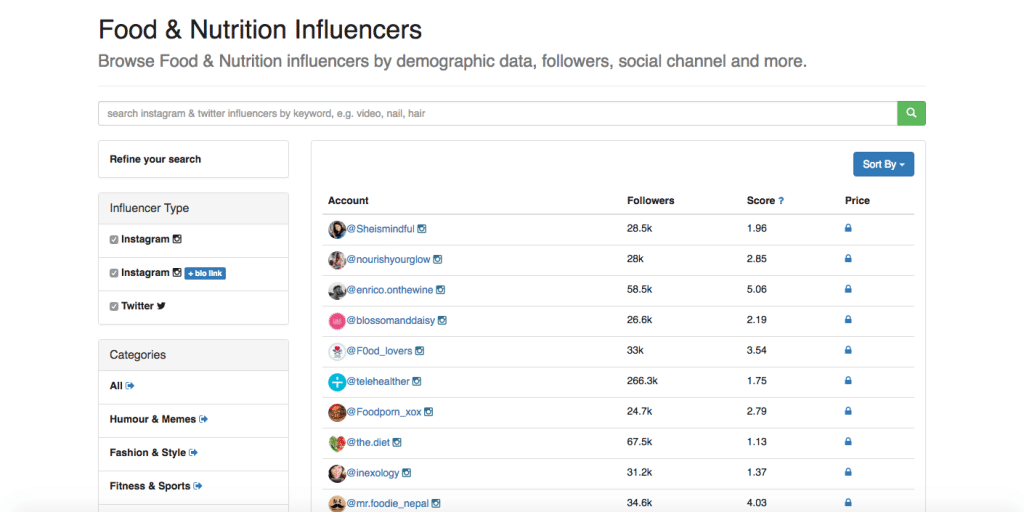 How It Helps You Scale 
Your Influencer Marketing Campaign?
Shoutouts vary in price depending on the size of audience and amount of engagement for each influencer. Influencers with approximately 100,000 followers list their fees between $5 and $50. 
As you scale, you can increase the number of influencers you use, and how much you spend. Just starting out? You can save on budget and begin creating brand awareness. Ready to go big? Ratchet it up a notch.
Influenster
Influenster is a product discovery site that boasts 3 million active influencers who review over 2 million products. The site is a well known and extremely community focused shopping platform, especially for lifestyle and beauty products.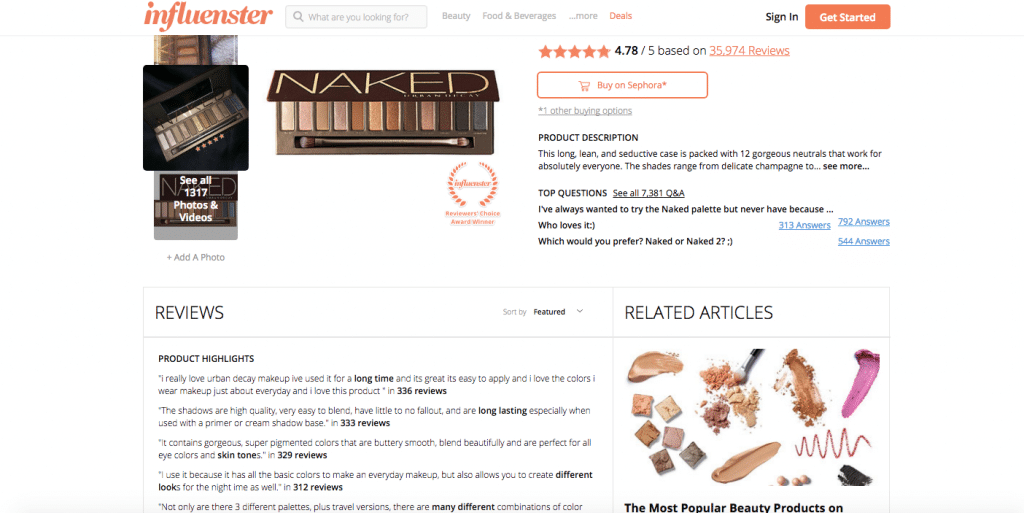 How It Works?
Brands submit their products to be featured in a monthly VoxBox, a package full of free product samples regularly mailed to micro-influencers, who then review the products they try. All of the content is user generated across major social networks and blogs.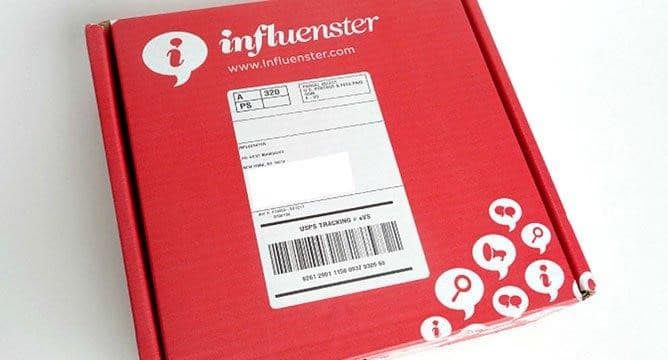 How It Helps You Scale 
Your Influencer Marketing Campaign?
Like other platforms, Influenster is a marketplace where you exchange free products for feedback and honest online reviews from influencers. You are able to reach a wide range of individuals on popular platforms such as YouTube. 
Influenster is beneficial whether you're starting out and looking for brand exposure, or growing and looking to expand your reach. If you're willing to part ways with some free products, Influenster is one of the best platforms around. 
Grow Your Influencer Marketing Campaigns Today!
All of the tools referenced above help marketers grow micro-influencer relationships and expand to greater numbers.
Processes to find, contact, pay, and monitor influencers scale more easily when marketers use platforms that automate these campaign components, especially when using a large number of influencers. 
Whether you need a marketplace to more easily find influencers that reach your target audience or a full-service solution for campaign coordination, use this article as a guide to finding the best low-cost tool to scale your influencer marketing campaign.
The following two tabs change content below.
Michael Quoc
Michael Quoc is the founder and CEO of
Dealspotr
, a crowdsourced savings platform that connects emerging brands, influencers and shoppers around today's best deals. Dealspotr makes influencer marketing easier and more cost-effective for e-commerce brands.
Latest posts by Michael Quoc (see all)